A 500 credit score is a bad credit score. It is well below the average credit score in Canada, and you will find it nearly impossible to qualify for a credit product at your bank.
While there are credit cards and loan options available to someone who has a 500 credit score, they are limited and you will pay much higher interest fees.
Read on to learn about how a credit score of 500 and below can affect you and the various strategies for improving your creditworthiness.
What Does a 500 Credit Score Mean?
Credit scores range from 300 to 900 in Canada. In the U.S., the range is from 300 to 850.
These scores tell lenders and would-be creditors how you have managed credit (loans and credit cards) over time and whether you can be expected to pay debt obligations on time.
A poor or bad credit score (300-599) means there is a significant chance you won't be able to pay your bills, so most lenders will deny your credit application.
Here's how credit scores are ranked in Canada:
800-900 credit score: Excellent
720-799 credit score: Very Good
650-719 credit score: Good
600-649 credit score: Fair
300-599 credit score: Poor or Bad
A 500 credit score is in the "bad credit score" range and well below the average of 672 as per Borrowell. You can check your credit score here for free.
With a credit score of 500, you will find it difficult to:
Qualify for a loan or credit card
Get an apartment or mortgage
Find a job where a credit check is required
500 Credit Score Credit Card Options
Most credit card issuers will deny your application for new credit if you have a 500 credit score.
Typically, banks want you to have a credit score above 660, and for premium cards or guaranteed approval credit cards, you are looking at a credit score above 700.
That said, you can qualify for secured credit cards and prepaid cards with a 500 credit score.
The top options include:
Neo Financial Secured Mastercard
The Neo Secured Credit Card does not require a hard credit check.
It does not have an annual fee and you only need a minimum security deposit of $50.
This guaranteed approval credit card offers up to 5% cash back rewards on your purchases and it currently tops our list of the best secured credit cards in Canada.
KOHO Prepaid Card
The KOHO Visa Card is a reloadable prepaid card that offers 0.50% cash back on all purchases and up to 10% rewards at some retailers.
This no-fee card includes several perks such as unlimited debit transactions and Interac e-Transfers, early payroll, and savings interest on your balance.
You can also use it to build or improve your credit score by subscribing to its Credit Building Program ($7 monthly fee).
You can apply for the KOHO Card regardless of your credit score.
KOHO Prepaid Mastercard (formerly KOHO Visa)
Rewards: Earn 0.50% cash back on all purchases; Up to 10% cashback at select partners; Earn 1.20% savings interest on your balance*.
Welcome offer: Get a $20 bonus when you load and make your first purchase (use promo code CASHBACK during sign-up).
Interest rates: 0%
Annual fee: $0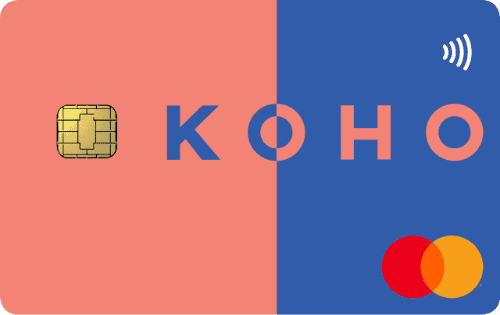 You may also be able to apply for a store credit card with a poor credit score.
500 Credit Score Loan Options
You can access bad credit personal loans in Canada with a 500 credit score if you meet income, residency, age, and other requirements.
Bad credit loans in Canada include:
Loans Canada
This loan comparison website can be used for various types of personal loans including debt relief, credit building, mortgage refinancing, car loans, and more.
You can borrow up to $50,000 for 4-60 months and interest rates range from 2.99% to 46.96% depending on your credit rating.
LoanConnect
LoanConnect works with multiple lenders who accept borrowers with any type of credit score.
The application process is completed online and you can borrow up to $50,000 with rates from 5.75% to 46.96% APR.
Spring Financial
For same-day loans via Interac e-Transfer, you can apply for a loan at Spring Financial.
Loan amounts range from $500 to $15,000 with interest rates from 19% to 46.96%.
You will need an income of at least $28,000 per year to qualify.
Spring Financial offers loans in all provinces except Saskatchewan, New Brunswick, and Quebec. You can apply with a 500 credit score.
Cars Fast Loans
Cars Fast offers car loans up to $75,000 at more than 350 car dealerships across Canada.
Loan terms are up to 96 months and you can learn more here.
What Affects Your Credit Score?
It is important to understand the factors that affect your credit score if you plan on improving it.
They are:
Payment history (35% impact)
Credit utilization rate (30% impact)
Length of credit history (15% impact)
Types of credit (10% impact)
Credit inquiries (10% impact)
The other factors used by credit bureaus when calculating your credit score are derogatory public records such as bankruptcy filings and liens.
How To Improve a 500 Credit Score
Use these strategies to improve your credit score.
Pay your bills on time. Pay off your credit card balances each month or at least ensure that the minimum payment is made
Limit your credit utilization rate to 30%. For example, if you have a $10,000 credit limit, you should not have an outstanding balance exceeding $3,000 at any time
Use a secured credit card. Ironically, if you have a bad credit score, you need access to credit if you want to increase your score. Apply for a secured credit card and ensure you make payments on time. The lender will report your transactions to the credit bureau and this can lead to improvements in your credit score
Don't apply for too many credit cards or loans. Limit your applications for new credit. Each time a lender conducts a hard credit check or pull, it has the potential to negatively affect your credit score
Don't close old credit card accounts. Your oldest card accounts also have the longest history, and they impact your credit score more than new credit card accounts.
Check your credit report for errors. If there are errors on your credit report, you can file a dispute to rectify them
Budget and live within your means. You can use a budgeting tool like YNAB or Mint to stay on top of your finances.
500 Credit Score FAQs
What can you get with a 500 credit score?
You may be able to apply and qualify for a secured credit card and bad credit loans with high interest rates.
How long does it take to rebuild credit from 500 to 700?
It can take you a year or several years to crack 700 when you have a 500 credit score. Negative information like previous bankruptcies remain on your credit report for 6 years, and this can lengthen the time it takes to improve your scores.
Can I buy a home with a 500 credit score?
Yes, there are alternative lenders that offer non-prime mortgage loans if you have a 500 credit score. You will pay exorbitant interest rates and taking out a mortgage loan of this sort is not recommended.
Related: