Looking for a side hustle you can do to make extra cash in your spare time in Canada or the United States? Consider becoming an Instacart shopper or driver.
Not everyone wants to or has the time to walk into a grocery store and shop for groceries and other household items, and this is where Instacart comes into play.
They connect customers with shoppers and drivers who help them with shopping and deliver fresh groceries right to their door in as little as one hour.
Today's gig worker has many options for making money on their own schedule.
From work at home jobs like driving for Lyft/Uber to walking dogs and delivering food (Instacart, Postmates, DoorDash, Inabuggy, SkipTheDishes, and GrubHub), you can definitely make a living as your own boss.
This Instacart Shopper review covers what you need to know about becoming a shopper or driver, how to make money and the pros and cons of working with Instacart.
Become a Delivery Driver With Uber Eats
Uber Eats is one of the best food delivery platforms available in thousands of cities worldwide.
You can sign up to become a delivery driver with Uber Eats if you have a valid driver's license, a 2- or 4-door car less than 20 years old, proof of vehicle insurance, and are at least 21 years old. You will also need to pass a background check.
You can deliver as many or as few hours as you want on your schedule and cash out earnings easily. You also keep 100% of the tips you get. This side gig is a great way to bring in extra income.


What is Instacart?
Instacart is a grocery delivery service that offers busy people a hassle-free way to complete their grocery shopping without needing to step into a store.
Using the Instacart app (available on Android and iOS), a customer can simply select their city, add grocery items to their shopping cart, and add their preferred delivery time and checkout.
An Instacart shopper/driver receives the order, picks up the required items in-store, and drops them off at the customer's door for a fee.
Instacart is available in over 5,000 cities in the U.S. and Canada.
Some of their popular Canadian markets are in Ontario, British Columbia, Alberta, Nova Scotia, Manitoba, New Brunswick, Newfoundland and Labrador, Nova Scotia, Saskatchewan, and PEI.
In the U.S., they are present in 40 states.
Customers who do not have a membership subscription pay a delivery fee of $3.99 for orders over $35 and $5.99 on orders below $35.
For those with the Instacart Express membership, the annual subscription fee is $99, including free delivery for all orders over $35.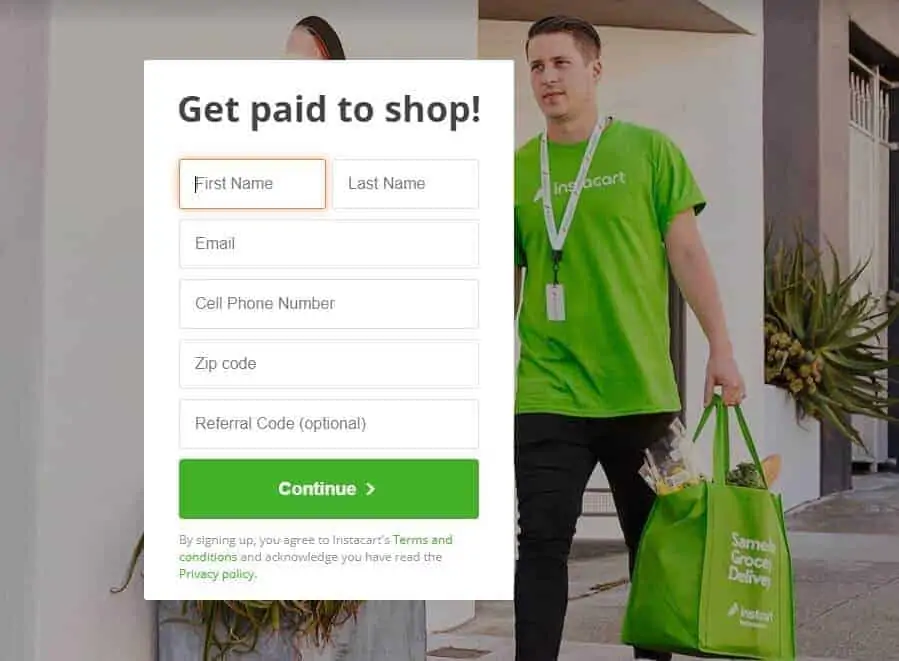 How Can You Make Money With Instacart?
If you are reading this Instacart review because you are looking to make income on the side, here are the two available gigs they offer:
1. Full-Service Shopper: As an independent contractor, you shop for groceries and other household items and use your car to deliver them to the customer. You are responsible for your own taxes.
2. In-Store Shopper: As a part-time employee, you receive orders through the app and proceed to shop and bag the groceries in the store.
You can also make money when you refer friends to Instacart using your Instacart referral code. Note that to qualify for the bonus (often up to $1,000), your referral must complete a certain number of trips within their first 30 days.
How To Become An Instacart Shopper
The process of joining Instacart is easy.
Simply open an account at shoppers.instacart.com and enter your name, email, phone number, and other details.
If you are applying to become a full-service shopper, you will need to provide a copy of your driver's license. In-store shopper applicants can expect to receive an invite via email for an in-person onboarding session with options to choose a date and time that works for them.
Instacart conducts a background check, and once you are approved, you can enter your availability on the app and start earning.
The basic eligibility requirements are that you must:
Be at least 18 years of age
Be eligible to work in Canada or the United States
Have a recent smartphone
Be able to lift between 30-40 lbs (12-20 kg)
Have a vehicle in good condition (Instacart drivers)
How Much Money Do Instacart Shoppers Make?
Instacart does not publish exactly how much you earn as an Instacart driver or shopper. In general, your earnings will vary based on the following factors:
The number of hours you work
The number of orders you complete and type of orders (# of items, type of items, etc.)
Your location
Full-time shoppers (drivers) are independent contractors and are paid a variable commission.
On the other hand, in-store shoppers are considered to be part-time employees and earn a fixed hourly pay. An in-store shopper can work up to 29 hours a week, depending on their availability.
In addition to the base pay, you also keep 100% of the tips you receive.
So, how much money can you expect to make when you work with Instacart?
Although you may have seen multiple online references showing you can earn up to $25 per hour, the real average pay rates appear to be lower.
Based on shopper reviews and feedback online, it appears that the average hourly pay for in-store shoppers is around $16.29 (as per Indeed), and for full-service shoppers and drivers, it is closer to $22.
Weekly payments are made out using direct deposit or check.
Pros and Cons of Being An Instacart Shopper
The reviews about working for Instacart are mixed.
Benefits
Work on your own schedule and get paid to deliver groceries
Easy-to-use app
Pays weekly
Good customer service support
Keep the tips
Some workplace benefits
Downsides
Some customers are difficult
Driver expenses eat into earnings
Work may be limited in your area
Pay appears to be random – sometimes high and, at times, ridiculously low
It may be difficult to find free parking
Timed orders can be stressful
Is Instacart Worth Your While?
As with any other side hustle, whether or not it is worthwhile depends on how else you can monetize your time.
As a part-time gig, Instacart personal shoppers and drivers can make money working on their own schedules.
Super-users of the app note that you can significantly increase your earnings by delivering your orders on time, making your customers happy, and racking up positive customer ratings.
Shopping for Instacart is only one of many ways to make money working as your own boss. For other money-making ideas, check out this list of other food delivery jobs you can do.
Related Posts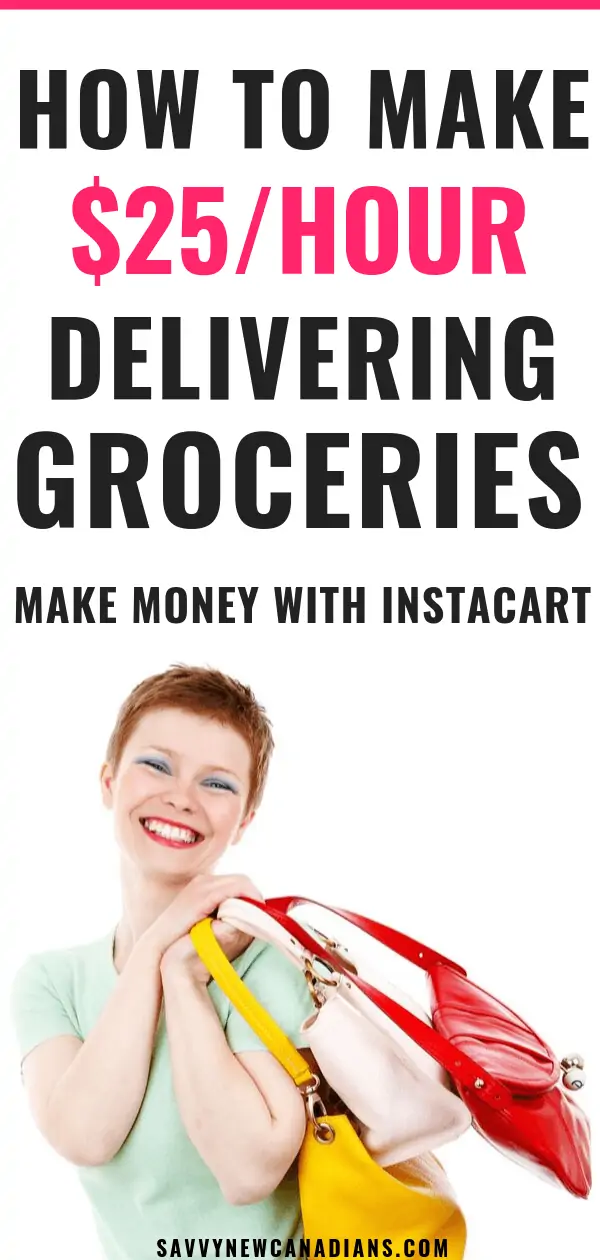 Instacart Shopper Review: How To Make Money With Instacart
Summary
Looking for a side hustle you can do to make extra cash in your spare time in Canada or the United States? This Instacart Shopper review covers what you need to know about becoming a shopper or driver, how to make money, and the pros and cons of working with Instacart.