Properly preparing your Last Will and Testament is essential for both younger adults and older adults alike. Ensuring you have an up-to-date will that reflects your current wishes will help ensure your assets are distributed appropriately when you pass on.
Although it can be unpleasant to think about dying, you can save your friends and family a lot of stress and arguments by making sure your will meets the requirements of provincial laws and standards.
Plus, if you have children who are still minors, your will can be an essential part of ensuring they're taken care of through appointing guardians and setting up trusts if the worst-case scenario ever occurs.
So what happens if you don't make a will? If you die without a will in place, you'll be known as "intestate." Your estate (which is made up of all your land, real estate, possessions, securities, cash, and any other assets) will have to go through the court system. Your belongings will be subject to the intestacy legislation specific to Alberta.
Now that you understand the consequences of not having a will, you're probably wondering how to make one. The good news is that there are plenty of options available to you. You can write your own will, work with a lawyer, or use an online will template.
In this article, we'll address all of your questions about writing (and maintaining) your will. We will also cover Alberta's best online will services, including LegalWills, Epilogue, and others.
No matter which method you choose to write your will, it's crucial to protect your legacy by ensuring this important document is up-to-date and accessible.
Best Online Wills in Alberta

Operating since 2000
Offer various types of Wills
Create a legal Will from $39.95
20% discount with SAVVY20

Operating since 2017
Offer various Will packages
Create a legal Will from $99
15% exclusive discount
More than 70% of Albertans don't have an up-to-date will.
There are many reasons that people put off writing their wills. It can be uncomfortable to think about death, plus writing a will sounds like a tedious and even expensive process. While traditionally writing your will could be lengthy and pricey, times have changed.
Online wills have become increasingly popular. There are a few standout services in Alberta that allow you to use effective online templates to easily and quickly create an online will. We'll cover the top four options right here.
1. Canadian LegalWills
LegalWills is a company based out of Ottawa, and they have been offering online wills in Canada for over 23 years. Their services simplify the will-writing process for Albertans.
You can save a considerable amount of money compared with what you'd pay if you used a lawyer to write your will. Plus, LegalWill's templates give you more flexibility than you would if you opted for a free will kit.
LegalWills also allows you to make unlimited updates to your will for free, and you can store your will on their platform for the remainder of your lifetime.
Their will-creation form is written in clear, plain language, and you can complete it in about 20 minutes. With LegalWills, you can create a Last Will and Testament, Power of Attorney, or Living Will.
Cost: $39.95 for a standard Last Will and Testament, $99.95 for a Complete Estate Plan
Promo Code: Use code SAVVY20 to get a 20% discount
2. Willful
Founded in 2017, Willful is a Toronto-based company that's one of Canada's best online will services. Their easy-to-use platform guides you through every step of making your legal will online from the comfort of your home. Most Willful users can draft the documents they need in under 20 minutes.
With Willful's simple pricing plan, you get unlimited updates for 90 days, then it costs only $19 annually per adult if you want to make changes. 
After completing your will, you can register it on the Canada Will Registry for free.
Cost: $99 for a standard legal will, $189 for a premium package
Promo Code: No code is needed to get 15% off (discount link)
3. Epilogue
Created by experienced Canadian estate lawyers, Epilogue offers unparalleled expertise in the world of will creation. It gives users legally binding wills and Power of Attorney documents that look similar to the ones a lawyer would prepare (but at a fraction of the price).
All you have to do is answer a few questions about yourself and your wishes. Then Epilogue will auto-generate a custom document for you. Once you follow the platform's signing instructions, you'll be good to go. You also have the option to have your will printed and mailed to you.
Cost: $139 for a will, $199 for a will and incapacity documents
Promo Code: Use code SAVVY20 to get a 20% discount
Related: Here's a detailed Epilogue guide.
4. FormalWill
FormalWill is a top online resource for estate planning and wills. It was founded by a Canadian lawyer passionate about the topic, so the company not only offers services to create your own online will, but also provides Power of Attorney, Personal Directive, and Pet Wills.
It also provides a library of informational articles and other estate planning documents so you can build knowledge.
FormalWill is committed to providing affordable and convenient estate-planning products for all Canadians.
Cost: Wills start at $59, including tax
What is a Will?
A will is a legal document that serves several purposes in Alberta. The typical functions of a will include:
Directing how your property will be distributed following your death
Naming the personal representative who will be in charge of your estate after your death and who will carry out the wishes expressed in your will
Naming a guardian for any children under 18 years of age at the time of your death
Committing to having a properly prepared will is important. A will can help your family and friends cope with a time of grief, and it will alleviate the burden of trying to figure out your last wishes without a point of reference.
If you die without a will in Alberta, your property and estate will be distributed according to the Wills and Succession Act. This Act has several provisions that lay out how your property will be distributed.
If you have a spouse or partner, that person will most likely receive the entirety of your estate – including in the case in which you have descendants that you share with that partner.
If you have additional descendants that you don't share with your current spouse (for example, you have children from a previous marriage and children from your current marriage), there are different rules. Generally speaking; however, your current spouse or partner will get at least 50% of your assets.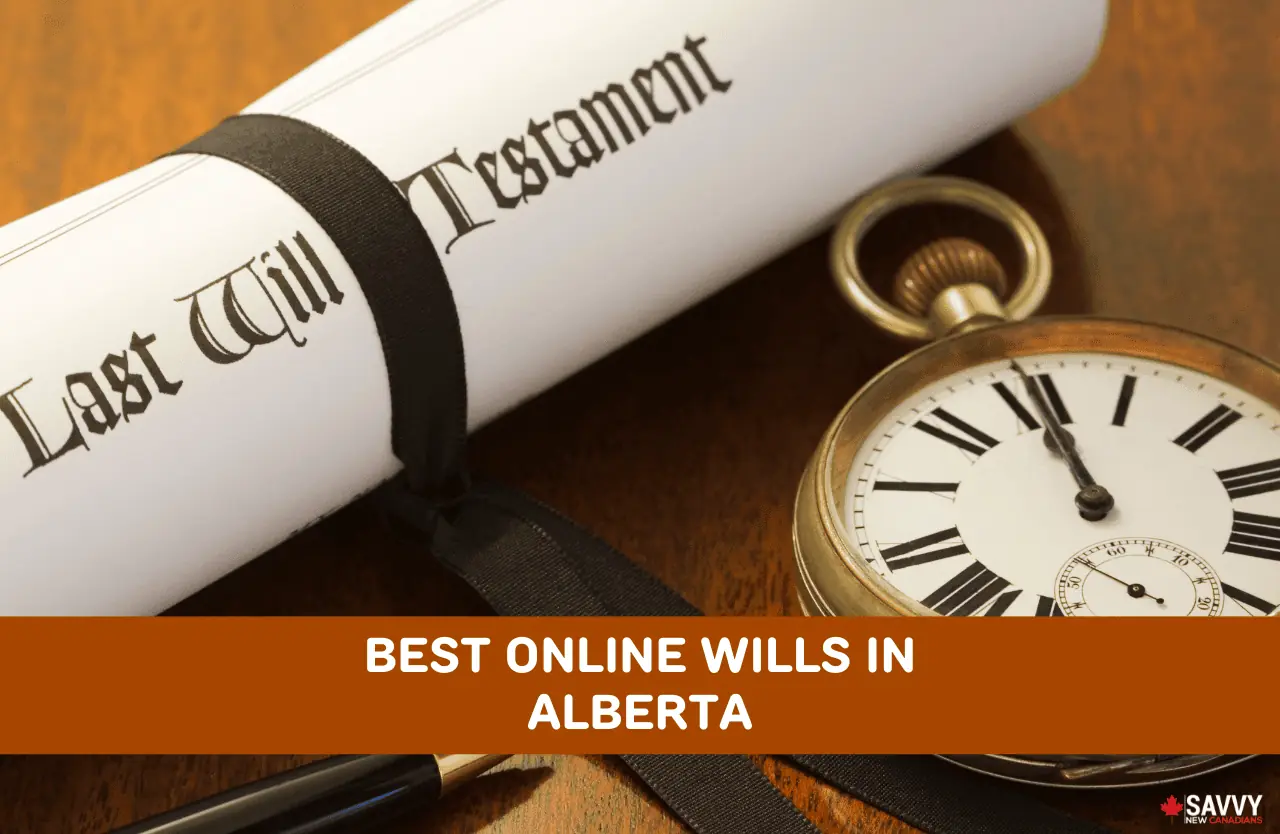 How to Make a Will in Alberta
A will is one of the most important documents in terms of planning for your financial future. Only about 30% of adults in Alberta have created wills – so it's about time that we raised that percentage.
To make a will in Alberta, you must meet some general requirements. While you aren't required to use a lawyer to make a legal will, you do need to follow some rules:
You must be of sound mind and over the age of majority. In Alberta, the age of majority is 18, so wills written by individuals under the age of 18 are considered invalid.
The will must be written by you. It cannot be created by anyone else on your behalf.
You have to sign your will in the presence of two witnesses, who have to be either in the same room as you or observing via video, and these two witnesses need to sign the last page of your will after you do. (There are some exceptions to this rule for holographic wills.)
You must sign the will in wet ink and store it as a physical copy. Unlike in some other provinces, digital copies will not be accepted in Alberta.
When you're looking to make a will, you have various options. Alberta does allow for wills that are created online – although you will have to print and sign them in front of two witnesses. You can also get a "will kit." This term refers to fill-in-the-blank templates that are often found at your local office supply store.
If you choose a will kit, it's important to keep in mind some drawbacks associated with this method. These kits are generally designed for only those with extremely simple estates, and they're designed to be one-size-fits-all. If you have a more complex estate or you need additional customization options, another will-writing strategy might be better.
Plus, it's recommended that you update your will every six to 12 months. That means you'll have to buy a new will kit at least every year or so. While they might seem like the cheapest option upfront, will kits can end up costing you more in the long run.
Your third option is to hire a lawyer. While it's not required to involve a lawyer in your will-making process in Alberta, many individuals can benefit from the personalized legal advice lawyers offer.
That said, a lawyer-drafted will is one of the most expensive options available in Alberta, so if you're looking to save money, a will kit or an online will may be more appropriate for your needs.
Are Online Wills Legal in Alberta?
Both will kits and wills prepared online are legal in Alberta. In general, what matters most in ensuring that your will is legally enforceable is not how you made the will, but how you signed it.
In Alberta, electronic signatures are governed by the Electronic Transactions Act (ETA). While this act legitimized electronic signatures on many documents, wills are exempt from that legislation.
This is to say that while you can create a will online in Alberta, you CANNOT use an electronic signature on your will. You will need to print your online will and sign the physical copy in wet ink. You'll also need two witnesses to do the same, proving that you wrote the will and that it's aligned with your wishes.
Electronic signatures are not valid on wills, trusts, land transfers, personal directives, and other estate planning documents in Alberta. While this rule was lifted during the COVID-19 pandemic, the law is back in place as of August 2022.
Is a Handwritten Will Legal in Alberta?
Handwritten wills are legal in Alberta, although not all of Canada's provinces recognize them. In legal documents, handwritten wills are often referred to as "holographic" wills.
In Alberta, you don't need witnesses if you're writing and signing your own handwritten will. Photocopies of a handwritten will are not valid, so make sure you keep the original in a safe place.
Free Will Templates in Alberta
Many companies offer free legal will services in Canada. For example, you might take a look at the templates available on Canada Wills, LawDepot, The Free Will Kit, and Free Legal Will Kit.
While some of these templates remain free for life, others require a fee once the initial free trial expires. Remember that you'll still have to print out the will and sign in wet ink.
The templates available on these free sites tend to include fewer customization options than other paid online platforms. That's because they're structured as one-size-fits-all products to provide free services to as many Canadians as possible. If you have more complex needs, a paid option allows you more personalization.
Are Holograph Wills Legal in Alberta?
A holograph will is another term for a handwritten will that's created without the help of a mechanical device (such as a typewriter or computer) – and yes, they're legal in Alberta.
These wills have to be written in the handwriting of the testator (the person making the will) and signed in the testator's own hand. But other than that, they come with fewer requirements than some other types of wills.
The biggest difference is that holograph wills in Alberta do not require witnesses. While a typed will needs two witnesses who also sign the document, a holograph will doesn't require any witnesses, as the handwriting of the testator and the testator's signature are considered to be acceptable proof of the testator's wishes in probate court.
Lawyer-Drafted Wills in Alberta
Some residents of Alberta choose to get legal help when drafting their wills. This option may be attractive to you if you need to include certain custom clauses in your will or if you have a more complex (or high-value) estate.
A lawyer can give you individualized legal advice on these topics. They're experts in the field of will writing, so they'll also ensure that you're not forgetting anything or leaving out anyone important by accident.
Despite these perks, it's important to consider that drafting your will through a lawyer is one of the most expensive options out there. The exact price will vary depending on each individual lawyer's rate.
Most lawyers bill by the hour, so people with more complex wills tend to pay more for this service.
Benefits of an Online Will
Many Albertans procrastinate on writing their wills due to legal costs, a lack of time to visit a lawyer's office, or simply not knowing where to begin. But online wills offer a convenient solution to these issues and meet the needs of many individuals. Online wills offer:
Convenience: You can complete your online will from home and then print it out in order to add your inked signature.
Easy Updates: Most of Canada's online will platforms give users unlimited free changes, so you'll never feel like you're trapped in an old will due to costs.
Access to Additional Documents: Many online will platforms also offer Power of Attorney and Personal Directive documents. This allows you to complete all of your estate planning forms in one easy-to-access location.
Affordability: Creating your will online is often significantly cheaper than working with a lawyer. Most platforms charge under $100 for a standard will.
Downsides of an Online Will
While online wills are a legitimate way to ensure your estate is handled as you desire after you pass on, there are some scams out there. It's crucial to choose a certified online will provider (like the ones we highlighted earlier in this article) that you know will comply with national and provincial laws.
Alberta's requirement that each will must have a signature in wet ink also slightly diminishes the convenience of online wills, as you do need to print and sign the document. This downside is less of a concern in other provinces, like BC, where electronic signatures are viable.
If you have complex estate planning needs, you may end up paying extra for individualized legal advice if you choose to use an online will. Sometimes, a lawyer is the best person to turn to in order to make sure your will is written and executed properly.
How Do You Avoid Probate in Alberta?
Probate in Alberta is required only when the transfer of assets dictated by the will requires a financial institution of the Land Title Office to get involved. For wills that deal with lower-value estates, probate often won't go into effect.
One way to avoid probate in Alberta is to ensure that your assets are under your name as well as under the name of the person you want to transfer them to upon your death.
Probate is most common when the assets are in the name of the deceased person only, meaning that official actors will need to get involved to complete the transfer of assets to the executor or beneficiaries of the will.
FAQs
Does every will have to be probated in Alberta?
Only wills that need the involvement of a financial institution or the Land Title Office will have to go through probate. Estates that are valued under $10,000 may not need probate at all.
Do wills have to be registered in Alberta?
No, wills do not have to be registered in Alberta. For a will to be valid, you simply need to follow the requirements laid out by the government. Make sure you have your signature as well as those of two witnesses.
Who cannot witness a will in Alberta?
Witnesses cannot be beneficiaries of the will, and they must be over the age of 18. Executors of a will can be witnesses, but spouses or partners cannot.
Does Alberta have an inheritance tax?
The Canadian Revenue Agency (CRA) does not collect estate or inheritance tax. You do not have to pay taxes on the money you inherit, and you do not need to declare it as part of your income.
Related: