A costly Last Will and Testament document process can create hurdles to preparing your estate after you have passed.
However, this need not be the case with the advent of online Will services such as Epilogue, which have made the process a lot less expensive and easier than ever before.
Epilogue offers a legally binding Will you create within 20 minutes without leaving the comfort of your home.
You won't need a lawyer or the associated expensive fees, and you can also add on Powers of Attorney simultaneously.
Creating a Will is an important part of your financial planning if you have dependents you would like to support after your passing.
This Epilogue Wills review covers their Will-making service, benefits, cost of creating a Will, and everything else you need to know.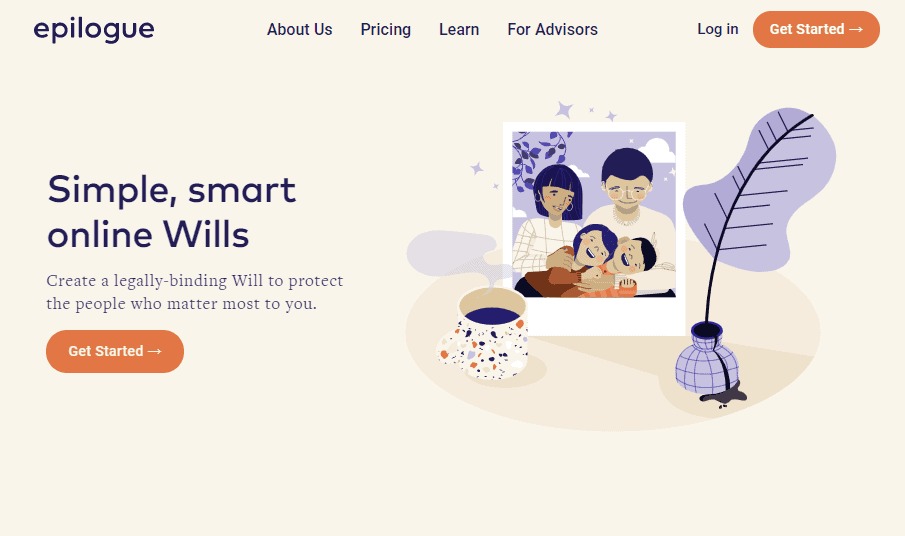 Create a Will with Epilogue (use SAVVY20 for $20 Off)
Who is Epilogue?
Epilogue is an online Will-making platform founded by two former estate planning lawyers – Daniel Goldgut and Arin Klug.
Using their online estate planning solution, you can create a legally binding Will and Powers of Attorney within minutes and at a fraction of the cost of visiting a lawyer.
Epilogue Wills is currently available in Alberta, British Columbia, Manitoba, Saskatchewan, New Brunswick, Newfoundland and Labrador, Nova Scotia, Ontario and PEI.
What is a Will?
A Will is a legal document that contains your last wishes, including how you want your assets to be distributed after you have passed.
Also referred to as a "Last Will and Testament," you can use your Will to appoint an executor and guardians for your minor children or pets.
When a person dies without a Will, they are said to have died "intestate." In this case, a probate court appoints someone to serve as an executor of the estate per the intestacy laws of that province.
How Much Does an Epilogue Will Cost?
While a lawyer-prepared Will can cost you upwards of $800, Epilogue has streamlined the process to be much more affordable.
They offer individuals and couples access to a Will and Powers of Attorney documents starting at $139.
Individual Pricing
Will Only: This costs $139 and covers everything you need to make a legal Will, including an affidavit of execution and a section where you can detail your funeral and burial wishes.
Will and Powers of Attorney: This service costs $199. In addition to your Last Will and Testament, you can also assign Powers of Attorney (POA) to people who take care of your property or personal care while you are incapacitated.
The two main types of POAs are:
Power of Attorney for Personal Care, and
Power of Attorney for Property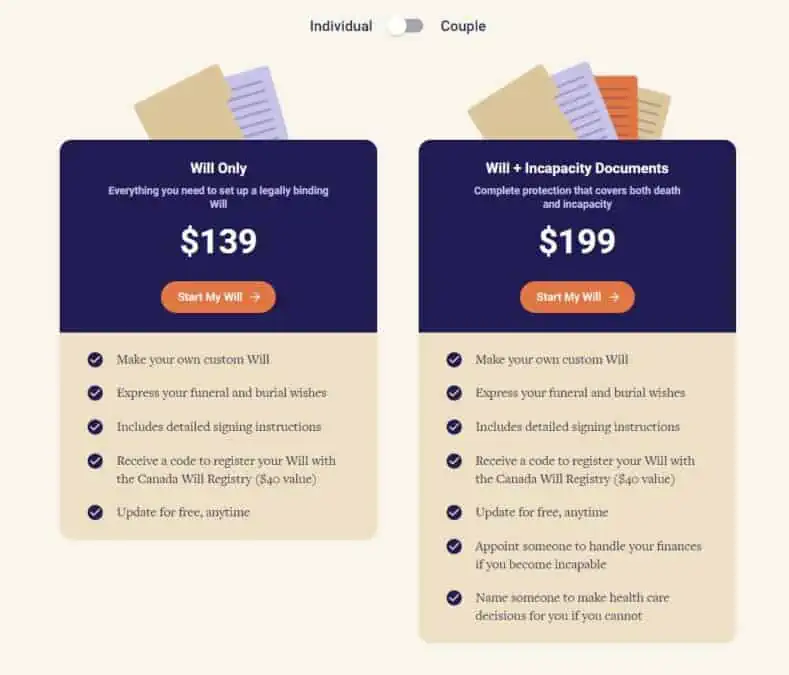 Couples Pricing
Wills Only: A couple can create a mirror Will for just $269. Partners are provided with their own secure Epilogue accounts.
Wills + Powers of Attorney: In addition to making custom Wills, a couple can add on Powers of Attorney for Personal Care and Property for both partners for a total cost of $329.
All Will documents created using Epilogue can be updated for free anytime.
How To Create a Will with Epilogue
The Will-writing process can be completed within 20 minutes.
To start, sign up for an account here (Use SAVVY20 for a $20 discount).
Answer questions relating to your assets (e.g. money and property), beneficiaries, executor, the legal guardian for minor children, and more.
Once done, Epilogue automatically generates your Will, and you can even ask them to print and mail it to you (for a small fee).
For your Will to be valid, you need to print it and sign it in the presence of two witnesses who are physically present with you. The witnesses must also append their signatures.
Lastly, you should store your Will in a safe location and let your executor know where to find it.
Benefits Offered by Epilogue
To reiterate what Epilogue offers, here are some of the benefits you get from using the platform:
They offer access to affordable legal Wills in Canada.
The process of creating your Will is fast, and you can complete your Will within 20 minutes.
The step-by-step guidance provided makes the entire process a breeze.
Epilogue's founders have over a decade of estate planning experience as lawyers, so you can have confidence in the platform's robustness.
Do You Need a Lawyer to Prepare Your Will?
You are not required to utilize the services of a lawyer when you are preparing your Will. If your estate is straightforward, you can use a free Will kit or online Will service to create your Will.
For a Will to be legally binding, it must meet some basic criteria, including:
It must be signed by you in the presence of two eligible witnesses who also sign it
You must be deemed mentally competent at the time of writing the Will
It must be in writing on a physical document
Holographic or handwritten Wills do not require witnesses to be present.
Having a lawyer prepare your Will may be advisable in cases where your estate is complicated, such as when you have assets abroad or for blended families.
A lawyer can also help you to make a trust arrangement for a child.
In British Columbia and Quebec, you can also use the services of a notary to prepare your Will.
Is Epilogue Safe?
Epilogue uses the following procedures to secure your personal data:
Bcrypt technology to protect your password
Secure HTTPS protocol to manage your sessions
RSA/SHA-256 encryption to protect data transfer
Data backup using a Virtual Private Cloud with dedicated firewalls
Epilogue vs Willful vs LegalWills
Other top online Will services in Canada include Willful and LegalWills.

Operating since 2017
Offer various Will packages
Create a legal Will from $99
15% exclusive discount

Operating since 2000
Offer various types of Wills
Create a legal Will from $39.95
20% discount with SAVVY20
Conclusion
A good number of Canadian adults do not have a Will. While you may not like to think about your own mortality, a Last Will and Testament is an important piece of financial planning that shouldn't be discarded.
Online Will services in Canada have simplified the Will-writing process making it more affordable and accessible for everyone.
If you want to start your Will today, save money with Epilogue here (use SAVVY20 to get a $20 discount).
Related:
*Epilogue does not provide legal or any other professional advice, such as accounting or tax advice.
Epilogue Canada Wills Review 2022
Summary
Epilogue Wills provides an easy way to make your Will in Canada at a low cost. This Epilogue Wills review shows why it's one of the best online will service in Canada.
Pros
Low-cost online will service
Offers step-by-step guidance
Founded by lawyers
Cons
Not available throughout Canada