This review of LegalWills Canada shows how to create your will from the comfort of your home, how much it costs, the additional estate planning tools they offer, and how to get a 20% discount using our exclusive promo code SAVVY20.
An enforceable legal will that holds sway after you pass on and that respects your wishes is a key part of your financial planning.
The importance of a last will and testament cannot be overemphasized. Dying intestate could mean that the government decides what happens with your assets (estate), your kids may be left without guardians, and your estate goes through lengthy probate.
Not only that, but this could also leave the State with a good chunk of your assets through taxes.
LegalWills.ca has been simplifying the will-writing process for Canadians for about two decades. Compared to using the services of a lawyer or going with a free Canadian will template, they offer a cost-effective, safe, and legally binding solution.
Create a Legal Will with LegalWills.
Who is LegalWills.ca?
LegalWills.ca is Canada's most popular online will service.
The company was founded in 2000 and is based in Ontario, Canada. LegalWills offers legal estate planning document creation services in all provinces and territories in Canada.
In addition to a last will and testament, you can use their platform to create mirror wills for a spouse, power of attorney, living wills, expatriate wills, and more.
Are Online Wills Legal in Canada?
Do you need a lawyer to create your last will and testament?
Not really. In most Canadian provinces, you can create a legit will by simply grabbing a piece of paper, writing down your last wishes, dating it, and appending your signature to it. No witnesses are required.
This type of will is referred to as a holographic will.
Is this the best way to prepare your will? Probably not, as it may face challenges in court about who wrote the will and what your state of mind was at the time.
Also, you may not be as detailed as you could be in covering all the bases.
Is a Will prepared by an online Will service a legal document?
The answer is "yes" as long as it is printed and signed in the presence of two witnesses.
Writing the Will using an online service does not change the legal requirements for a legal Last Will and Testament. No matter how prepared, it must be signed in the presence of two witnesses to be a legal document.
The witnesses should not be beneficiaries of your will, and they must also sign the will indicating that they witnessed your signature.
The best online will services in Canada cover all the provinces; however, some do not support Quebec as the laws are different.
Related: How To Save on Life Insurance
What is the Cost of a Legal Will?
First, I should point out that an online will created using the LegalWills platform will save you hundreds of dollars in lawyer fees.
How much does it cost?
A LegalWills.ca last will and testament costs $39.95. You can use it to appoint and instruct an executor to distribute your assets to stated beneficiaries and also name guardians for your young children.
The one-time $39.95 fee allows you to make unlimited changes to your will for one year.
LegalWills also offers add-on services for those individuals who are looking to create a complete estate plan.
Some of the other documents you can create include:
Mirror Wills: You and a spouse or partner can create two separate wills that mirror each other. Mirror wills for two people cost $63.92.
Power of Attorney: You can use this document to designate someone with the authority to manage your finances on your behalf if you become incapacitated. A LegalWills Power of Attorney document costs $29.95.
Living Will: If you want to specify the type of medical care you receive if you cannot communicate, a living will or healthcare directive details your end-of-life medical treatment.
You can also use it to designate someone who can make healthcare decisions on your behalf if you are incapacitated, i.e. a Power of Attorney for Health Care. A LegalWills' living will document costs $19.95.
Expatriate Will: Have assets in countries other than Canada? An expatriate will that conforms to the laws of that jurisdiction (U.S. or U.K.) can be created using LegalWills. The cost is $39.95.
LifeLocker: This service allows you to store private information and make them accessible to your executor later. This could include your bank accounts and passwords, digital assets, and other possessions. This service costs $29.95.
How To Create a Will With LegalWills.ca
One advantage of an online will is that you can complete it within one day. In fact, a Legalwills.ca Will can be completed in about 20 minutes if you so wish.
Visit LegalWills.ca and get 20% off the $39.95 fee.
Complete all the required sections, including your personal details, family status, beneficiaries, guardians for minor children if applicable, executor, how you want to distribute your assets, and more.
Following completion, print off the document and sign it in the presence of two witnesses who are not beneficiaries of your will.
Store your will in a secure location.
Note that you can update your document at no extra charge for a year. After the first year, you can pay a small one-time fee to extend your membership for 1, 5, 10, 25 years, or a lifetime.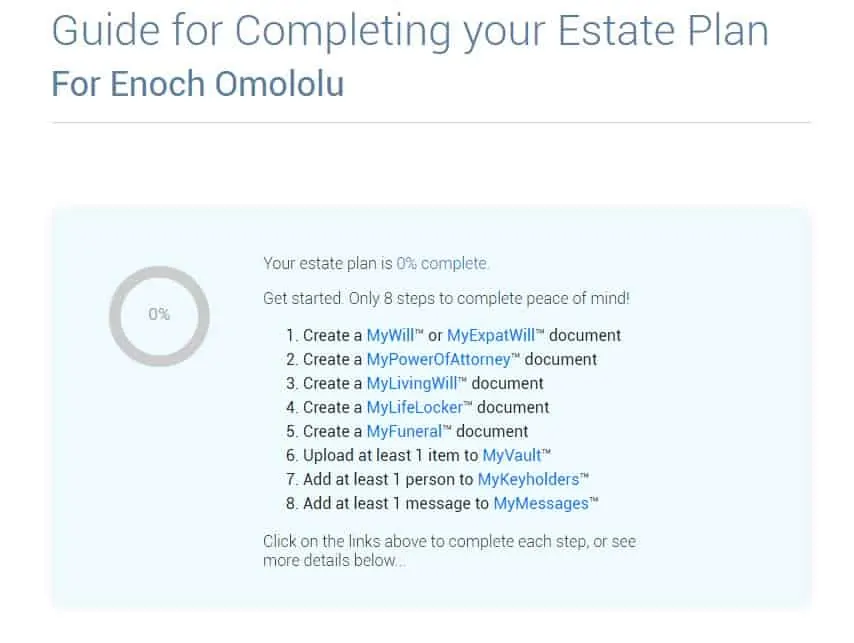 Benefits of Using the Online Will service at LegalWills.ca
1. You can create a legal will from the comfort of your home. There's no need to have an uncomfortable chat with your lawyer about your last wishes.
2. In addition to your last will and testament, all your other estate planning documents can also be completed from the comfort of your home.
3. Regular updates can be made to your will as your circumstances change.
4. They offer a step-by-step process that uses plain language, so you understand exactly what you are doing with guides and prompts along the way.
5. Your account and privacy are protected.
6. If you want a lawyer to review your completed will and give feedback, LegalWills offers a lawyer review service for a small one-time fee.
7. Access to online support.
8. LegalWills recently launched all of its services in French and in Quebec and now offers a fully bilingual service to Canadians in every province and territory.
Related: Best Online Will Templates in Ontario.
Downsides of an Online Will with LegalWills.ca
If you have a complicated estate or require custom clauses to cover unusual situations, you should seek a lawyer's advice when creating your will.
An online Will kit or template may not be sufficient in this case.
Is LegalWills.ca Safe and Legit?
LegalWills has been in business for over 20 years making it one of the pioneers of online wills in Canada.
They are an accredited business with the Better Business Bureau with an A+ rating.
A look at the several hundred independent reviews of their service online shows that their overall rating is an average of 4.9/5.
As per their website, LegalWills uses 256-bit encryption to secure your personal information, and they do not store your credit card information.
Lastly, they offer a 30-day 100% money-back guarantee if you are unsatisfied with their service.
LegalWills Alternatives
In addition to LegalWills, you can create a Will online using Willful and Epilogue.

Operating since 2017
Offer various Will packages
Create a legal Will from $99
15% exclusive discount
Conclusion
Don't be one of the 62% of Canadian adults who does not have a will.
If you are looking to make a will in Canada, LegalWills is one of the best options available.
Take advantage of our 20% discount promo code SAVVY20 and get your will done for the cheapest rate you will find anywhere!