A PC Insiders subscription takes your PC Optimum loyalty experience to another level, even after accounting for the recent updates to the program.
You earn more PC Optimum points on thousands of PC products, and get free PC Express grocery pick-ups, free shipping, travel rewards, and other perks.
It's no secret that PC optimum is one of Canada's most popular loyalty programs, and if you are a fan, this PC Insiders review is for you.
You will also learn about how to get 25,000 points ($25 value) using our PC Insiders referral code (EO1502).
What is PC Insiders?
The PC Insiders subscription service is managed by Loblaw as a part of the PC Optimum loyalty program. It is a paid annual membership in exchange for benefits that are not available to non-subscribers.
For example, with a PC Optimum Insider subscription, you automatically receive 10% back in PC Optimum points when you purchase a PC product.
Retailers where you can find eligible PC branded products include:
Real Canadian Superstore, Shoppers Drug Mart, Loblaws, Valu-Mart, Extra Foods, Maxi, Provigo, Fortinos, Independent, Zehrs, and Pharmaprix.
Related: Instacart Shoppers Review
PC Insiders Benefits
The main benefits of a PC Insider subscription are:
1. 10% Back in Optimum Points: You earn 10% back in PC Optimum points when you purchase a PC product. This includes more than 12,000 products under the President's Choice, PC Organics, PC Black label Collection, PC Blue Menu, PC Chef, and PC Nutrition First brands.
If you spent $50 per week on PC products, you could earn up to $261 worth of PC Optimum points within a year.

2. Free Grocery Pick-up: Instead of paying $3-$5 to pick up your groceries using PC Express, a PC Insiders subscription means you get a free pickup.
In a COVID-19 world, contactless shopping has become more important than ever, so this perk alone can be worth paying the membership fee.
Assuming you pick up groceries once a week and save the $3 pick-up fee each time, you are saving a total of $156 per year in fees.
3. Free Shipping: Get free shipping when you shop at joefresh.ca and shoppersdrugmart.ca, with no minimum purchase.
Regular PC Optimum members pay $8 for shipping and only enjoy free shipping if their order is worth at least $50.
4. Earn at PC Travel: When you book flights, car rentals, hotels, or vacation packages on PC Travel, you get 5% back in PC Optimum points.
5. Other Perks: As a member, you earn 10% back on all Joe Fresh purchases. They also send you a free Welcome Box with PC products when you first sign up.
Your PC Insiders subscription also comes with exclusive recipes, cooking tips, and more.
To take advantage of these benefits, you need to either scan your PC Optimum app or card or sign in with your PC Id when you make a purchase online at participating stores.
Related: Best Cash Back Apps in Canada.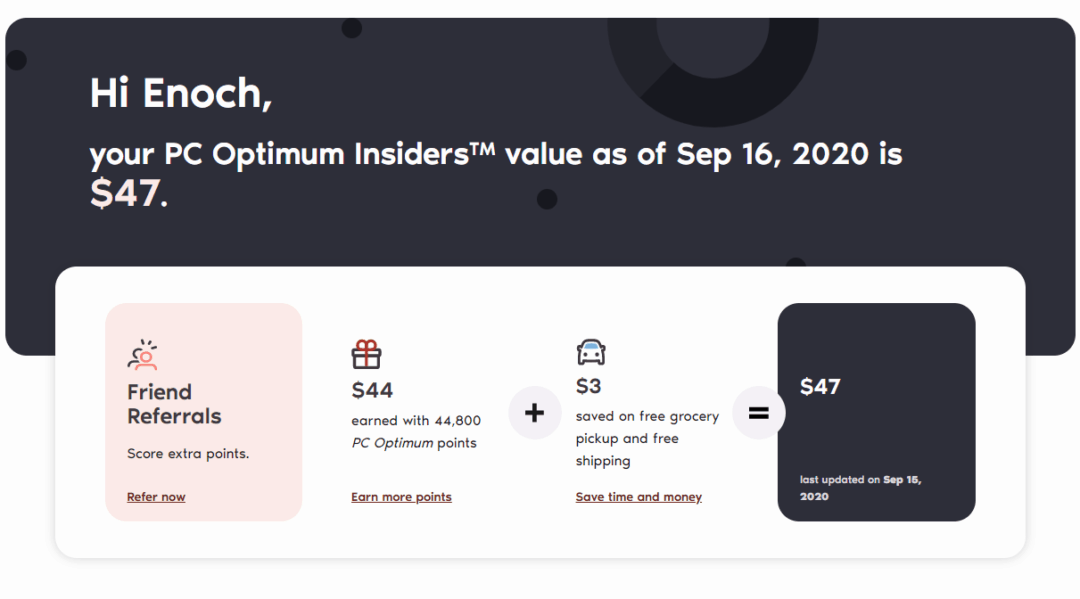 How Much Does a PC Insiders Subscription Cost?
The PC Optimum Insiders program is a paid annual program costing $119 per year plus taxes.
You can save on your initial subscription fee by signing up here and using the referral code EO1502 to get 25,000 bonus points ($25 value).
PC insiders Promo Code
When you subscribe to PC Insiders and enter a PC Insiders subscription referral code, you get 25,000 PC Optimum points, an equivalent of $25.
After becoming a member, you can share your referral code with friends. They get 25,000 points ($25) and you get 10,000 points ($10) when they become members.
Related: Best Apps To Save Money.
How To Save Money With PC Insiders
If you are a frequent shopper at Loblaw grocery banner stores, Shoppers Drug Mart, or Pharmaprix, a PC Insiders subscription may be worth your time.
The free grocery pickup service using PC Express alone can mean $156 in savings per year assuming you pick up groceries once a week ($3 x 52 weeks).
Add in the 10% you get back when you shop in-store and online, and free shipping, and your membership is easily paid for.
You can earn even more PC Optimum points when you pay for your purchases with a PC Financial Mastercard.
They offer three cards with various earn rates at Loblaw stores (10 – 45 PC Optimum points per dollar) and 10 points per dollar spent everywhere else.
Here are our reviews of the PC Financial Mastercard credit cards:
If you'd rather not use or apply for a credit card, President's Choice Bank recently introduced its PC Money Account. This no-fee bank account comes with a prepaid Mastercard that earns PC Optimum points.
Related: Food Delivery Apps and Jobs in Canada
PC Insiders FAQs
What is a PC Insider membership?
A PC insider subscription is a paid annual membership that offers extra PC Optimum points when you purchase PC products at participating Loblaw stores.

It also unlocks free shipping at Joe Fresh and Shoppers Drug Mart, free grocery pick-up through PC Express, and other perks.
Is PC Express Free?
PC Express is a grocery pick-up and delivery service offered by Loblaw. You can use the service to simplify your grocery shopping at more than 700 stores across Canada including Real Canadian Superstore, Wholesale Club, No-Frills, Atlantic Superstore, and Zehrs.

PC Express's pick-up service costs between $3 and $5, however, a PC Insider subscription means you get this service for free.
Is PC Insiders Worth It?
If you are a frequent shopper at Loblaws and the pick-up service is something you actually need, the benefits of membership outweigh the costs.
Have you tried PC Insiders or PC Express? let us know about your experiences in the comments.
Summary
A PC Insiders subscription is a gateway to earning more PC Optimum points and perks at Loblaw stores. This PC Insiders review contains a $25 promo code to offset part of your annual fees for year one.