MoneyGram Canada is one of the most convenient and fastest means of sending money to almost any country worldwide.
Their money transfer service is popular because they offer competitive rates, a user-friendly website, and the ability to send money in person or via their mobile app.
Just like other money transfer services, including WorldRemit, getting set up is quick and easy, and you're guaranteed that your money will be delivered to your relatives and friends abroad, almost instantly in many cases.
This MoneyGram review covers how the platform works, the exchange rates, fees associated with the service, and more.
What is MoneyGram?
MoneyGram is a money transfer company based in the United States that helps people send money worldwide.
It's one of the largest providers of this type, with more than 350,000 agent locations in over 200 countries and territories.
It operates globally and has a strong presence in Canada, located in most major cities and many smaller towns.
The company provides money transfer services through a network of agents and financial institutions, including banks, supermarkets, and check cashers.
These physical locations offer cash-to-cash transfers and electronic transfers to bank accounts.
Compared to other money transfer services, MoneyGram is one of the best values for your money.
It offers a range of transfer methods, allowing you to choose the best service for your needs.
MoneyGram Canada is a good choice if you're looking for:
Low-cost MoneyGram fee transfers: MoneyGram offers some of the lowest pricing available on international money transfers when you pay with a debit or credit card.
Various methods: You can send cash at an agent location, online, or via their mobile app.
Fast transfers: Depending on the country, MoneyGram offers quick turnaround times for sending cash and transferring funds to bank accounts and mobile wallets overseas, almost instantly in most cases.
How To Send Money Using MoneyGram
Sending money with MoneyGram is simple. You have five options available to send and receive funds: through an agent like a supermarket, mobile app, online, to a bank account, or a mobile wallet.
Most transactions are processed within minutes, and the recipient can pick up their money almost immediately after it's sent.
How To Send Money Transfers Online
Sending money online with MoneyGram is simple, safe, and fast. You can send money using any computer, and there are no signup or monthly fees for using the service. Here's how it works:
Visit the website and click on "Send Online" under the "Send Money" tab.
Create an account by clicking on the "Sign Up" link at the top right of your screen.
Select a receiver and enter the details of who you are sending the money to and how much you want to send.
Choose how you want to pay and send the money.
MoneyGram accepts credit or debit card payments.
How To Send Money Transfers In-App
Sending money with the MoneyGram app is just as easy. Follow these steps:
Download the free MoneyGram app on the App Store or Google Play.
Register for an online account or sign in to an existing account.
Tap "Send" on the home screen and then input your transfer amount and choose a payout method.
Select a receiver from your contacts list or add a new name, address, and phone number.
Select a payment method and confirm the transfer details
How To Send Money Transfers at a Location
Sending money at a MoneyGram location is easy. Here's what you can expect when you head to your nearest agent location:
Complete a simple form. You'll need to provide information about yourself, your recipient, and how you want to receive the funds.
Provide payment. You can pay for your transfer with cash, debit card, or check.
Once you complete the form and pay, an agent will send the transfer.
How Long Do MoneyGram Transfers Take?
When you send money with MoneyGram, your funds can be available for pickup in as little as 5 minutes.
However, delivery times also depend on your choice of payment method and whether you require a currency conversion.
If you want to transfer cash from a store location, you can generally expect funds to be available within 10 minutes.
If you need to pay using a bank account or credit card, this can take up to three days.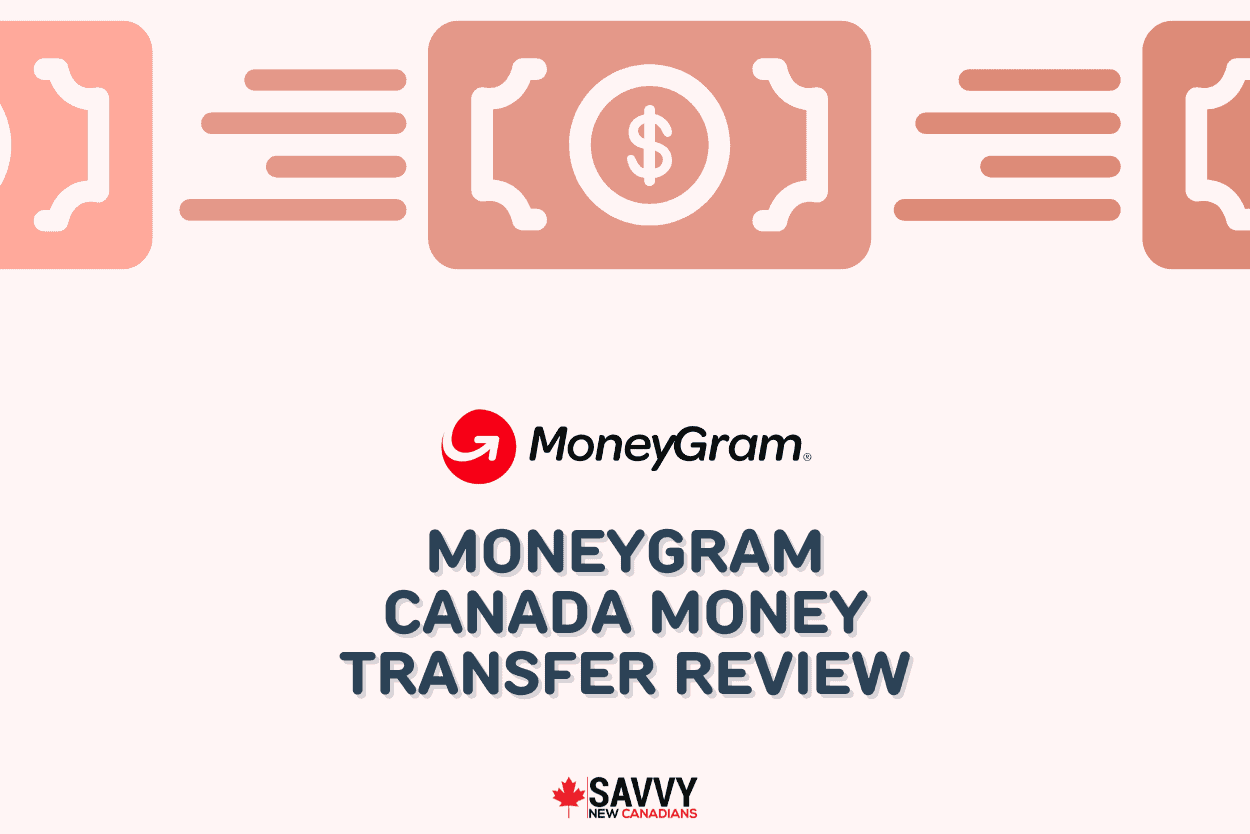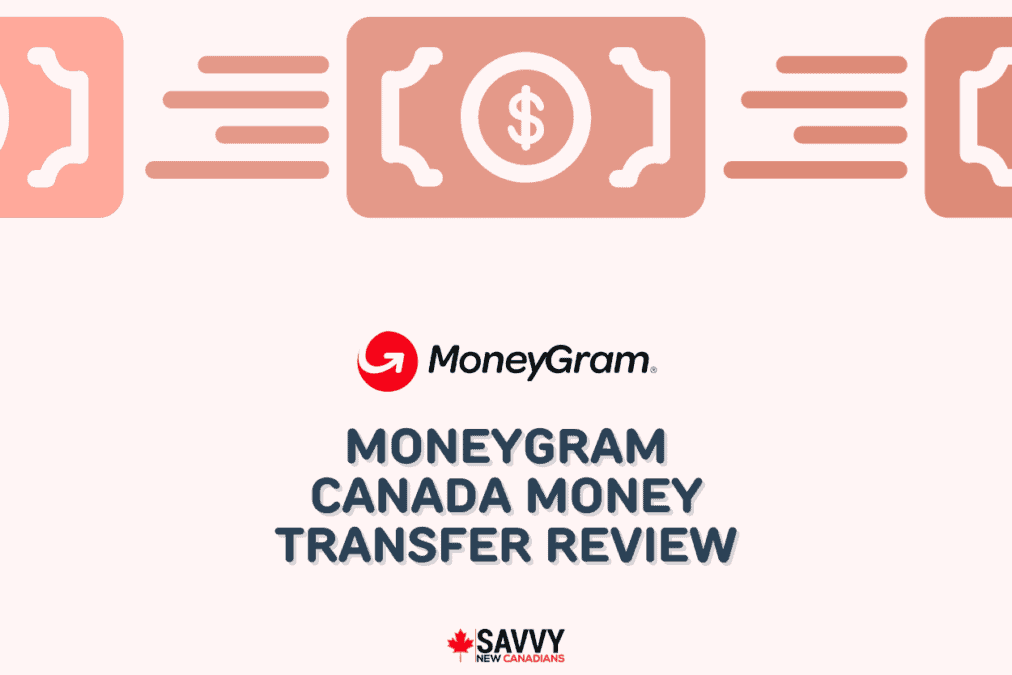 MoneyGram Canada Exchange Rates
MoneyGram's transfer fees are competitive compared to other payment platforms like WorldRemit and Western Union.
The exchange rates MoneyGram charges depend on the currency pair you are using.
You should note that its exchange rate has markup and is not as competitive or favourable as the mid-market rates used by money transfer companies like Wise or Xe.
MoneyGram Transfer Fees
MoneyGram fees depend on how much money you're sending, where it's going, and how you want to pay for it.
The cheapest option is generally to pay using your bank account. You can use their online calculator to see exactly how much it will cost.
Fees start at $0 when paying with a debit card or bank account and increase based on where you're sending money, the method of payment, the amount being shipped, and whether it's picked up in person or delivered by courier.
When picking up cash in person, there is no fee for amounts under $1,000. All other transactions cost between $5-$10.
Countries and Locations Supported By MoneyGram
MoneyGram transfer lets you send money to more than 200 countries and territories worldwide, including Canada.
The service is available through a network of more than 350,000 agent locations worldwide.
You can use the locator tool on MoneyGram's website to find a location near you. You can also check places by country to find out where you can send money from in your area.
Some countries you can send and receive money to include the United States, Mexico, France, Germany, Nigeria, and more.
Pros and Cons of MoneyGram
Pros of MoneyGram
MoneyGram is the second-largest money transfer service globally, which means it can be trusted.
Sending money through MoneyGram is quick and cheap, and you can send up to CAD 6,000 to over 200 countries worldwide.
There are over 350,000 locations in 200+ countries where MoneyGram operates. This makes it easy to find a pickup location wherever your recipient is based.
MoneyGram offers some of the lowest transfer fees in Canada, even for large transfers. Prices start at $4.99 and increase depending on the transaction amount and destination country.
MoneyGram offers bank account-to-bank account transfers to many popular destinations, including Mexico, China, India, Nigeria, and the Philippines.
Cons of MoneyGram
Fees can be low with MoneyGram depending on how much you transfer and spend your money. However, some alternative providers can offer better exchange rates and lower transaction fees.
Some countries' transfer options are limited, particularly in Europe and South America.
There is no instant support over the phone or chat.
Is MoneyGram Safe?
MoneyGram is one of the oldest and most trusted money transfer services globally. It was founded in 1980, and millions of people use it to send money internationally and domestically.
The company currently provides its services to consumers in over 200 countries worldwide.
MoneyGram also has an excellent reputation as a safe method of sending money abroad.
They are regulated by the Financial Conduct Authority (FCA) in the UK. The FCA is an independent body that regulates financial services to protect consumers.
This gives MoneyGram customers additional security when using the service since their money is protected should something go wrong.
MoneyGram Alternatives in Canada
MoneyGram offers one of the best money transfer services in Canada, but other options are available.
Before deciding on a provider, it's worth comparing MoneyGram with other money transfer providers.
Wise
Wise is a global leader in worldwide money transfer services, working closely with specially chosen agents in 200 countries and territories worldwide.
They offer easy ways to send money: send for cash pickup, a bank account, or a mobile wallet.
In Canada, Wise has partnerships with over 1,500 locations where you can send or receive funds. Partners include grocery stores, convenience stores, and financial service providers like Western Union.
The mid-market rate is the only one that matters when exchanging currencies. It's the real rate, i.e. the one you find on Google.
They give you this same rate when you use Wise, which means you get more bang for your money.
The fees associated with Wise start at $2.99, depending on how much you're sending and where you're sending it.
Learn more in this Wise review.
Simplii
Simplii Financial is a new direct banking brand that launched in November 2017, offering no-fuss banking with competitive interest rates.
It's one of the latest brands to provide an online money transfer service, but it's already making a solid name for itself.
If you're a Simplii Financial customer, you have easy access to an online account through which you can make transfers.
Its chequing accounts are free and offer unlimited transactions, including global money transfers.
Simplii also offers competitive exchange rates and no transfer fees for sending money abroad to China, India, the Philippines, and more than 130 other countries worldwide.
Learn more about how Simplii's Global Money Transfer works and how to get up to a $350 bonus.
Conclusion
MoneyGram is a famous money transfer company that makes transferring funds easy.
With a long history of providing reliable service and affordable rates, it's no wonder that consumers continue to use this service for both domestic and international needs.
With MoneyGram, you can send money online to friends, family, or loved ones in a matter of minutes.
You can also receive money from other countries, making it easy for someone abroad to help you out when you're in a tight spot financially.
Related: