You can invest up to $10,000 for free for 1 year when you sign up for a new Questwealth Portfolio account using our Questwealth referral code "SAVVY50".
That means you don't pay management fees for 12 months and can grow your portfolio faster.
Questwealth is the robo-advisor wealth management service offered by Canada's top independent brokerage platform, Questrade.
If you want to open a self-directed investment account instead, you can use the same referral code to get $50 in free trade credit or read our article about Questrade's offer code.
Read on to learn about Questwealth, how it works, its pros, cons, fees, account types, promotional offers, alternatives, and whether it is safe.
Questwealth Referral Code
To take advantage of this Questwealth offer, sign up here and follow the steps below.
Click on "Open an Account" on the page you are re-directed to on Questwealth.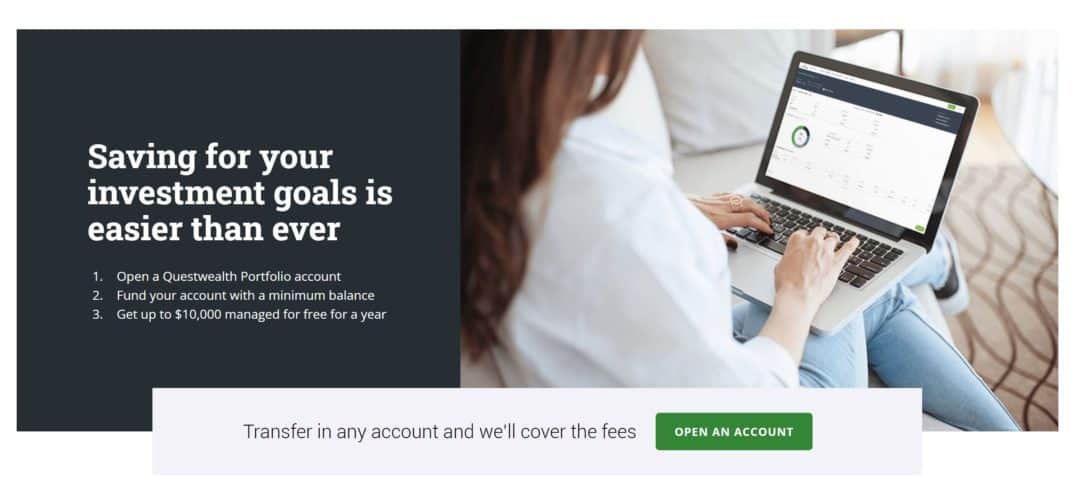 On the new page, choose "Questwealth portfolio" by clicking on "Add" (see image below)
The Questwealth referral code SAVVY50 is automatically added to your new account in the "Offer code" section. If you don't see it, simply type SAVVY50 in the box and click on "Apply" to claim the sign-up bonus.
Accept the terms and conditions and click on the "Open Now" button to proceed. You will now be asked to create a user ID and set up your account.
Fund your account with at least $1,000. This offer waives the management fees on your account on up to $10,000 invested.
What is Questwealth?
Questwealth is a robo-advisor service. If you want professionals to manage your investment portfolio for you, Questwealth is a great option.
It offers a variety of accounts, including TFSA, RRSP, RESP, corporate, LIRA, LRSP, LIF, RRIF, and personal non-registered investment accounts.
Questwealth uses low-cost ETFs to build a portfolio that matches your risk tolerance and investment needs, including:
Aggressive growth portfolio
Growth portfolio
Balanced portfolio
Income portfolio
Conservative portfolio
You can also invest according to your ideals using one of its Socially Responsible Investment Portfolios (SRI).
All these portfolios are actively managed by experts.
Questwealth Fees
The management fees for Questwealth vary depending on your account balance:
$1,000 – $99,999: 0.25% per year
$100,000 and more: 0.20% per year
The ETFs in your portfolio also have in-built fees that range from 0.17% to 0.35%.
When the US dollar is required to buy or sell ETFs in your account, a 100 basis points fee (0.01) is added to the exchange rate.
Is Questwealth Safe?
Yes, Questwealth is safe. It is owned by Questrade, one of the best investment platforms in Canada.
Questrade has more than $30 billion in assets under management.
It is a member of the Canadian Investor Protection Fund (CIPF), which means your account is insured for up to $1 million in the unlikely event that the company becomes bankrupt.
Questwealth and Questrade also protect your account with an additional $10 million in private insurance.
Questwealth Promotional Offers
In addition to the Questwealth referral code, you can get $50 in free trade credits when you open a Questrade stock and ETF trading account and use our referral code SAVVY50.
Also, Questrade has a referral program that rewards you when friends open an account using your referral code or link.
For example, you earn $25 for every referral and get an extra $50 bonus for every third referral.
Your friends also earn a cash bonus depending on how much they deposit (up to a $250 bonus).
How To Refer Friends To Questwealth
Sign in to your Questwealth account.
Select "Account Management" and click on "Refer a Friend"
Copy your unique Questrade referral code using the QPass key and share it by email or text.
Questwealth vs. Questrade
Questrade is for delf-directed investment accounts where you buy and sell stocks, ETFs, and other assets based on your own discretion.
No financial advice is offered, and you don't pay management fees.
ETF purchases are free; however, you pay a $4.95 to $9.95 fee when you sell. There are also trading fees when you buy and sell stocks.
Learn more about how it works in this Questrade review.
Questwealth vs. Wealthsimple Invest
Wealthsimple Invest is the most popular robo-advisor in Canada. Like Questwealth, it offers both registered and non-registered investment accounts.
The management fee on Wealthsimple Invest ranges from 0.40% to 0.50%.
Get more details in this review.
Pros of Questwealth
Low-cost robo-advisor service
Automatic portfolio rebalancing
Tax management through tax-loss harvesting
Automatic dividend re-investing
Reputable company
Cons of Questwealth
You don't get to choose the ETFs in your portfolio
Management fees are an add-on to inbuilt ETF fees
Questwealth Referral Code FAQs
What is the promo code for Questwealth?
The best Questwealth promo code is SAVVY50. This code gives you free investing for one year on up to $10,000 invested.
How do I get $50 on Questrade?
Sign up for a Questrade account here and fund your account with at least $1,000.
Questwealth Referral Code
Ease of use

Accounts and products

Welcome offer

Security

Fees
Summary
Use our Questwealth referral code "SAVVY50" and invest up to $10,000 free for 1 year. This Questwealth referral bonus is the best offer in Canada.
Pros
Lowest cost robo-advisor in Canada
Automatic portfolio rebalancing
Offer tax-loss harvesting
Automatic dividend re-investing
It is operated by a reputable company
Cons
You don't pick the ETFs in your portfolio
Management fees add-on to inbuilt ETF fees