Are you thinking about earning some more passive income? Swagbucks is one of many ways to do so.
As you are probably aware, the internet is full of opportunities promising to make everyone rich and famous. Many of these are scams, and it can be tedious sorting through the thousands upon thousands of websites, signing up, and finding which one pays you and which one is a scam.
Swagbucks is similar to other popular paid survey sites that are worth your time, including sites like Survey Junkie, Inbox Dollars, Daily Rewards, Pinecone Research, and several others.
Swagbucks will not make you rich; however, they deliver on what they promise and handily pass my "scam test."
This Swagbucks review answers the pressing questions first-time users usually ask, including if Swagbucks is safe, legit, or a scam, how it works, whether it is free, and how much you can earn with Swagbucks.
Read on to see how you can monetize your free time and earn extra cash using Swagbucks.
What is Swagbucks?
Swagbucks is one of the most popular and free online rewards programs available on the internet. Users who sign up earn digital points when they perform simple tasks.
These rewards points are popularly referred to as Swagbucks or SB, and can be redeemed for various gift cards or cashed out via Paypal.
The company behind Swagbucks, Prodege, LLC., is headquartered in El Segundo, California.
Swagbucks has grown popular for a good reason: they are a legitimate undertaking, and as of 2023, they have paid their members well over $830 million dollars in rewards.
As per their website, they send out an average of 7,000 free gift cards to members.
How To Sign-Up For Swagbucks
Opening a Swagbucks account is easy-peasy.
Fill out the registration form. It is quick and painless, and you should be on your way to earning SB points in a few minutes!
How To Make Money With Swagbucks
There are many ways to accumulate Swagbucks (SBs), allowing you to choose which options you prefer at any point in time. These include:
1. Answer Surveys
Polls and surveys abound on Swagbucks that allow you to share your opinions and earn SB points. These surveys vary in their time requirements and SB rewards offered.
2. Shop Online Through Swagbucks
Swagbucks will award you SB points when you shop at your favourite online retailers, including Amazon, Walmart, Target, Macy's, Sephora, and many thousands more.
The cash rebates you receive in points (i.e. SBs for every $1) can be as high as 25%. To earn SB points for shopping, you need to access the retailer through the Swagbucks website.

3. Watch Videos
You can watch videos at your leisure and earn SB points. These videos relate to different subjects, including food, politics, health, film trailers, etc. The points awarded are not as mouth-watering; however, it is not a big deal as you can simply allow the videos to run while you are doing other things.
Another great website that rewards you with cash-back when you shop online is Rakuten (use this link for a $30 sign-up bonus).
4. Search The Web
You can earn SB points while doing your routine browsing on the web. Simply use Swagbucks as your search engine (powered by Yahoo!) and accumulate SBs.
To automate this process and make earning SBs easier, you can make Swagbucks Search your default search engine by installing their Chrome or Firefox browser extensions (SwagButton).
The SwagButton also helps you to find coupons and deals easily, earn cash back while shopping, get Swag Code alerts, and earn SBs while watching videos. When you first install the SwagButton, you get free SBs.
5. Play Games on Swagbucks
If you love playing games, you can do so on Swagbucks and earn points simultaneously. Free Swagbucks games include Swagasaurus Run, Swag Jump, and Swag Memory.

There are other games that offer in-game purchases. If these are games you normally play or pay for (through Game Show Network), you can earn additional SBs for every dollar you spend using Swagbucks.
These games include Super Plinko, Tetris Burst, Dynomite, Bejeweled Blitz, Wheel of Fortune, Solitaire Rush, Bingo Bash, and more. I generally don't like to pay for games when free options abound.
6. Deals and Offers
Swagbucks has a section where you can browse through all kinds of deals and offers from their partners. If you find an offer on a product you would purchase anyway, it provides an opportunity to earn free SB points.
For example, when signing up for the Scotia Momentum Visa Infinite Card through Swagbucks, you could earn 2,500 SBs.
7. Contests
There are always opportunities to earn bonus SB points. These include contests (Swago), Spin and Win, and sweepstakes (Swagstakes) that offer as much as 25,000 SBs in wins.
You also earn SB points using Swag Codes that are available on their website and social media pages now and then.
8. SB Answer Receipts
You can earn SB points by submitting photos of your grocery receipts using the SB Answer app. Earn 2 SB for every new grocery receipt from popular retailers, including Walmart, Shopper Drug Mart, Applebee's, Best Buy, CVS, Burger King, and many others.
9. Earn Money By Referring Friends To Swagbucks
A great way to supercharge your accumulation of SB points is to refer friends and family to Swagbucks using the customized referral link they provide to you after you sign-up.
When your friends sign up using your link, they get a $10 bonus, and you earn 10% of their earnings for life.
For example, say they earn 5,000 SB points in their first month; you will also earn an additional 500 SB points simply because you referred them… and this goes on for as long as they use Swagbucks.
Sign up for Swagbucks here (for a $10 welcome bonus).
Other Ways To Earn Swagbucks
10. Swag IQ: Swag IQ is a live, fun trivia game app that is owned by Swagbucks. Brands use the app to engage with an audience of over 50,000 players. Players are asked trivia questions, and when you answer all questions correctly, you qualify for a grand prize.
Prizes are paid out as SBs and can be redeemed as cash back or gift cards through your Swagbucks account.
11. Buy Gift Cards: MyGiftCardsPlus is owned by Swagbucks, and when you buy your regular gift cards through them, you qualify for SB points which can then be redeemed as usual. Rewards on gift cards can be as high as 30%!
How To Redeem Your Swagbucks
There are two major options for redeeming your accumulated SB points:
1. You can redeem your points for a gift card from major retailers, including Amazon, Walmart, and several others. The gift cards come in various denominations (small and large) and make it easy for you to redeem points frequently.

The gift cards often go on sale, and you could get even more value for your SB. For example, 2,500 SB equals $25. However, they often offer a discount so 2,200 SB can snag you a $25 gift card at 20% off!
2. You can convert your SB points into cash and have the money sent out to you through Paypal.
3. You can choose to donate SBs to a charity of your choice, including Save The Children, Wounded Warrior Project, Doctors Without Borders, and UNICEF.
Is Swagbucks Safe and Legit?
The short answer is "Yes!"
Swagbucks is a legit business that has paid members over $500 million dollars to date. You can read thousands of reviews relating to them from other users on Trust Pilot, where they have a Trust Score of 4.3.
Swagbucks also gets an A+ rating from the Better Business Bureau.
Swagbucks Pros
Users of Swagbucks have reviewed the site over 16,500 times on Trustpilot and given it a 4.3/5 trust rating. On the BBB, the site has an A+ rating.
Swagbucks pros, as indicated by users, include:
The site is reputable
Many options to redeem your rewards
Very quick payout
Great way to earn extra cash
Offers a good number of interesting surveys
Great discounts on gift cards and rewards
Swagbucks Complaints
Some of the complaints by users of Swagbucks on Trustpilot and the BBB are:
Difficulties with resetting their password
Not qualifying for a lot of surveys
Not receiving bonus rewards
Slow customer service
Account deactivation for no reason
If you have inquiries about your account, you can submit a ticket on their site. The business hours for their customer service are between 9:00 am and 5:00 pm Pacific Time from Monday – Friday.
Is Swagbucks Worth It?
It depends.
As I mentioned already, Swagbucks will not make you rich. However, it can become one of many other streams of passive income you earn every month.
Swagbucks is particularly attractive because you can make extra cash doing what you normally do, such as surfing the web or making purchases online.
To wrap things up, you can sign up here at Swagbucks.com and put some cash back in your wallet!
Closing Thoughts
There are many ways to earn passive income online, and Swagbucks is one viable option you can use to monetize your leisure time.
To get the most for your time, you should sign up for several "get paid to" and rebates/cash-back sites and then thin down your list to those that work for you.
Some other free sites for earning extra cash online include:
Swagbucks FAQs
How many Swagbucks is $1?
100 Swagbucks or points is worth $1, and you can redeem your points for gift cards (Amazon, Walmart, Visa, Starbucks, iTunes) and cash.
How do I get 1000 Swagbucks in a day?
When you sign up with a valid Swagbucks referral link, you earn 500-1000 Swagbucks immediately after meeting the eligibility criteria. You can also take one or two surveys to reach 1000 Swagbucks if your welcome bonus is $5.
Are you a Swagbucks member? Let us know about your experience in the comments.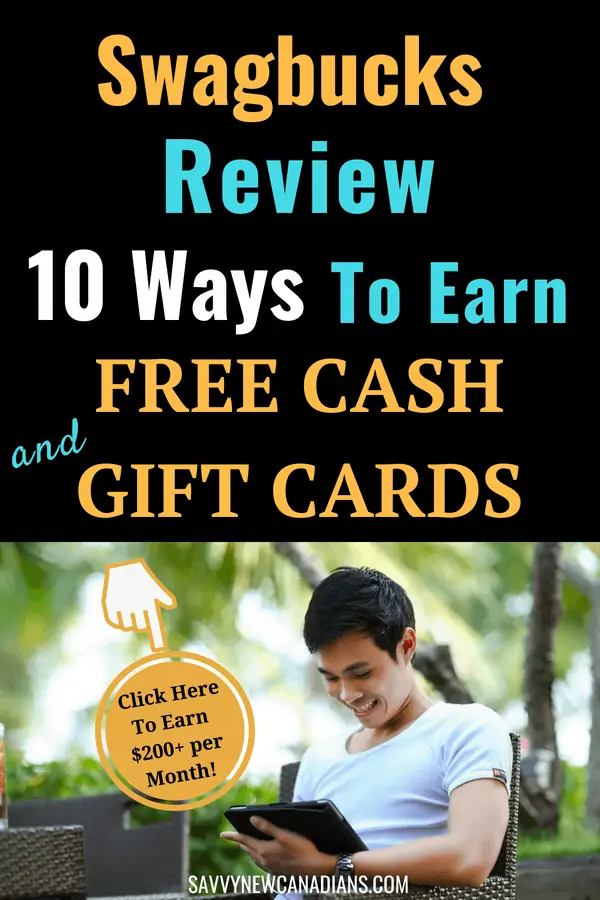 Swagbucks Review 2023: Is It Legit and Safe? 10 Ways To Make Money
Credibility

Rewards Options

Redemption Options

Overall Value
Summary
Swagbucks is one of the most popular free online rewards programs in Canada and the United States. This Swagbucks review covers everything you need to know. Is Swagbucks a scam? Is it legit and safe to use? How does it work? How much money can you earn? Sign-up to earn extra money and gift cards on the side today. 
Pros
Reputable survey site
Multiple options to redeem rewards
Speedy payouts
Easy way to earn extra cash
Get discounts on gift cards
Cons
May not qualify for some surveys
Slow customer service
Account deactivation for no reason