Qtrade and Questrade are two of the best online brokerage platforms in Canada. Both companies are positively rated and offer self-directed investors an opportunity to directly control their investments while saving on fees.
Questrade is the largest independent discount broker in the country and is my top choice when considering a stockbroker for experienced investors.
Over the years, Qtrade has earned its stripes as a reliable online brokerage platform with award-winning customer service and user experience.
This Qtrade vs. Questrade comparison digs into the services, investment products, and accounts they offer, how they compare on fees, the benefits you can expect, and more.
Questrade Overview
Questrade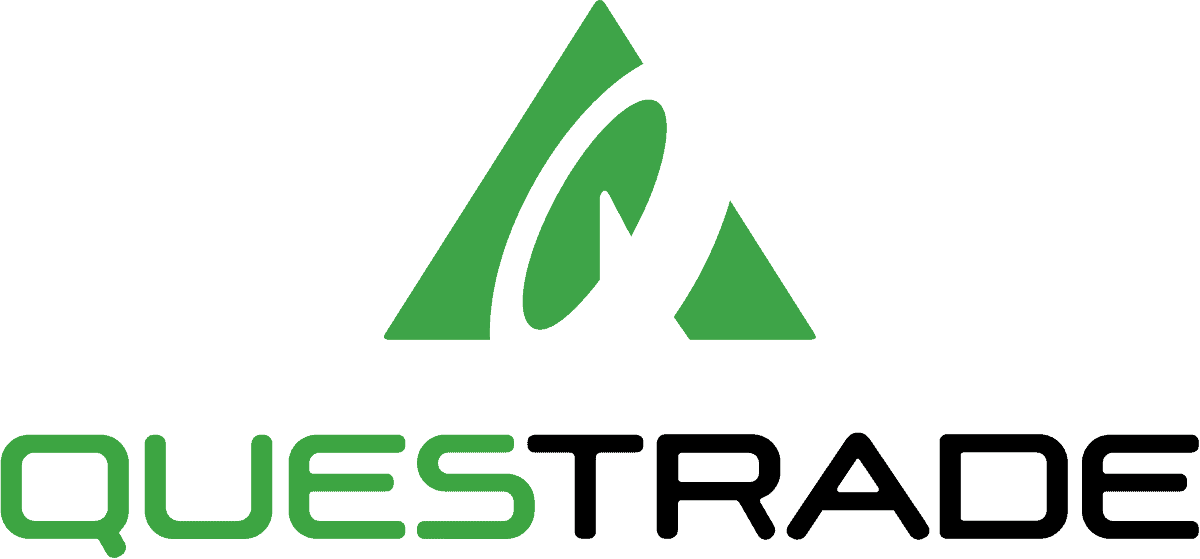 On Questrade's Website
Fees: Buy ETFs commission-free and stocks at $0.01 per share
Account minimum: $1,000 to start trading
Promotions: Get $50 in free trades
Questrade was established in 1999 and has over $30 billion in assets under management.
It is one of the fastest-growing online brokerages in Canada, with over 200,000 new accounts added every year.
Some reasons for the remarkable growth of this platform over the years include its trading fees, innovative trading tools, safety, and more.
In 2022, Questrade was ranked #2 by J.D. Power in its Canada Self-Directed Investor Satisfaction Study. It has also been named one of Canada's Best Managed Companies for several years.
In addition to self-directed accounts, Questrade offers managed portfolios for investors who prefer someone else to manage their investments. This service is referred to as Questwealth Portfolios.
Qtrade Overview
Qtrade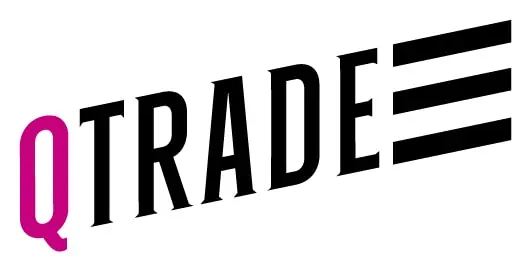 On QTrade's Website
Fees: $8.95 per trade, commission-free on select ETFs
Account minimum: Fees on balances under $25,000
Promotion: Get up to $2,000 bonus
Qtrade is an online discount broker launched in 2001. It has been voted as the best overall brokerage platform many times over the years and has award-winning customer service.
You can use Qtrade to buy and sell stocks, ETFs, options, bonds, mutual funds, and many other securities.
Qtrade is a division of Credential Qtrade Securities Inc. and is owned by Aviso Wealth.
If you are looking for professional portfolio management, you can use Qtrade Guided Portfolios, a company also owned by Aviso Wealth.
Related: How To Buy Stocks in Canada.
Qtrade vs. Questrade
1. Investment Accounts Offered
Questrade and Qtrade offer all the popular registered and non-registered accounts you would expect to find on a full-fledged brokerage, including;
Tax-Free Savings Account (TFSA)
Registered Education Savings Plan (RESP)
Locked-in Retirement Account (LIRA)
Life Income Fund (LIF)
Registered Retirement Income Fund (RRIF)
They also offer cash, margin, individual and joint taxable, and corporate accounts.
2. Investment Products Options
Questrade has more variety and offers trading in stocks, ETFs, options, foreign currencies, initial public offerings (IPOs), mutual funds, precious metals, bonds, GICs, and contracts for difference (CFDs).
As for Qtrade, you can trade stocks, ETFs, bonds, mutual funds, IPOs, options, and GICs.
3. Trading Fees
Questrade takes the edge on trading fees and commissions because it offers free ETF purchases, and you only pay when you sell.
Qtrade currently has 100+ ETFs you can trade for free (including Responsible Investing and Thematic ETFs).
The minimum standard fee for stock trades is $4.95 as opposed to $8.75 for Qtrade.
The table below compares fees for both Qtrade and Questrade.
| Trading Commissions | Qtrade | Questrade |
| --- | --- | --- |
| Stocks | $8.75 per trade | $4.95 – $9.95 per trade |
| ETFs | $8.75 (100 ETFs free) | Free to buy; $4.95 – $9.95 for sell-side transaction |
| Options | $8.75 + $1.25 per contract | $9.95 + $1 per contract |
| Bonds | $24.99 min; $250 max | Free with a $5,000 minimum purchase |
| Mutual fund | Free | $9.95 per trade |
| FX & CFDs | N/A | Spread varies |
| Precious metals | N/A | $19.95 USD per trade |
| Base Active Investor pricing | $6.95 per trade | $4.95 per trade |
Other trading fees that may apply to both platforms include Electronic Communication Networks (ECN) fees, SEC fees for U.S. trades, Alternative Trading Systems (ATSs) fees, telephone-assisted trades fees, and more.
Visit the "pricing" page for each platform for a complete and updated list of fees.
4. Account Management Fees
Questrade recently eliminated its $25 quarterly inactivity fee.
On Qtrade, you can expect to pay $25 per quarter if your investment asset balance is under $25,000, and you do not qualify for a rebate through other offers.
The quarterly account maintenance fee for U.S. dollar registered accounts on Qtrade is $15 USD.
Closing your Questrade account is free. If you close an account within the first year of opening it with Qtrade, a $100 fee applies.
Qtrade and Questrade charge a $150 account transfer fee if you transfer your account to another financial institution.
5. Trading Platforms
Questrade offers a web-based trading platform you can assess on your computer and a smartphone app that works on iOS and Android devices.
It also has a desktop application, Questrade IQ Edge, which you can use for advanced options trading techniques.
Qtrade offers both a web-based platform and a smartphone app.
Both platforms offer access to real-time quotes, market research, charting capabilities, screeners, watchlists, alerts, and other useful tools.
6. Minimum Investment
The minimum amount you need to start trading on Questrade is $1,000. However, Qtrade does not have a minimum balance requirement.
7. Safety
Clients on both platforms enjoy coverage against insolvency (up to $1 million) through the Canada Investor Protection Fund (CIPF).
8. Other Features
Questrade has a robo-advisor (Questwealth) you can use if you want someone else to manage your investments.
Qtrade's managed investing service is known as Qtrade Guided Portfolios.
Over #1 choice for an online wealth management service (aka robo-advisory) in Canada is Wealthsimple Invest. Get a $25 cash bonus when you open an account.
9. Promotions
Questrade will give you $50 in free trade credits when you open an account and fund it with at least $1,000. Use the promo code SAVVY50 to take advantage of this offer.
Qtrade offers a $50 cashback when you open an account and deposit at least $1,000. You can earn up to $150 cashback when you fund with higher amounts.
Pros and Cons of Questrade
Pros
You can purchase ETFs for free.
It has no account maintenance or inactivity fee.
Its base trading fees are competitive and active traders save even more with $4.95/trade.
Clients enjoy an extra $10 million in private insurance.
Registered accounts do not have an annual fee.
Fees are covered up to $150 when you transfer your account to Questrade from another financial institution.
It offers all the popular securities you may be interested in trading.
It offers new clients $50 in free trades, and you can refer your friends to earn additional rewards.
Cons
The minimum $1,000 account balance requirement may be prohibitive for some investors.
Pros and Cons of Qtrade
Pros
It offers a variety of investment products and accounts.
You can trade using your computer, tablet, or phone.
Great customer service.
100+ free ETFs.
No minimum balance to start investing
Up to $150 cashback
Cons
Accounts with assets under $25,000 may pay a $25 fee every quarter.
Qtrade's trading commissions are a bit higher
A $100 fee applies if you close your account within the first year.
Qtrade vs. Questrade vs. Wealthsimple Trade
We compare and contrast all three independent brokerage platforms in the table below:
| | Qtrade | Wealthsimple Trade | Questrade |
| --- | --- | --- | --- |
| Stock trading fee | $8.75 | $0 | $4.95 – $9.95 |
| ETF trading fee | $8.75 (100+ free ETFs) | $0 | $4.95 – $9.95; ETF purchases are free |
| Options trading fee | $8.75 + $1.25 | N/A | $9.95 + $1 |
| Active trader base fee | $6.95 | N/A (no trading commission) | $4.95 |
| Accounts offered | RRSP, TFSA, RESP, LIRA, LIF, corporate, margin, cash | TFSA, RRSP, individual non-registered | RRSP, TFSA, RESP, LRSP, LIRA, LIF, margin, corporate, cash |
| Investments offered | Stocks, ETFs, Bonds, GICs, IPOs | Stocks and ETFs | Stocks, ETFs, bonds, GICs, mutual funds, IPOs, FX, CFDs |
| Minimum investment | $0 | $0 | $1,000 |
| Account Maintenance fee | $25/quarter if balance < $25,000 | None | None |
| Mobile app? | Yes | Yes | Yes |
| Transfer-in fees waived? | Up to $150 with transfers or $25,000+ | Up to $150 with transfers of $5,000+ | Up to $150/account |
| Promotional offer | Get a $50 to $150 bonus when you fund | $25 cash bonus when you fund with at least $150 | $50 in free trade credits when you fund your account with $1,000+ |
| Apply | Apply Now | Apply Now | Apply Now |