A Registered Retirement Income Fund (RRIF) is an extension of the RRSP. On December 31st of the year you reach age 71, you're required to do one (or all) of three things with the funds in your RRSP:
Withdraw all funds in your RRSP as cash. With this option, the entire amount withdrawn is immediately taxable by Canada Revenue Agency.
Use the funds to buy an annuity. You will receive an income from this annuity for life.
Convert the RRSP to an RRIF. Earnings or growth on your investment have a tax-deferred status and only become taxable following withdrawal.
Read on to learn about how RRIFs work, RRIF rules, investments, and contributions.
What is the Difference Between an RRIF vs. RRSP
There are some differences between an RRSP and an RRIF in Canada.
Contribution: Following converting your RRSP to an RRIF, you can no longer make annual RRIF contributions as you could with an RRSP.
Withdrawal: Withdrawals are optional for an RRSP, whereas, for an RRIF, you must make minimum annual withdrawals that are determined by the Income Tax Act and are based on your age (or the age of your spouse) and the market value of your RRIF assets at the beginning of the year.
There's no limit to the maximum amount that can be withdrawn from an RRIF or an RRSP.
RRIF Withdrawal Rules
There are some RRIF rules you should be aware of.
For example, you are required to start withdrawing a minimum amount from your RRIF in the year after you open it.
The annual mandatory minimum amount is calculated using your age (or that of your spouse, if preferred), the market value of your RRIF holdings on December 31 of the previous year, and a prescribed RRIF factor set by the government.
For individuals who are less than 71 years of age, the prescribed RRIF factor is calculated using the formula:
1/(90 – age)
where "age" refers to your age or that of your spouse or common-law partner at the beginning of the year.
For individuals who are 71 years of age or older, the prescribed factor was set by the Federal 2015 Budget and generally reduced to accommodate for the longer lifespan of Canadian retirees.
| | | | |
| --- | --- | --- | --- |
| Age | RRIF factors (2015+) | Age | RRIF factors (2015+) |
| Under 71 | 1/(90 – age) | 83 | 7.71% |
| 71 | 5.28% | 84 | 8.08% |
| 72 | 5.40% | 85 | 8.51% |
| 73 | 5.53% | 86 | 8.99% |
| 74 | 5.67% | 87 | 9.55% |
| 75 | 5.82% | 88 | 10.21% |
| 76 | 5.98% | 89 | 10.99% |
| 77 | 6.17% | 90 | 11.92% |
| 78 | 6.36% | 91 | 13.06% |
| 79 | 6.58% | 92 | 14.49% |
| 80 | 6.82% | 93 | 16.34% |
| 81 | 7.08% | 94 | 18.79% |
| 82 | 7.38% | 95+ | 20.00% |
You can also check out the prescribed factors here.
RRIF Minimum Withdrawal Example 1 (Under 71 years)
Assume Patel converted his RRSP to an RRIF at age 65. The market value of his RRIF on December 31, 2022, was $500,000. In 2023, his minimum mandatory annual withdrawal is:
⇒ $500,000 x 1/(90-65)
⇒ $500,000 x 0.04 (4%) ⇒ $20,000 for 2023.
He must withdraw at least $20,000 from his RRIF in 2023.
RRIF Minimum Withdrawal Example 2 (71 years and older)
Let's now assume Patel is actually 75 years old, and the market value of his RRIF as of December 31, 2022, was $500,000. His minimum withdrawal amount for 2023 is:
⇒ $500,000 x 0.0582 (5.82%)
⇒ $29,100 for 2023.
In general, as you grow older, you are required to withdraw a larger percentage of your RRIF funds, increasing to 20% from age 95.
You get to decide the frequency of your RRIF withdrawals. Payments can be made monthly, quarterly, annually, and so on.
Related: A Complete Guide to Retirement Income in Canada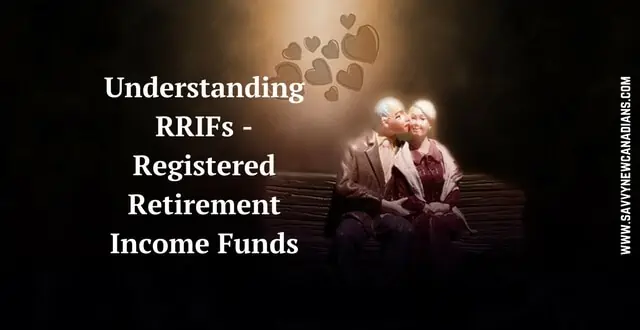 RRIF Withdrawals and Taxes
No tax is withheld by your RRIF carrier when you withdraw the minimum amount. However, you must report it as income in your annual income tax return.
For withdrawals above the mandatory annual minimum payout, withholding tax is deducted at the source as follows:
| | | |
| --- | --- | --- |
| Excess RRIF | Withholding Tax (non-Quebec resident) | Withholding Tax (Quebec resident)* |
| Up to $5,000 | 10% | 21% |
| $5,000 to $15,000 | 20% | 26% |
| $15,000 + | 30% | 31% |
If you are 65 years or older, you may qualify for the Pension Income Tax Credit. This means that the first $2,000 received from your RRIF is eligible for a non-refundable tax credit and federal tax savings of $300 (i.e. $2,000 x 15%).
RRIF Investments
You can invest in a variety of investment assets inside your RRIF account, including:
Exchange Traded Funds (ETFs)
Stocks
Bonds
Guaranteed Investment Certificates (GICs)
Mutual Funds
Savings deposits and more
Learn about some of the best RRIF investments in Canada.
RRIF Strategies and Other Rules
The securities you can buy within an RRIF are similar to those in an RRSP, including mutual funds, stocks, ETFs, bonds, GICs, etc. Depending on your age, you will generally want to have a more conservative portfolio for your RRIF since the investing time frame is shorter and you need the income.
You can make withdrawals "in cash" or "in kind". In-kind withdrawals can be made if you do not need the cash. You can transfer investment assets directly to your TFSA (if you have a contribution room) or other non-registered accounts. The Fair Market Value of the assets transferred is included in your income for the year.
You can transfer an RRIF back to an RRSP if the RRSP is unmatured.
There are tax penalties for holding a non-qualified or prohibited investment in your RRIF. The tax penalty is 50% of the investment's fair market value at the time it was acquired. All earnings on such prohibited or non-qualified investments are also taxable.
Income from RRIF withdrawals can be shared with a spouse (income-splitting) as part of a tax-limiting strategy to lower the family's overall tax burden. The transferor must be at least 65 years old.
You can convert an RRSP to an RRIF at any time. You don't have to wait until you're 71 years of age.
A spousal RRSP can also be converted into a spousal RRIF. You can elect to have your RRIF transfer to your spouse or common-law partners tax-free by designating them as "successor-annuitant." In this case, the RRIF stays open, and the surviving spouse will continue receiving payments from the fund. Alternatively, you can designate your spouse as a beneficiary – the RRIF is collapsed, and the amount received can be transferred to their registered plan, including RRSP (if < 71 years) or RRIF tax-deferred.
You can elect to roll over your RRIF tax-free after death to the RDSP of a child or grandchild who was financially dependent on you due to a physical or mental disability.
You can have more than an RRIF and deploy different investment strategies for each one.
If no beneficiary is designated for your RRIF, the account is collapsed and included in the estate and tax return of the deceased in the year of death. Since the RRIF now forms part of the value of the estate, it's included in the calculation of probate fees or taxes, resulting in higher fees.
You can choose to use your RRIF assets to purchase a life annuity as you get older.
Consider making one last contribution to your RRSP in the year that you turn 71 to use all and any unused contribution room that you have. This will boost your tax-deferred RRSP savings and lower your tax for the year before you become ineligible to make RRSP contributions.
Have a question about RRIFs? leave them in the comments!
Also Read: