In this post, I highlight some of the best personal finance apps and tools in Canada and a few paid ones that are highly recommended.
Personal finances have become easier to manage with the technological advances now available at our fingertips.
With all the budgeting and investment apps accessible using our iPhone and Android smartphones, one can say that personal finances are now even more "personal" than ever before.
Best Personal Finance Apps and Tools
Here's a quick summary of the financial apps you should have on your smartphone: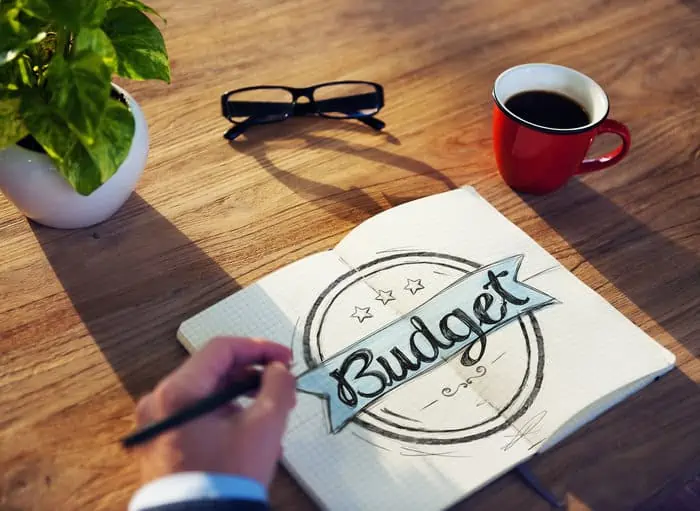 Best Free Budget App for iPhone and Android
This budget app has a free version that you can access using the web or download from the Apple Store and Google Play.
1. Mint
Available in multiple countries, including Canada.
Mint aggregates all your financial accounts in one place and simplifies the budgeting process. I used the site for a few years and liked that it:
It gives you an overview of all your bank and investment accounts on one dashboard
It categorizes and tracks bills and transactions
It helps you set a budget
Sends email alerts for upcoming bills, so you never miss a payment
Suggest ways to save money
Mint 128-bit SSL encryption to protect your account, similar to what the banks use
Check out the You Need A Budget App (YNAB) for a more comprehensive paid budget app.
Best Money Management Apps in Canada
The best money management apps make it easy to control how your money is invested.
You also save on fees with zero-commission trades and low-cost ETF portfolios.
2. Questrade
Available in Canada (one of the best personal finance apps).
Questrade is the discount broker of choice for self-directed investors in Canada. Its mobile app is highly intuitive, and some of the benefits of investing with Questrade are:
No inactivity fees
Free ETF purchases
1 cent per share when you purchase stocks (a minimum of $4.95 to a maximum of $9.95 applies per transaction)
Easily buy mutual funds, bonds, GICs, stocks, options, and alternative assets
Access to real-time market data and advanced trading tools
CIPF protection and private insurance
Reputable brokerage platform
If you prefer to go the automated investing route, Questrade also offers a Robo-advisor platform, Questwealth. Here, portfolio managers manage everything on your behalf at a low cost.
Join Questrade ($50 free trade credit with $1,000+ deposit).
3. Wealthsimple
Wealthsimple is a top-notch online investment services firm, aka Robo-advisor. It offers everyday investors access to globally diversified and customized investment portfolios at a lower cost than traditional mutual funds.
It is highly rated on the Apple Store and Google Play Store and offers additional benefits, including:
Automatic deposits
High-interest savings account
Automatic portfolio rebalancing
Dividend re-investing
State-of-the-art security
Spare-change investing capability (Roundup)
Want to trade individual stocks and ETFs? Wealthsimple has got you covered with its commission-free Wealthsimple Trade App.
Read my Wealthsimple review.
Join Wealthsimple ($25 bonus with $500+ deposit).
Best Money Saving Apps in Canada
These grocery and shopping apps give you cash back when making everyday in-store or online purchases.
Even better, they are all free and available on iOS and Android.
4. Rakuten
Formerly known as Ebates, Rakuten is the most popular cash back app/website in Canada and the United States.
With over 3,000 brands and retailers on the platform, earning cash back with Rakuten is very easy.
To ensure I remember to activate available offers when I shop online, I have installed their Chrome Brower Extension so it pops up when I'm about to make a purchase. I also use their mobile app.
You can cash out your earnings using PayPal or a cheque in the mail.
New Rakuten users get up to a $30 bonus after completing their first purchase via the Rakuten website or app.
When you sign up using the links above, you receive a $30 bonus after completing your first online purchase of $30 or more. Read my full Rakuten review.
5. Caddle
Caddle is another Canadian grocery cash back app.
In addition to cash back offers, Caddle also pays you to take short surveys and watch video ads.
Similar to Checkout 51, this app sends out new offers every week. If you shop for an offer, you can upload your receipt to get the cash back.
6. Ampli
Available in Canada and the United States.
I love "automatic," and that's one area where the Ampli app shines. It rewards you with cash back when you shop at participating retailers.
There's no need to update your purchase receipts. Simply connect your credit or debit card, and cash back is automatically tracked. You can redeem earnings using Interac e-Transfer.
Ampli is owned by the Royal Bank of Canada. Check out my Ampli review for more details.
Best Cash Back App for Cash Spending
It's one thing to earn cash back when you make your purchase with a credit card, but if you are spending cash, it's another thing altogether.
7. KOHO Prepaid Visa
KOHO is a free reloadable prepaid Visa Card and app that rewards you for spending cash.
Earn up to 5% cash back on purchases with the basic KOHO package. In addition to cash back, the KOHO app offers free budgeting capabilities.
New KOHO users get a $20 bonus when they sign up using the link below and make their first purchase (use our CASHBACK referral code).
Best Personal Finance Apps and Tools
From free credit score checks and credit monitoring apps to an app that rewards you for paying your bills, these apps are a must-have.
8. Borrowell
Available in Canada and has over 2 million users.
Borrowell offers free monthly credit score updates and credit reports to its users. The credit score they provide is the Equifax score.
I use the monthly updates to monitor my credit file for identity theft or fraud. Read my Borrowell review.
9. Willful (Create a Legal Will Online)
Willful is Canada's premier provider of legal online wills. The process takes about 20 minutes and saves you up to $850 compared to visiting a lawyer.
Willful is available in 7 provinces, including Ontario, Alberta, Manitoba, Saskatchewan, Nova Scotia, New Brunswick, and British Columbia.
Get your will online here and get a 15% discount.
Read my detailed Willful review.
10. EQ Bank
EQ Bank offers one of the best high-interest savings accounts in Canada, and its app is also highly rated.
Given the super-low rates that the big banks are paying (as low as 0.01%) when you save, EQ Bank's non-promotional high savings rate is a breath of fresh air.
Read this EQ Bank Savings Plus review for more details about its service offerings.
11. PolicyMe
Life insurance can be expensive, so some people don't consider buying it. That said, life insurance is essential, particularly when family members depend on you financially.
Use PolicyMe to easily compare Canada's lowest life insurance premiums based on your specific needs. The online process takes only a few minutes.
Another online platform that makes checking life insurance quotes very easy is PolicyAdvisor. Read my PolicyAdvisor review for details.
12. Credit Karma
Available in Canada and the United States.
Credit Karma is another free online resource for monthly credit scores and reports. The credit score is from TransUnion and may be slightly different from your Equifax score, so I use both Borrowell and Credit Karma to compare.
Credit Karma is available on iOS. Read my Credit Karma review for more details.
Best Spare Change Investing App
Small sums of money contributed regularly and invested over time can significantly impact your retirement savings in a good way.
13. Moka
If you find it challenging to set aside a specific sum of money every month for investing, Moka has got you covered.
The Moka app automatically rounds up your purchases and invests the difference. You choose how much to invest (i.e. whether to round up to the nearest $1, $5, or $10), and the app takes care of the rest.
To use Moka, simply sign up and download the app ($5 bonus), link your bank account, and watch your investments grow.
Moka costs $3.99 per month, and you can invest in a non-registered or registered account (i.e. TFSA or RRSP), earn cash back, and enjoy other perks.
Best Tools for Tracking Your Net Worth
These financial resources show all your money in one place and make it easy to see your updated net worth on your smartphone.
14. Wealthica
Wealthica is Canada's answer to Personal Capital in the United States.
It is a net worth tracking tool that connects to more than 60 Canadian financial institutions and investment platforms. Data from your account is synced daily, and signing up is free.
Wealthica currently tracks over $24 billion in assets.
15. Personal Capital (Bonus)
Available in the United States. If you are a Canadian living in the U.S., this tool is one of the best for tracking your finances.
Personal Capital is the ultimate net worth tracking tool available on iOS and Android.
The app offers the following:
Link all your accounts for free – IRAs, 401k's, mortgages, loans, checking and savings
Analyze your investments and find avoidable hidden fees
Set saving goals
Net worth calculator
Retirement planning
Personal Capital has over 3 million users.
Related: Best Budgeting Apps in Canada.