You can easily transfer money from your credit card to your bank account instantly by using online banking or visiting an ATM.
While this is not ideal due to the expensive cash advance fees, it is one way to get cash when your need is urgent.
Read on to learn how to transfer money from a Visa or Mastercard credit card to your bank account.
4 Ways To Transfer Money From a Credit Card to a Bank Account
The four options are:
1. Withdraw From an ATM
Visit a local ATM and withdraw cash using your credit card. Insert your credit card into the machine, enter your PIN, and withdraw cash.
The amount of cash you can withdraw will depend on the cash limit of your credit card. This is generally lower than your purchase limit.
After withdrawing cash, you can deposit it into your bank account using the ATM and your bank card.
2. Withdraw Cash Using Online Banking
If you are signed up for online banking, you can easily transfer money from your credit card to your bank account with the same bank.
This looks like the reverse of the transaction you make when paying off your credit card balance.
Visit the "Transfer between my accounts" section of your account. Choose a credit card in the "From" section and your chequing account in the "To" section.
Complete the transaction, and the cash is deposited in your bank account.
3. Visit the Bank
Visit your bank and let the teller know you want to withdraw cash from your credit card.
You can then proceed to deposit this cash into your chequing account.
4. Use a Credit Card Cheque
If your credit card came with a convenience cheque, you can write a cheque to yourself and deposit it at a bank branch or use your phone via online banking.
This option is not as common in Canada.
Related: Here are the best credit cards in Canada.
Should I Transfer Money from My Credit Card To Bank Account?
When you withdraw cash from your credit card or transfer funds to your bank account, you pay fees and interest as follows:
Cash Advance Fee
This fee is charged each time you withdraw cash from your credit card.
The fee may be applied as a percentage of the cash advance or a fixed amount, such as $5 or $10.
Cash Advance Interest Rate
Interest is charged on the amount withdrawn, and this is often higher than the interest you pay for regular purchases.
For example, a credit card may charge you 19.99% interest on purchases and 24.99% on cash advances.
More importantly, this interest is applied immediately, and you don't get the 21-day grace period.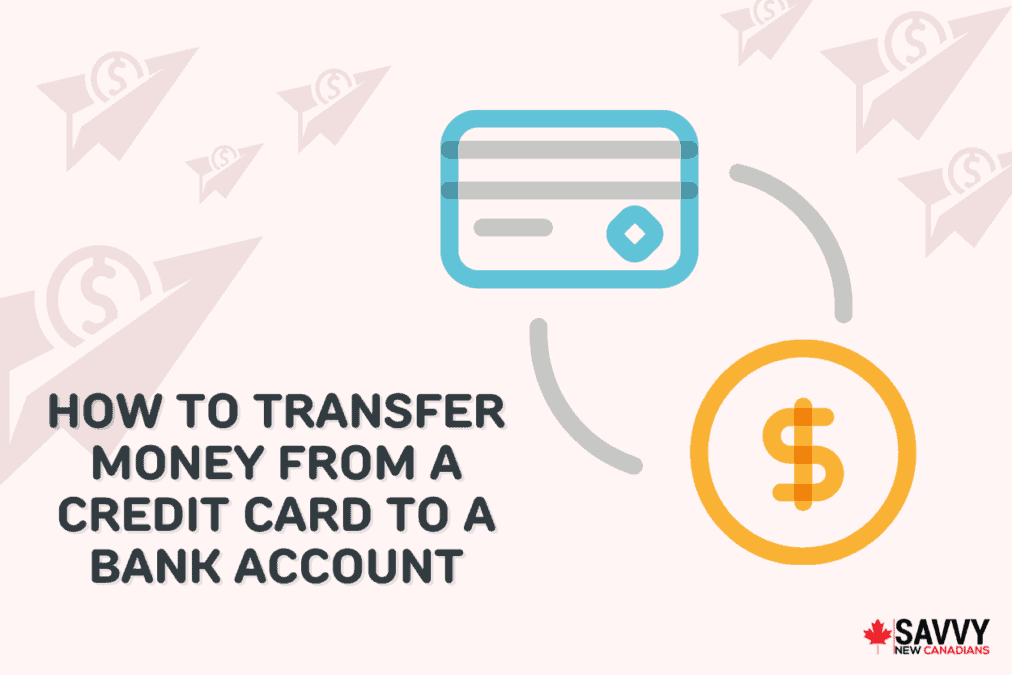 Do Cash Transfers From a Credit Card Affect My Credit Score?
Transferring money from a credit card to your bank account won't automatically affect your credit score.
That said, you could see a negative impact on your credit score in these situations:
If you do not make the minimum monthly payment or have a late payment
If you are borrowing a significant portion of your credit limit, i.e. higher than 35%.
Alternatives To Credit Card Cash Withdrawals
Instead of withdrawing money from your credit card, you could also access cash via the following means:
Personal loans: You can apply for a personal loan at potentially lower rates than a cash advance will cost you.
Visit your bank or try alternative online lenders if you are not having much luck with your bank.
Use Overdraft: Apply for overdraft protection so you can withdraw more money than you have in your chequing account for a fee (and avoid NSF fees).
This strategy will cost you overdraft fees and interest but could be much cheaper than taking a cash advance.
Dip into Emergency Funds: If you have emergency funds or a savings account, you can use this cash instead.
Borrow from Friends or Family: See whether a friend or family member is willing or able to help you out.
Carry a balance on your Credit Card: If you can use your credit card to make a direct payment instead of withdrawing cash, you could save on fees by carrying a balance until you can pay it off.
Some cards offer lower interest rates on purchases, such as: