If you live in Saskatchewan and you're looking for an alternative to a bank, you might consider using a credit union.
There are over 30 credit unions in Saskatchewan providing similar services compared to banks. But there are essential differences between banks and credit unions.
In this guide, I take a closer look at the five best credit unions in Saskatchewan so you can decide whether one is a suitable option for you.
Key Takeaways
There are over 30 credit unions in Saskatchewan.
The five best credit unions are Affinity, Innovation, Conexus, Synergy, and Weyburn, which offer various personal and business banking solutions.
Saskatchewan credit unions are safe because the Credit Union Deposit Guarantee Corporation covers deposits.
Best Credit Unions in Saskatchewan
I've picked out five of the best credit unions from the over 30 credit unions operating in Saskatchewan. Read on to learn more about these credit unions, including where they are available and their services.
1. Affinity Credit Union
There are 12 Affinity Credit Union locations in Saskatchewan, nine of which are in Saskatoon. The remaining three are located in Warman, Martensville, and Langham.
It is focused on its members' financial well-being and contributes back to local communities.
Affinity offers a wide range of products, including four chequing accounts and two savings accounts for individuals, as well as mortgages, loans, lines of credit, credit cards, and various investment products.
Businesses can also find chequing and savings accounts, payroll and workforce management, business mortgages, revolving credit, small business loans, agriculture mortgages, leasing, term loans, and more.
2. Innovation Credit Union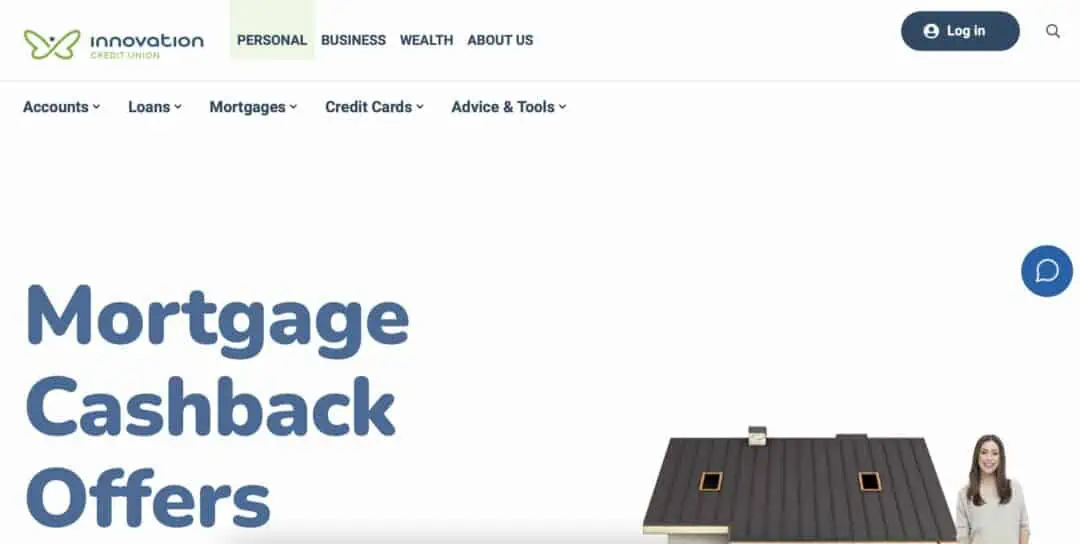 Innovation Credit Union has 26 branches spread widely over the province, making it one of Saskatchewan's largest credit unions.
It is the first federal credit union that has its headquarters in the province, and it has over 400 employees, over $3.8 billion in managed assets, and serves over 59,000 members.
It offers all the standard personal and business banking services, including several chequing and savings accounts, a line of credit, personal loans, several mortgages, and four credit cards.
It also provides business accounts, loans, mortgages, credit cards, and agriculture solutions.
Check out this Innovation Credit Union review.
3. Conexus Credit Union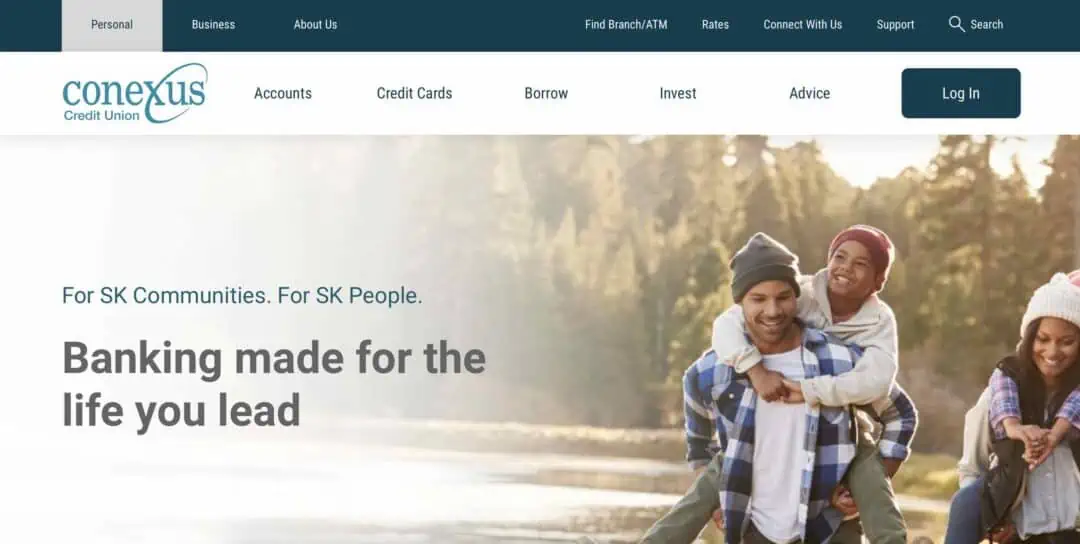 Conexus Credit Union has 30 branches located across the province. It also has about 900 employees.
Its purpose is to improve its members' financial well-being and to reinvest in the communities. It has also won several local and national awards.
It offers one chequing account and one savings account for individuals, a U.S. Dollar account, six credit cards, several mortgages and loans, and various investment options, including RRSPs, TFSAs, RRIFs, and more.
It provides similar products for businesses, including agriculture products, business advice, and other business services.
4. Synergy Credit Union
With 13 branches, Synergy Credit Union is a convenient choice in Saskatchewan. It has been operating in the province since 1943, and it's focused on the community and guided by its cooperative values.
It provides four bank accounts, two savings accounts, several personal loans, and mortgages, as well as wealth management and estate planning.
It also provides several business and agriculture accounts, mortgages, and loans, as well as cash management and business succession planning.
5. Weyburn Credit Union
Weyburn Credit Union has just three branches located in and around Weyburn, making it one of the smaller credit unions in Saskatchewan.
It was founded in 1944, and it now has $934 million in managed assets, a large ATM network, and it serves over 8,900 customers in the local communities.
It offers the usual mix of chequing and savings accounts, as well as six credit cards, several mortgages, loans, and retirement and estate planning services. It also has investment products, including TFSAs, RESPs, and RRSPs.
In addition, it offers several business accounts and business financing solutions.
Are Saskatchewan Credit Unions Safe?
If you are using a credit union for the first time, you may wonder how safe they are. But there is nothing to worry about.
All credit unions are covered by deposit guarantee insurance, and each province has its own scheme.
In Saskatchewan, deposits in credit unions are covered by the Credit Union Deposit Guarantee Corporation, the primary regulator for credit unions in the province.
This fully guarantees all deposits without limit. It works closely with credit unions in the province and guarantees the full repayment of all the deposits held in credit unions in Saskatchewan.
How Do Credit Unions Work?
There are over 200 credit unions in Canada. They offer loans, bank accounts, mortgages, credit cards, and more for individuals and businesses.
Credit unions are similar to banks in their services, but they are financial cooperatives run by their members. Each member shares in the profits, so it's a different business model that is not focused purely on profits.
Credit Unions vs Traditional Banks
If you want a chequing account, savings account, credit card, loan, or mortgage, you could choose a traditional bank or a credit union because they offer similar services.
As far as I'm concerned, there's not a huge difference. However, banks, especially larger ones, have branches available over most of the country, while credit unions are more limited.
But I like the fact that credit unions invest more in their local communities and that they are owned by their members.
In terms of the products provided, you should check out what's available and compare products because many credit unions offer lower fees and better interest rates than banks.
So look at the features, interest rates, and more, and decide which is best for your circumstances.
FAQs
How many credit unions are there in Saskatchewan?
There are currently 33 credit unions operating in Saskatchewan, serving dozens of communities across the province.
Are Canadian credit unions safer than banks?
Credit unions in Canada are safe because deposits are protected. Each province has its own insurance scheme, giving customers complete peace of mind.
What is Canada's largest credit union?
The largest credit union in Canada currently is Vancity, but there are several other large credit unions.
What is the most trusted credit union?
There is no single credit union that is the most trusted. In fact, many are trusted more than banks because they are cooperatives that often reinvest in their local communities.