If you're looking for a way to make extra income, you may have considered becoming a delivery driver for one of the many food delivery platforms.
Delivery drivers for apps like DoorDash, UberEats, and SkipTheDishes are always in high demand, as people constantly order food from restaurants.
With 111 million US food delivery app users, now, more than ever, is the best time to jump on the bandwagon and become a delivery driver.
You may be wondering how much DoorDash food delivery drivers (called Dashers) can make, how it works, the pros and cons of being a Dasher, and ultimately if it's worth it.
This DoorDash Driver review answers all of those questions and more.
What is DoorDash Canada?
DoorDash is a popular food delivery app in Canada, the US, and Australia that allows you to order food online and have it delivered right to your door.
It features over 300,000 local and national restaurants, including Mexican, Chinese, Indian, Asian, Italian, and more. Uber Eats, SkipTheDishes, and GrubHub are all competitors to DoorDash Canada.
How Does DoorDash Canada Work?
If you are a customer or a Dasher, the app works differently.
For Customers
As a customer, you log in to the app and choose from many different restaurants near you to order from. You can either order for delivery or pickup.
If you choose the delivery option, you'll add items to your cart, select the delivery option, choose when you want it delivered (right away or at a later time), and add an optional tip for the delivery driver.
The restaurant will prepare your order, and a delivery driver will be assigned. Once the order is ready, the driver will pick up the order and deliver it to you.
The whole process is tracked via a map where you can see exactly where your order is and the estimated arrival time.
When placing the order, you have the option for the driver to leave the order at your door for contactless delivery.
Once you receive the order, you can rate your items and how professional the driver was.
For Delivery Drivers
As a delivery driver (called a DoorDash Dasher) logged into the app, you can accept orders placed near you.
Once you accept an order, you drive to the restaurant using the navigation feature inside the DoorDash Driver app.
Check the pickup instructions indicated by the restaurant (if any), and head to the restaurant. Once you've arrived and picked up the order, update the app to let the customer know.
Again, use the navigation feature on the app and head to your customer's address to deliver the order.
Check for specific delivery instructions, like contactless delivery, and indicate that you've arrived.
Drop off the order, then indicate that the delivery was successful on the app. After that, the DoorDash app will start looking for other possible deliveries you can do.
Related: Other Food Delivery Jobs in Canada.
DoorDash Food Delivery Fees
Customers pay delivery fees ranging from $1.99 to $5.99, depending on their location and proximity to the restaurant.
They also pay service fees of around 10%-11%, paid directly to DoorDash.
Additionally, customers may need to pay a small order fee of $2 if their order subtotal is below $8-$10.
They can also include a tip of $2, $3, $4, or another amount.
In some regions, DoorDash offers a subscription program called DashPass, which offers $0 delivery and reduced service fees on most orders for $9.99 per month.
How To Become a DoorDash Driver
To become a DoorDash driver, you must meet certain requirements. You must:
Be 18 years or older
Have an Android or iPhone smartphone
Own a car, scooter, or bicycle
Have a valid driver's license, at least one year of driving experience, car insurance, and a clean driving record (if using a car)
If you meet the above requirements, you can sign up to become a Dasher. To sign up, submit an application and wait for approval.
Your application will be reviewed within a few days, and if approved, you can start working.
How Much Do DoorDash Drivers Make?
Dashers earn a base pay of $2 to $10+ for each delivery completed, depending on the estimated time, distance, and desirability of the order. They keep 100% of the delivery fee plus any tips from the customer.
In Ontario, DoorDash delivery drivers make an average of $24.70 per hour, but this amount depends entirely on the orders they take, customer tips, and other factors.
Pros of DoorDash Canada
There are many pros to working as a DoorDash delivery driver.
Some include:
Having a flexible schedule and working whatever hours you want
Being your own boss and deciding how much or how little you want to work
Peak pay, challenges, and guaranteed earnings bonuses
You keep 100% of the tips and delivery fees
Cons of DoorDash Canada
With all the pros of becoming a DoorDash delivery driver, there are some cons as well.
These include:
No guaranteed wage or salary, as it depends on your schedule and the deliveries you take
Tips will always vary based on the customer
Wear and tear on your vehicle
No benefits (i.e., health insurance)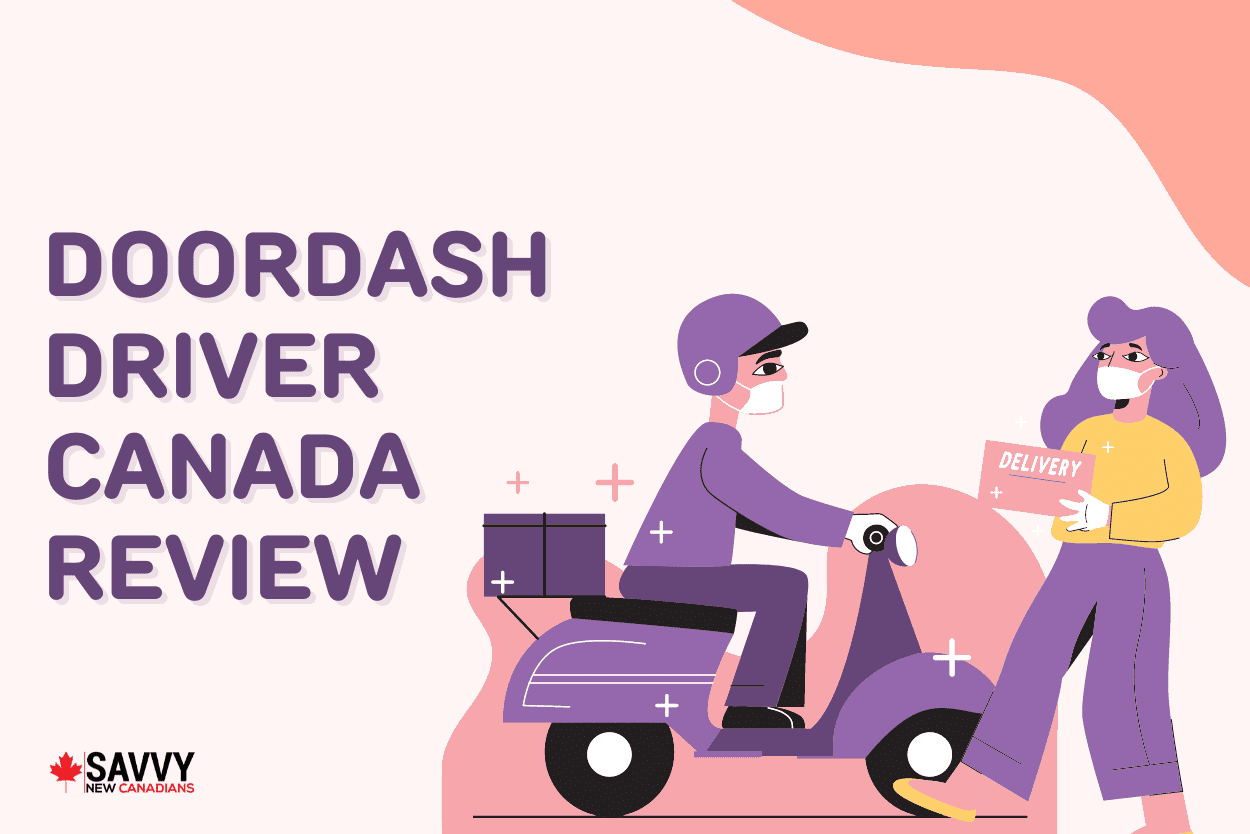 How To Earn More with DoorDash
Dashers have the opportunity to earn more money with DoorDash promotions. These promotions include Peak Pay, Challenges, and Guaranteed Earnings.
Peak Pay – At busy times during the day, Dashers on the road can make extra money with Peak Pay, added to the total earnings when a delivery is accepted.
Challenges – These incentives allow a Dasher to earn extra money when they complete a set number of deliveries within a certain time.
Guaranteed Earnings – This is a pay incentive for some Dashers to earn at least a specific amount of money (not including tips) within a set number of days. Delivery drivers are sent these offers by email or SMS. Learn more here.
Additionally, Dashers should make sure they have a completion score of at least 70%, or they risk their account being deactivated.
The more deliveries they complete successfully, the higher the completion rate.
DoorDash drivers can also stack orders by accepting orders from restaurants that are close to each other or are delivery destinations along the same route.
Become a Delivery Driver With Uber Eats
Uber Eats is one of the best food delivery platforms available in thousands of cities worldwide.
You can sign up to become a delivery driver with Uber Eats if you have a valid driver's license, a 2- or 4-door car less than 20 years old, proof of vehicle insurance, and are at least 21 years old. You will also need to pass a background check.
You can deliver as many or as few hours as you want on your schedule and cash out earnings easily. You also keep 100% of the tips you get. This side gig is a great way to bring in extra income.


DoorDash vs. UberEats
Uber Eats and DoorDash are two of the top food delivery platforms. They work in a very similar way, but there are a few differences between them.
The requirements for signing up to become a delivery driver with Uber Eats are a bit different.
In the US, you must be 19 years or older, and in Canada, you must be 21 years or older to deliver with a car.
Additionally, your car must be 20 years old or newer, and only two or four-door vehicles are allowed, whereas DoorDash does not have such requirements.
Another difference between the two is DoorDash's shift scheduling feature, where you can qualify for early-access scheduling to work during peak hours, meaning you have priority over other drop-in DoorDash drivers during the time you've selected. Uber Eats does not have this feature.
You get a similar base pay with UberEats as with DoorDash, and you get to keep 100% of the tips for both platforms.
With Uber Eats, you can request instant cash out, each request costing a $0.50 fee.
Both Uber Eats and DoorDash work similarly and have similar benefits, so you'll need to decide which is better for you.
View our full DoorDash vs UberEats comparison here.
DoorDash vs. Instacart
Instacart is different from DoorDash as it focuses on the delivery of groceries and household items instead of restaurant meals.
With Instacart, you are a full-service shopper. After a customer places an order, you handle the whole process, from shopping, checkout, and delivery.
You can take orders whenever you'd like, with no limit. When a customer submits an order, a time limit is provided for you to shop, checkout, and deliver the order.
Usually, the time limit is two hours, and you should start shopping as soon as possible. You can handle just one or multiple orders at once.
Instacart is available in the US and select Canadian cities, whereas DoorDash is available in most cities in Canada, the US, and Australia.
On average, an Instacart shopper can make a base pay of $12-$20 per order, plus 100% of customer tips.
With Instacart, it is more difficult to establish on the platform, and you need to submit an in-app interview to get started.
Overall, DoorDash and Instacart are very different, and you should consider which is best for you based on each business model.
Here's a detailed Instacart Shopper review.
Is Being a DoorDash Driver Worth It?
If you want to earn some extra cash as a side gig to your regular job, being a DoorDash delivery driver can be worth it.
It is one of the best ways and platforms for doing deliveries and earning some money.
Many reviews online say that being a Dasher is a great side gig, and they recommend it for anyone looking to make some extra cash.
DoorDash Promo Code for Food Delivery
DoorDash provides promo codes for new customers who receive one of two offers: a 20% off discount or a $0 delivery fee on their first order.
DoorDash also occasionally provides coupon codes for a certain percentage off, which are given via email or notifications.
The current best DoorDash promo code in Canada is a $45 discount when you first sign up ($15 off your first three orders of $30 or more).
Additionally, customers can sign up for DashPass, a monthly subscription that allows them to get free delivery on orders over $12 at select restaurants.
When you sign up to become a Dasher, in some cities, you can get a cash bonus of up to $750.
Take a look at the terms and conditions, as you typically need to make a minimum number of deliveries to quality for this bonus.
You can also get paid by referring other people to sign up to be delivery drivers with a referral code.
DoorDash Driver Canada FAQs
Is DoorDash profitable for drivers?
The profitability of being a DoorDash driver relies entirely on the driver. It all depends on how many deliveries you do per day, week, month, etc., the time of day you work, and promotions such as Peak Pay and Challenges.
Does DoorDash pay for gas?
DoorDash does not pay for gas directly. However, the base pay includes the estimated mileage and duration of the delivery.
How much do DoorDash drivers earn per hour?
There is no set hourly wage for DoorDash drivers, as it depends on how many deliveries they complete per hour and the customer tips. However, Dashers in Ontario report earning an average of $24.70 per hour.
How much does a Dasher make in Toronto?
In Toronto, the average DoorDash delivery driver earns $23.99 per hour, according to DoorDash driver reviews on Indeed. Toronto is a big city, and there is high demand for food delivery many times during the day.
Do I pay taxes on DoorDash delivery earnings?
DoorDash does not automatically withhold taxes, which means that you'll need to pay taxes on your earnings when tax season comes. Just like any other independent contractor, you'll file your income as a business owner.
Does DoorDash pay daily?
DoorDash does not pay daily. They pay Dashers weekly on Mondays for the work completed the previous week from Monday-Sunday. Payments usually have a 2-3 day processing period and should be in your bank account by Wednesday night.
Conclusion
Becoming a DoorDash delivery driver is a great way to make extra income. It is a great side gig but is not recommended to replace a full-time job.
There is great earning potential, depending on how many orders you take on, if you deliver during peak hours, and complete challenges.
If you're still unsure whether working for DoorDash is worth it, why not try it out for a month and see for yourself?
Related: