Key Takeaways
Through PC Express you can buy groceries from the comfort of your home and go pick it up or have it delivered at scheduled times.
You can also enjoy PC Express grocery pickups when you have a PC Insiders subscription ($119 per year), and earn 10% back in PC Optimum points when you purchase PC products, plus other perks.
Other PC Express alternatives for grocery delivery include Instacart, Inabuggy, Walmart Grocery Delivery, Save on Foods, and Costco Grocery Delivery.
If you frequently shop at the Real Canadian Superstore and love PC Optimum points, the PC Express service can make your life much easier.
I wasn't always a fan of online grocery ordering. Personally, I like to choose my produce and don't mind walking the aisles and covering a few kilometres in mileage while getting groceries every week.
That being said, I have become way too busy recently, and using PC Express saves me roughly 2 hours per week. Also, even after the pandemic's social distancing requirements, grocery pickup services are more popular than ever.
Here's a quick guide to PC Express and how its pickup and delivery service works.
Related: 7 Ways To Earn More PC Optimum Points
What is PC Express?
PC Express is a grocery pickup and delivery service operated by Loblaws and its various grocery and retail stores.
Formerly known as "Click and Collect," PC Express pickup services are available at over 700 locations, including:
Real Canadian Superstore
Atlantic Superstore
No Frills
Zehrs
Valu-mart
Your Independent Grocer
Wholesale Club
With PC Express, you no longer need to step inside the store. Simply place an order and go pick it up or have it delivered to your doorstep.
The PC Express App is available on iOS and Android devices.
How Does PC Express Pickup Work?
To get started, visit PCExpress.ca and choose a store. The stores available will depend on your province.
For example, in Ontario, you can use PC Express to shop at nine different retailers. In Manitoba, it's only three.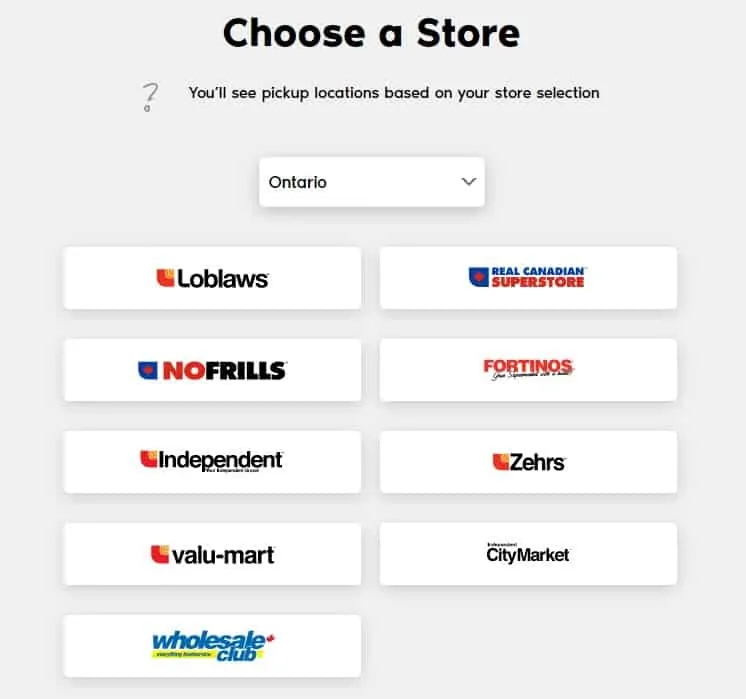 You will be taken to a page with all the pickup locations in your area.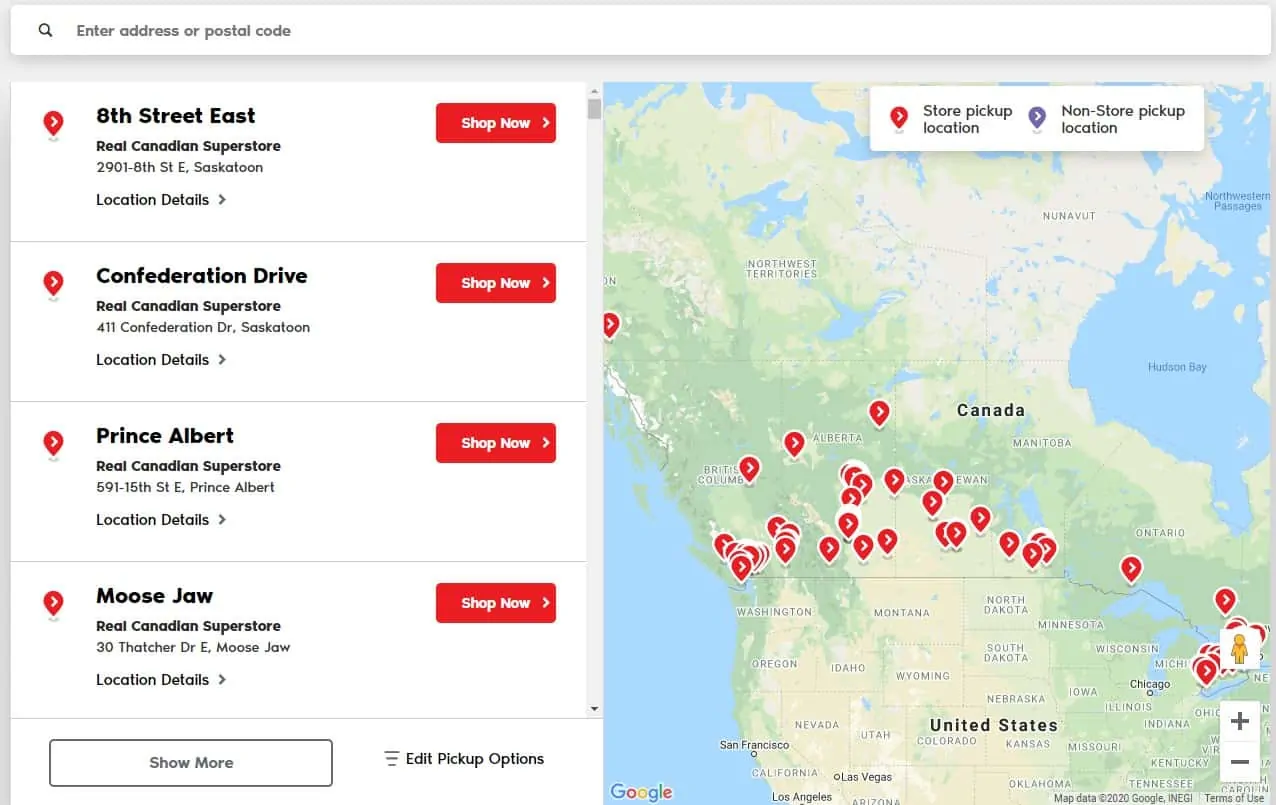 If, for some reason, the map defaults to Ontario or somewhere else, enter your address or postal code to narrow down the locations to your area.
You are now taken to the store's website, where you can select a timeslot and add items to your cart.
Note that available timeslots are now several days out due to the current surge in online shopping.
If you already earn PC Optimum points and have an account, you can easily fill your cart by visiting your "My Shop" section and choosing your regulars from either the "Most Purchased" or "Past Orders" section.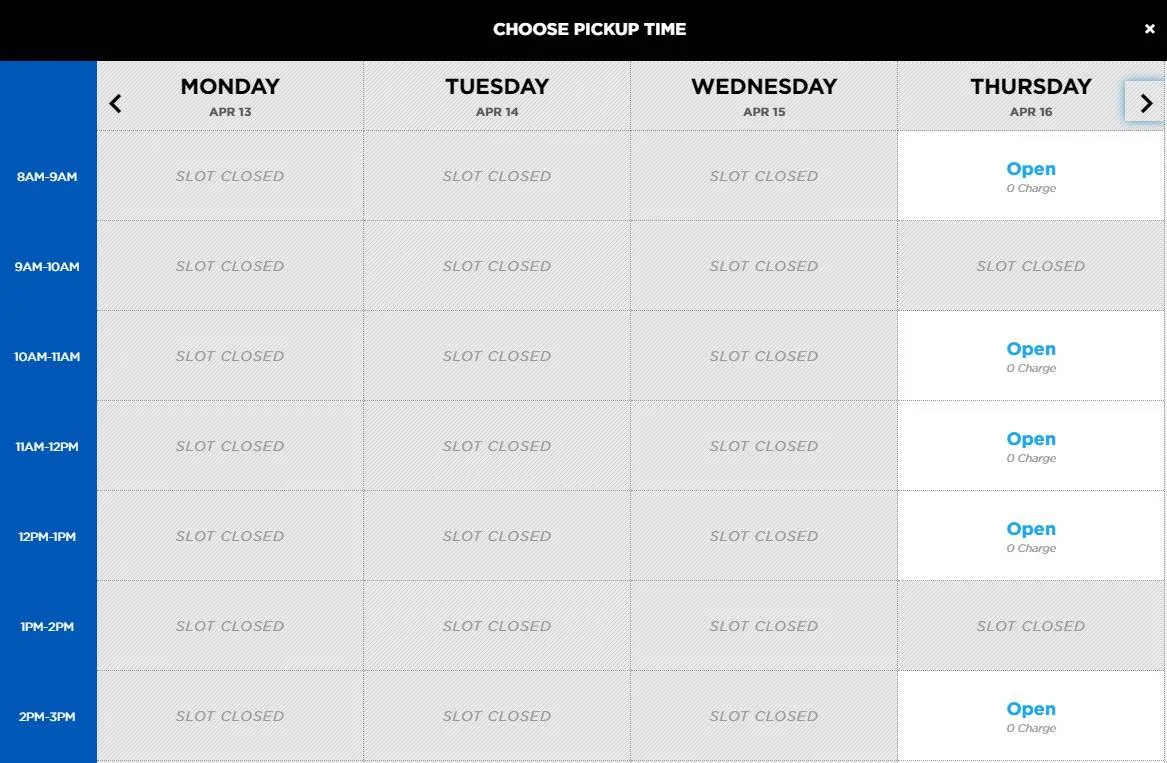 You can also create a list for your next order.
Enter a payment card. I use my PC World Elite Mastercard to earn more PC points. Payment won't occur until after you pick up your order. Discounts available in the store also reflect on the prices available online.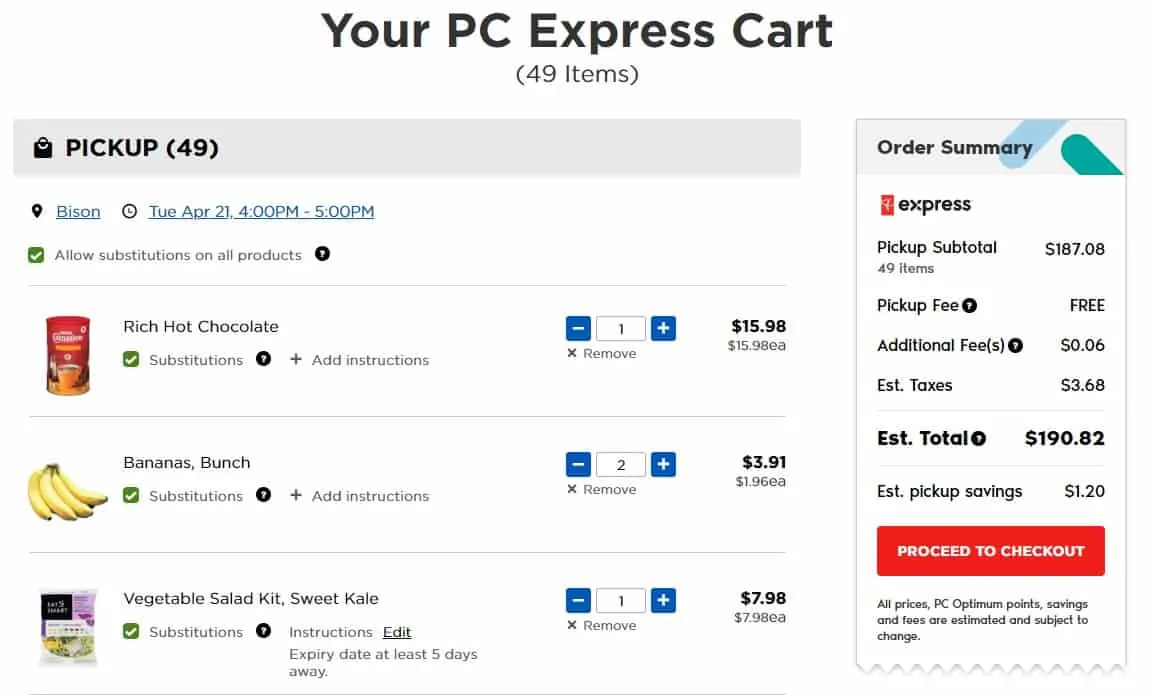 Here is a list of cash back credit cards you can use when shopping for groceries.
PC Express Substitution
If any items on your list are unavailable, the personal shoppers try to make reasonable substitutions. If you are unsatisfied with the substituted product, you can remove them from your order during pickup.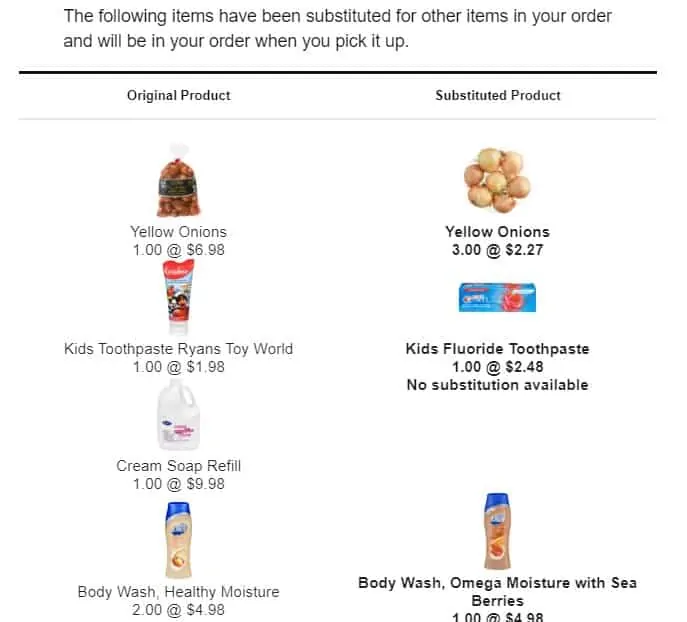 Shortages have been more common in the past couple of weeks, and the substitutes they suggest usually work for me.
PC Express Pickup
Depending on your province, you can pick up orders at the grocery store, use self-serve or neighbourhood pick up, and pick up at select GO and TTC stations.
For grocery store pick-ups, you will get an email and/or text message when your order is ready.
Park your vehicle in one of the designated parking spots and call the number provided on the app. They will ask if you are okay with the substituted items and proceed to bring your order.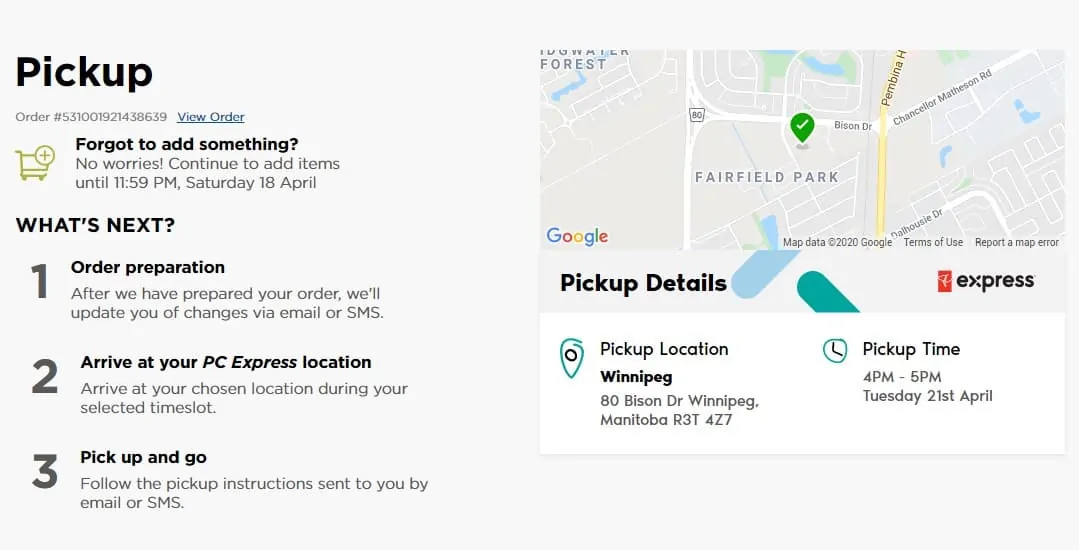 PC Insiders
Normally, PC Express pickups cost between $3 to $5.
I have a PC Insider subscription, and it offers the opportunity to:
Earn 10% back in PC Optimum points when you purchase a PC product. This offer is available on more than 12,000 PC products.
Free shipping and grocery pick-up. The PC Express pick-up fee is waived with your membership ($3-$5 savings per trip)
You get 5% back in PC Optimum points when you book through PC Travel
Exclusive offers on PC insiders collections
A free welcome box when you first sign up
A PC Insiders subscription costs $119 per year plus taxes.
Sometimes, they also offer promotional codes where you get up to 50,000 PC Optimum points ($50 value) when you sign up for a PC Insiders account.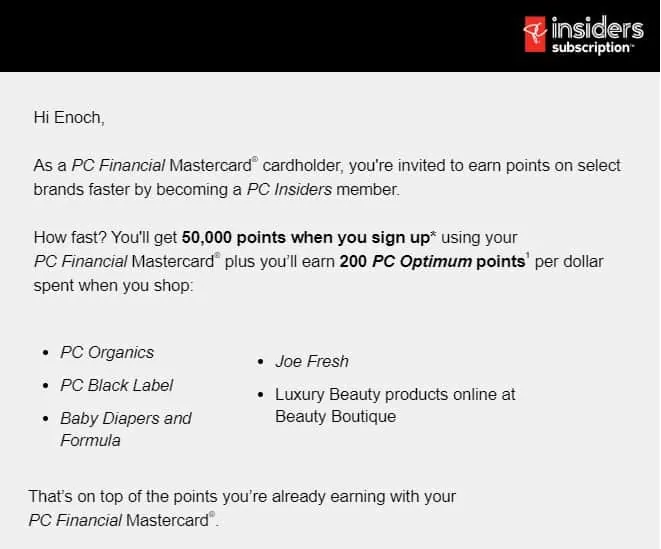 Related: PC Insiders subscription review
How Does PC Express Delivery Work?
PC Express offers same-day home delivery via its partnership with Instacart.
To get started, order your groceries online as usual and choose the delivery option.
Service and delivery fees apply and vary based on the size of your order, delivery time, and location. The minimum order size to use PC Express Delivery is $10.
It is virtually impossible to get a PC Express Delivery slot in my area right now.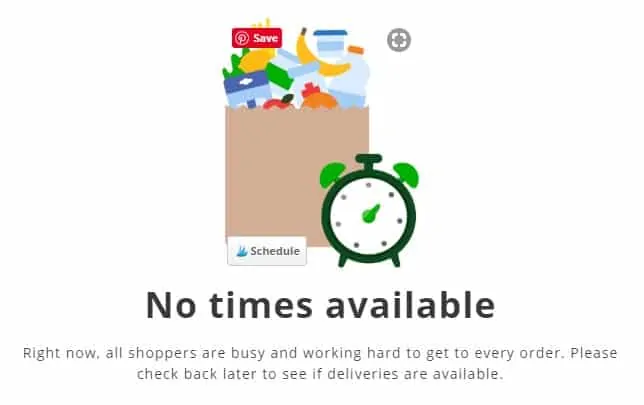 You may have better luck placing your order directly via the Instacart app.
Related: Best Grocery Shopping Apps for Cash Back
Online Grocery Delivery Options in Canada
Some other options in Canada for grocery delivery include:
Voilà is a grocery delivery service available in the Greater Toronto Area, Greater Montreal Area, and Quebec City. It simplifies deliveries from Sobeys, offering customized delivery dates and times.
The minimum order is $35, and you get a discount on your first order, such as $15 off as of this writing.
Voilà by Sobeys also offers a Delivery Pass that allows customers to make unlimited orders at a flat monthly fee, ranging from $9.99 to $14.99.
Learn more about this service in our Voilà review.
2. Instacart
This grocery delivery service is available in Ontario, British Columbia, Manitoba, Saskatchewan, PEI, Nova Scotia, New Brunswick, and Newfoundland.
In Manitoba, you can use Instacart to shop at Walmart, Superstore, Shoppers Drug Mart, Staples, Wholesale Club, and Bulk Barn.
When you become a member of Instacart Express, you enjoy unlimited free deliveries on all orders over $35. Instacart Express comes with a monthly/annual fee.
They deliver groceries in as little as one hour from Costco, Walmart, Safeway, Freshco, Sobeys, Metro, and others. Inabuggy is available in Toronto, Ottawa, Montreal, Vancouver, Calgary, and Edmonton.
A $5.99 grocery delivery fee plus a personal shopper picking fee applies.
This service is available in some areas and costs $9.97 for picking, packing, and delivering your order. The minimum order amount is $50 before taxes and fees.
The cut-off time for Walmart grocery delivery is 10:30 pm PST. Their pickup and delivery orders and timeslots are currently limited to an 8-day window.
Costco grocery delivery normally delivers in two days; however, it is currently running at 9-10 days due to the current emergency situation. You need to be a Costco member to use this service.
There is no delivery fee on orders of $75 or more, and there is no minimum order.
This retailer operates in British Columbia, Alberta, Saskatchewan, Manitoba, and the Yukon territory. Shop online and either select pickup or delivery.
Related: Best Food Delivery Apps in Canada