You can send money abroad using RBC's international money transfer service.
This global money transfer service option is easily accessible via your RBC Online Banking account and the RBC Mobile app.
This RBC global money transfer review covers how it works, fees, exchange rates, limits, countries supported, pros, cons, and alternative money transfer services.
Who is RBC?
The Royal Bank of Canada (RBC) is the largest bank in Canada by market capitalization. It has over 17 million clients in Canada, the U.S., and 27 other countries.
RBC was founded in 1864 and offers a robust suite of banking services to personal and business clients.
Here's a review of its chequing accounts.
RBC International Money Transfer
RBC clients can send money to almost 200 countries worldwide, either using its international money transfer service or wire transfers.
Recipients typically receive the funds in 2-5 business days.
To send money abroad using RBC, you will need to have an RBC chequing or savings account, be enrolled in online banking, and have the recipient's banking details.
Here's how it works:
Sign in to RBC Online Banking
Select "International Money Transfer" under Account Services.
Follow the on-screen instructions to complete your transfer.
If you haven't yet added your recipients' details, you will need to do so before proceeding with the transfer.
You can send up to a maximum of $2,500 per day.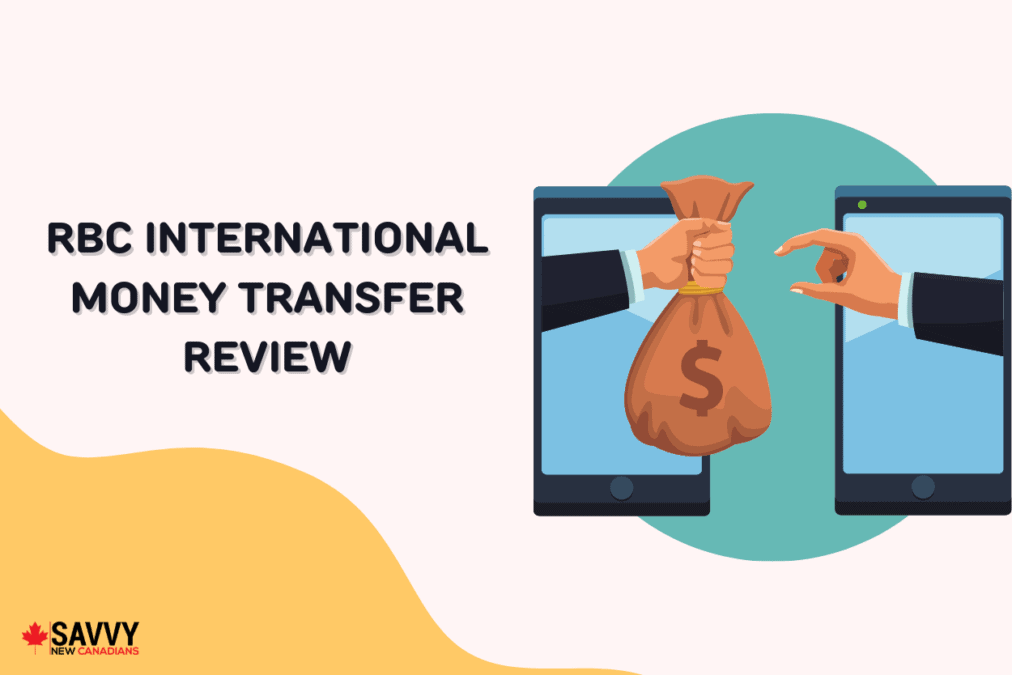 RBC International Money Transfer Fees
RBC charges a flat fee for international money transfers as follows:
Transfers of $1,000 or less: $6
Transfers over $1,000: $10
The money transfer transaction counts towards your debit transactions, so if you have an RBC chequing account that has limited transactions, a debit transaction fee may apply.
If you are sending larger amounts that require a wire transfer, the following fees may apply:
| | |
| --- | --- |
| Service | Fee |
| Outgoing transfer | Starts at $45 |
| If an international Bank Account Number (IBAN) is not provided when it is required | $35 |
| Inquiries and tracing | Starts at $25+ GST if the outstanding payment is declined as instructed |
| Cancellation or amendment of outgoing wire transfer | Starts at $25 + GST |
There is also a "margin" or "mark up" embedded in RBC's exchange rate that adds to your costs (more on this below).
Related: Best Money Transfer Apps.
RBC International Money Transfer Rates
If you are paying the recipient in a different currency, RBC applies its own exchange rates which are less favourable than the mid-market or spot rate.
This mark-up means your recipient gets less money or you are effectively paying a higher transfer fee.
For example, as of this writing on January 31, 2022, RBC was exchanging 1 CAD for $0.77048 USD.
At the same time, the mid-market rate on Xe was 1 CAD = 0.786966 USD.
If you are sending $2,500 via RBC, you are paying an additional $41.22 in fees based on the less favourable exchange rate.
While the markup varies depending on the currency and location, it will usually not be as competitive as the mid-market rate.
RBC International Money Transfer Limits
The daily limit for RBC International Money Transfers is $2,500.
If you need to send a larger amount, you can use their wire transfer service by visiting a local branch.
You can send money to almost any country in the world.
Pros of RBC Global Money Transfer
RBC clients enjoy the following benefits when they send money abroad:
A safe way to send money international
Flat-rate transfer fee is known upfront
Easy to send money using RBC's online banking or mobile app
Cons of RBC International Money Transfer
Only available to RBC customers
Exchange rates are less favourable
It can take up to 5 business days for recipients to receive funds
The maximum you can send is $2,500 per transaction
Alternatives To RBC International Money Transfer
Some alternatives to consider when sending international money transfers:
1. Simplii Financial Global Money Transfer
Simplii Financial is an online bank owned by CIBC.
It offers a Global Money Transfer (GMT) service that allows users to send up to $50,000 CAD worldwide (130+ countries).
Funds are generally delivered in 1-3 business days, and you can fund your transfer using a Simplii no-fee chequing account ($350 bonus), line of credit, free USD savings account, or the Simplii Financial Cash Back Visa Card.
If you are sending your first global money transfer, you get up to $300 back in this promo offer.
Learn more in this Simplii Financial review.
2. Wise
Wise (formerly TransferWise) is a global money transfer service that uses the mid-market exchange rate.
You pay a low, upfront transfer fee that is up to 6 times cheaper than banks.
The platform supports sending money to 80 countries. If you open a free multi-currency account, you can hold up to 54 currencies and avoid currency exchange fees when paying in various local currencies.
This account also gives you access to 10 currency accounts you can use to receive money
British pound
Euro
Australian dollar
US dollar
New Zealand dollar
Singapore dollar
Hungarian forint
Romanian lei
Canadian dollar
Turkish lira
Offer: Send up to $800 free when you send your first money transfer on Wise. Learn more in this review.
3. Xe Money Transfer
Use Xe to send money internationally at the mid-market/spot exchange rate.
The platform supports 98+ currencies, and you can send funds to over 130 countries.
Xe also offers currency converters, charts, and calculators, and allows you to set alerts for your desired rates.
Related: WorldRemit Money Transfer Review.