If you want to buy a used car in Canada or sell or trade-in your car, it's easier than ever to do it all online. There are several services where you can do this, and one of the best is Clutch.
You can buy a used car at Clutch quickly and conveniently. The platform is an excellent option if you don't have the time or don't want to go out looking for cars.
In this Clutch review, we cover what it is, how it works, how to sell your car using Clutch, and the pros and cons. We also take a look at some of the best Clutch alternatives.
What is Clutch?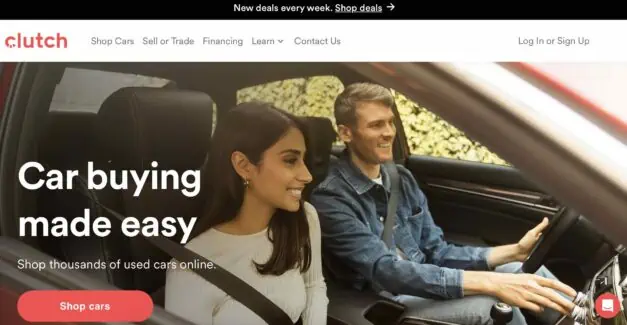 Clutch was founded in 2016 and claims to be the first car retailer to operate fully online. As a result, you can browse cars, buy one, and have it delivered to your address without ever leaving your home.
It does not connect you to dealers like many other sites. Instead, it has its own inventory of vehicles.
It prides itself on the customer experience and offering a fully transparent service. You can also sell or trade in your car via the website, making it an easy option.
How Does Clutch Work?
The first thing to understand is that the whole process takes place online.
Start by exploring the cars available. You can search by vehicle, model, body type, year, mileage and more.
When you find a car you want to buy, you can pay a $100 deposit to reserve it so that no one else can grab it before you. This deposit is refundable.
Next, fill out the form and provide your contact information, and an advisor will contact you and help you with the paperwork.
Once you have made the purchase, Clutch will deliver your car to your home. You need to arrange insurance because you will have to show proof of insurance when your car is delivered.
Once your car has been delivered, you can use it for ten (10) days or up to 750 km.
During this time, a money-back guarantee is in place, and you can change your mind if you want to. Just contact Clutch and request a refund or exchange. Of course, the car must be in the same condition you received it.
You can then get your refund minus any fees, such as financing fees.
One of the great things about Clutch is the quality of its vehicles. A 210-point inspection is carried out on every car to ensure it is safe and clean.
You also get a free CARFAX report to see the vehicle's history, including details of any accidents and its service history. You will also get a warranty of 90 days or 6,000 km.
Cars Available on Clutch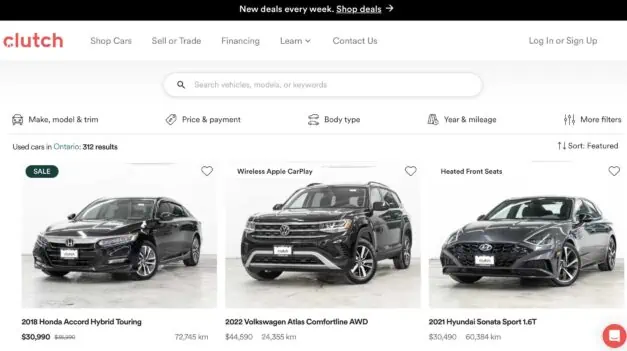 Clutch has a wide range of models it owns instead of connecting you with third-party dealers.
You can quickly search the cars and choose from a wide range of factors as listed above. There are thousands of used vehicles to choose from.
This includes popular cars like the BMW 3 Series, Nissan Rogue, Mazda CX-9, Chevrolet Bolt, Hyundai Kona and Toyota Corolla.
Prices range from under $20,000 to $35,000 or more, depending on the model and its condition. Most are between $20,000 and $30,000. However, if you want a car like a Tesla Model S, you can expect to pay over $50,000.
Related: Most reliable SUVs in Canada.
How to Sell or Trade Your Car on Clutch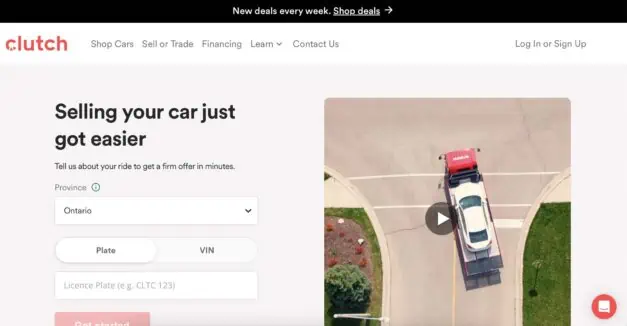 If you have a car that you want to sell or trade, this is easy to do at Clutch.
Choose your province (currently available for Ontario, New Brunswick, Nova Scotia and Prince Edward Island), and enter the licence plate or vehicle identification number (VIN).
Next, click on "Get started." You'll need to provide details about your car, send over your documents, including proof of ownership, and then set a date to drop your car off at the nearest facility or pick it up.
Clutch then wires you the cash, claiming the process takes as little as 48 hours.
You can also trade in when you are buying a car. Just get an offer for your current car, then find a car on the website, and your offer will be updated to a trade-in. Clutch will even arrange to pick up your old car at the same time as they deliver your new car.
Related: Best free VIN check services.
Clutch Financing Options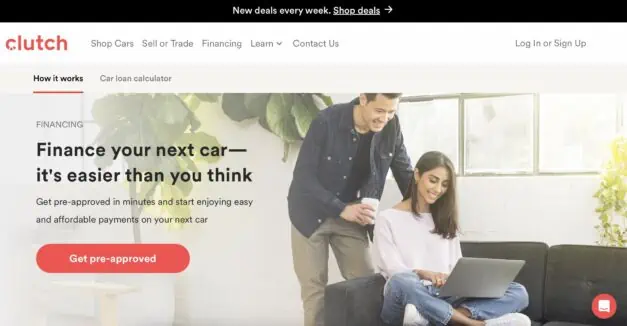 Clutch also offers financing to help you with the purchase of your car.
Just choose your car and choose "Financing" during the checkout process. Then submit a credit application.
This process only takes a few minutes, and Clutch then determines the interest rate, which starts at 8.49%. You can get pre-approved in minutes, and there is no credit check for this stage.
The offer is valid for 30 days, and it is fully transparent. Clutch partners with financial institutions to provide loans.
Alternatively, start by using their calculator to get an idea of how much financing will cost you.
These are also open-ended loans, meaning they can be paid off early without penalty. You can also arrange to increase your payment amounts.
Pros and Cons of Clutch
Pros
The whole process of buying a car is completed online, making it quick and hassle-free.
Cars undergo a 210-point inspection to ensure they are in good condition.
There are many vehicles to choose from for a wide range of budgets, and prices are competitive because of a lack of overheads.
You get ten (10) days or 750 km to try out your car and can get a refund if you are unhappy.
You get a free CARFAX report with your new car to learn about its history.
The website also makes selling or trading in a car quick and easy.
Financing is available and easy to arrange, and loans are open-ended, so you can pay yours off without penalties.
Cons
Prices are non-negotiable, so you can't negotiate for a more competitive price.
The service is not currently available all over Canada.
Most used cars here are fairly new, so it's not a great option if you want to find an older car.
Clutch is unsuitable if you want to see a car and test drive it before buying.
Is Clutch Safe and Legit?
Buying a car is a big investment for most people. You want to make sure you are making a good decision and that you won't get scammed. If you buy a car on Clutch, it may be the first time you've bought a car online without going for a test drive first.
However, Clutch is a safe and legitimate company. It has been around for several years, and in that time, it has developed an excellent reputation.
While you can't test drive the car before buying it, you have ten (10) days to test it at home, and you can return it if you are unhappy.
Also, all of the cars undergo a 210-point inspection. You get a free CARFAX report, and you will also get a 90-day warranty.
As such, you can buy your car on Clutch with complete peace of mind.
Related: Bad credit car loans in Canada.
Clutch Alternatives
There are a few Clutch alternatives you might want to consider. Here we look at Canada Drives and Autotrader.ca.
Clutch vs Canada Drives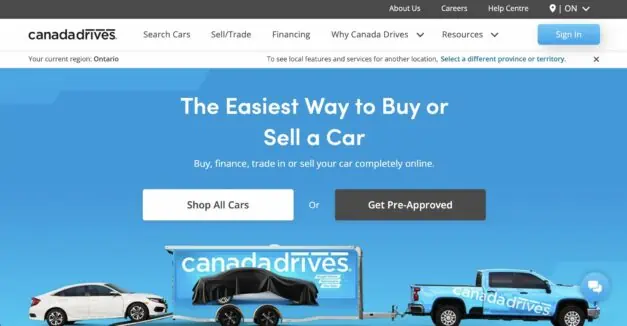 Canada Drives is very similar to Clutch. You can buy, sell, trade and get financing here, and everything is done online. You can also get your car delivered to your home.
Cars receive a 150-point inspection and come with a 30-day / 1,500 km warranty. This is not as good as Clutch, but extended warranty packages are available.
It offers seven-day money-back returns and free CARFAX reports, and it operates in Ontario, Alberta, Saskatchewan and British Columbia.
It also has slightly cheaper financing starting at 4.75%.
Clutch vs Autotrader.ca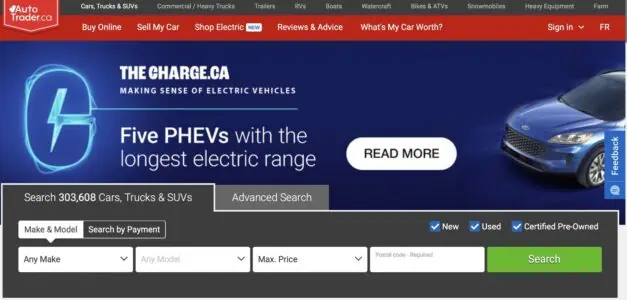 You will find over 300,000 vehicles at Autotrader.ca in most provinces in Canada. You can even find other types of vehicles, including boats and snowmobiles.
The big difference is that Autotrader does not own the cars for sale here. Instead, it connects you with sellers and dealers. You can even find cars sold by Clutch on the site.
You can buy online like Clutch, trade in your car, and get an instant cash offer to sell your car.
Get a Car Loan in Canada
Loans Canada
Loans Canada is a loan comparison platform for all kinds of personal loans, car loans, debt consolidation loans, and bad credit loans. It has partnerships with some of Canada's largest lenders.
Interest rate: 1.99% to 46.96%.
Loan term: 4-60 months.
Maximum loan amount: Up to $50,000.

Cars Fast
Cars Fast is a popular destination for getting a car loan regardless of your credit score. The platform has partnerships with top loan providers, including TD, Scotiabank, RBC, HSBC, and others.
Interest rate: Varies.
Loan term: 12-96 months.
Maximum loan amount: $75,000.
Eligibility: Earn at least $20,000/yr, reside in ON, BC, or AB; and be employed for 3 months+.

FAQs
Is Clutch a real company?
Yes, Clutch is a real company that has been operating since 2016. However, it operates entirely online, so you cannot see a car in person before you buy it.
Who owns Clutch Canada?
Clutch was founded by Stephen Seibel, who is also COO.
Who competes with Clutch Canada?
Clutch Canada has a few competitors. Two of its biggest competitors are Canada Drives and CarDoor.
When was Clutch Canada founded?
Clutch Canada was founded in 2016.
Related: Best car loans in Canada.