Voilà is a popular service offering grocery delivery in Canada that launched in 2020.
In this guide, we look at what Voilà is, how it compares to similar grocery delivery apps, and the pros and cons of using it for grocery shopping.
What Is Voilà Grocery Delivery?
Voilà is a grocery delivery service launched as the Sobeys online shopping and delivery app in 2020. It allows you to shop for all your favourite groceries that you would normally buy in Sobeys online and arrange home delivery so you can get all your weekly shopping done without leaving the house.
Voilà is not available throughout Canada yet. While Sobeys is the second-largest grocery store in Canada with about 1,500 stores, including Safeway, Freshco, and others, Voilá is only available in some areas of the country.
According to the website, it is currently available in the Greater Toronto area, the Greater Montreal Area, and Quebec City, where it launched in 2022 under the name 'Voilà par IGA.' It is only an option if you live in one of these areas.
You can check whether home delivery is available in your area by visiting the website and entering your postal code.
The Voilà grocery delivery app was launched in June 2020, just a few months after the outbreak of the COVID-19 pandemic. At the time, people were reducing their shopping trips and practicing social distancing, and Voilà offered a useful service at the right time.
One of the features that made it particularly popular during the pandemic was its state-of-the-art warehouse that uses an automated process assisted by robots.
This not only makes it a quick and efficient way to get your orders, but it reduces the handling of goods by people. While this was more important during the pandemic, it is still good to know that fewer people have been in contact with your goods by the time they arrive at your door.
The Voilà by Sobeys delivery fee varies based on your delivery time slot, but it is always clearly displayed, and there are no hidden fees. In addition, Voilà offers a good number of delivery options, with next-day delivery available.
Also, look out for discounts. At the time of writing, there is a Voilà Sobeys promo code where you can save $15 on your first order.
How to Order Groceries Online from Voilà
Ordering groceries using the Voilà grocery app is easy.
First, you need to open an account. Then, you can enter your postal code to confirm whether they deliver to your area. If Voilà is available in your area, you can enter other details, like your name and address, to set up your account.
Next, you choose a delivery day and time. Next-day delivery is often available, but you can book up to six days later if you prefer. You also have one-hour windows to choose from on the day you want your delivery to arrive. These start at 6-7 am and go up to 9-10 pm.
Before you start shopping, know there is a minimum order at Voilà, which is currently $35. That should be fine if you're doing the weekly shopping, but it is not suitable for the odd small purchase or if you simply spend less on your shopping.
Voilà has an easy system in place to find the groceries you want. To start, you can browse by categories like fresh produce, pets, dairy, etc. If you know what you want, the search bar might be quicker.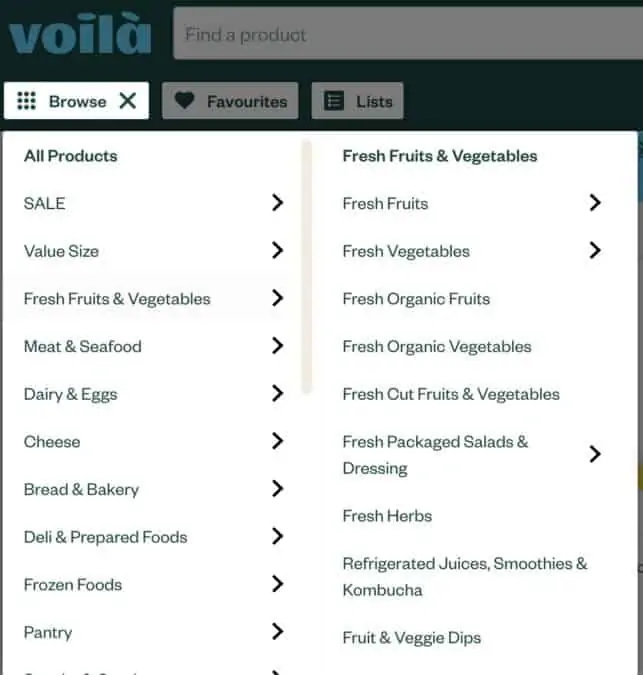 Sale items are highlighted at the top so you can easily find them and save money on your order.
Once you choose a product category, you can filter the items by organic, kosher, and other options, which saves a lot of time.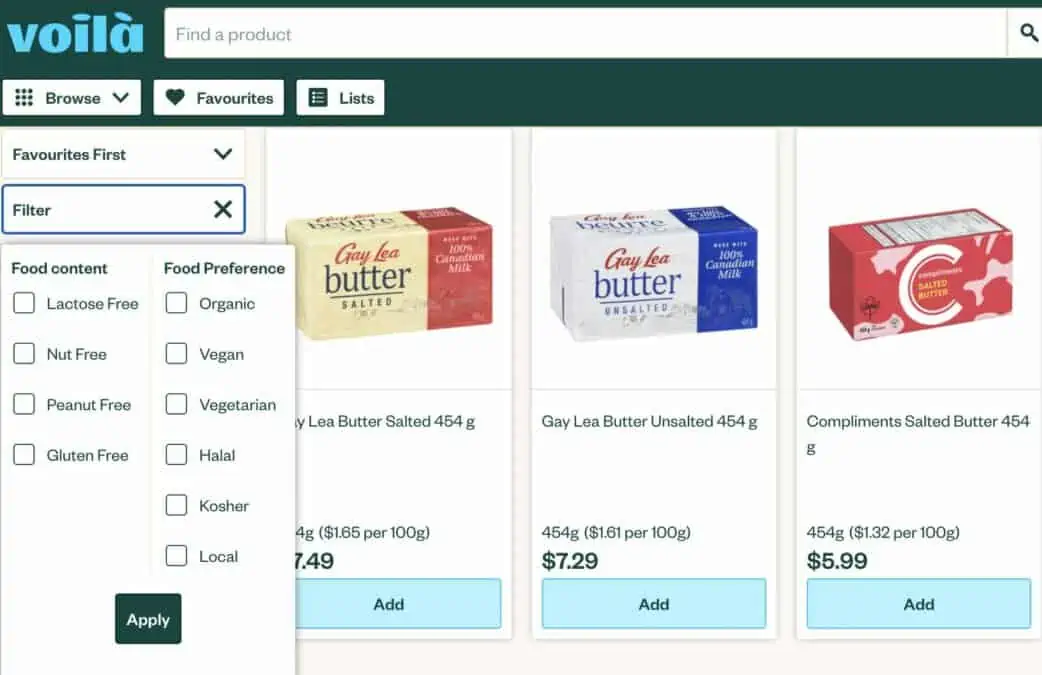 You can also sort the items by alphabetical order and price. One really useful feature is the price comparison option. With this, you can sort items by the price per 100g instead of the product's total price, making it easy to find the most economical option.
If you regularly order the same item in your weekly shop, you can quickly add it to your favourites. Your favourites are listed at the top the next time you shop to save time.
The checkout process is also quick and easy. Enter your card details (MasterCard, Visa or American Express), and a pre-authorized payment is made to secure the order. You then get charged for the full order on delivery.
The delivery process is very efficient. The trucks come with cold zones, so your groceries all arrive at the right temperature.
What Is Voilà Delivery Pass?
If you use Voilà regularly, you may be interested in the Delivery Pass. It allows you to make as many orders as you want without paying extra delivery charges.
This service starts at $9.99 monthly for a midweek pass (for deliveries on Tuesdays, Wednesdays and Thursdays). Alternatively, you can pay $14.99 for an anytime pass.
There is no commitment, and you can cancel at any time. You can also pay monthly, every six months, or annually.
Alternative Grocery Delivery Apps
The Voilà Sobeys app has become very popular in Canada in the last few years since its launch, but it's not the only grocery delivery app.
Here are some of the other popular apps and how they compare.
Voilà vs PC Express
PC Express is one of the most popular grocery delivery services, and you can use this to get Loblaws products delivered to your home.
Like Voilà, just enter your postcode on the website to see if you can get the service. A few Loblaws stores do not offer a delivery service.
You can choose same-day delivery or request delivery up to 13 days later. You can also get PC Optimum points when you shop here the same way as if you were shopping in the store.
Voilà vs Instacart
Instacart is not a grocery chain but a delivery company that partners with grocery stores like Walmart, Costco, Metro, and more, so it's a different service to Voilà.
It is a very popular shopping option and one of the most well-known shopping apps in Canada. It also operates everywhere, apart from Quebec.
It has a good reputation for being dependable and offering a fast service. There is also only a small delivery fee of $3.99, making it a useful choice for smaller shops. You can also get deliveries in as little as two hours after making your order.
Voilà vs Metro
Metro is a grocery chain that began in Quebec. It has now expanded into Ontario, but it still primarily serves Quebec.
The delivery fee for same-day delivery is $8. It can deliver your items within 2 hours with Express Delivery for $13.99. Delivery options vary from one day to 13 days. It is not the cheapest service, but it is a good option if you like shopping at Metro.
Other Delivery Apps
There are several other apps you can choose from when shopping for groceries in Canada.
Pros and Cons of Voilà Delivery
If you're considering using Voilà, here are some of the main advantages and disadvantages of using the service.
Pros of Voilà by Sobeys
Voilà by Sobeys reviews are mainly positive. For a start, Voilà is very easy to use. The whole format makes shopping online easy. Categories are displayed with sale items at the top, making it easy to save money, and you can easily add and see your favourites to save time shopping.
The Price Comparison feature is great, so you can find the cheapest product based on quantity. The search bar also makes it quick and easy to find what you want.
The ability to choose your delivery time before you order is also a useful feature. This way, you know you will get your order when you want it before you start making the order, adding convenience.
The robotic warehouse is a plus. It's good to know that fewer people have been in physical contact with your products. This was especially important during the pandemic but is still a positive feature.
The website is very fast, with quick loading times. Some shopping sites can be slow because of the heavy use of images, but Voilà works well. It also looks good and is a pleasure to use. The app is also easy to use if you prefer doing everything on your phone.
Adding items to your order is easy. If you have forgotten something, you have until 7 pm the day before the delivery to add it. This is a useful feature, and your delivery time is not affected when you add new things.
Voilà is also a good way to collect Scene+ points while you shop. You can also connect your Airmiles card to earn points, and discounts are available, like the chance to save $15 on your first order.
Cons of Voilà by Sobeys
There are not many faults with Voilà. There are cheaper delivery apps in terms of the delivery cost, which might be an issue for you, but there are more expensive services too.
Voilà is perhaps not ideal if you just want a couple of items. It's more of an app for your weekly shop because of the minimum order of $35. However, other apps have higher minimum orders.
Voilà is also not available everywhere yet, so it's only an option if you live in one of the areas where it is currently operating.
FAQs
Got any questions about using Voilà? Read on for answers:
Should I tip my Voilà driver?
While Voilà states that tipping is not expected, you are welcome to tip your driver if you want to reward exceptional service.
Who owns Voilà CA?
Voilà is owned by Sobeys, which is Canada's second-largest supermarket chain. It has over 1,500 stores across the country and has a presence in all provinces.
Can you use gift cards on Voilà?
While Sobeys has gift cards, these are not currently available for people shopping using the Voilà service. However, there are other special offers and discounts to look out for. Check here for the stores where you can use Sobeys gift cards.
Is Voilà cheaper than Instacart?
The delivery fee at Voilà varies depending on the time slot of your delivery. Instacart, on the other hand, only charges $3.99. However, the prices for products are similar.
Conclusion
Grocery delivery apps have changed how people shop across Canada and the world, especially during the COVID-19 pandemic. Voilà was launched during the pandemic, offering a safe and convenient way to shop for groceries.
While it faces stiff competition and is by no means the only grocery delivery app, it has quickly established itself as one of the best. Its easy-to-use interface speeds up the shopping experience, making it easy and convenient to order the groceries you need and get them delivered at a time that suits you.
If you live in an area where you can use Voilà, try it out yourself and enjoy a simple and convenient grocery shopping experience.
Related Topics: