It can be expensive if you're moving to a different part of your city or all the way across the country. Moving costs add up quickly, as you're paying for things like movers, a moving truck, new furniture, and of course, the cost of your new home.
Moving can be especially tough if you have a low or unstable income. But what if you could find furniture for free? You can save on moving costs and furnish your home at no cost.
In this article, you'll learn about 24 ways to get free furniture in Canada, including apps and websites, furniture programs, and other ways to get furniture for free.
Free Furniture Apps and Websites
These apps and websites are great ways to find free furniture in your local area. Many of them allow you to trade items you don't want for furniture you do, so it's a win-win for all parties.
1. Freecycle
Freecycle is a great way to get second-hand free furniture and other items. It is a grassroots and non-profit community where people can give and receive stuff for free. They aim to keep perfectly good items out of landfills and into the hands of those who need them.
Freecycle is available all over the world, with over 5,000 local town groups and more than 9 million members. It is free to join and use. Everything posted on the website must be free, legal, and for all ages.
When someone has an item they want to get rid of or is looking to receive something, they create a post. Members can reply and arrange a time and date for pickup.
2. Kijiji
It is common to find free furniture on Kijiji, a top buy/sell marketplace in Canada. Although most people who post listings on Kijiji are asking for money, some just want to get rid of furniture taking up space in their homes.
Kijiji has a dedicated Free Stuff section, where you can browse listings for free stuff in your area, including free furniture, books, moving boxes, and more.
You can download the app and set up alerts for new free furniture listings in your area.
3. Craigslist
Like Kijiji, Craigslist is a classified advertisements website with items for sale, job postings, discussion forums, and more.
There isn't a dedicated section for Craigslist free furniture, but you can search for it and find listings where people are open to offers or willing to give away stuff for free.
You could search for "free furniture" or "free stuff" in the search box, and listings in your city will come up.
For example, at the time of writing, there is a couch, a large metal shelf, doors, and a double futon listed for free in the Toronto area.
4. Facebook
Facebook is one of the best places to find free furniture near you.
In any city, there will likely be Facebook groups for people giving away free stuff or furniture. Also, check out Facebook Marketplace, where you can find furniture for cheap or completely free.
For example, in Toronto, a few of the many Facebook groups for giving away free stuff include "Free Stuff Toronto," "Toronto FREE STUFF Only," and "Toronto's Totally FREE Stuff."
All you need to do is type in "free stuff" and the name of your city. You're more than likely to find at least one group or listing in your area.
5. Listia
Listia is an online marketplace where you can give away stuff you don't need anymore and swap them for items you want. Listia works on a points-based system, where you get points for every item you "sell."
When checking out active listings for items you want, you can either Buy It Now with a certain number of points or place a bid, similar to eBay. Once time runs out on the listing, the higher bid or person who selected Buy It Now will receive the item.
Depending on the item and location, you may need to pay for shipping.
There aren't too many furniture items on Listia, but keep checking, and you may find some.
6. Trash Nothing
Trash Nothing is an alternate website for existing Freecycle groups around the world. This website compiles listings from different cities and makes it easier for people to post listings or browse for free items.
There are many listings for free furniture in Toronto as of this writing, including a mattress and box spring, an outdoor fireplace, and a charcoal BBQ.
7. TradeMade
TradeMade is a bartering app where you can either post listings of your own or browse free items and furniture listed in your area.
If you find an item you want, you can propose a trade with any combination of items and services. The person on the other end of the deal can accept, reject, or counter your trade.
By using TradeMade, you're saving money, reducing landfill waste, lowering your carbon footprint, and meeting people in the process.
8. OLIO
OLIO is a free sharing app where people can give away food and other household items, including furniture, to people in their city.
Millions of people around the world use this app to give away and receive food, furniture, household items, cosmetics, and more.
Most listings are free, but there is also a section for borrowing and selling items.
9. Bunz
Bunz is a barter and trading platform where people meet up and trade items they no longer need for items they want. You can find almost anything on Bunz, including furniture, books, clothing, electronics, and home decor.
On each listing, the person giving away the item will say what they're looking for in return. You can send them a message and make a deal so that you both are happy with the trade.
10. Buy Nothing Project
Buy Nothing Project is the world's largest gift economy platform, meaning that everything shared is given freely. There are no trades, barters, or strings attached.
People can post three things on Buy Nothing: items or services that others can use, asks for things you want, and gratitudes to show appreciation for others.
It isn't a platform strictly for finding free furniture, but you can ask for it. There's also a good chance that someone in your community will post furniture they're giving away.
11. Reddit
You can find people giving away furniture for free on Reddit if you know where to look. Check out forums like r/trade and r/barter to see what people are giving away in your area.
You can also search for forums local to you, like r/toronto or r/askTO in Toronto. You're likely to come across free couches or furniture near you on big forums like these.
12. Nextdoor
Nextdoor is an app for people in the same neighbourhood to join together and get local tips, buy, sell, or give items away for free, and more.
It is similar to a Facebook group but limited by location. Only members in the same area can join the neighbourhood.
On Nextdoor, people can post about anything, including free stuff and furniture they are giving away.
Furniture Programs
The following programs are a great way to get free furniture on a low income. You'll have to reach out to them, as they only give free furniture to those who really need it.
13. Furniture Bank
Furniture Bank is a socially responsible furniture removal solution in the Greater Toronto Area for those who want to get rid of old furniture. You pay a fee that goes towards charity operations, and your old furniture will help a family in need.
Furniture Bank helps families and individuals experiencing furniture poverty, including women and children leaving shelters and newcomers to Canada. It is a great way to get free furniture for new immigrants in Canada, especially if they are on a low income.
If you want to get free furniture, you must be referred by one of Furniture Bank's agency partners, including CAMH, North York Harvest Food Bank, and Covenant House, who screen potential recipients.
If you're not in the GTA, here is a list of furniture banks across Canada.
14. Home Again
Home Again is a non-profit organization helping end furniture poverty in the Northeast Avalon region in Newfoundland and Labrador.
They collect and redistribute gently-used furniture to families and individuals in need. Each week, Home Again delivers beds, tables, couches, and other furniture items to people who have been sleeping on the floor or eating on cardboard box tables.
Home Again provides these services at no cost. If you are in need of furniture on the Northeast Avalon, you must be referred by their partners.
15. Free Goods Program
Calgary's Free Goods Program provides gently used goods, including furniture, kitchenware, small appliances, clothing, electronics, and books, to those earning a low or no income.
This program is based on donations, so those who want to get rid of old furniture and household goods can donate to the program, knowing it will go to good use.
The Free Goods Program is appointment-based and only for those in need. To apply, you'll need to fill out an application.
16. Matthew House
Matthew House is a furniture bank that helps low-income families and newcomers to Ottawa make their house a home with gently used furniture.
People wanting to get rid of furniture can schedule a pickup or drop it off at their location.
If you're in need of furniture, you need to register with one of their referring partners. Once approved, you can choose your furniture and take it home for free.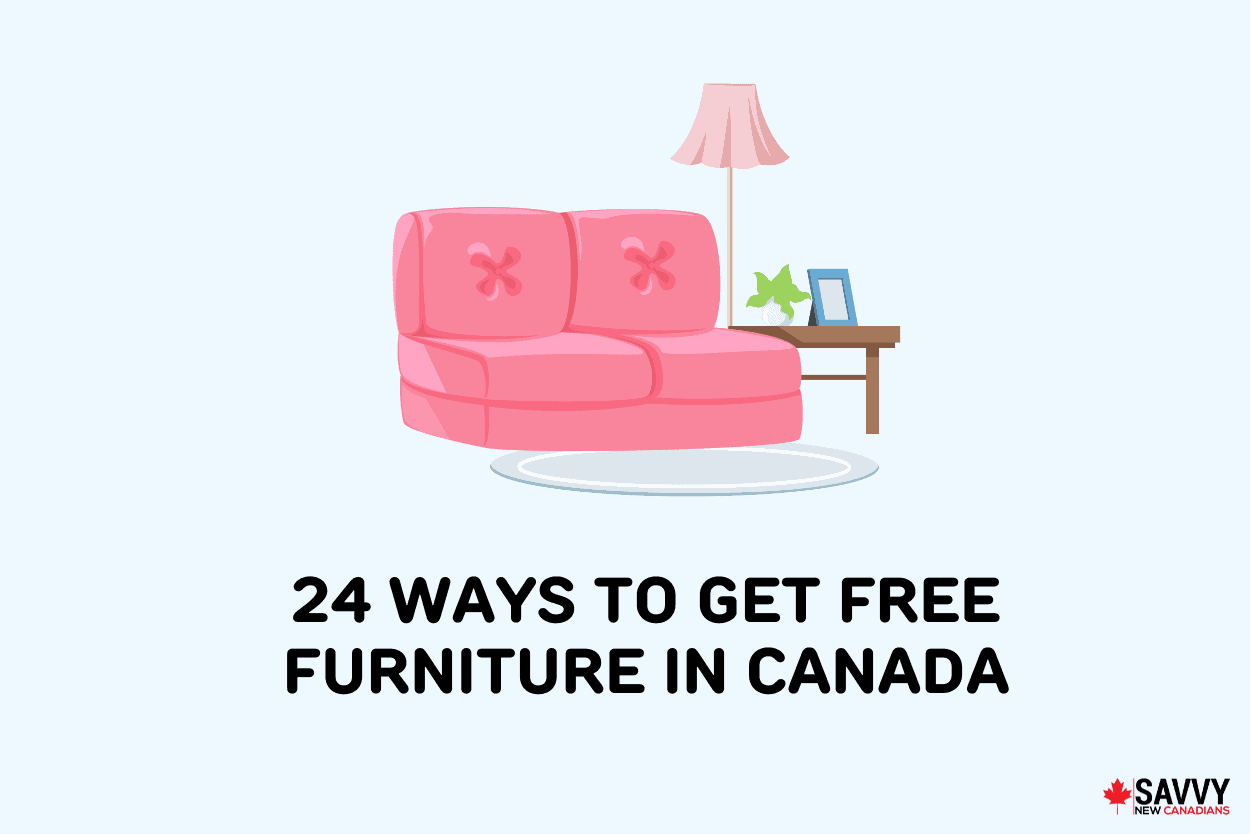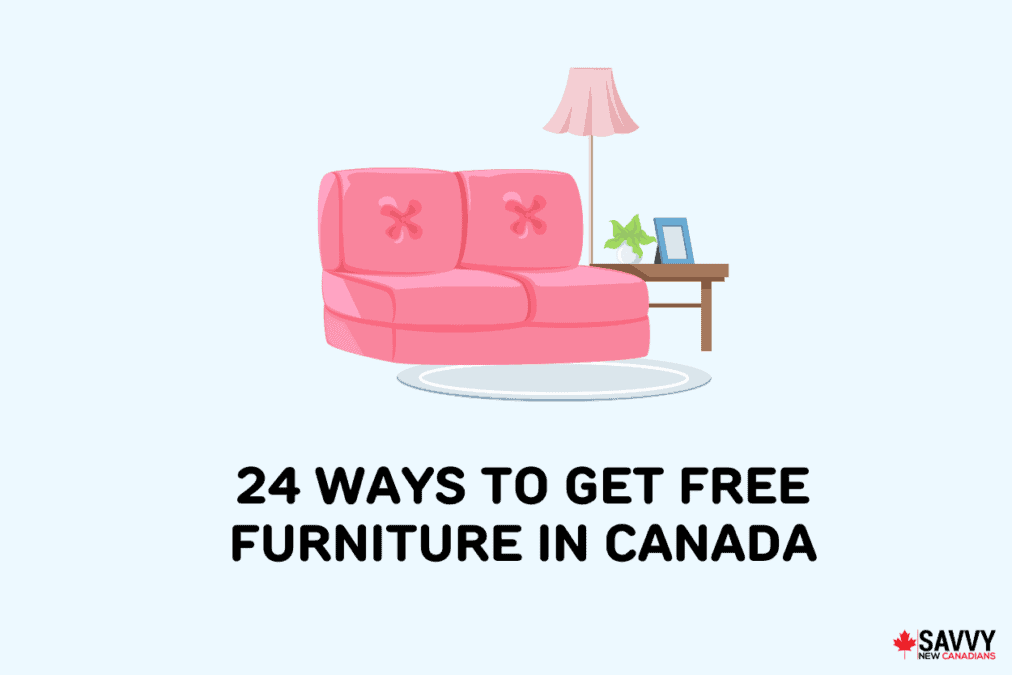 Other Ways to Get Free Furniture
Besides apps, websites, and furniture programs, here are some places where you may find free furniture in Canada:
17. On the Curb
While walking or driving through your neighbourhood, you've likely seen used furniture, books, toys, and other items sitting at the end of someone's driveway.
Often, when people want to get rid of stuff that's still useable, they will put it out in a box on the curb so that anyone can take it.
Next time you see something out on the street, take a look and see if you can use it.
18. Garage Sales
Garage sales are a great way to get cheap or free furniture. You can almost always haggle with the person selling it to give it to you at a lower price. Better yet, they will be more open to giving you stuff for free if it's the end of the day and they just want to get rid of it.
Furniture takes up a lot of space, and the person selling it will likely want it hauled away.
19. Thrift Stores
Furniture can be hard to sell at thrift stores, especially if it takes up a lot of space and has been there for a while. Stores like Goodwill or Value Village may sell furniture for very cheap, or you can even try to ask for it for free.
For the best chances of getting furniture for free, talk to the manager or look out for items that have been there for a while. If you can haul it away for them, it's a win-win for you and the store!
20. Society of St Vincent De Paul
Saint Vincent De Paul is an international organization and chain of thrift stores united in the mission to help those in need. They provide material support in the form of food, clothing, furniture, and household items to Canadian families and individuals who need it.
If you need help or need free furniture, reach out to an SSVP near you or contact the local council. You can find locations on this page.
21. Your Local Church
If you can't find free furniture anywhere else, ask your local church if they can help you. They may know some people or have contacts with a furniture bank.
Churches are generally always willing to help. They can direct you to resources or donate furniture to you directly.
22. College or University Campuses
If you live near a college or university campus, visit on move-out day. Many graduates may leave furniture and other household items behind, as they no longer have use for it.
Some students have nowhere to store their furniture in the summer, so they may leave it behind. You may be able to score mattresses, sofas, chairs, tables, and many other items.
23. Friends or Family
Ask friends and family if they have furniture they want to get rid of. Chances are they do! Ask your friends to ask their friends as well – this will broaden your chances of getting free stuff.
If you know someone who is moving, ask them as well. They're very likely to have pieces of furniture that they can't bring with them.
24. Earn Gift Cards or Cash
Another way to get free or cheap furniture is by using gift cards. You can earn gift cards by participating in online surveys with websites like Swagbucks, Survey Junkie, and Daily Rewards.
It will take some time to cash out, and the gift card amounts won't be a lot, but it will definitely help in saving up for new furniture.
You could also ask friends or family for gift cards and cash when they ask what you want for Christmas or your birthday.
Where to Get Rid of Furniture For Free
There are several ways you can get rid of old furniture for free.
Instead of leaving it on the curb or throwing it in the trash, take your used furniture to donation centers or thrift stores accepting donations, like Goodwill, Value Village, Habitat for Humanity, or the Society of Saint Vincent De Paul. Donating your furniture will help someone in need and give it a second life.
Another way to get rid of furniture for free is to either pass it on to friends and family who may want it or use one of the many apps and websites mentioned above. Try posting listings on Facebook, Kijiji, Nextdoor, or Freecycle.
On some apps, like Bunz and Trademade, you can even exchange your furniture for items you want.
To make some extra cash, you can sell your furniture in a garage sale or places like Facebook Marketplace.
FAQs
How do I donate furniture in Toronto? 
You can donate furniture to Furniture Bank, and they will pick it up from your house. Or, you can donate it to thrift stores like Goodwill and Value Village. 
How do I get furniture from Furniture Bank Toronto? 
You must be referred by one of Furniture Bank's agency partners to be screened and see if you're eligible to receive free furniture. They only give free furniture to those who really need it. 
How do I donate a mattress in Toronto? 
If your mattress is in good condition, you can donate it to thrift shops and charities like Salvation Army or Donation Town. Alternatively, you can donate it to places of worship or shelters. 
Where can I donate pots and pans in Toronto? 
Many donation centers and thrift stores accept pots and pans in good condition. You can donate them to places like Goodwill, Furniture Bank, and Oasis Clothing Bank or list them on websites like Freecycle. 
What do you do with broken furniture in Toronto? 
Broken furniture that is no longer usable cannot be donated, unfortunately. You can leave broken furniture on the curb and wait for garbage collection or call a junk removal company.
Where can I donate things in Toronto? 
You can donate furniture and other household items to Furniture Bank, charities, thrift shops, and more. You can donate things in Toronto on almost all apps and websites mentioned in our list above. 
What to do with old clothes that cannot be donated in Canada? 
If your clothes are old and cannot be donated, don't throw them in the trash. Some donation bins, charities, and thrift shops accept clothing and recycle them. Value Village, Diabetes Canada (donation bin), and Goodwill all accept clothing to be recycled. 
How do I get free furniture from Wayfair?
You cannot get free furniture from Wayfair, but if you shop on their site, shipping is free on orders over $35. 
Related: