Looking to send money to friends and family abroad? The CIBC Global Money Transfer service makes it easy to send funds to more than 120 countries.
If you are already a CIBC client, this service is fast, and you can even send money directly to a recipient's Visa debit or credit card.
Not only that, but CIBC Global Money Transfer (GMT) users can also benefit from its promotional offer of $50 to $300 when they send their first global money transfer.
Does CIBC's GMT actually cost $0 in transfer fees?
This CIBC Global Money Transfer review covers how it works, transfer fees and exchange rates, countries you can send money to, pros, cons, and alternative options for money transfer.
Who is CIBC?
The Canadian Imperial Bank of Commerce (CIBC) is one of the biggest banks in Canada.
It was founded following a merger between The Canadian Bank of Commerce and the Imperial Bank of Canada, both established in 1867 and 1875, respectively.
CIBC offers personal and business banking services around the world and has over 10 million clients.
It also owns the online bank Simplii Financial.
CIBC Global Money Transfer
The CIBC Global Money Transfer service allows you to send money to recipients within 1-3 business days.
The process is straightforward and works as follows:
Sign on to your CIBC or mobile banking account
Select "Global Money Transfer" from the menu
Provide the recipient's details and how much you want to send
Choose your payment account and click "submit"
Transfer can take up to 3 business days to reach your recipients; however, most transactions are completed within 24 hours.
You can fund money transfers using your Canadian bank account, lines of credit, and eligible CIBC credit card.
You can also send money internationally by using CIBC wire transfers.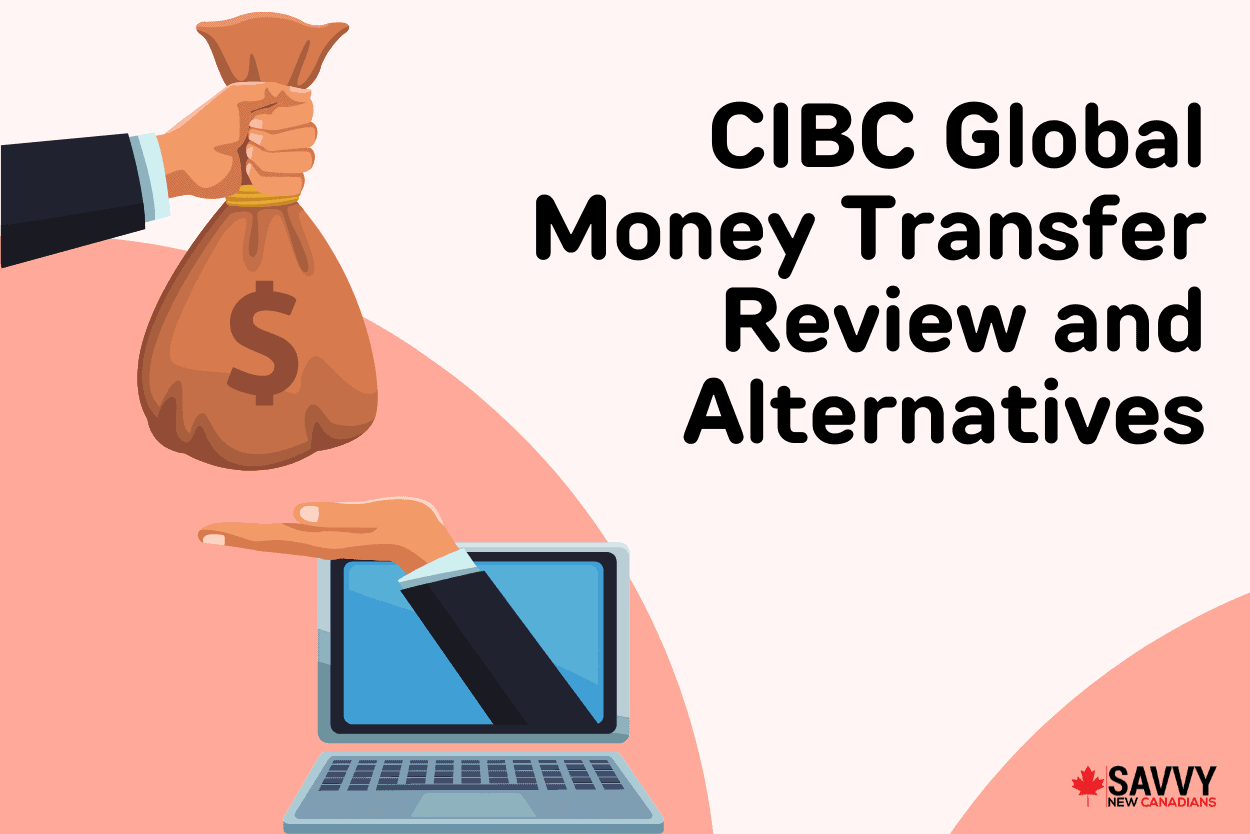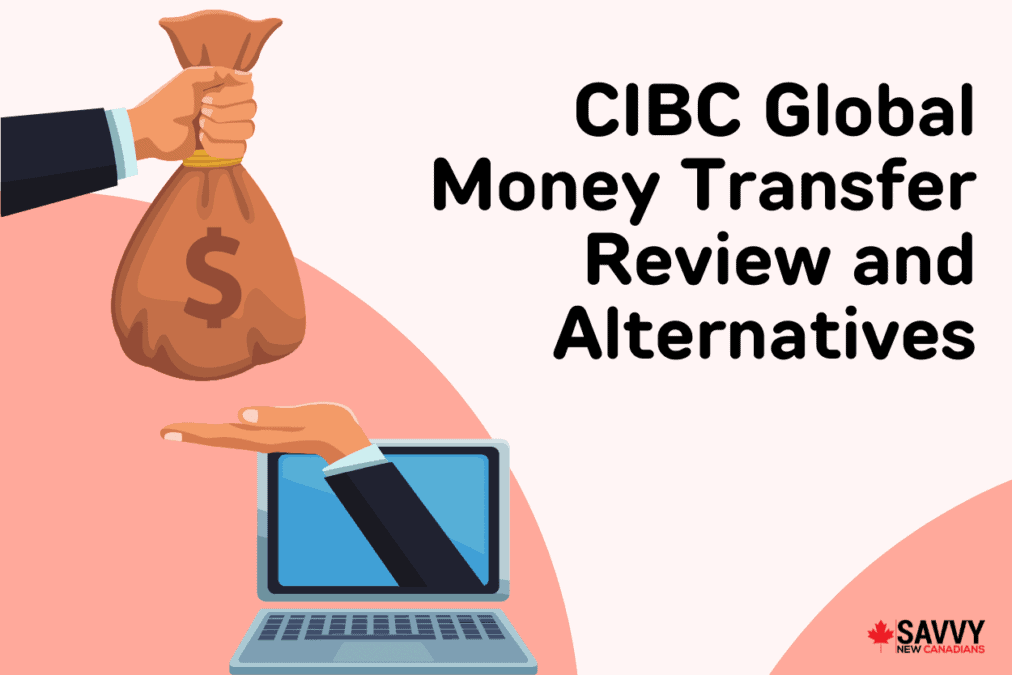 CIBC Global Money Transfer Fees
CIBC's Global Money Transfer service is advertised as having $0 transfer fees. This means you don't pay a specific transfer fee to use GMT.
So, how does CIBC make money when you conduct international money transfer transactions?
They add a "spread" or "markup" to the exchange rate you pay (more on this below).
Other fees may also come into play depending on how you found your transfer.
For example, if you use a CIBC Everyday Chequing Account that includes 12 transactions to fund your transfer, it counts towards your monthly limit.
Each debit transaction over the limit costs $1.25.
CIBC Global Money Transfer Exchange Rates
The exchange rate used for your global money transfer rate in CIBC is not the "mid-market" or "spot" rate you see when you search on Google.
CIBC's foreign exchange rates include a markup which makes it more expensive.
The difference between the mid-market rate and CIBC's rate is how they make money.
For example, on January 31, 2022, I checked the rates for sending CAD $10,000 to a recipient in the U.S. (receiving USD).
The mid-market rate for CAD-USD was 1 CAD = 0.787703 USD.
CIBC's rate was 1 CAD = 0.767898 USD.
Based on the spread, the money transfer using CIBC GMT would cost me $198.
If you are looking to transfer money abroad at a competitive mid-market rate, Wise is a much better option.
CIBC Global Money Transfer Limits
When paying with your bank account or line of credit, you can send up to C$30,000 to most countries.
For credit card-funded transfers, the maximum limit per transaction is C$15,000.
Some countries have a lower transaction limit, including:
Bosnia: $6,000
Brazil: $10,000
China (CUP only): $6,000
Colombia: $10,000
Indonesia: $5,000
Kenya: $10,000
Nigeria: $10,000
Vietnam: $5,000
The minimum transfer amount is $100.
CIBC Global Money Transfer Countries
As of this writing, you can send money using the CIBC GMT service to over 120 countries, including:
Countries
Currency
Countries
Currency
Albania
ALL
Luxembourg
EUR
Algeria
DZD
Macau
MOP
Argentina
ARS
Macedonia
MKD
Armenia
AMD
Madagascar
MGA
Australia
AUD
Mali
XOF
Austria
EUR
Malaysia
MYR
Bangladesh
BDT
Malta
EUR
Barbados
BBD
Mauritius
MUR
Belarus
BYN
Mexico
MXN
Belgium
EUR
Monaco
EUR
Belize
BZD
Morocco
MAD
Bermuda
BMD
Netherlands
EUR
Bolivia
BOB
Nepal
NPR
Bosnia and Herzegovina
BAM
New Caledonia
XPF
Brazil
BRL
New Zealand
NZD
Bulgaria
BGN
Nicaragua
NIO
Burkina Faso
XOF
Nigeria
NGN
Cambodia
KHR
Northern Ireland
GBP
Cameroon
XAF
Norway
NOK
Chile
CLP
Pakistan
PKR
China
RMB and USD
Paraguay
PYG
Colombia
COP
Peru
PEN
Costa Rica
CRC
Philippines
PHP
Croatia
HRK
Poland
PLN
Cyprus
EUR
Portugal
EUR
Czech Republic
CZK
Qatar
QR
Denmark
DKK
Romania
RON
Djibouti
DJF
Russia
RUB
Dominican Republic
DOP
Rwanda
RWF
Ecuador
USD
Saudi Arabia
SAR
Egypt
EGP
Scotland
GBP
El Salvador
USD
Senegal
XOF
England
GBP
Singapore
SGD
Estonia
EUR
Slovakia
EUR
Ethiopia
ETB
Slovenia
EUR
Fiji
FJD
South Africa
ZAR
Finland
EUR
South Korea
KRW
France
EUR
Spain
EUR
French Polynesia
XPF
Sri Lanka
LKR
Georgia
GEL
St. Vincent
XCD
Germany
EUR
Sweden
SEK
Ghana
GHS
Switzerland
CHF
Gibraltar
GBP
Tajikistan
TJS
Greece
EUR
Tanzania
TZS
Guatemala
GTQ
Thailand
THB
Guernsey
GBP
Togo
XOF
Guyana
GYD
Trinidad and
Tobago
TTD
Haiti
HTG
Tunisia
TND
Honduras
HNL
Turkey
TRY
Hong Kong
HKD
Uganda
UGX
Hungary
HUF
United Arab
Emirates
AED
Iceland
EUR
United Kingdom
GBP
India
INR
United States
USD
Indonesia
IDR
Uruguay
UYU
Ireland
EUR
Vietnam
VND
Isle of Man
GBP
Wales
GBP
Israel
ILS
Italy
EUR
Jamaica
JMD
Jersey
GBP
Japan
JPY
Jordan
JOD
Kenya
KES
Kuwait
KWD
Kyrgyzstan
KGS
Latvia
EUR
Liechtenstein
EUR
Liberia
LRD
Lithuania
EUR
Source: CIBC
For transfers using Visa Direct (credit card), you can send money to more than 80 countries.
CIBC Global Money Transfer for Business
This service is for CIBC business banking clients.
They can use it to send money abroad to clients, employees, vendors, and for other purposes.
Business clients get access to preferred rates, and you can request an FX price quote.
The maximum limit per transaction is higher at C$50,000.
Pros of CIBC Global Money Transfer
The benefits of using CIBC Global Money Transfer include the following:
CIBC GMT has no" transfer fees"
Funds are often delivered within 24 hours
There are multiple ways to fund your transfer, including credit cards
CIBC is a top-five bank in Canada
High maximum limits per transaction (up to C$30,000 for personal accounts)
Supports transfers to 120+ countries
CIBC GMT promotional offer of up to $300 on first transfers
Real-time transfers to eligible Visa cards are delivered in 30 minutes or less
Downsides of CIBC Global Money Transfer
Some downsides to watch out for when sending money abroad using CIBC GMT and other bank money transfer services include:
FX markups can be very expensive (2% or more). In the example I used above, it was going to cost me $198 to send C$10,000 to a recipient in the U.S.
You need to have a CIBC account to use this service
Some countries have lower transaction limits
Is CIBC Global Money Transfer Safe?
Yes, CIBC GMT is safe. CIBC is one of the largest banks in Canada, and it has a solid reputation.
Your deposits at the bank are protected by Canada Deposit Insurance Corporation up to a limit.
That said, when sending money, you should ensure the recipient information you provide is accurate.
The bank relies on the bank information you provide, so if this is wrong, your funds could fall into the wrong hands.
CIBC Global Money Transfer Promo
When sending your first money transfer, you could take advantage of the CIBC Global Money Transfer promo code GMTEVENT and get up to $300 back.
You can even earn more by using the Simplii Global Money Transfer service (up to a $300 bonus).
Simplii Financial is a CIBC subsidiary (more on this below).
Alternatives To CIBC Global Money Transfer
You can save on fees or get a better exchange rate using these services:
1. Simplii Global Money Transfer
Simplii Financial is an online bank that offers free chequing accounts, savings accounts, investments, and one of the best cash back credit cards in Canada.
Like its parent bank (CIBC), it also offers money transfers.
You can use Simplii to send up to $50,000 CAD using your chequing account or credit card (no cash advance fees).
Simplii GMT has a promotional offer that pays you up to $300 when you send your first global money transfer.
2. Wise
Formerly known as TransferWise, Wise is one of the cheaper money transfer services in Canada.
You can use this platform to send money to recipients in 80+ countries at the mid-market rate, which makes it a lot cheaper than banks.
There is an upfront fee that varies depending on your funding type and amount.
Even better, you can also open a free multiple-currency account and hold up to 54 currencies, so you send money using local currencies and not have to worry about FX rates.
You can send up to $800 CAD free here when making your first transfer.
Here's a detailed Wise review for more details about how it works.
3. Xe Money Transfer
Xe is another international money transfer service that uses live mid-marker rates.
You can use it to send money to 130+ countries.
Delivery is fast (often within minutes), and recipients can be paid in 98 currencies.
Visit Xe to transfer money or check live FX rates.
FAQs
How much does CIBC charge for international money transfers?
There is no transfer fee when you use CIBC Global Money Transfer; however, you get a more expensive exchange rate. For international wire transfers, there is a $30 to $80 transfer fee.
How long does CIBC Global Money Transfer take?
CIBC GMT takes 1-3 business days to complete.
Who can use CIBC global money transfer?
Anyone who has a CIBC bank account can send money abroad using the service, including businesses.
Can I send money abroad using a credit card?
Yes. CIBC Global Money Transfer service supports credit card money transfers using Visa credit and debit cards.
Related: