CIBC offers chequing and savings accounts that meet the needs of students, seniors, youth, newcomers, and pretty much everyone.
Similar to the other big banks in Canada, CIBC's chequing accounts incur a monthly fee; however, you may be able to waive them by maintaining a minimum balance.
This review of CIBC chequing accounts covers their features, fees, and alternative chequing account offers available in Canada.
CIBC Chequing Accounts
CIBC's chequing account packages vary depending on your needs and can be bundled to include savings, investments, mortgages, credit cards, and overdraft protection.
They also offer US Dollar-denominated accounts for snowbirds, freelancers, and travellers who conduct cross-border transactions.
CIBC Smart Account
The CIBC Smart Account is a flexible chequing account solution with a base monthly fee of $6.95 for up to 12 transactions and a maximum monthly fee of $16.95 for unlimited debit transactions.
Here's what you get:
$6.95 monthly fee and 12 free transactions; pay $1.25 per additional transaction and no more than $16.95 in total monthly fees.
Free Interac e-Transfers.
The monthly account fee is waived when you keep a minimum daily closing balance of $4,000 and make at least one direct deposit, e.g. payroll or two pre-authorized debits each month.
CIBC Smart Plus Account
This all-in-one CIBC chequing account includes a premium credit card, unlimited transactions, and unlimited ATM withdrawals.
The CIBC Smart Plus Account has a $29.95 monthly fee that is waived when you keep a minimum daily closing balance of $6,000 or $100,000 in savings and investments.
You get an annual fee rebate of up to $120 on your choice of a premium credit card, plus free bank drafts, personalized cheques, money orders, and stop payments.
The seven CIBC credit card options eligible for this account include the following:
CIBC Aventura Visa Infinite
CIBC Aventura Visa Infinite Privilege
CIBC Aventura Gold Visa
CIBC Dividend Visa Infinite
CIBC Dividend Platinum Visa
CIBC Aerogold Visa Platinum
CIBC Aerogold Visa Infinite Privilege
CIBC Everyday Chequing Account
This is CIBC's basic chequing account. It comes with a $4.00 monthly fee, 12 free transactions, and $1.25 per transaction after.
The CIBC Everyday Chequing Account does not offer a fee rebate even if you keep a high account balance.
CIBC Smart for Students
This chequing account is for students who are enrolled in post-secondary education, i.e. college, university or CEGEP.
It has no monthly fee and offers unlimited transactions, including Interac e-Transfers.
In addition, students get a free Student Price Card (SPC) membership with access to hundreds of deals and discounts from popular brands and retailers.
A CIBC Smart for Student account is converted to a regular CIBC Smart chequing account six months after graduation.
Learn more about the best student bank accounts in Canada.
CIBC Advantage for Youth Account
This CIBC account caters to children and youth who are 18 years of age or younger. They get unlimited transactions and do not pay a monthly fee.
The account pays a small interest on your account balance and offers a free SPC membership.
At age 19, the account is automatically converted into a CIBC Premium Growth Account.
Here are some of the best banks for kids in Canada.
CIBC Chequing Accounts for Seniors
Senior citizens who are 65 years or older enjoy discounts on CIBC's Smart Accounts.
CIBC Smart Account: Get a $6.95 discount and 12 free transactions. Additional transactions cost $1.25 each, up to a maximum $10 monthly fee for unlimited transactions.
CIBC Smart Plus Account: Seniors enjoy all the benefits offered by this account plus a $6.95 discount on the monthly fee, i.e. $23 per month.
CIBC Everyday Chequing Account: Seniors get a $4 monthly fee discount and pay $0 for up to 12 free transactions.
In addition to the monthly account fee discount, seniors enjoy free Interac e-Transfers, free bank drafts and money orders, and a $5 annual discount on safety deposit box rentals.
Related: Best Bank Accounts for Seniors.
CIBC Bank USA Smart Account
This U.S. Dollar chequing account is offered by CIBC Bank USA. Its features include:
12 free transactions and $1.25 after capped at $14.95 monthly maximum account fee)
$4.95 to $14.95 monthly fee; waived if you keep a daily minimum balance of $3,000 or higher
You can use this account to transfer funds between USD accounts without incurring foreign exchange fees and for writing USD cheques. It also supports USD withdrawal at ATMs in the United States.
This account can be bundled with a CIBC US$ personal account to earn interest on USD funds you don't need immediately.
Here are some USD bank options for Canadians.
CIBC Welcome To Canada Banking Package
CIBC offers new immigrants in Canada access to no-fee banking for one year.
When you open a CIBC Smart Account, you pay no monthly fees for up to 12 months and enjoy unlimited debit transactions and Interac e-Transfers during this time.
After 12 months, regular account fees apply.
How To Open a CIBC Chequing Account
You can open a new CIBC chequing account online or at one of their 1,100+ branches in Canada.
To be eligible for an account, you must be a Canadian resident and have reached the age of the majority in your province.
For a student account, you must show proof of your enrollment at a college, university, or CEGEP. Acceptable documents include a valid student ID, confirmation of registration, or an enrollment letter.
International students are required to also provide a valid study permit.
To qualify for a newcomer account, you must have received permanent resident status within the last five years. Foreign workers can also apply using a work permit.
In general, you will need to provide your basic personal information, contact address, and social insurance number when applying for a CIBC bank account.
A credit check is also conducted for applicants over the age of 18.
CIBC customers can access their accounts online, in-branch, via telephone, and at an ATM. The bank has more than 3,400 ATMs. To find a branch, click here.
For telephone banking, you can call 1-800-465-2422 (Canada and the U.S.) or 1-902-420-2422 when calling from elsewhere.
Is CIBC Safe?
CIBC is one of Canada's oldest banks, with its roots dating back to 1867 when the Canadian Bank of Commerce was founded.
Your deposits (e.g. chequing and savings) at the bank are protected by the Canada Deposit Insurance Corporation (CDIC) up to $100,000.
The bank also offers a "Digital Banking Guarantee" and returns 100% of your money if you lost money to fraud and have met all your responsibilities for keeping your account safe.
Who is CIBC?
The Canadian Imperial Bank of Commerce (CIBC) is one of Canada's five biggest banks.
Founded in 1961 following the merger of the Canadian Bank of Commerce and Imperial Bank of Canada, CIBC has more than $651 billion in assets and over 45,000 employees.
In addition to Canada, CIBC operates in the United States, the United Kingdom, Asia, and the Caribbean. Its headquarters is located in Toronto.
No-Fee Bank Accounts in Canada
If you are looking for a chequing account that has no monthly fees, no minimum balance, and unlimited transactions, some of these online banks are worth checking out:
Simplii Financial: An online division of CIBC, this bank offers free chequing and access to CIBC ATMs. It also pays interest on your balance. Learn more in this Simplii Financial review.
Simplii Financial No-Fee Chequing Account
Monthly fee: $0
Free transactions: Unlimited debits purchases, bill payments, and withdrawals.
Sign-up bonus: Get a $350 bonus when you add an eligible direct deposit of at least $100 per month for 3 months. Earn 5% interest on a free Simplii savings account.
Interest earned on deposit: Up to 0.10%.
On Simplii Financial's website
Open a new Simplii no-fee chequing account here for a $350 bonus (limited time offer).
EQ Bank: The hybrid account from EQ Bank includes unlimited transactions, and you earn high-interest rates on your balance. This online bank also provides access to GICs and TFSA and RRSP accounts.
EQ Bank Savings Plus Account
Monthly fee: $0
Free transactions: Unlimited debits, Interac e-Transfers, and bank-to-bank transfers.
Sign-up bonus: N/A
Interest earned on deposit: 2.50%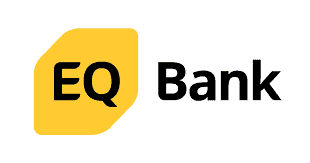 On EQ Bank's website
Tangerine: This online bank is a division of Scotiabank. It offers a free chequing account with unlimited debits, Interac e-Transfers, and interest. Get more details in this detailed review.
Other financial institutions with free chequing accounts include motusbank, Motive Financial, Manulife, and some credit unions.
CIBC Bank Account FAQ
Is CIBC a good bank?
CIBC is a top-five bank in Canada in terms of asset size and market capitalization. if you are looking for a bank with a history of stability, CIBC has been around for over 150 years. In recent years, CIBC has been awarded the best consumer digital bank in Canada, one of Canada's top employers for young people, and the best treasury and cash management bank in Canada.
What types of accounts are available at CIBC?
CIBC is a full-service bank offering daily banking products, credit cards, mortgages, lending, investments, and insurance products to personal and business clients.
What is CIBC's prime rate?
As of December 2022, the prime rate for CIBC is 6.45%. The prime rate influences the interest rate set by the bank for variable loans, lines of credit, and mortgages.
How long do funds stay on hold at CIBC?
banks may place a hold on cheque deposits to ensure that the cheque is from an account with sufficient funds and that a stop payment has not been requested. The hold can last for up to 8 days. When you deposit a cheque using the CIBC mobile app, it becomes available within four business days.

As per the Canadian Bankers Association, "the maximum hold period for most cheques deposited to a Canadian dollar account is four business days, and banks must make $100 available within a day."
How can I save on bank fees?
You can avoid paying the monthly account maintenance fee by maintaining a minimum daily account balance and meeting other requirements, e.g. by setting up payroll deposits and/or pre-authorized payments. Bundling accounts together may also result in a fee discount. Use only CIBC ATMs for withdrawals and opt-out of paper statements. Here are some more ways to waive bank fees.
Have questions about the best chequing account offers in Canada? Leave them in the comments.