Credit Verify is a credit monitoring and identity theft protection service in Canada. It is powered by TransUnion.
The last few years have been rife with several major data breaches resulting in the exposure of personal credit, social insurance numbers, bank accounts, and other identifying information for millions of people in North America.
Two recent examples are the Equifax and Capital One data breaches, and there are several others.
These incidents have led to an increase in the demand for credit monitoring and anti-identity theft services.
Update: This review of Credit Verify is for informational purposes only. Based on reader feedback about this service, I do not recommend signing up. You can check out other options, including credit monitoring services provided directly by TransUnion and Equifax.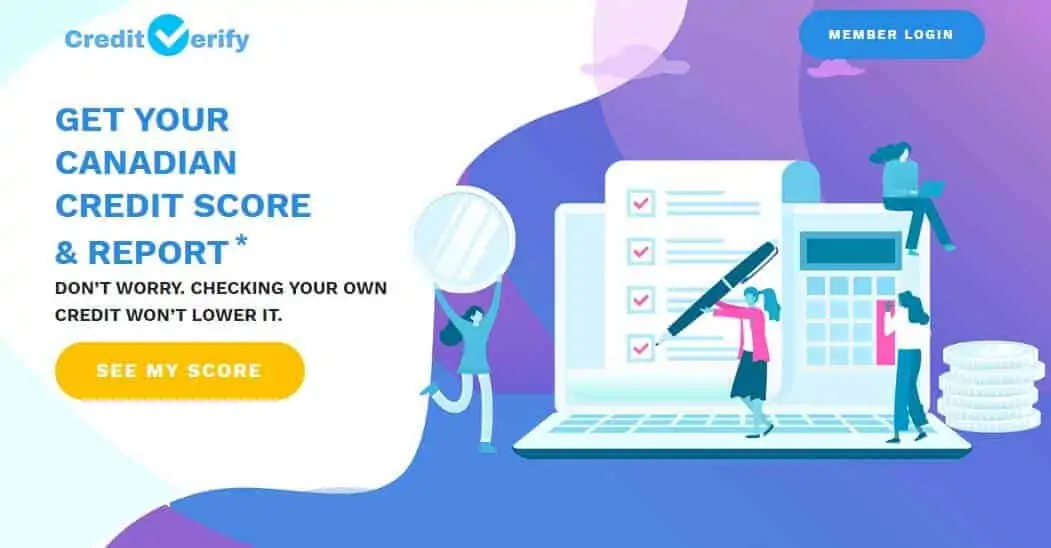 Credit Monitoring and Identity Theft Protection Canada
Credit monitoring can help you keep track of your credit score and reports, alert you to potentially fraudulent activity, and help you restore your credit if you become a victim.
Canadians have two main options for monitoring their credit.
Option 1
The credit bureaus, Equifax and TransUnion, are obliged to provide you with one free copy of your credit report every year upon request. You can review this free credit report for any errors or suspicious entries.
In addition to reviewing your report, you can also obtain your check your credit score for free and use both to manually gauge if someone has stolen and is utilizing your credit profile.
Option 2
You can automate the credit monitoring process by signing up for a service that provides daily monitoring of your credit file (24 hours a day and seven days a week).
It will cost you a monthly fee; however, you can rest easy knowing that you will be notified if bad actors steal your information and try to use it for fraudulent purposes.
Who is Credit Verify?
Credit Verify offers credit reports, credit scores, and credit monitoring services in all provinces except Quebec. They are owned by Credique LLC, a company based out of California, U.S.
In addition to its base offering, Credit Verify provides resources that help its customers improve their credit scores, a real-time credit score simulator, and access to credit cards, loans, debt assistance, and rewards.
How It Works
To sign up for this credit monitoring service, you must be the age of the majority in your province, i.e. at least 18-19 years old.
Following the 7-day trial period, a $19.95 subscription fee is charged every month if you choose to continue.
What Do You Get?
A Credit Verify subscription gets you the following benefits:
A daily credit monitoring service that puts you in the driver's seat. This service is powered by the credit bureau, TransUnion
Unlimited access to your credit report and score
Alerts when there are changes to your report
Debt and credit analysis resources
Real-time credit score simulator
Is Credit Monitoring Worth It?
Monitoring your credit for breaches or fraudulent activity is important. Whether you do it manually by requesting your free credit report and score on a routine basis or opt for an automated 24/7 service, it is crucial that you remain on guard at all times.
The sooner you realize you have been compromised, the easier it is to limit any potential damage.
If you are not aware that your identity has been breached, a hacker or scammer can go ahead to create financial accounts in your name, open bank accounts, apply for a credit card, or purchase a vehicle.
Does credit monitoring guarantee you will not be defrauded?
No, it does not necessarily stop someone from trying to defraud or impersonate you.
What it does is alert you so you can take steps right away to prevent or limit the damage. For example, you can ask credit bureaus to freeze your credit (U.S.). In Canada, you can place a Potential Fraud Alert on your consumer credit file.
Conclusion
Credit monitoring services offer a service that provides additional protection against fraud and unauthorized changes or credit inquiries to your credit file. If you want the extra peace of mind that comes from automating your credit monitoring, you can give them a try.
Make sure to read online reviews and ratings, as other customers have voiced complaints about Credit Verify and the difficulties with cancelling your subscription.
Related:
Credit Verify Review: Credit Monitoring in Canada
Summary
Are credit monitoring and identity theft protection services in Canada worth it? This Credit Verify review covers their daily credit monitoring service offering and how to protect yourself from identity fraud.
Pros
Regular credit score updates
Cons
Can check your credit score for free using other services
Poor customer support