Simplii Financial recently launched a digital gift card you can personalize and send to friends and family.
If you have ever struggled with picking the perfect gift during holidays or memorable occasions, a gift card that is equivalent to cash easily solves this problem.
With Simplii Financial's prepaid Visa gift cards, you get flexibility, and there are no upfront fees to worry about.
This Simplii Financial Visa Digital Gift Cards review covers how it works, its pros, cons, limits, and more.
What is Simplii Financial?
Simplii Financial is a top Canadian online bank owned by the Canadian Imperial Bank of Commerce (CIBC).
It has almost 2 million clients and offers a variety of financial products, including:
Digital Gift Cards
No-Fee Chequing Account
High-Interest Savings Accounts
Investments
Cash-back Credit Card
Personal Loans and Mortgages
You can learn more about its products and services in this detailed review.
Simplii Financial Visa* Digital Gift Cards
Simplii Financial Visa* Digital Gift Cards work like a typical non-reloadable virtual prepaid Visa card.
You can use them to pay for purchases online or in-store, wherever Visa cards are accepted. Invariably, you can use these cards at millions of locations worldwide.
Features At a Glance
$25 to $250 value
Easily send by email to recipients
No purchase or activation fees
Compatible with Apple Pay, Google Pay, and Samsung Pay digital wallets
Merchant-branded cards are available
It can be personalized with a note, video, or GIF
How Does It Work?
You need to have a Simplii Financial account to send a Simplii Financial Visa Digital Gift Card to someone.
That said, the recipient does not need an account.
As a sender, your Simplii Financial account can be any one of its chequing or personal line of credit accounts.
Simplii's chequing accounts have no monthly fees, and you can easily open one online within minutes.
To send a digital gift card, visit your Online Banking and Mobile Banking to choose a theme from the gift card catalogue.
Personalize the gift card with a note, video, audio, or GIF and email it to the recipient.
When your recipient receives the Simplii Financial Visa Gift Card, they also get instructions on how to activate and add it to their mobile wallet.
The gift card expires after 3 years; however, the funds do not expire, and a new card is automatically issued if there's a balance.
If you are sending a merchant-branded gift card, the current choices include:
DAZN
Indigo
Winners, Homesense, and Marshalls
Sunwing
Joey Restaurants
Earls Kitchen and Bar
Dollarama
Adidas
Local Public Eatery
DoorDash
The Running Room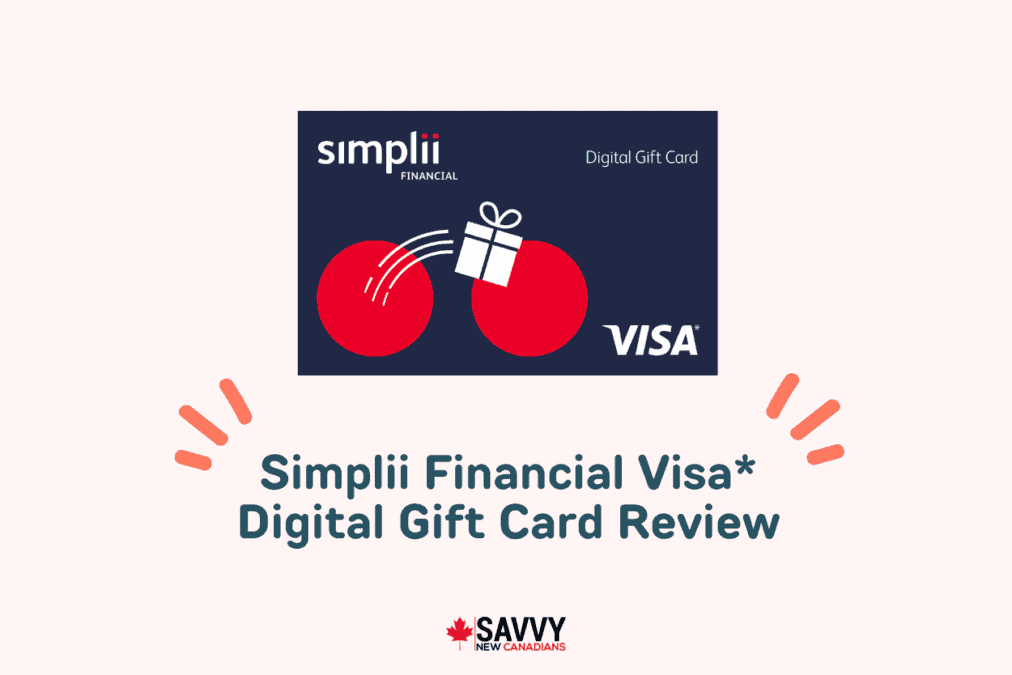 Simplii Financial Visa* Digital Gift Card Limits
This is a prepaid Visa digital card, and you cannot use it at an ATM or spend more than your balance.
Also, it cannot be used to pay off your credit card balance.
The minimum amount you can load is $25, while the maximum card load limit is $250.
Simplii Financial Visa* Digital Gift Card Fees
The Simplii Financial Visa digital gift card has no purchase or activation fees.
If you make payments that require currency conversion, a 2.50% FX fee applies.
Pros and Cons of the Simplii Financial Visa Digital Gift Card
Pros:
Multiple gift card options
No fees to purchase or activate
Funds don't expire
Compatible with popular digital wallets
Can be personalized
Cons
You cannot send more than $250 per card
You can send the digital gift card to anyone in Canada except the province of Quebec
Is the Simplii Financial Visa* Digital Gift Card Safe?
You must treat your gift card like cash and take the necessary steps to ensure it is not misplaced.
Funds on the Simplii Financial Digital Gift Card are not insured by the Canada Deposit Insurance Corporation (CDIC).
If you think your card has been compromised, you can contact support at 1-855-961-5343.
Conclusion
The Simplii Financial Visa prepaid gift card is a game-changer, and my review is positive.
Thinking about sending a gift to a friend, family member, or colleague? Consider sending them a Simplii Financial gift card with only a few clicks online.
You can open a free Simplii Account here if you are not yet a customer.