Manulife Bank's Advantage account is one of a few hybrid bank accounts in Canada, offering both savings and chequing account capabilities.
This bank account offers the flexibility to conduct everyday transactions for free or for a low fee while earning a "high interest" rate on your balance.
This Manulife Advantage Account review covers what you need to know about its features, fees, and how it compares to other online banks. It also discusses the innovative Manulife All-in Banking Package and its US Dollar Advantage account.
Who is Manulife Bank?
Manulife Bank is a wholly-owned subsidiary of The Manufacturers Life Insurance Company. It was established in 1993 and offers chequing, savings, mortgages, and investment accounts.
It is a branchless (online) Schedule I bank, and its customers can access their accounts and customer support via a web interface, telephone banking, and a mobile app that is available on the App Store and Google Play.
Its parent company, The Manufacturers Life Insurance Company, was incorporated in 1887 and operates in the U.S. as John Hancock Financial.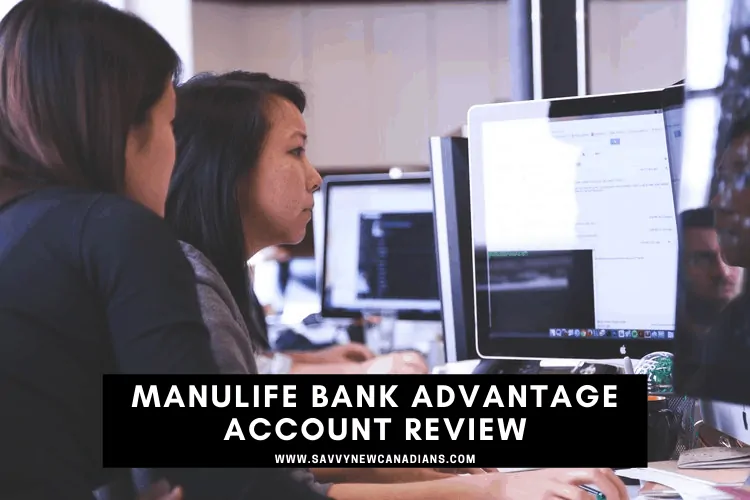 Manulife Advantage Account
This Manulife bank account combines chequing and savings and has no monthly account fees if you keep a minimum balance of $1,000.
Here's what it offers:
High interest rate
Free unlimited transactions when you keep a $1,000 minimum balance
Access to over 3,500 surcharge-free ABMs across Canada through The Exchange Network
Online, mobile, and telephone banking
CDIC protection
In-store cash back offers at participating retailers
Some fees apply to certain withdrawals from your Advantage Account when you do not maintain a balance of at least $1,000. They include:
ABM withdrawals in Canada: $1.50
Debit purchases in Canada: $1.00
Bill payments: $1.00
Interac e-Transfer: $1.00
Transfers between bank accounts in Canada and all deposits are always free. For a full list of the current applicable fees, visit their website.
The savings interest rate is calculated daily and paid out every month.
Related: Best Savings Accounts in Canada
Manulife US Dollar Advantage Account
This Advantage Account holds US dollars and is designed to earn interest on US$ funds you don't need immediately.
It offers a 0.20% interest rate and no monthly fees. The US$ Advantage account does not have a debit card. To deposit or withdraw funds, you can set up transfers between other linked USD accounts at another bank.
Related: Best US Dollar Bank Accounts in Canada
Manulife All-in Banking Account
The Manulife All-in Banking package is an all-in-one banking solution that combines chequing, high-interest savings, credit card, insurance, and overdraft protection into one account.
Chequing Account: Unlimited e-Transfers, bill payments, POS purchases, and more.
High-Interest Savings Account (HISA): Pays a 2.10% interest rate on your balance. Interest is calculated daily and paid out monthly.
Travel Insurance: Enjoy travel disruption insurance coverage up to $10,000.
Overdraft Protection: The annual interest rate on your outstanding overdraft balance is 15%. Overdraft protection can help you avoid expensive NSF fees if your account becomes overdrawn.
The secured overdraft offered by this account package is 75% of your HISA balance and up to a maximum of $5,000.
The All-in Banking package has a $10 monthly account fee; however, this fee is waived if you save at least $100.
You can also apply for one of two credit cards: ManulifeMONEY+ Visa Platinum and ManulifeMONEY+ Visa Infinite Card.
ManulifeMONEY+ Visa Infinite Card: This cash back credit card offers 3% cash back on grocery purchases, 2% cash back on travel purchases, and 1% cash back on everything else (spending limits apply). This card has a $120 annual fee.
Related: Best Chequing Accounts in Canada
How To Open a Manulife Bank Account
You can open a Manulife Advantage Account online using your computer, tablet, or phone. You will need to provide your basic personal information (including your Social insurance Number) and must be at least 18 years of age.
If you are opening a Business Account, you will need to contact one of their independent financial advisors in your area.
Manulife Bank Contact
Manulife provides support via phone, email, and financial advisors throughout Canada.
For general inquiries by phone, call 1-877-765-2265 from Monday to Friday (8am – 8pm); Saturday and Sunday (9am – 5pm).
Email inquiries go to manulife_bank@manulife.ca, and you can also complete the contact form on the website.
If sending documents, you can mail them to 500 King Street North, Suite 500-MA, P O Box 1602 STN Waterloo, ON N2J 4C6 (for all provinces except Nova Scotia).
Nova Scotia residents can mail to 2727 Joseph Howe Drive, Del Stn. H-T2-8, Halifax, NS B3J 2X5.
Lastly, to activate your ManulifeMONEY+ Visa Card, call 1-844-323-7053.
Is Manulife Bank Safe?
Manulife Bank of Canada is a member of the Canada Deposit Insurance Corporation.
This means that your deposits are guaranteed up to $100,000 per category, e.g. chequing, savings, RRSP, TFSA, etc., if the bank becomes bankrupt.
The Manulife Advantage, All-in banking package, and US Dollar Advantage accounts are eligible for CDIC coverage.
Manulife Advantage vs. High-Interest Savings Accounts
How does the Manulife Advantage Account interest rate compare to other HISAs in Canada?
EQ Bank: Its Savings Plus account offers a high-interest rate on CAD and USD balances. In addition, you enjoy unlimited free transactions, Interac e-Transfers, bill payments, electronic fund transfers, and mobile cheque deposits.
EQ Bank Savings Plus Account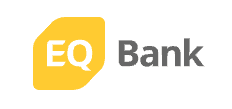 3.00%* non-promotional interest rate
Unlimited debits and bill payments
Unlimited Interac e-Transfers
No monthly account fees
Simplii Financial: Simplii Financial offers promotional high-interest rates for a specific length of time. You can also open a no-fee chequing account and get a $400 bonus.
Simplii High-Interest Savings Account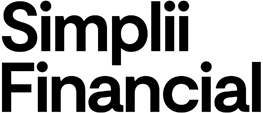 6.00%* rate for 5 months
Unlimited debits and bill payments
Unlimited Interac e-Transfers
$400 cash bonus offer with a free chequing account