Remote working has become a major trend in the last three years. Many workers switched to working from home at the height of the pandemic, and although the pandemic is now in the rearview mirror, it's clear that WFH and remote jobs are here to stay.
Today, many workers are choosing to remain remote workers. Indeed, PWC found that 55% of workers want at least three days of WFH per week, while an OWL Labs study found that 46% of people would be willing to take a 5% pay cut to continue working from home.
If you are one of those wishing to continue WFH, this article lists the twenty-seven best websites to find remote jobs in 2023, plus the pros and cons of remote working.
Best Websites for Remote Jobs
1. Upwork
Upwork is the world's largest remote working marketplace connecting businesses and individuals (buyers) with freelancers (sellers). Anyone can sign up as a remote worker and offer services in dozens of skill categories.
Top Features
Create a free profile and apply to jobs posted to the Upwork jobs marketplace
Negotiate the best rate for your work based on your skills and experience
Escrow service for fixed-rate projects and payment protection for hourly contracts
Pricing: Free to join. Five to twenty percent commission on earnings. Optional paid memberships. Buy Connects (credits) to apply for jobs.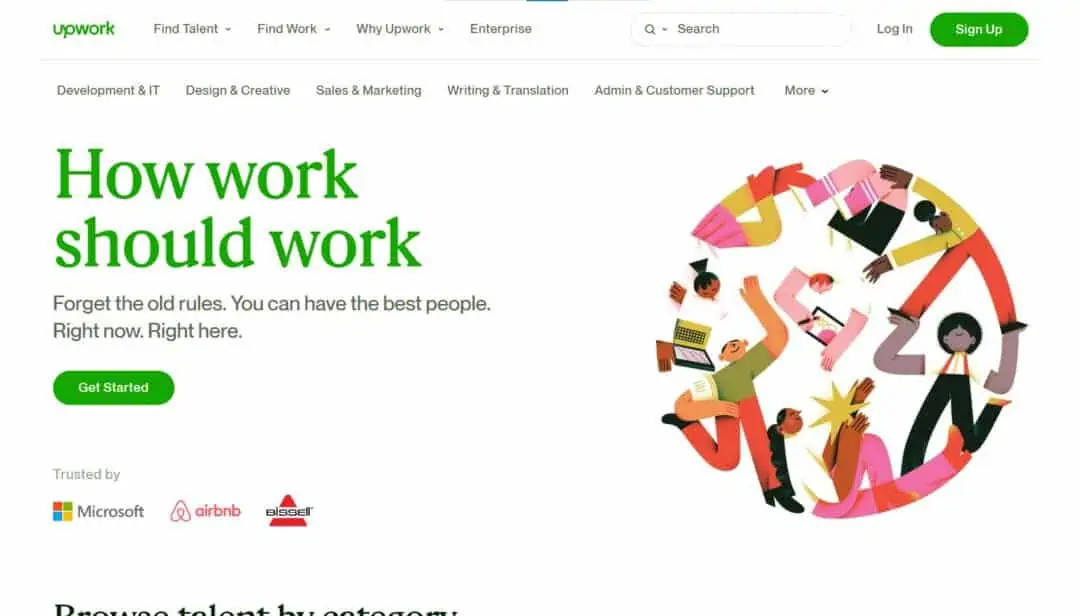 2. Freelancer.ca
Freelancer is a remote jobs marketplace where you can sign up and bid for short-term freelance jobs. You can also join contests where your entry can win, allowing you to get paid for the job.
Top Features
Bid for jobs or participate in contests
Money is held in escrow and released once a project is complete
Pricing: Free to join. Twenty percent service fee on all projects. Optional paid memberships. Additional fees for extra features.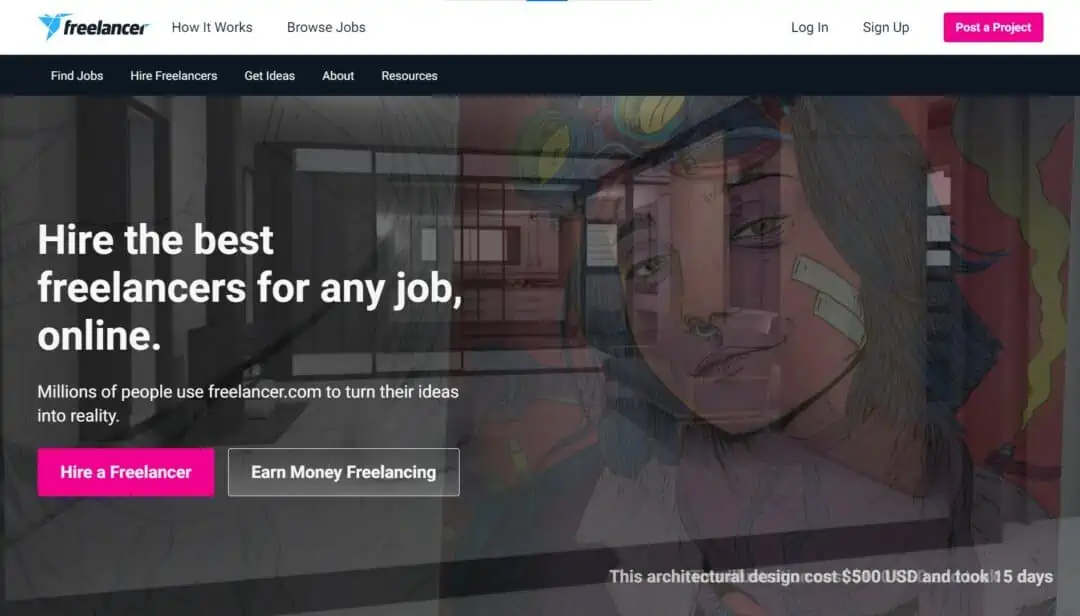 3. Fiverr
Fiverr is a freelance marketplace where you can sell your services as Gigs or Gig Packages. When someone purchases one of your Gigs, Fiverr charges them and then pays you when the work is complete.
Top Features
Sell packaged services at a fixed rate
Payment guarantee before the work begins
Sell as many Gigs and Gig Packages as you wish
Pricing: 20% commission on all jobs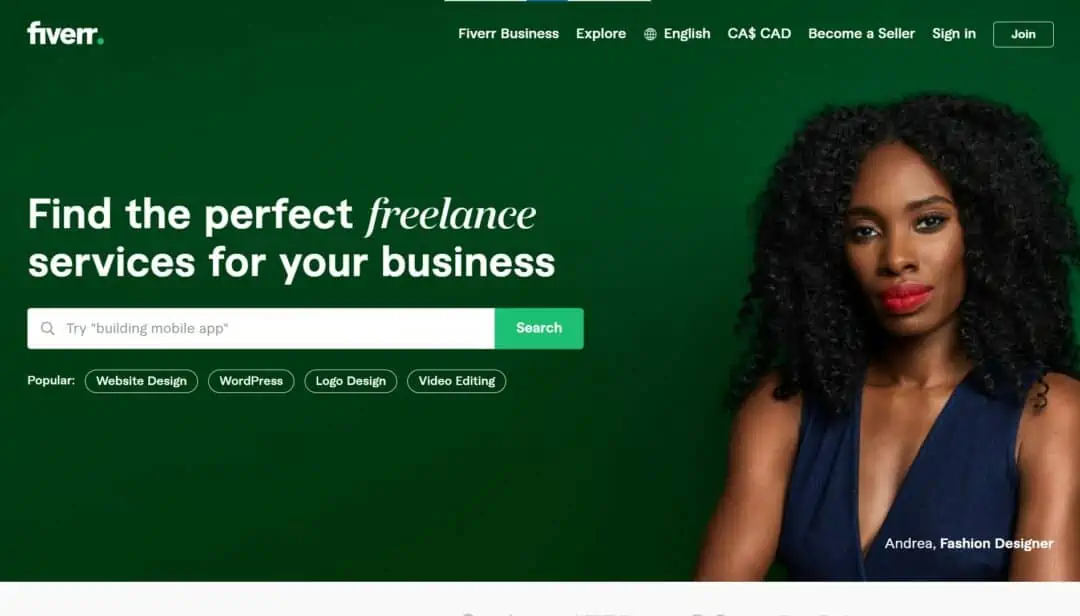 4. WeWorkRemotely
WeWorkRemotely (WWR) is a remote working community that brings together remote employers and remote workers. The website hosts an extensive collection of remote jobs in categories like design, programming, customer support, and marketing.
Top Features
Remote-only job board
Many employers post jobs directly to WWR
Advanced job search
Learning portal for job seekers.
Pricing: Free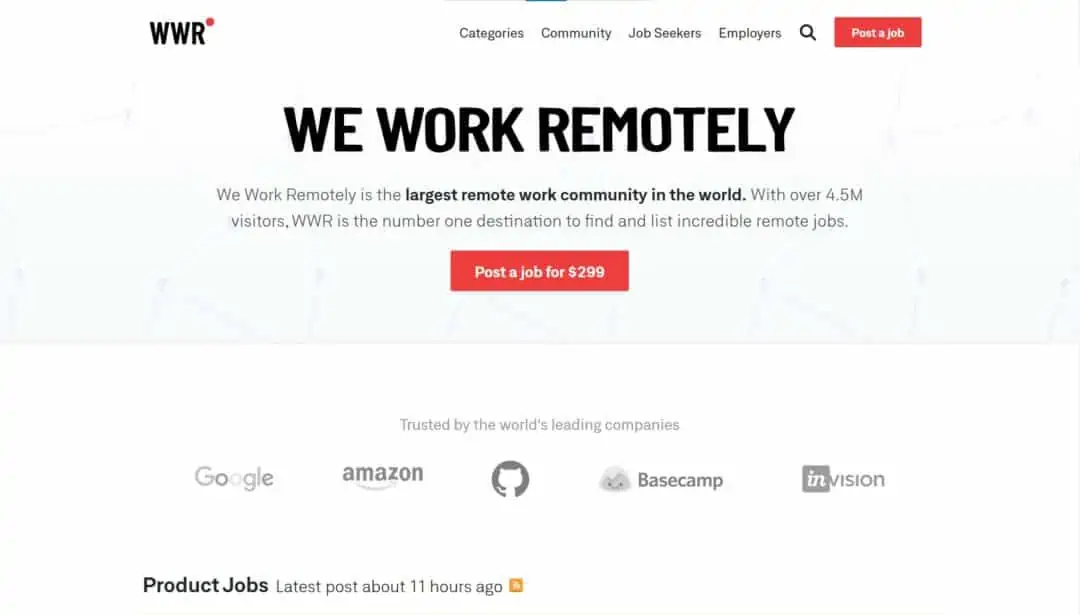 5. FlexJobs
Find vetted remote working jobs in the United States and around the world on FlexJobs. The website boasts one of the largest collections of remote positions on the internet and has been in operation since 2007.
Top Features
Vetted remote working jobs
Multiple filters to find the exact job you are looking for
Additional services like career advice, events, webinars, and articles
Pricing: $25 monthly subscription
6. RemoteOk
RemoteOk is a job board website that lists remote jobs from across the world. Although you will find jobs from Canada, most jobs listed are in the United States, with a heavy focus on tech jobs.
Top Features
Filtered job board with only remote jobs
You can create a profile and get recruited directly from the website
Verified job tags allow you to know which jobs are vetted
Pricing: Free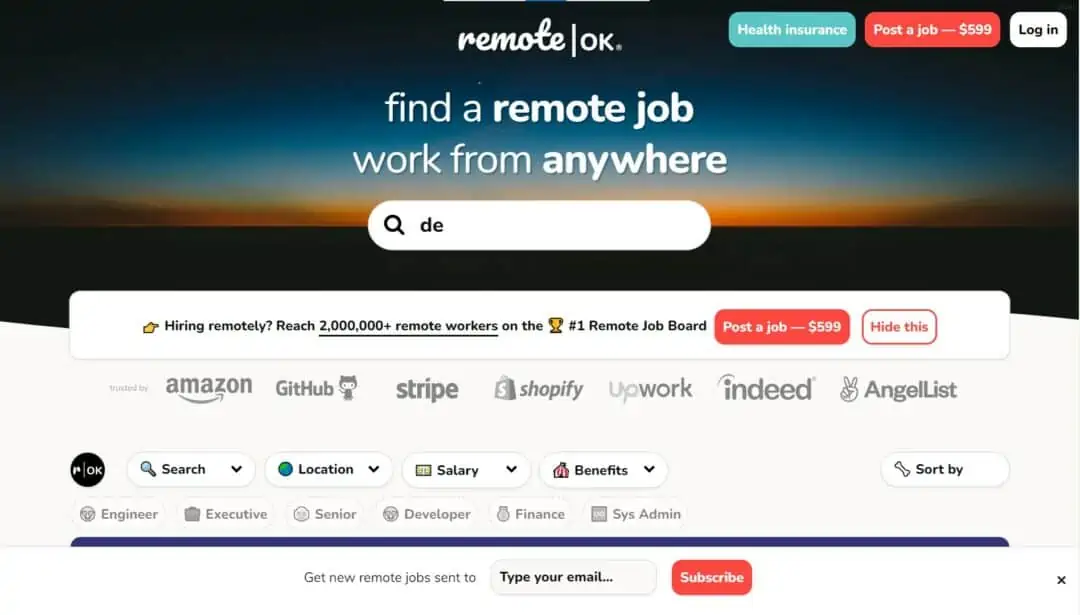 7. SolidGigs
SolidGigs is a lead generation service that sends high-quality freelance gigs directly to your email for a monthly fee. Unlike Upwork and Fiverr, SolidGigs does not list jobs nor have a job marketplace.
Top Features
Unique lead generation service for freelancers
Concierge service that sends you leads to your email
Unlimited leads per month for the same monthly fee
Pricing: $35 per month.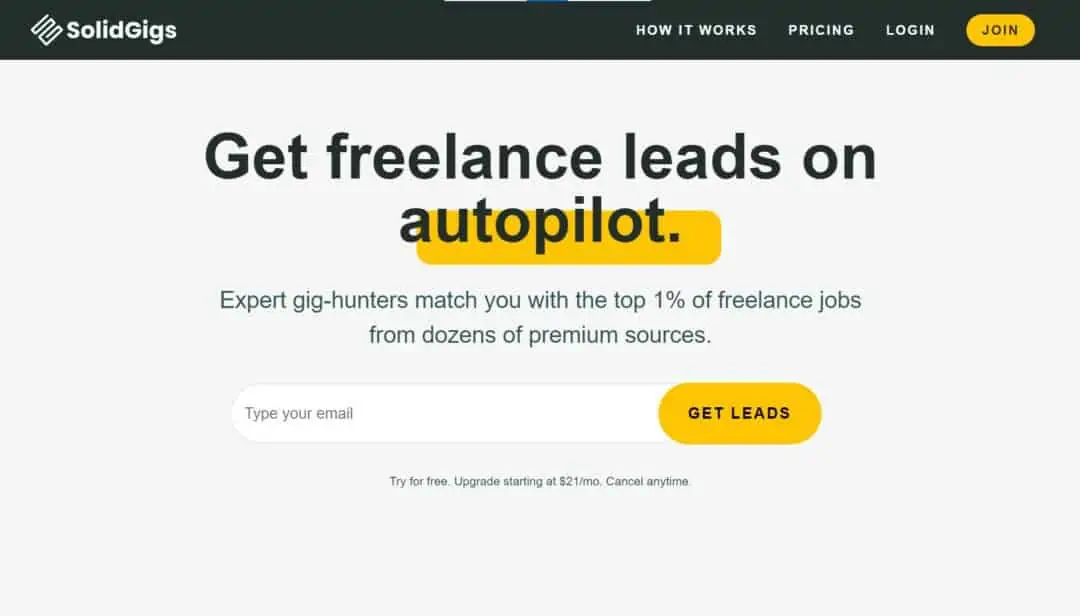 8. JustRemote
JustRemote compiles a list of jobs posted to company websites but not yet advertised on public job boards. It achieves this by crawling an ever-growing list of company websites that frequently post remote positions.
Top Features
Remote jobs job board dedicated to finding hidden jobs before they are advertised
Advanced search and filter capabilities to find the right jobs
Pricing: $6 per month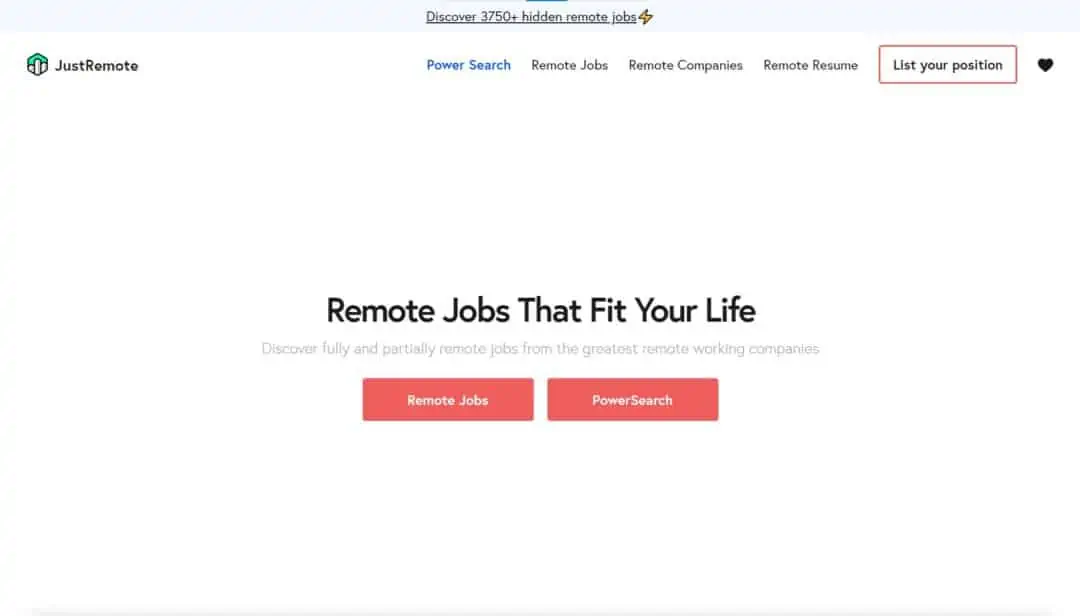 9. Dynamite Jobs
Dynamite Jobs exclusively sources jobs from companies that offer genuinely remote jobs. Their motto is that a remote job should allow you to work from anywhere, not just from home. You can create a Dynamite Profile to help you land remote positions on the site.
Top Features
Remote-only job board
Profile builder to give you more visibility to recruiters
Get job offers within the DJ dashboard and chat with recruiters directly
Pricing: Free
10. Remotive
Remotive is a remote jobs website that curates tech-related remote jobs from across the web. You can filter results based on location to find jobs that allow you to work anywhere in the world.
Top Features
Job board updated daily with new remote tech jobs
Filters to find jobs based on skills and location
A daily jobs digest sent to your email
Additional resources like guides and webinars to help you on your remote working journey
Pricing: Free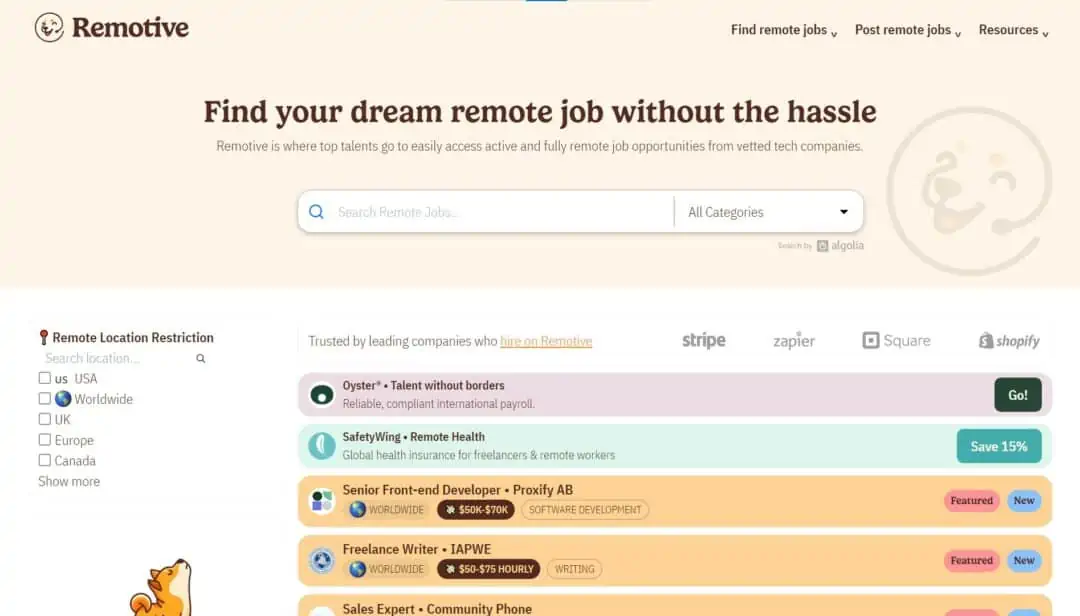 11. Hubstaff Talent
Hubstaff Talent is part of a suite of products by Hubstaff that support remote and freelance working. You can create a professional profile, head to the job board, and apply to jobs within the Hubstaff Talent portal.
Top Features
Create a freelancer/remote worker profile to highlight your skills and experience
Hundreds of jobs available on the job portal
Inbuilt time tracking and project management tools
Pricing: Free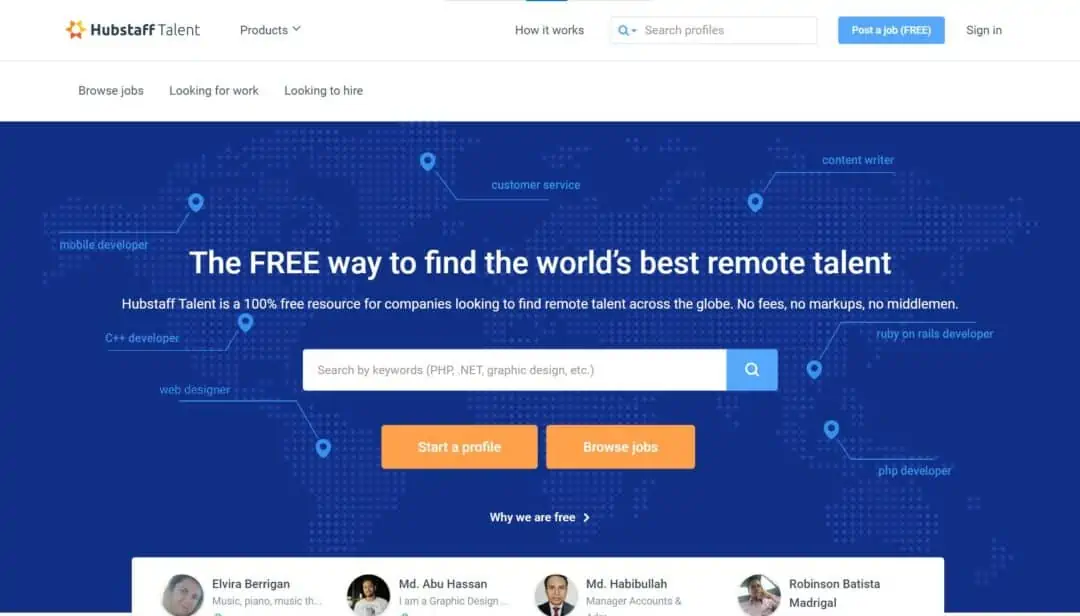 12. Remote Co
Remote.Co provides a mix of features for remote workers. You can use the job board to find remote jobs across the world or head over to the resources section and get tips and advice from top remote companies and workers.
Top Features
A frequently updated list of remote jobs
Q&A section with answers to remote-related questions by experienced remote workers
A handy list of remote companies
Remote working blog
Pricing: Free
13. Skip the Drive
SkipTheDrive lists remote jobs across categories like tech, HR, finance, QA, and healthcare. The clean UI focused on searching for a job provides an excellent experience for people only interested in finding a remote position.
Top Features
Remote jobs search
List of part-time jobs
Savings calculator to show you how much you save on commuting when you work remotely
Remote company list
Job tracking spreadsheet
List of websites offering remote micro jobs
Pricing: Free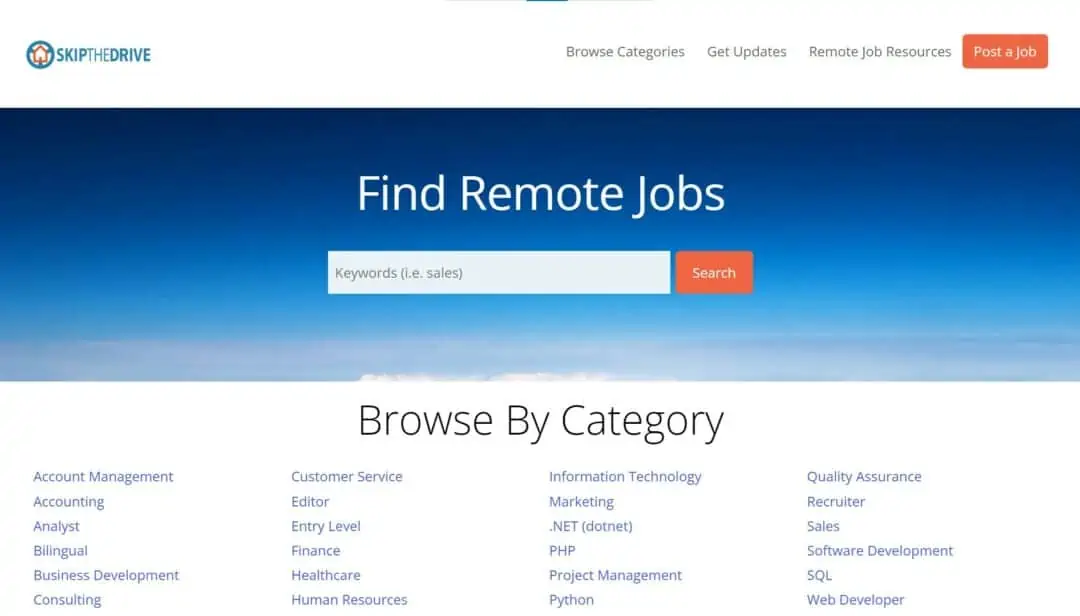 14. Jobspresso
The Jobspresso website features remote jobs in tech, marketing, customer care, and more. You can find over a thousand jobs listed on the site and use its robust filters to find jobs that meet your job requirements.
Top Features
Over a thousand jobs available on the job board
Create a profile and submit a resume to be directly recruited
Social media communities on Facebook, Twitter
A mailing list that sends out the latest remote jobs
Pricing: Free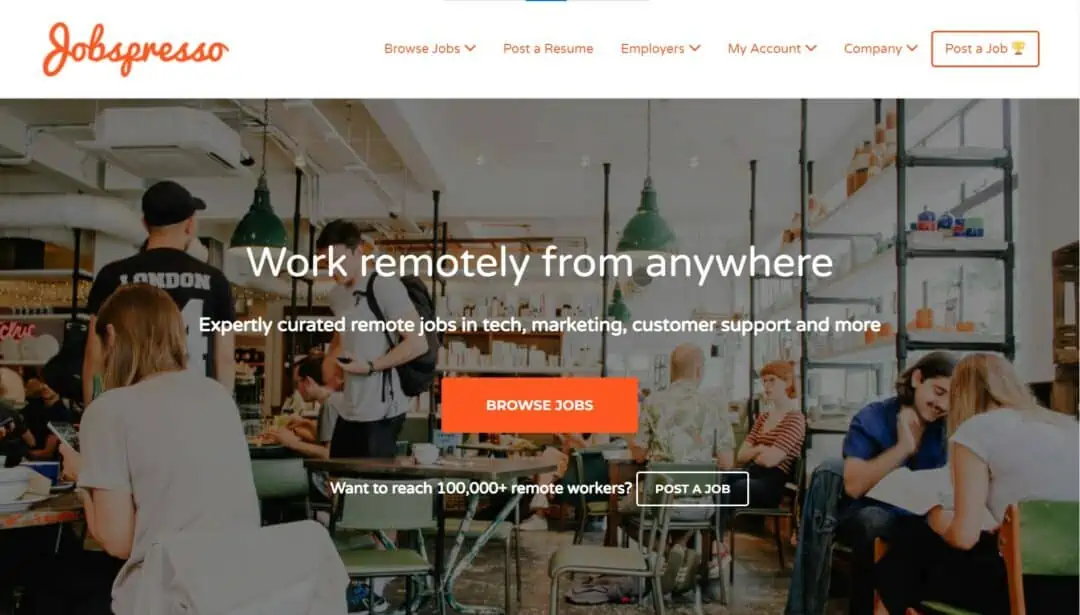 15. Working Nomads
The Working Nomads website is a remote working website that helps you find remote jobs across multiple categories. The website provides additional tools like job filters and a job timer to know how old a job post is.
Top Features
Simple, fast-loading job board
Multiple job filters
Filter email job alerts by category, position type, frequency, and keywords
Pricing: Free
16. Toptal
Toptal is an on-demand talent marketplace that connects freelancers to remote working opportunities. Its rigorous vetting process ensures only the top 3% of freelance talent make it to their database, which includes former employees of Google, Cisco, Facebook, McKinsey, and others.
Top Features
Toptal directly matches freelancers with jobs, including vetting the jobs
If you make the talent cut, you will have access to lucrative jobs from major global companies
You do not pay any fees or commissions. Toptal adds fees and commissions to your rate and presents it as a unified project cost to the client.
Pricing: Free
17. Outsourcely
Outsourcely combines a freelance job board with a remote working dashboard with features like chat, file sharing, email, and video conferencing. The website is ideal for people who want a similar experience to Upwork but without the fees.
Top Features
Freelance jobs marketplace
Remote working dashboard
Zero commissions
Pricing: Free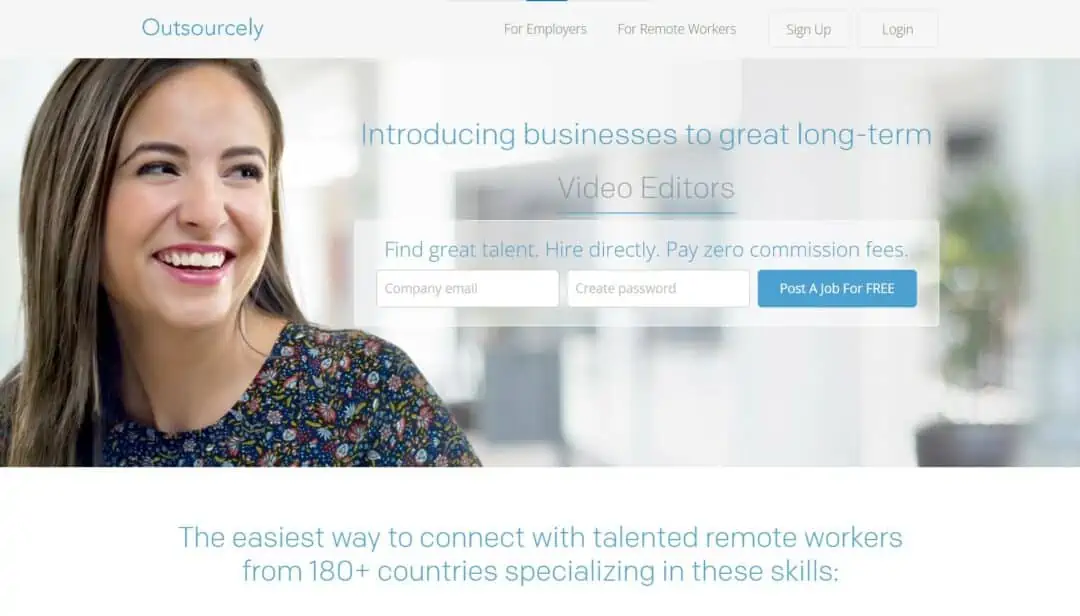 18. AngelList Talent
AngelList Talent offers talent matching (through Curated) and a job listing service. The website primarily serves companies in the tech sector, including startups, growth, and post-IPO companies making it a great place to find high-growth-potential remote jobs.
Top Features
Over 100,000 remote and non-remote tech jobs
Direct recruitment to companies looking to hire quickly
Feature your profile to recruiting companies
Pricing: Free with paid upgrades.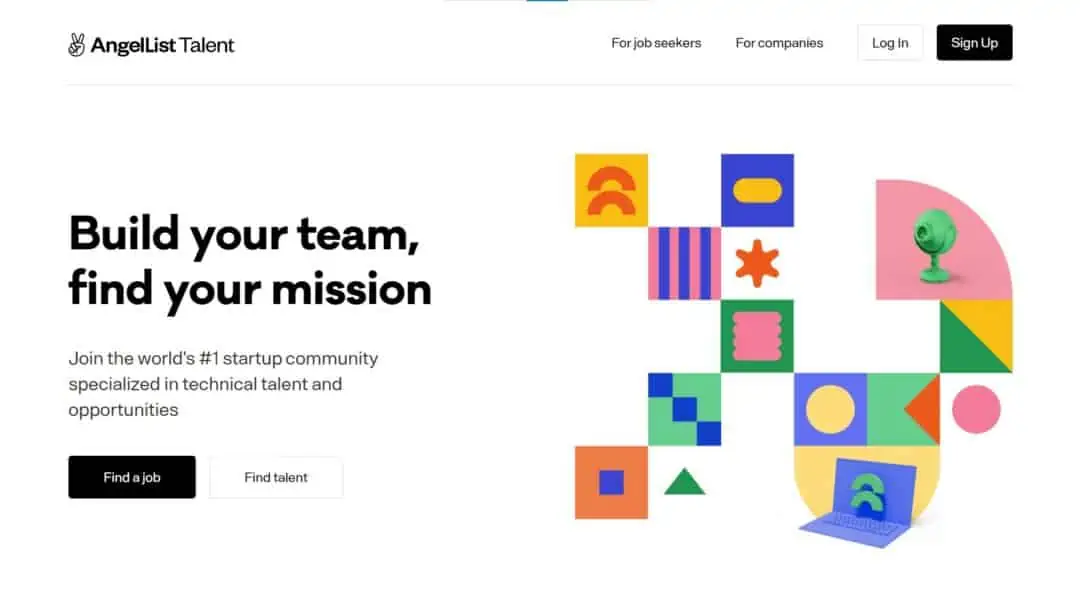 19. Himalayas
The Himalayas website offers a modern experience for remote job hunters.
The clean UI makes it easy to browse through the over one thousand remote jobs listed. You can also access a list of over two thousand companies that offer remote jobs with details like open jobs, tech stack, and employee benefits.
Top Features
Modern, clean UI for easy navigation
Multiple job filters to find the right jobs
Weekly newsletter with the latest remote jobs
Pricing: Free
20. Rise
The Rise website is a unique take on remote working and the entire recruitment process. You can create a detailed and gamified profile that you can upgrade over time, plus you get access to a community of other workers with whom you can interact.
Top Features
Modern, gamified profile
Community to interact with
Tools like polls and surveys so you can get feedback from other community members
Pricing: Free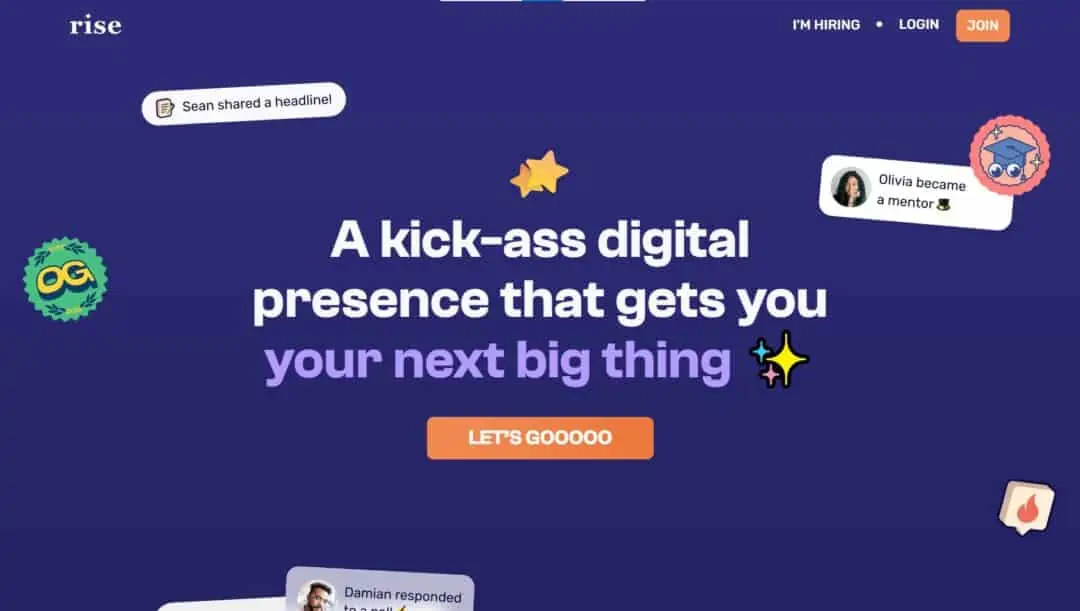 21. Lensa
Lensa is a job search engine that makes it easy to search for remote jobs in the United States and Canada. One interesting feature is the ability to search for jobs based on company values like work/life balance, professional growth, and recognition.
Top Features
Powerful jobs search engine with multiple filters
You can upload your resume
Find remote jobs in various categories like security, military, engineering, business, and education.
Pricing: Free
22. Remote Jobs Club
Remote Jobs Club is an email subscription service that sends out a bi-weekly list of remote jobs in the UK, the US, and Canada. All you need to do is sign up for the email and start receiving remote jobs in your email.
Top Features
Email subscription service that delivers the latest remote jobs to your email
A curated list of jobs with only truly remote jobs
Pricing: Free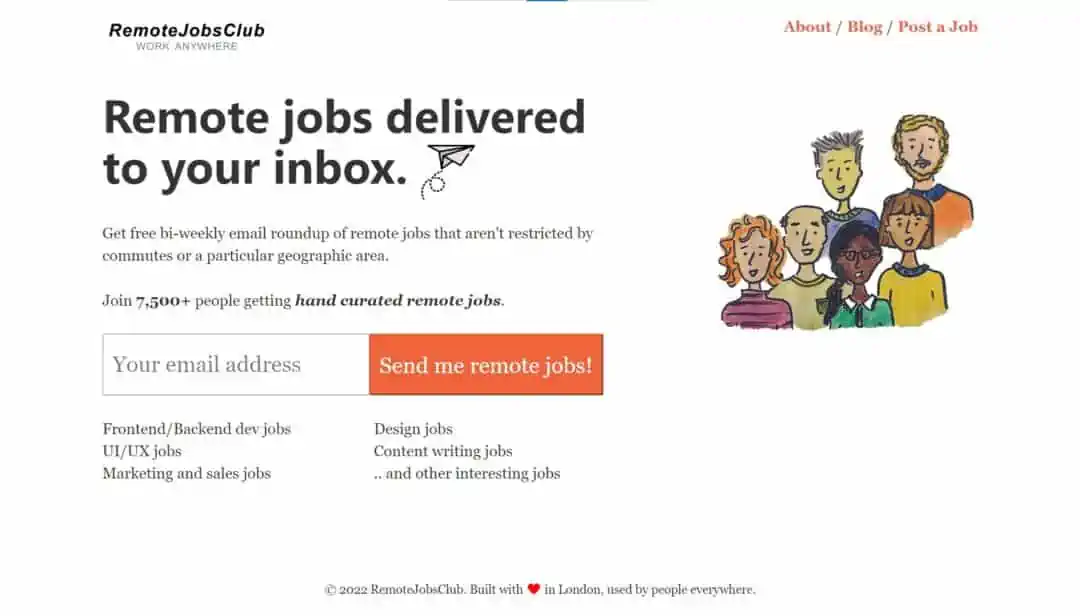 23. Remote4Me
Remote4Me is a remote jobs aggregator and search engine. The website crawls other job sites to find remote jobs and lists them on the job board. It is also simple to use because you don't need to sign up to use the service.
Top Features
Automated job aggregator that updates jobs frequently
No sign up required
Lists remote jobs from technical and non-technical fields
Pricing: Free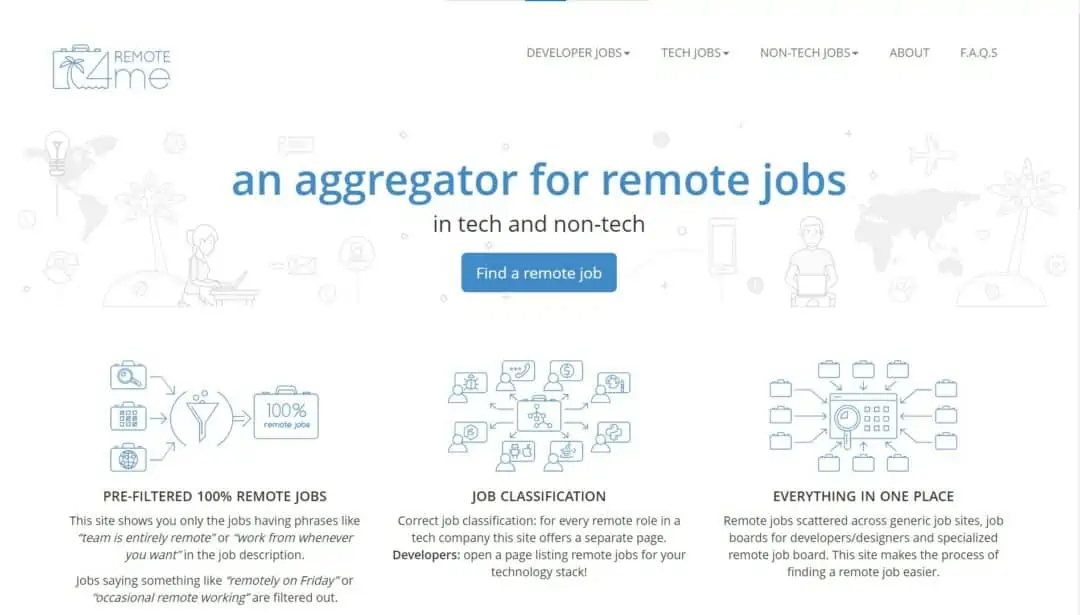 24. 100 Telecommute Jobs
The 100 Telecommute Jobs website lists jobs across various categories that offer remote working options. Its simple and straightforward UI makes navigating the job board and searching for jobs easy.
Top Features
Simple, straightforward job board
Thousands of remote jobs are available
Remote jobs Q&A section
Pricing: Free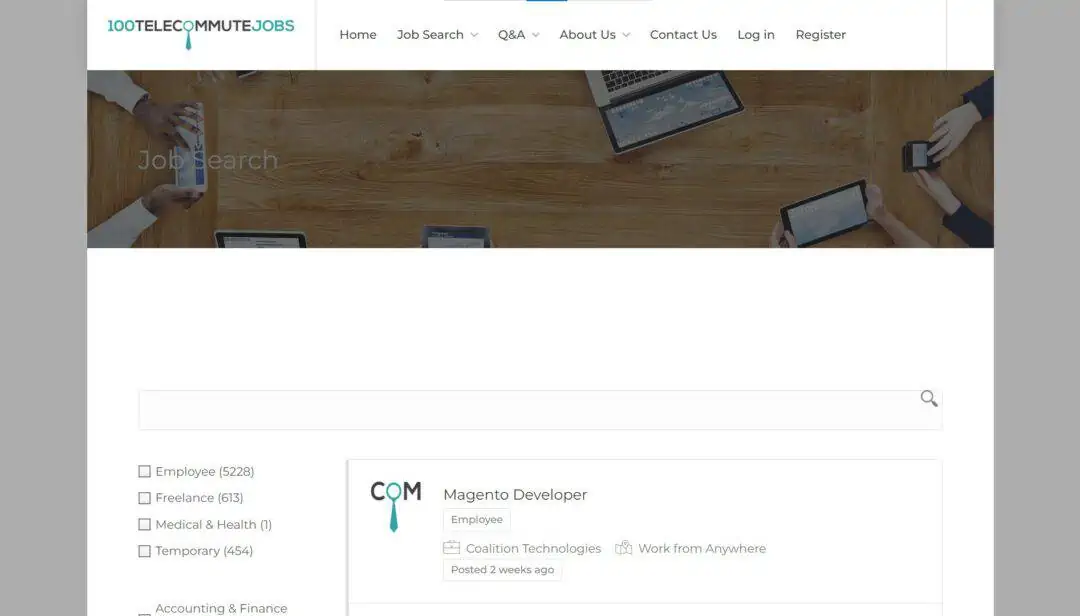 25. Workew
The Workew website aggregates remote jobs from across the world. The website's job search engine has tags that make it easy to quickly identify jobs requiring a geographical location and those you can work on from anywhere.
Top Features
Bookmark jobs
Search jobs based on keyword, category, or location
Review jobs before you apply on the recruiting company's website
Pricing: Free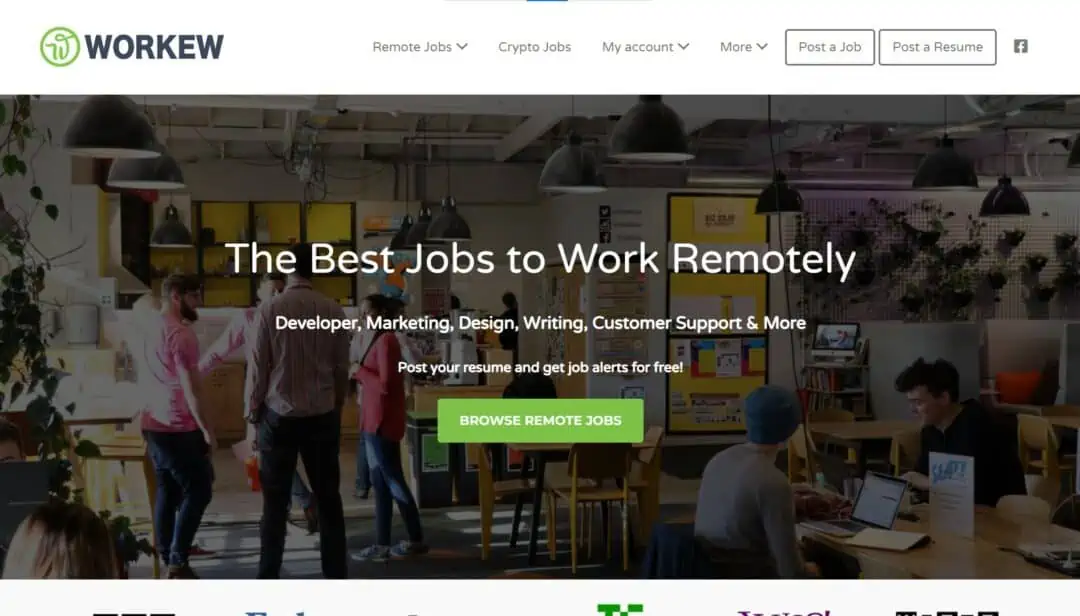 26. The Muse
The Muse combines a traditional job board experience with an extensive library of content covering all facets of remote working. In addition, the website offers additional services like coaching and a company directory with detailed corporate profiles.
Top Features
Interactive job board with over ten thousand remote jobs
Extensive content library
Add-on services like interview coaching, resume review and writing, networking strategy, and leadership coaching.
Pricing: Free to read articles and search for jobs with paid add-on services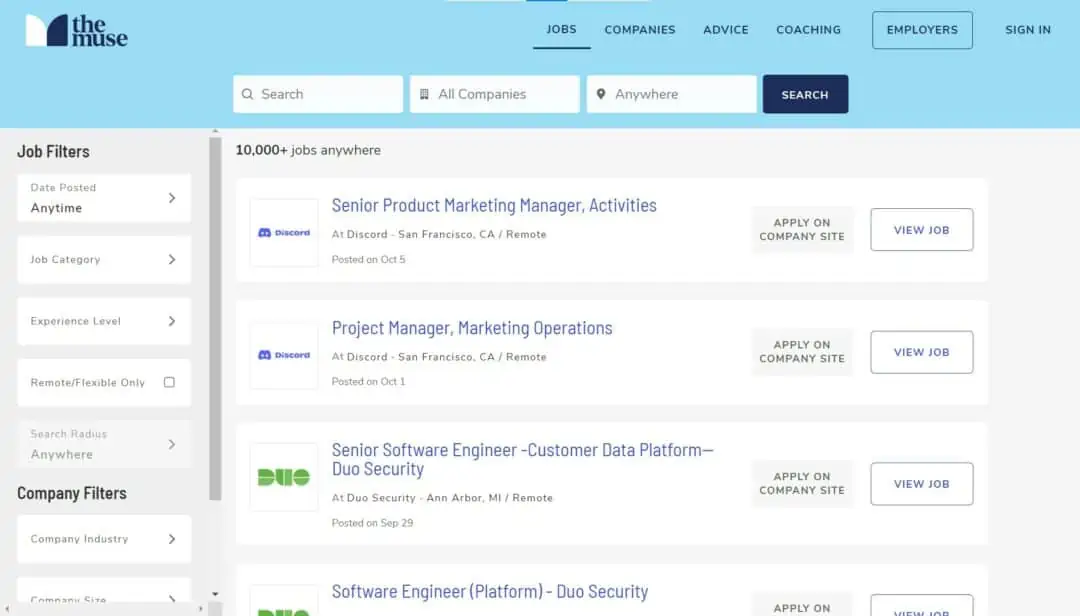 27. Virtual Vocations
Virtual Vocations provides remote job seekers with multiple tools to help them find a job. You get access to a job board with tools for saving and tracking jobs and filters to sift through the thousands of jobs to find those that match your requirements.
Top Features
Job board with thousands of jobs
Career Center that offers free courses
Library of over seventeen thousand companies that allow remote working
Bookmark and track jobs that you have applied to through the site
Pricing: Free account and paid accounts from $16 to $60 per month
Pros and Cons of Remote Working
Pros
Higher productivity due to fewer distractions and increased work hours (most remote workers do not stick to the 9-5 schedule).
Improved work/life balance with more time to engage in non-work activities.
Workers live a healthier lifestyle due to more home-cooked meals, random walks outside, and interactions with friends, family, and neighbors.
You can save more from fewer or no commutes, which reduces your carbon footprint.
Cons
Increases communication gaps, especially in jobs or projects that require real-time communication.
It is challenging to stay motivated when there are no physically present co-workers or bosses to spur you on.
Loneliness and seclusion can reduce social interactions, which can affect mental health.
Work management limitations due to a lack of visibility of work.
Remote working can impede collaboration due to technology limitations.
Conclusion
Remote jobs provide an excellent alternative to traditional office-based jobs for people who want more freedom in how they work.
Although there will always be office jobs, the good news is companies are embracing remote working to free their employees and save money on office-related costs.
If you are wondering where to find a remote job that will work for you, visit the websites above and explore the many available opportunities.
FAQs
How do I get a remote job?
You can get a remote job by visiting websites that list remote jobs and following the application process provided in the job description.
Where can I work remotely if I can't work from home?
Remote workers can work from anywhere. You can work from a favorite café, at the local library, or rent a desk at a coworking space.
How do I get a remote job with no experience?
You do not need experience to land a remote job. Remote jobs range from zero-skill jobs like data entry to high-skills careers like programming.
Is FlexJobs worth paying for?
FlexJobs is worth paying for because it is the top remote working job site and lists thousands of jobs with additional job search features.
How long can you remotely work in Canada?
You can work in a remote job in Canada for as long as the job runs.
Where can I find entry-level remote jobs?
You can find entry-level remote jobs on websites like FlexJobs, Upwork, Remotive, and all the other remote job websites listed above.