The Trezor Model T is a hardware wallet that is designed to keep your digital currencies "safe," offline, and in your control.
Instead of keeping your coins on a cryptocurrency exchange and hoping they don't get hacked or go bust, a hardware wallet (aka Cold Wallet) secures your private Keys and makes it easy to receive, spend, and transfer your cryptocurrencies.
Two of the most popular bitcoin and altcoin wallets are offered by Trezor and Ledger.
In this Trezor Model T review, I cover how to use it, the coins supported, benefits, downsides, and how it compares to Ledger Nano X.
What is Trezor Model T?
Trezor Model T is a next-generation hardware wallet designed by SatoshiLabs.
It uses open-source code that can be audited by anyone for vulnerabilities and gives you full control of your private keys.
Trezor Model T supports more than 1,500 coins which means you can safely store coins like Bitcoin, Ethereum, Cardano, Ripple, Litecoin, Stellar, Dogecoin, and many others.
It also works with other wallets, including My Ether Wallet, Exodus, Nano Wallet, Electrum, AdaLite, and MyCrypto.
While it is fairly similar to the original Trezor, Trezor One, the Model-T uses a touchscreen, supports extra coins and a micro–SD Card, and has a faster processor.
Trezor Model T Supported Coins
As of this writing, the Trezor Model T supports 1,649 tokens. Popular ones include:
The vast selection of coins supported by Trezor makes it one of the most versatile wallets on the market.
How To Use The Trezor Wallet
When you first receive your Trezor, ensure the hologram seal over the USB-C port has not been tampered with.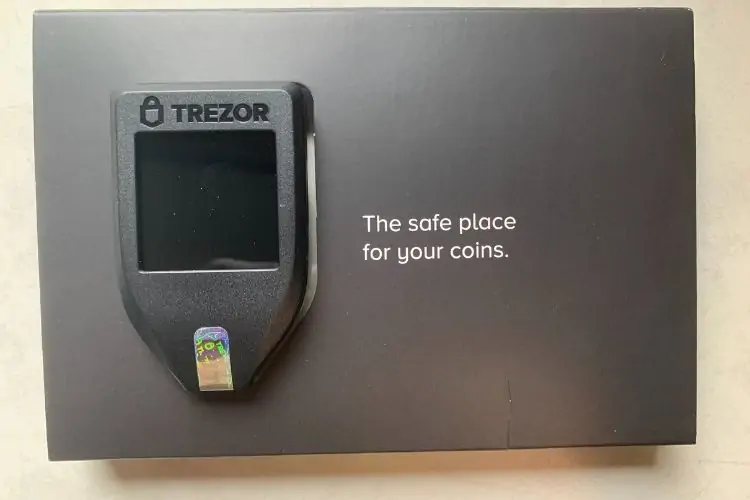 The package should contain a manual, magnetic dock, two recovery seed cards, stickers, USB-C cable and your Trezor Model T.
Here are the steps to activate your Trezor wallet:
Step 1: Visit Trezor.io/start/ in a web browser and connect your Trezor.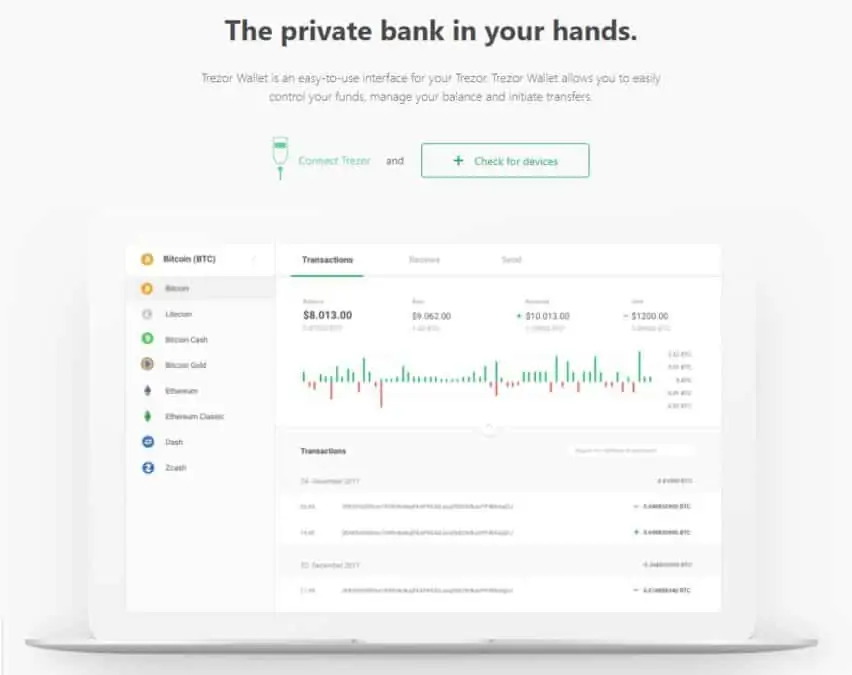 Step 2: Install the firmware for your Trezor Model T. Following installation, the wallet reboots. This step took me less than a minute.


Step 3: If this is your first wallet, click on "create a wallet" to continue. If you purchased Trezor-T to recover an existing wallet, click on the "Recover Wallet" option.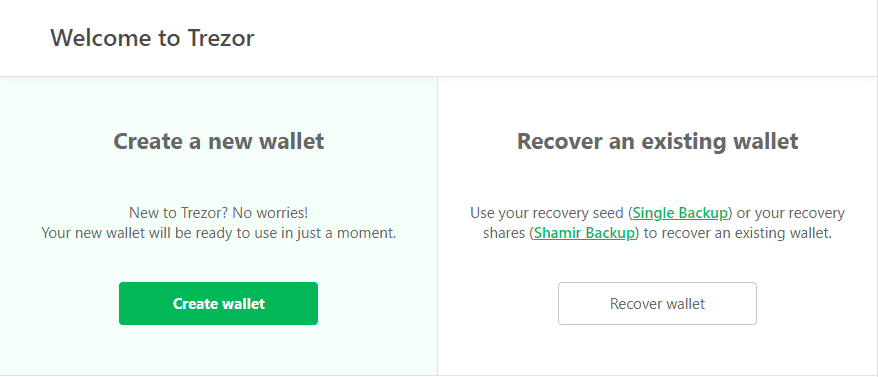 Step 4: I am creating a new wallet using a single backup.
A 12-word "recovery seed" is randomly generated by your Trezor wallet, and it is super-important that you write it down and keep it safe.
Also known as your "seed phrase," this backup phrase can help you access your private keys (and coins) if you ever lose your hardware wallet.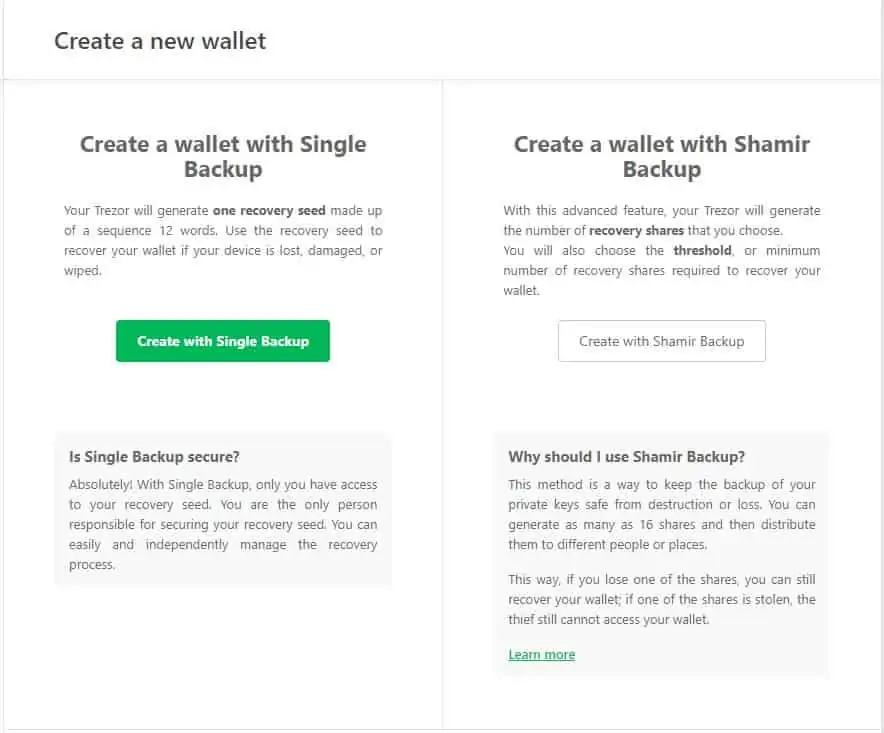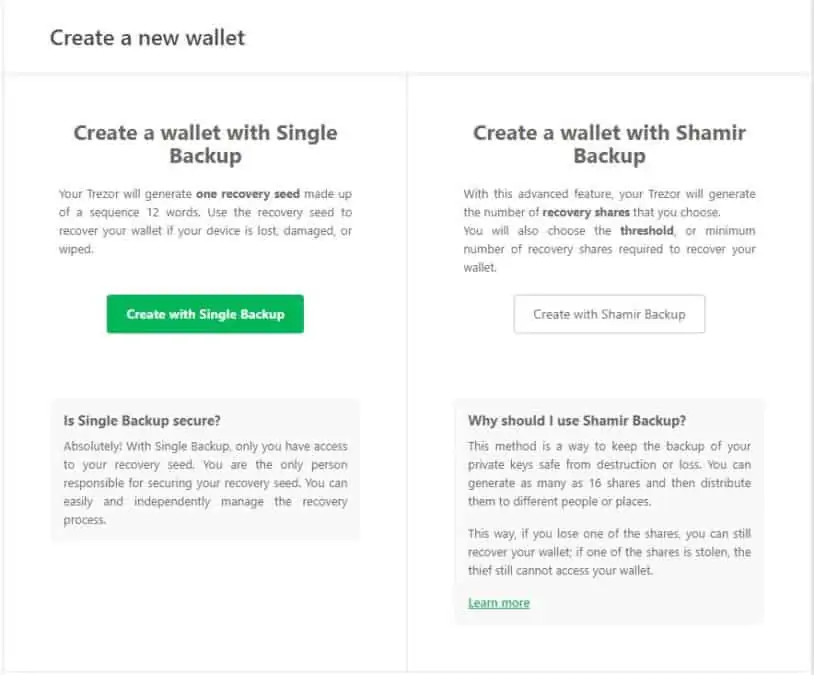 Step 5: Create a backup by following the instructions.
Do not take a photo of your recovery seed or store it on your computer. Doing this totally negates the reasons for using a cold wallet in the first place. If your computer or cloud storage account is hacked or compromised by malware, you can lose all your money.
Keep your recovery seed away from the internet!
Step 6: Create a unique PIN for your Trezor wallet. This PIN protects the physical wallet from being accessible if you misplace it. You can also add a passphrase for further security.
Give your wallet a name to differentiate it from other wallets.
You are now ready to start receiving, sending, buying, and selling cryptocurrencies with your Trezor wallet.
Assuming you want to send bitcoin from a cryptocurrency exchange (e.g. Coinsmart), you can create a bitcoin address in Trezor and use this address as your destination when you withdraw coins from the exchange.
In addition to securing your keys, you can also use the Trezor Model T to store passwords and as a Universal 2nd-Factor (2UF) hardware token.
Cost of Trezor Model T
Trezor Model T has a $219 USD price tag. Alternatively, you can opt for its cheaper predecessor, Trezor One, which has a $69 USD price tag.
As you can tell, the model-t is fairly expensive.
While there are cheaper wallet options available, Trezor is a market leader, and its open-source software allows for greater transparency.
Is Trezor Model T Safe?
Trezor wallets are hardware wallets, and they are generally safer than desktop, mobile, or web wallets.
That said, your crypto assets are only as secure as your recovery seed. If someone else gains access to your recovery seed, they can access your private keys.
As per Trezor's website, they use the following measures:
Firmware verification
Protected key operations
Recovery seed protection
Secure update procedure
Protected bootloader
Ultrasound hardware seal
In addition to using a 4 to 9 digits long PIN to prevent unauthorized access, you can also create encryption passphrases.
When sending or receiving coins, make sure to use the correct address for each specific coin.
Also, only purchase Trezor directly from the manufacturer.
Downsides of Trezor Model T
The Trezor Crypto wallet has the following downsides:
It is somewhat expensive.
It doesn't support all cryptocurrencies (there are well over 20,000).
If a sophisticated thief gains access to the physical wallet, there is a possibility that they could read critical wallet information, including your backup seed.
There is nothing like a 100% guarantee when it comes to cryptocurrencies.
Trezor Model T vs. Ledger Nano X
Ledger Wallets are very popular and are available in two versions: Ledger Nano X and Ledger Nano S Plus.
They are produced by Ledger, a company founded in 2014 with offices in the U.S. and France.
Ledger Nano X is the newer wallet, and it supports over 5,500 tokens and up to 100 cryptocurrency applications. It also allows staking, which means you can earn revenue without selling your assets.
Ledger Nano X costs $209 CAD.
Ledger Nano S Plus supports several applications and more than 5,500 tokens and coins. It is not Bluetooth compatible and has a $114 CAD price tag.
Compared to Trezor wallets, the software used by Ledger is not open-source.
Here is a Ledger wallet review.
Trezor Model T vs. Trezor One
Trezor Model T is an improvement on Trezor One, which was the first hardware wallet developed. It has a colour touchscreen instead of buttons and is made of a more durable plastic casing.
Model T uses a USB-C connector and supports MicroSD cards. Trezor One comes with a Micro USB cable.
Both Trezor wallets support over 1,500 tokens; however, there are several coins that are only available on Trezor Model T.
Both wallets can be used as a password manager or for U2F authentication.
From a processor speed standpoint, Trezor-T uses the ARM Cortex-M4 running at 168 MHz, while T-One is equipped with Cortex-M3 and runs at 120 MHz.
Conclusion
My review of the Trezor Model T is positive.
While newbie crypto traders may find it convenient to leave their coins in an online (hot) wallet, this increases the possibility of losing your funds.
A hardware (cold) wallet isolates your private keys from the internet and offers better security.
If you think the Trezor Model T is too expensive, you can try out cheaper alternatives, including:
Depending on your setup, you can also use a free paper wallet.
Regardless of the wallet used, you need to ensure that your backup seed is kept in a secure location(s).
Summary
This Trezor Model T review covers how it works, supported coins, pros, cons, and how it compares to Ledger Nano X and Trezor One.
Pros
Supports more than 1,500 tokens
Uses open-source software
Compatible with many other wallets
Can also be used as a password manager