Emma is an online platform for purchasing life insurance policies within minutes!
In addition to providing access to affordable life insurance, Emma also eliminates the need for medical exams, in-person meetings, and annoying/pushy salespeople.
This Emma review covers how the platform works, the cost of life insurance, and whether Emma is legit.
What is Emma?
Emma is a financial technology company (fintech), or to be more accurate, an "insurtech", founded in 2017.
The company's online portal makes it possible to compare life insurance quotes without leaving the comfort of your home.
Emma has partnerships with some of the best life insurance companies in Canada, including the likes of:
Canada Protection Plan
iA Financial Group
RBC Insurance
Empire Life
ivari
Canada Life
Manulife
Goose Insurance
Humania
SunLife, and more
These partnerships mean you can obtain the best rates available without needing to apply to each company directly on your own.
Emma's life insurance platform is specifically designed to make life insurance accessible to young families at affordable rates.
Emma Life Insurance Offerings
There are two main types of life insurance: term life insurance and permanent life insurance.
Emma offers both types.
Term life insurance provides coverage for a limited period of time (e.g., 10-20 years) and pays a tax-free benefit to your beneficiaries if you die during this time.
Permanent life insurance provides lifelong coverage and pays your beneficiaries a death benefit as long as the contract is in force at the time of death. Permanent life insurance is also known as whole life insurance and can be further divided into different types.
Term life insurance is cheaper than permanent life insurance and is more popular.
How To Buy Life Insurance with Emma
Spoiler alert: it is easy!
Unlike the traditional model that involves filling out complex forms, meeting with advisors in person, and completing medical exams or blood tests, applying for life insurance on Emma is 100% online.
To get started, visit Emma to check your eligibility.
The online health survey takes a few minutes to complete.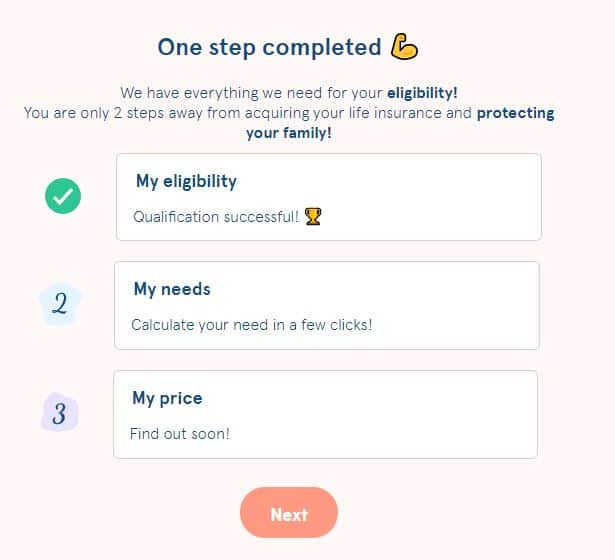 Provide details about your insurance needs so Emma's proprietary algorithm can calculate your ideal life insurance coverage.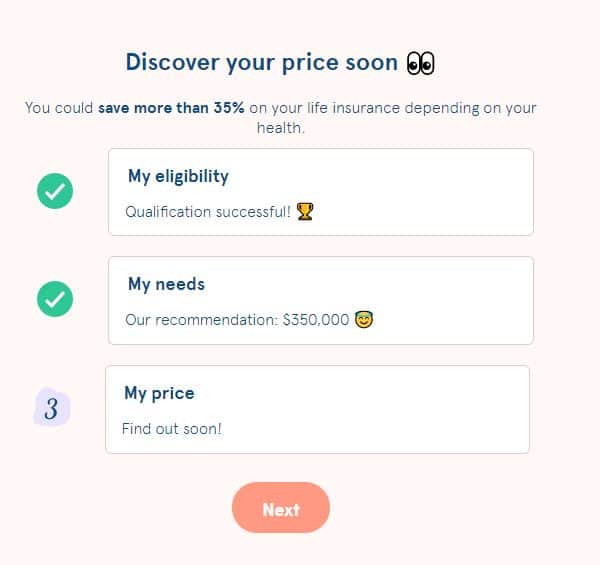 In the last step, you are required to provide information relating to your medical history, sporting activities you partake in, etc.
When this is completed, a quote for your monthly premiums is provided.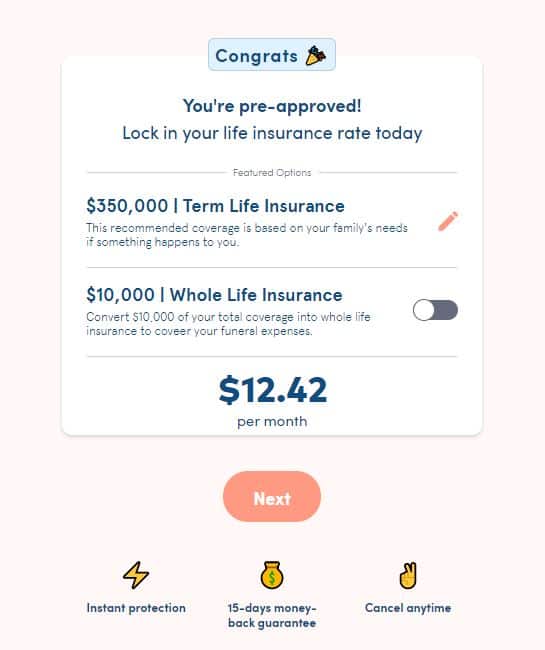 You can tweak things a bit to see how the quote changes.
For example, if you increase the coverage, your monthly premium increases. If you opt-out of the option to convert part of your term life insurance coverage to whole life insurance, your premiums drop significantly.
At this point, you can chat with an Emma expert to finalize your application. If you change your mind later, you have up to 15 days to request a refund.
Related: Best Life Insurance Quotes.
How Much Does Life Insurance Cost?
The cost of life insurance is impacted by many factors including your:
Age
Gender
Health history
Policy type
Tobacco use
Hobbies and lifestyle
Occupation
Optional riders
The older you are, the more you end up paying for life insurance coverage. The same goes for those who smoke or have chronic debilitating medical conditions.
Benefits of Emma
The Emma life insurance platform offers the following benefits:
100% online application process that takes approximately 20 minutes
No medical exams or blood test are required
Instant decisions with transparent pricing
Children are automatically included in your application with a $25,000 coverage
Does not discriminate against pregnant women
Can cancel coverage at any time
Provides access to the best life insurance companies in Canada
Offers 15-day refund guarantee
Available throughout Canada
Downsides
If you have a complicated medical history, an online life insurance application may not be suitable for your needs.
Is Emma Life Insurance Legit?
Emma is a reputable company.
Going by the reviews submitted by real users on Trustpilot, the company has a 5/5 rating which is rare for a life insurance platform.
It has received a similar 5/5 rating on its Facebook page based on 50 votes.
Emma offers life insurance products from some of the biggest life insurance companies in Canada.
Conclusion
Life insurance is an important part of your financial planning.
If you haven't applied for coverage because you are dreading the costs or the potential hassles involved, Emma can help.
The platform is focused on making life insurance simple and helping young and busy parents protect their loved ones.
Emma Life Insurance Review
Summary
Emma Life Insurance provides access to some of the best life insurance quotes in Canada with no need for medical exams. You can obtain coverage for term life insurance and whole life insurance policies.