PolicyAdvisor is a free online platform to compare the best life insurance quotes from Canada's best life insurance companies.
If you have been in the market searching for life insurance, critical illness insurance, or disability coverage, you know first-hand how frustrating the process can be.
Finding a competitive mortgage or savings rate is possible nowadays with just a few clicks online. But not so with life insurance. To obtain a life insurance policy, you may have to meet with an insurance broker several times before finalizing your policy.
PolicyAdvisor.com is changing all that by giving Canadians easy access to many of the best life insurance companies in Canada with only a few clicks required from the comfort of your home.
Read this PolicyAdvisor review to find out how to compare life insurance rates, save on your life insurance policy, and get some free advice.
Who is PolicyAdvisor?
PolicyAdvisor is an innovative online life insurance brokerage in Canada for comparing and finding the best rates for life insurance, disability insurance, critical illness insurance, and mortgage protection insurance.
Their platform gives you access to 20 top life insurance companies in Canada and dedicated licensed insurance experts who provide free advice and guidance on how to go about choosing the best coverage for your needs.
Some of the life insurance companies they work with are RBC Insurance, BMO Insurance, Equitable Life, Manulife, Canada Life, Canada Protection Plan, La Capitale, Assumption Life, and others.
PolicyAdvisor.com is regulated by the Financial Services Regulatory Authority of Ontario (FSRA).
As of this writing, they are licensed to sell insurance in Ontario, Alberta, and Manitoba and have plans to expand across the country in the coming months.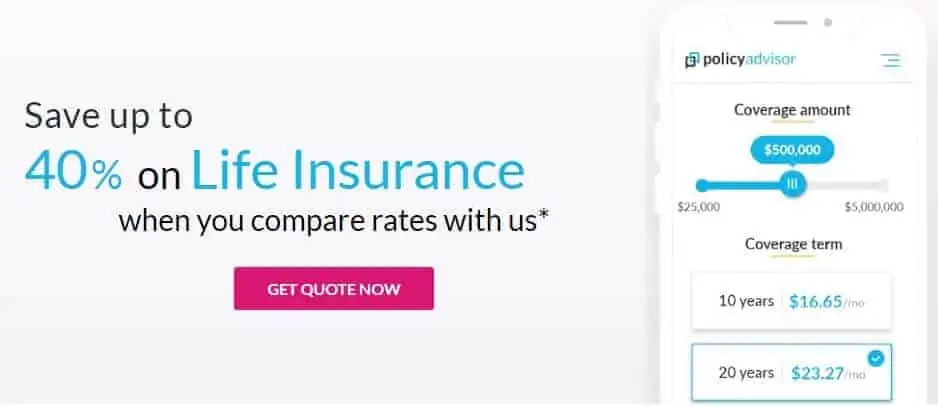 Find The Best Life Insurance Companies in Canada
PolicyAdvisor makes the process of finding coverage and low rates easy for a variety of insurance products. The process takes only a few minutes, and when you compare rates online, you can save up to 40% on your premium.
To get started:
Visit PolicyAdvisor.com.
Enter your basic details and choose your coverage amount and term. Not sure about what to choose? No problem. Help is just a few clicks away, and their licensed advisors can help you out by phone, live chat or email.
Submit your online application and set up a call with PolicyAdvisor brokers, or let them call you to help you through the entire application process, end to end. Simple, quick and fully online.
PolicyAdvisor.com Product Offerings
PolicyAdvisor.com is uniquely positioned to help you with all your important insurance needs.
They offer the following products:
Life Insurance
This is important for those looking to protect their spouse and dependents when they pass away.
You can access five types of life insurance policies in Canada, including Term Life Insurance, Whole Life Insurance or Permanent Life Insurance, Limited Pay Whole Life Insurance, Universal Life Insurance, and Term to 100 Insurance.
Critical Illness Insurance
This insurance coverage pays out a lump-sum benefit if the insured is diagnosed with a critical illness. Critical illness insurance can help you with medical expenses, e.g. prescription medicines, deductibles, and co-pays.
It also assists with non-medical expenses, including lost income replacement, home care, debt repayment, etc.
Examples of serious illnesses where this policy can apply include heart attack, stroke, cancer, kidney failure, multiple sclerosis, and dementia.
Disability Insurance
Protects against loss of income if the insured becomes disabled and cannot work. Disability insurance pays out monthly and replaces lost income while you are recovering.
Disability can be claimed for serious illnesses and injuries, hospitalizations, mental illnesses, and more. There is short-term and long-term disability insurance.
Mortgage Protection Insurance
This insurance offers protection if the insured passes away. Their beneficiaries get to decide what to do with the proceeds, e.g. to pay off the outstanding mortgage balance and other debt.
PolicyAdvisor.com matches you with the right term life insurance to protect your mortgage. Term life insurance is a better product than what your bank may offer you as mortgage insurance.
Children's Life Insurance
You can purchase permanent life insurance for a minor child and give them lifelong insurance coverage at an affordable cost.
The children's life insurance policy available through PolicyAdvisor has a cash value that accumulates and grows tax-free throughout their life.
Your child can use the savings to cover various expenses in the future, e.g. for a home downpayment, college tuition, to pay for their first car, and more.
No Medical Insurance
This life insurance policy does not require you to undergo a medical checkup. Examples of no medical life insurance policies available in Canada include accelerated issue, simplified issue, and guaranteed issue.
PolicyAdvisor Benefits
Here are some of the benefits you get when you shop for insurance through PolicyAdvisor.com:
1. Access to multiple insurance rates from the best life insurance companies in Canada.
2. A one-stop shop for all the major insurance coverages, including whole life insurance, critical illness insurance, disability insurance, and term life insurance.
3. Free service and free access to licensed insurance advisors who provide answers to your questions. Their advisors are salaried and not paid commissions, so they won't be breathing down your neck to upsell you.
4. They are an independent insurance broker.
5. You can use their free insurance checkup tool and insurance calculators to assess your insurance needs.
Downsides of PolicyAdvisor.com
PolicyAdvisor.com is only available to residents of Ontario, Manitoba, and Alberta at this time.
It does not offer its own insurance products.
Is PolicyAdvisor Safe?
PolicyAdvisor is regulated by the Financial Services Regulatory Authority of Ontario. Their rating on Reviews.io shows that they received a Trustscore of 4.8/5 based on 14 reviews.
How do they make money?
As per their website:
We don't charge our customers any fees. Instead, we are paid by insurance companies when you purchase insurance products through us. That's why all our research, articles, and insurance tools are available for free to use by our current and prospective customers.
PolicyAdvisor vs PolicyMe
Affordable life insurance in Canada
Apply online in 20 minutes
Child coverage at no extra cost
Critical illness insurance coverage for 44 conditions
Final Thoughts
This PolicyAdvisor.com review is positive.
If you are in the market for life insurance, PolicyAdvisor.com can simplify your search and help you to find the best life insurance rates without too much of a hassle.
Interested in what else is available for saving on life insurance policies? Check out our PolicyMe review.
Issuance of coverage is subject to underwriting by the respective insurance company. The final insurance premium is established and insurance coverage offered by the insurance company only after underwriting is completed.
PolicyAdvisor Review
Ease of use

Fees

Availability
Summary
PolicyAdvisor is a free online platform to compare the best life insurance quotes from Canada's top life insurance companies. This PolicyAdvisor.com review covers all you need to know.
Pros
Access to multiple insurance quotes from the top life insurance companies in Canada.
A one-stop-shop for all the major insurance coverages.
Free service and free access to licensed insurance advisors.
Independent insurance broker.
Cons
Currently only available in Ontario, Alberta and Manitoba.