Is life insurance worth it, and if so, who needs life insurance? These are some questions you might ask yourself when trying to figure out if this coverage is important to you.
It's not something you want to put on the back burner if you do need it. If you have dependents, life insurance is worth getting to ensure they are protected financially in the event of your sudden demise.
Life insurance premiums may also have you questioning if it's an expense you can afford.
However, the younger and healthier you are when you buy life insurance, the less it costs.
You can easily find out how much it will cost with an easy-to-use life insurance calculator. You can also compare the best life insurance companies and rates.
Read on to learn whether a life insurance policy is worth it in Canada, the types of life insurance, the cost of life insurance, and more.
What is Life Insurance?
In simplest terms, life insurance involves a contract between you and an insurance company.
You pay them monthly or annual premiums, and if you die, the insurance company pays a lump sum, also known as a death benefit, to your beneficiaries.
Your beneficiaries can use this money for anything. For example, they can use it to pay off the mortgage, put kids through college, and pay incoming bills.
This is a way to keep your family financially safe even when the unthinkable happens.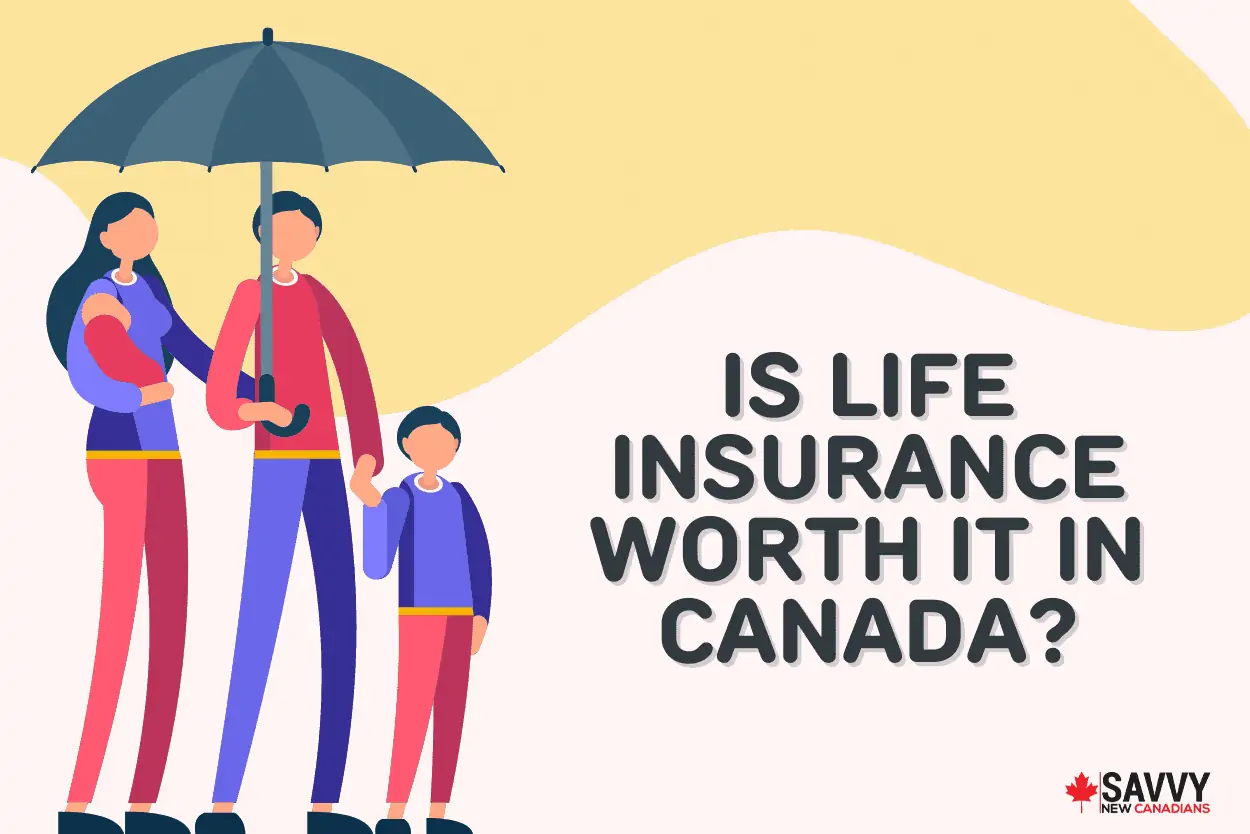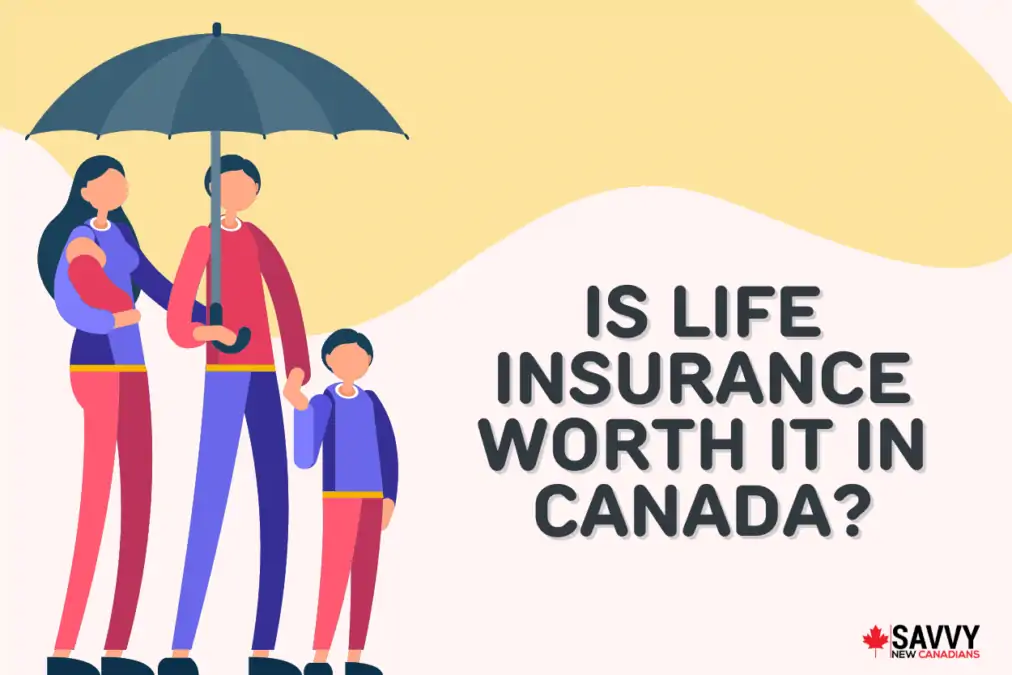 Types of Life Insurance
There are a few options when it comes to life insurance, depending on your needs.
Term Life Insurance
With term life insurance, you get coverage for a set period. This time can range from 10 to 30 years, and when the term is up for renewal, you can either let it expire or extend your coverage.
You also have the option of converting term life insurance into permanent life insurance.
When you do this, you won't have to go through the motions of answering questions regarding your health. However, your premiums will cost more.
Permanent Life Insurance
Permanent life insurance, also known as whole life insurance, gives you lifelong, permanent coverage if you continue to pay premiums.
There are various types of permanent life insurance, including universal and participating life insurance.
These options allow you to invest in a sense as they have a cash value, and you may also receive dividends or gain access to an investment account.
While dividends aren't guaranteed for participating life insurance, if you do get them, they can be used as extra coverage and reduce payments you make. You can also take them out as cash value.  
Types of Permanent Life Insurance
The common types of permanent life insurance policies are:
Whole Life Insurance
This type of permanent life insurance is the most common and offers fixed death benefits that include a cash value, which will grow at a guaranteed rate of return.
Many of these policies will pay out dividends that are useful in reducing your premium payments. That, or they can add to the cash value.
By choosing whole life insurance, you agree to pay a certain amount in premiums regularly for a specific type of death benefit.
The element of savings you benefit from will grow based on the dividends the insurance company pays to you.
Universal Life Insurance
This is a more flexible option in comparison to whole-life insurance policies. You're able to alter premium payments and the death benefit. It lasts the rest of your life if you continue to pay premiums.
Universal life insurance brings together the benefits of a permanent policy and tax advantages. The cash value builds up when you choose an indexed universal life insurance policy.
These policies will usually have sub-accounts for investing that you can manage yourself. You can choose how much you want to pay and mix up your investments that match your risk profile.
As already noted, there's also participating life insurance.
Term vs Permanent Life Insurance
Term life insurance is good for those who need life insurance for a specific time period. This could be during the working years as an "income replacement" if you pass away.
Pros
Cheaper than permanent insurance.
It can be converted to a permanent policy if needed.
You don't need to go through a health check to convert to permanent.
Cons
Not cash value life insurance
This insurance eventually lapses
Permanent life insurance lasts your whole life and allows you to build cash value. As long as you continue to pay your premiums, the policy remains in force.
The cash value aspect isn't intended for beneficiaries, and it will revert to the life insurance company when you die.
Pros
Building cash value as you're paid out dividends.
It lasts your whole life.
Your beneficiaries can get a large amount of money with the death benefit.
Cons
Beneficiaries don't get the death benefit plus cash value.
More expensive than term life insurance.
What Does Life Insurance Cover?
Life insurance quotes will vary from person to person depending on quite a few factors. One of the biggest factors involves the kind of life insurance you'll buy.
Choosing term life insurance means you'll pay less, while a whole life insurance policy costs much more even though the coverage is the same.
The best life insurance in Canada comes with a cost, but if the unexpected happens, the coverage is generally excellent.
Common factors that will affect life insurance quotes include:
Health – Life insurance policies generally involve you getting a health check. You'll be evaluated on past and current medical conditions. They will ask if you smoke and other lifestyle questions that could hinder your health. If you do smoke, your quote will go up. In some cases, you can get no medical life insurance coverage.
Age – The younger you are, the less you'll have to pay. Your chances of dying for something health-related are much less.
Sex – Men will generally have to pay more for life insurance. Studies have shown that, on average, women live five years longer than men.
Lifestyle – If you have DUI convictions, a criminal record, or have dangerous hobbies (like skydiving), this can cause your insurance rates to be higher.
Is Life Insurance Worth It?
In general, life insurance is important if you have people that depend on you. It helps ensure that your debts can be paid off (like your mortgage), your kids can be cared for, and your spouse won't have to fret about money.
You don't need life insurance like you need car insurance, but it is an important consideration for Canadians. Many people add life insurance to their overall financial plan, and it's a measure of security for those who depend on you.
Who needs life insurance? Generally, those who have dependents of any kind. This insurance will be used to pay final expenses, get rid of any debt, and cover daily expenses.
How to Save Money on Life Insurance
Some ways to save on life insurance premiums include:
Choose a term life insurance plan as it's cheaper, and you can change it later.
Buy life insurance early when you are still young and healthy, and the life insurance premiums are lower.
Shop around for the best life insurance in Canada.
Maintain a healthy lifestyle and choose an annual premium payment option.
Keep paying your premiums, so you don't lose the benefits you have gained by buying in while you're young.
Top Life Insurance Company in Canada
For some of the best life insurance options in Canada, you can check out PolicyMe.
This online life insurance platform offers an easy application process that only takes a few minutes to complete.
Not only does it offer a wide range of coverages and riders, but it also has some of the lowest rates, cutting out up to 40% by eliminating wasted efforts on distribution and underwriting costs.
PolicyMe offers grace periods for missed payments, and if you have a child, they are provided life insurance coverage alongside your policy at no extra cost.
Even better, most customers get approved without requiring a medical exam.
Lastly, couples who use PolicyMe for their life insurance policies are able to save 5% off their term life insurance premiums.
To get started, visit PolicyMe's website and use their life insurance calculator to estimate how much you'll pay in premiums before you apply (takes 2-3 minutes).
For Canadians, this is one of the best life insurance options out there today. Here's our detailed review of how it works.