This Wealthica review covers how it works and how you can easily benefit from using the net worth tracking tool for yourself.
A quick Google search shows that many people are searching for portfolio trackers that work like Personal Capital in Canada.
If you are one of the many Canadians who regret we don't have Personal Capital in Canada, you should definitely be glad that we now have Wealthica.
Investors love access to an investment dashboard that consolidates their investment assets in one place.
Whether it is to get a snapshot of your net worth or to see how your portfolios are performing, an investment tracking app like Wealthica or a spreadsheet is always great to have.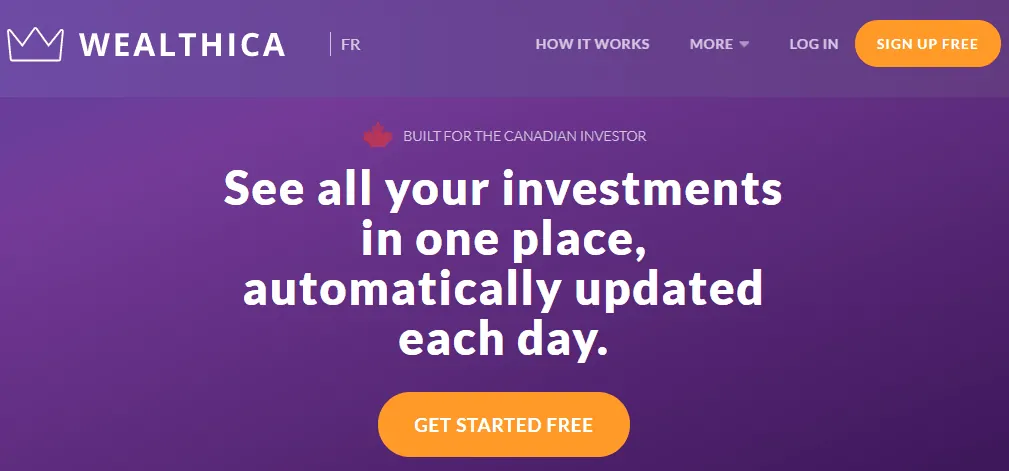 What is Wealthica?
Wealthica is an investment tracking web and mobile app developed by Wealthica Financial Technology Inc.
The company was founded by Martin Leclair and Simon Boulet, and they recently brought on board Eric Lemieux, a former vice-president of wealth management at Desjardins.
As of this update in December 2022, Wealthica tracks more than $23 billion in assets and allows its users to link accounts from over 200 financial institutions and investment portals in Canada. It also has over 50,000 users.
Wealthica is based in Montreal.
How Does Wealthica Track Your Portfolio?
The fundamental idea behind Wealthica is that you should be able to easily see all your investments in one place.
For example, say you have investment accounts at Tangerine, Wealthsimple, Questrade, and TD Direct Investing…you can log in to your Wealthica account and view all those investments instantly through your Wealthica dashboard.
Wealthica automatically updates daily to show where your balances stand, what your holdings are, and all the transactions that have occurred.
To start tracking your portfolio and net worth, sign up here.
Link your investment accounts at any of the over 200 financial institutions listed on the platform.
Add your other assets and liabilities, e.g. real estate, alternative investments, mortgage debt, etc., and their estimated current value.
Wealthica consolidates all your assets and syncs daily so you can start tracking your net worth on one simple dashboard. You get unlimited transaction history.
Benefits of Wealthica
Here are some benefits of using a wealth management app like Wealthica.
It is FREE: The basic functionality you need for consolidating your investment accounts is free. If you need additional functionality, you can opt for a premium account.
Informed Wealth Management: You can view your portfolio performance over time and across platforms, see how much you pay in fees, and make better investment decisions.
Create a Family Office: Wealthica offers a Family Office option so you can share the same dashboard with others in your family. The dashboard divides your net worth by family members and provides a one-page financial picture.
Budgeting Tool: Wealthica has a Budget Wizard you can use to track your monthly income and expenses, categorize your income and expenses, and easily create a budget.
Get Alerts: Wealthica can notify you when there are new transactions and if you have cash waiting to be invested.
Add your Robo-Advisor: If you have invested with a Canadian robo-advisor, you can link up your accounts and view all your investments on your dashboard. Wealthica works with Wealthsimple, Questrade, CI Direct Investing, Tangerine, RBC Direct Investing, National Bank Direct Brokerage, and Nest Wealth.
Link with your Advisor: If you are working with a financial or investment advisor, you can provide them with restricted access to your Wealthica dashboard.
Secure Account: Wealthica uses bank-level security to protect your account and personal information.
Wealthica Investment Dashboard
Wealthica offers standard add-ons you can use to extend the functionality of your dashboard. The free add-ons include the following:
Balance Sheet
This add-on consolidates your assets and debts per asset type. You can compare changes in your asset values between dates with just one click.
Income Report
This add-on shows the income your investments generate, e.g. interest income and distributions.

Fees Report
Wondering what you have been paying in fees and MERs? This add-on shows your monthly fees and taxes.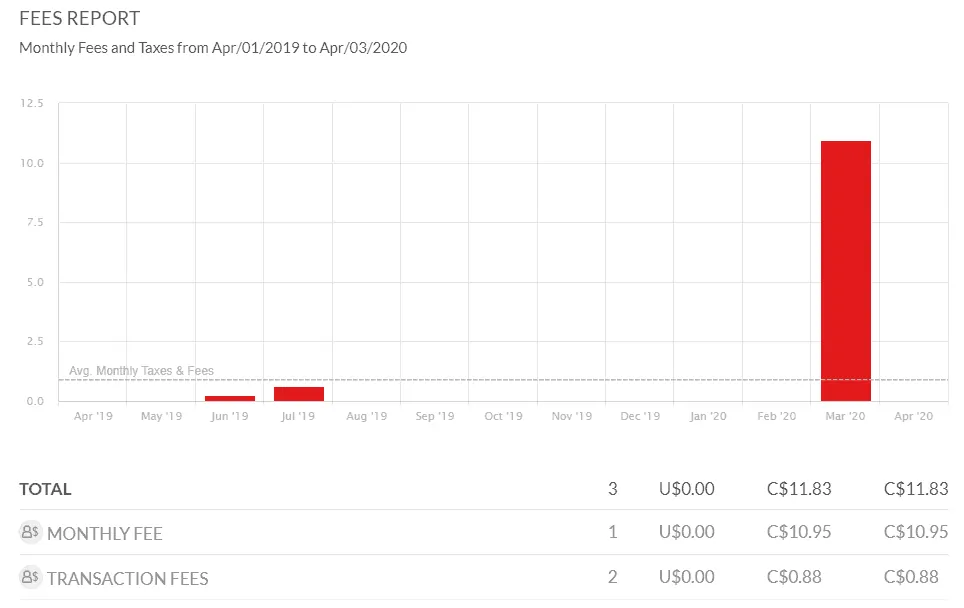 P/L Timeline Tracker
This add-on compares your portfolio value vs. your deposits over time. You also get a profit/loss ratio, holdings chart, USD/CAD comparison, top losers and gainers chart, and upcoming earnings.
Performance
Use this add-on to find out what your portfolio rate of return is compared to the benchmark indices.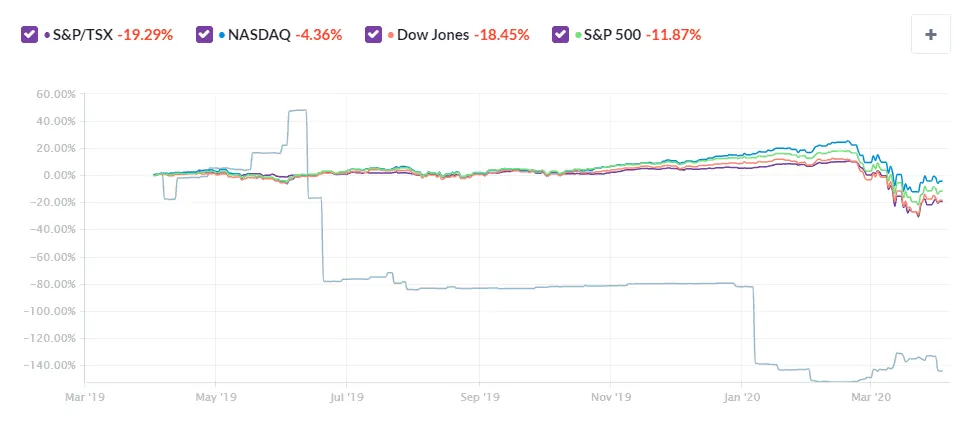 Coin Tracking
If you "invest" in cryptocurrencies, you can use CoinTracking to track your cryptocurrency investments (over 5,000 cryptocurrencies) using data from popular exchanges, including Binance, Bitfinex, Coinbase, Kraken, and Cryptopia.
Yahoo Expert Export
Export your stock positions to Yahoo Finance for real-time stock quotes and news.
Stockchase
You can add the Stockchase widget to learn about what experts are saying about various stocks and investments.
Passive Lite
Passiv is a portfolio rebalancing tool. You can learn more about this tool in my Passiv review. Wealthica easily integrates with Passiv Lite, and if you have a Questrade account, you can upgrade to the fully functional version of the app.
Developer Add-on
You can extend Wealthica and add your own add-ons and widgets from third-party providers.
Users who want to maximize their use of Wealthica can sign up for their paid add-ons, including:
1. Google Sheets Export: This add-on exports your positions and daily financial transactions to Google Sheets. Your spreadsheet automatically updates transactions, and you can add live quotes and market data.
This add-on costs $5.99 per month.
2. Wealthscope: If you are looking for in-depth portfolio analysis, Wealthscope may be what you need. This add-on provides insight into how your portfolio is doing based on performance, fees, income and downside protection. It comes with a rebalancing tool, portfolio building and planning functionalities.
Wealthscope costs $15.95 per month or $99.95 when you pay for an annual plan.
Is Wealthica Free?
Wealthica offers a free dashboard to consolidate all your investment accounts. You can link an unlimited number of accounts and have free access to transactions, alerts, and reports.
Wealthica makes money if you go with a Wealthica Premium plan or decide to upgrade your account with one or more of the available paid third-party add-ons.
In addition, they make money by offering the Wealthica API to other fintech companies.
What Are Wealthica Fees?
The free Wealthica version does not have a monthly or annual fee. That said, you can pay for add-ons to extend the features you have access to.
A Wealthica Premium subscription costs $11.99 monthly or $125 annually. And Wealthica Pro costs $24.99 monthly and $250 per year.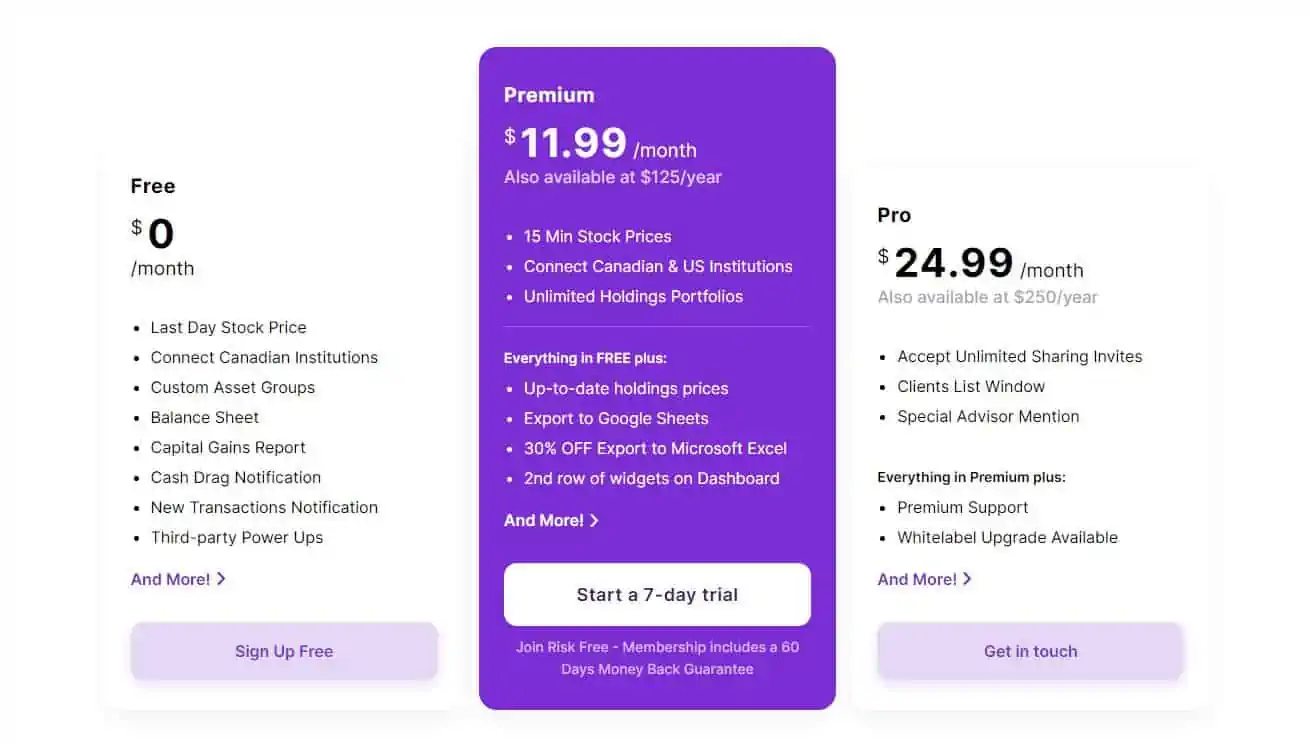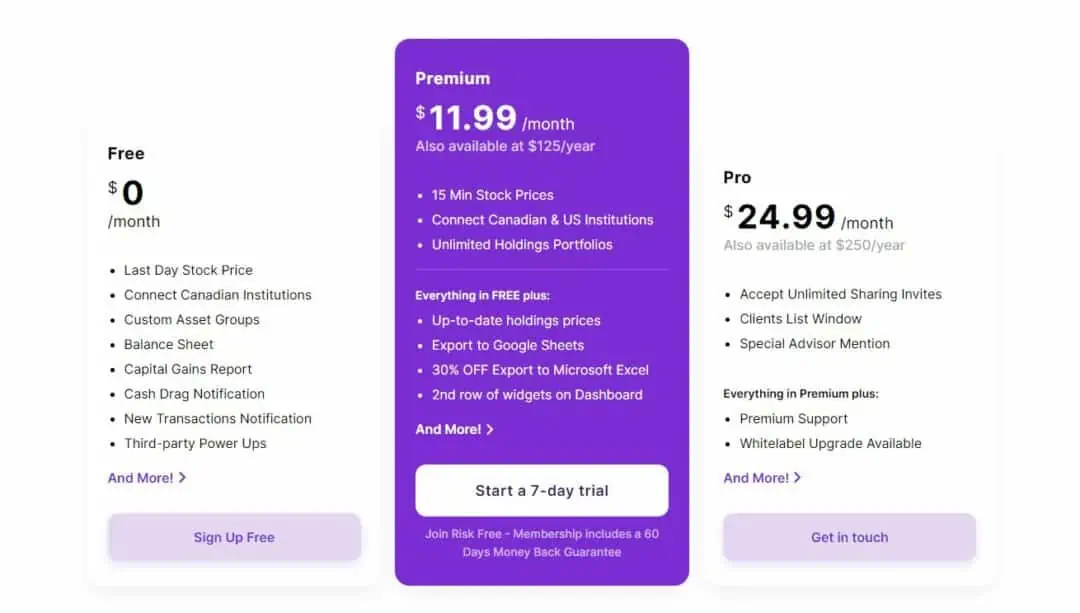 Wealthica Premium
Wealthica Premium takes this tool to another level. In addition to what you get on the free plan, a premium account offers the following extra benefits:
Access to 15-minute delayed stock quotes for your holdings
Unlimited portfolios
Exports and sync to Google Sheets
30% discount on export to Excel
Stockchase premium at a 75% discount
Priority support, and more.
Wealthica Pro
Wealthica Pro includes all the features of Wealthica Premium, plus these benefits:
Access to a Whitelabel upgrade
Unlimited sharing invites
Client list window
Special Advisor mention, and more
Is Wealthica Safe and Legit?
The company uses bank-level encryption to protect your financial data, and thousands of Canadians use Wealthica to track over $23 billion in investment assets.
When you set up 2-factor authentication on your account, a security pin sent to your phone is required to complete the login on a new device.
The information available via your Wealthica dashboard is read-only, and no one can move or transfer your money via the app.
When available, Wealthica connects to your account using API access, e.g. for Questrade, Wealthsimple, and Interactive Brokers.
Wealthica recently announced that it has completed SOC 2 Type II certification. As per its website, "A SOC 2 Type II certification is an audit performed by an independent auditor that confirms that Wealthica's internal controls are effective for protecting customer information."
For more information about how your security is ensured, check their terms of service and privacy policy.
Final Thoughts
My review of Wealthica is positive, and I consider it to be one of the best portfolio trackers available in Canada.
I found the overall onboarding process to be very easy, and after linking my accounts, my Wealthica dashboard was populated with data within minutes.
Wealthica is designed to help you consolidate all your investments in one place so you have a true picture of your portfolio/net worth and can make smarter financial decisions.
Summary
Wealthica is a free portfolio tracker and investment dashboard for Canadians. This Wealthica review covers how it works similar to Personal Capital and everything else you need to know.