Automated savings and investing, along with lower investment fees, are all the rage among millennials who do not mind taking ownership of their investment portfolios.
Fintech companies like Moka, Wealthsimple, Acorns, Betterment, and several others have simplified investing and provided everyday investors access to diversified and personalized portfolios starting with as little as $5.
The concept of saving your spare change is interesting. It builds on the premise that even small amounts of money can make a big difference over time when coupled with compound interest.
Micro-investing apps round up your purchases, take the spare change, and chuck it into a portfolio consisting of low-cost ETFs. These apps may charge a nominal monthly fee and allow you to invest more funds (e.g. through weekly deposits or multipliers) if you so wish.
Given that many Canadians have nothing saved, no dollar amount is too small to begin planning for retirement.
Automatic savings and investing means you do not need to remember to manually move money from your chequing into an investment account.
And, if all you are saving is your loose change and a bit, you may not even notice that you are now building wealth for the future.
Read on to learn how the Moka app compares to Wealthsimple regarding fees, benefits, promotions, safety, and more.
What is the Moka App?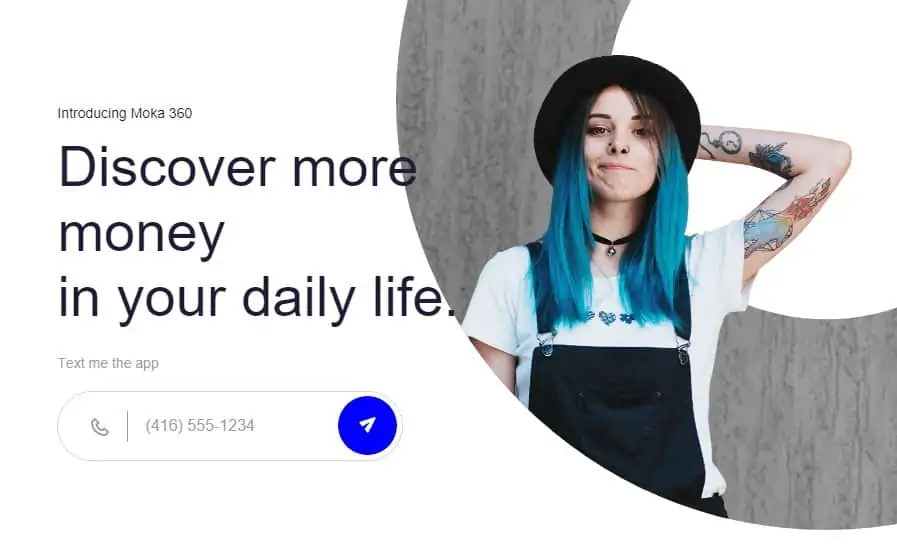 Moka is a fin-tech company and app based in Canada that allows users to automatically save, invest, and meet their financial goals.
It was founded in 2017 by Phil Barrar and featured on the Dragon's Den show.
How Moka Works
After signing up for Moka, you can connect your bank account. Your purchases are rounded up to the nearest dollar, and the spare change is invested in a portfolio (TFSA, RRSP, or non-registered account) that suits your preferences.
In addition to saving/investing spare change, you can make one-time deposits or apply a multiplier to reach your money goals faster.
Moka portfolios are built using low-cost ETFs and modelled after the Modern Portfolio Theory.
Moka Fees
A Moka subscription costs $3.99 per month. This fee is the same regardless of how much you invest every month, meaning that the bigger your investment, the lower the impact of fees on your overall returns.
In addition to the $3.99 price tag, individual funds in your portfolio pay management fees directly to the ETF providers.
Depending on the ETF, this cost ranges from 0.05% to 0.35% for regular portfolios and between 0.20% and 0.60% for socially responsible investing (SRI) portfolios.
Is Moka Safe?
The funds you invest with Moka are insured by the Canadian Investor Protection Fund (CIPF) for up to $1 million.
How to cancel your Moka account?
If you want to delete or close your account, email them at support@moka.ai, and they will assist you in closing it.
Moka promo code
When you sign up for Moka using a referral link or promo code from a friend, you receive a $5 bonus after conducting at least one roundup transfer.
To qualify for the $5 welcome bonus, you can simply open an account using our promo link – no code required.
Related: Moka App Review.
What is Wealthsimple?
Wealthsimple is Canada's largest robo-advisor. The company was launched in Canada in 2014 by Michael Katchen and has since expanded its operations to the United States and the United Kingdom.
It is backed by several financial giants, including the Power Financial Group, which manages $1.4 trillion in assets under management.
As a robo-advisor, Wealthsimple is also popularly referred to as a digital wealth management company and has received several awards in the fin-tech industry.
How Wealthsimple Works
Robo-advisors simplify investing for everyone. Using low-cost ETFs and passive investing strategies, they aim to generate market returns based on Nobel Prize-winning research.
When you sign-up for a Wealthsimple account (link includes a $25 cash bonus), you get a personalized portfolio that is hands-off and automatically re-balanced. They also provide you with expert financial advice.
Depending on your risk tolerance and investment objectives, your personalized portfolio may be conservative, balanced, or growth-oriented.
The Wealthsimple app is very versatile and has received great reviews. You can invest using registered (TFSA, RRSP, RESP, RRIF, LIRA) and non-registered accounts.
Wealthsimple Fees
Two main attractions for investing with robo-advisors are convenience and lower fees. Wealthsimple has two main pricing tiers:
Wealthsimple Basic: the management fee is a flat 0.50% per year on a portfolio between $0 and $100,000.
Wealthsimple Black: a flat management fee of 0.4% per year on a portfolio with assets between $100K and $500K
Wealthsimple Generation: a flat management fee of 0.4% per year on a portfolio with assets exceeding $500K, plus some other perks
MERs are also charged directly on the ETFs making up your portfolio and are approximately 0.20%.
Compared to fees charged by traditional mutual funds (1.98% average), robo-advisors cost much less!
Wealthsimple Roundup
This feature helps you to invest your spare change and can be used along with your Wealthsimple investing account. Simply turn on the feature and link your credit and debit cards so it can track your purchases and round them up.
In addition to investing on auto-pilot, Wealthsimple also offers the following services:
Wealthsimple Trade: This is a stock-trading service that lets you buy and sell stocks and ETFs using your phone like you would on an online brokerage. It is unique because it has $0 commissions, and there is no account minimum. Read our complete Wealthsimple Trade review.
Wealthsimple Save: This is their high-interest savings account, and it currently pays a 0.50% interest rate.
Wealthsimple Crypto: Easily buy and sell various cryptocurrencies.
Is Wealthsimple Safe?
The funds you invest with Wealthsimple are held by Canadian ShareOwner Investment Inc., which is a member of CIPF. Your investments are protected up to $1 million.
Wealthsimple promo
You receive a cash bonus when you sign up and fund your account with at least $500.
Learn more about Wealthsimple in this review.
Moka vs. Wealthsimple Comparison
These two Canadian financial technology companies are similar in some ways and different in others. Overall, they are both pioneers in simplifying investing for everyday investors.
1. Core Product Offering
Moka's basic concept is investing your spare change. For example, when you buy a $2.75 cup of coffee, your purchase is rounded up, and 25 cents is invested in your portfolio.
If you find it difficult to put any money towards your savings, this option may work for you as you will likely not even feel the impact of the $1 monthly fee on your pocket.
Wealthsimple is a robo-advisor you can use to invest small amounts to millions of dollars. The company makes portfolio management accessible to everyone, whether you are an average or affluent investor.
Mutual funds are expensive in Canada. One way to avoid paying the ridiculous fees charged by mutual funds is to purchase index funds and/or ETFs via a brokerage and allocate them to your portfolio to meet your needs.
That said, not everyone wants to take on the responsibility of managing their portfolio and rebalancing it as required.
A robo-advisor like Wealthsimple does all the work automatically while saving you on fees. Wealthsimple also offers a roundup bonus feature that works just like Moka.
2. Availability and Types of Accounts
Moka is currently available to Canadians only. Wealthsimple is available to residents of Canada, the U.S., and the U.K.
Moka offers a non-registered investment account and two registered accounts – TFSA and RRSP. In addition to investing, Moka also offers cash back when you shop, financial coaching, and more through its premium Moka 360 service.
Wealthsimple offers more accounts, including TFSA, RRSP, RESP, RRIF, and LIRA in Canada; traditional IRA, Roth IRA, SEP IRA, and non-registered accounts in the United States; and ISA, JISA, and personal investment accounts in the U.K.
It also offers high-interest savings, Halal investing, and wealth management platforms for businesses and investment advisors.
Moka and Wealthsimple provide opportunities to invest according to your values through their socially responsible investing portfolios.
3. Apps
Wealthsimple and Moka have mobile apps. While you can also access your Wealthsimple account on a desktop through its website, Moka is completely mobile-app-based.
4. Safety
The funds you invest with Wealthsimple are insured by CIPF up to $1 million. Both companies also use encryption similar to what your bank uses to protect your private information.
5. Referral Program
Both companies reward you for inviting friends and family on board.
Wealthsimple will manage up to $10,000 of your money free for 12 months for each friend that you refer. Moka pays you $5 per referral.
Moka vs Wealthsimple: Closing Thoughts
I use both Moka and Wealthsimple and believe the services they offer are worthwhile.
Moka is great for passively saving for small, short-term financial goals such as a vacation or your 'fun fund.' Over time, your little savings add up.
Wealthsimple is great for planning towards bigger money goals and investing/saving in your tax-free accounts – retirement (RRSP), home down payment and wedding (TFSA), or kid's college education (RESP).
Related Reading