If you want to spend cash, avoid credit, and still earn the rewards that typically accompany credit cards, reloadable prepaid cards from KOHO and STACK may suit your needs.
The best-prepaid cards available in Canada allow users to save on bank fees, earn cash back automatically, and enjoy real-time insights into how their money is being spent.
Similar to prepaid credit card options in Canada, these cards allow you to shop wherever Mastercard is accepted. You can only spend the money you load on them, which is helpful if you are trying to combat overspending.
This KOHO vs STACK prepaid card comparison covers their offerings, benefits and downsides, plus a further comparison to the MogoCard.
Update: STACK is shutting down on September 11, 2023. Its users can transfer their accounts to KOHO or open a new KOHO account to access the same benefits.
KOHO vs. STACK
| | |
| --- | --- |
| Prepaid Cards | KOHO Prepaid Mastercard |
| Monthly fees | None for the standard card |
| Earn interest | Up to 4.5% |
| FX fees | 0% to 1.5% |
| Rewards | Up to 5% cash back and in-app discounts |
| Automatic savings | Available (roundups and saving goals) |
| Referral bonus | $20 sign-up bonus |
| Smartphone app | Yes |
| Partner bank | People's Trust |
| Budgeting tools | Available |
| Build credit | Credit building program |
| Other perks | Joint accounts and KOHO Premium |
KOHO Prepaid Mastercard
KOHO offers a free prepaid and reloadable Mastercard (formerly KOHO Visa) and app that makes banking easier, cheaper, and more fun.
Opening an account is easy, and once set up, you can easily load funds using e-Transfer or Payroll deposit and start enjoying the following benefits:
No monthly fee for the basic KOHO account.
Earn up to 5% cash back on purchases. Cash back is credited to your account in 1-2 business days. KOHO Premium and KOHO Essentials (paid subscriptions) offer higher cash back rates on select categories of purchases.
Earn interest on your balance.
Automatically round up your purchases to the nearest $1, $2, $5 or $10, and save the difference. For example, if you spend $3.25 on coffee, you can save $0.75, $1.75, or $6.75.
Real-time insights into your spending to help your budgeting efforts.
Set up pre-authorized debit, pay bills, and accept payroll deposits easily.
Earn $20 per referral when you share your KOHO referral code.
Enjoy Mastercard's acceptability worldwide.
Get free financial advice from a certified financial coach.
Free joint accounts
In-app support
Available in Quebec
Note that if you use your KOHO Mastercard to conduct foreign currency transactions, you can expect to pay a 1.5% fee (except for KOHO Premium).
Sign up for a KOHO account here ($20 bonus with CASHBACK referral code).
The KOHO referral code CASHBACK is automatically added to your new account using the link above.
STACK Prepaid Mastercard
The STACK prepaid Mastercard and app can save you money, particularly if you travel abroad frequently. It offers the following benefits:
$7.99 monthly fee
Cash back on everyday purchases, including gas, groceries, and entertainment. They partner with Amazon, Foodora, Lyft, Netflix, Spotify, Adidas, Reebok, and many others.
Automatic savings plan using the innovative roundup feature.
Real-time insights into your spending habits with Financial IQ plus instant notifications when you spend, save, send or receive money.
Enjoy Mastercard's acceptability worldwide.
No foreign exchange fees – this is a 2.5% to 3% upfront savings when you make purchases in foreign currencies.
There's a minimum monthly spend of $350 CAD to get the "no FX fee" benefit, and it is limited to $1,000 FX spending. If you don't meet this spending threshold, a standard 2.50% FX fee applies to foreign purchases.
You can easily load up your account with cash using Interac e-Transfer, Visa Debit, direct payroll deposit, or STACK-to-STACK transfer.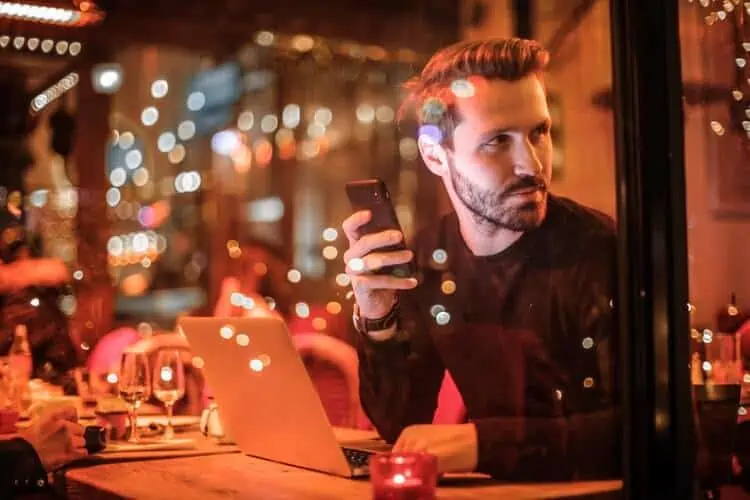 Mogo Visa Prepaid Card
The MogoCard is being phased out and will no longer be available as of June 6, 2023.
Mogo offers various financial services, including personal loans, cryptocurrency trading, mortgage loans, credit monitoring, and credit scores.
It also has a Mogo Platinum Visa Prepaid card, which offers the following benefits:
No monthly or annual account fees
Easy budgeting, in-depth tracking of your spending, and real-time transaction notifications
Free credit scores when you get the prepaid card
Carbon emissions offset on your spending
Note that there is a $1.50 fee for domestic ATM withdrawals and $3 for international ATMs, a $1.99 inactivity fee, and a 2.5% fee for foreign currency purchases.
Learn more about it in this MogoCard review.
KOHO vs. STACK Comparison
My review of these cards is positive.
From a monthly or annual fee standpoint, you can get the KOHO Easy Mastercard and pay no fees.
If you travel abroad often or make purchases in a foreign currency, the STACK Mastercard's 0% foreign exchange fee can help you save 2.5% in FX fees. That said, the $7.99 monthly account fee is steep. KOHO Easy Mastercard charges a 1.5% fee on FX transactions, or you can waive the fee completely by upgrading to KOHO Extra (costs $84 annually).
If you prefer the free KOHO card, you can match it up with a no-FX credit card to handle the foreign currency exchange charges.
KOHO does not charge ATM fees; however, the ATM provider you use may charge a fee.
Looking at rewards, I like the cash back I receive every time I pay for purchases using my KOHO card. The cash back shows up in my account 1-2 days after the transaction, which is great. This is in addition to KOHO's other in-app rewards that can be as high as a 10% discount.
Also, your cash balances in KOHO earn interest and grow over time.
If you are concerned about the security of your funds, the KOHO and STACK cards are issued by People's Trust Company, a CDIC-insured financial institution. Also, Mastercard protects you from unauthorized transactions with Zero Liability Protection.
Lastly, I like free money, and KOHO offers free money when you refer friends. KOHO will pay you a $20 bonus per referral.
Benefits of a Prepaid Visa or Mastercard
There are many reasons why individuals choose prepaid credit cards over regular credit cards.
1. Some have no monthly or annual fees: You can avoid the $100 or more in annual fees that come with many credit cards.
2. You don't need good credit: For your credit card application to be approved, your credit score must meet the minimum requirement set by the credit card provider. However, prepaid cards do not pull up your credit score, and even if your credit profile is damaged or you don't have a credit history, you can still obtain one.
3. It is easier to budget: If you are always overspending and racking up debt and interest costs on your credit card, prepaid cards can help you deal with your spending problem since you can only spend what you have.
4. You can still earn rewards: When you choose one of these best paid prepaid cards in Canada, you will earn rewards on your spending similar (and in some cases, even better) to a credit card.
Conclusion
I prefer my KOHO prepaid card to plain vanilla Mastercard and Visa gift cards, which are not reloadable and may cost you in fees.
If you'd like to sign up for KOHO, you can use the link below.
Sign up for KOHO ($20 welcome bonus with our referral code CASHBACK)
Related Posts: