KOHO Mastercard is a reloadable prepaid card and app that aims to help Canadians budget, spend, save, earn cash back, rebuild credit, and more.
KOHO is not a bank. It is a financial technology company that's challenging the status quo in the banking industry, so you don't have to pay fees at every turn.
With this platform, you can avoid credit card balances, interest payments, pesky monthly fees, overdraft fees, and more.
This KOHO review covers how it works, its benefits, downsides, fees, security, and alternatives.
How Does KOHO Work?
KOHO Prepaid Mastercard
Rewards: Earn 1% cash back on groceries and transportation; Up to 5% cashback at select partners; Earn interest on your balance*.
Welcome offer: Get a $20 bonus when you load and make your first purchase (use promo code CASHBACK during sign-up).
Interest rate fee: 0%
Annual fee: $0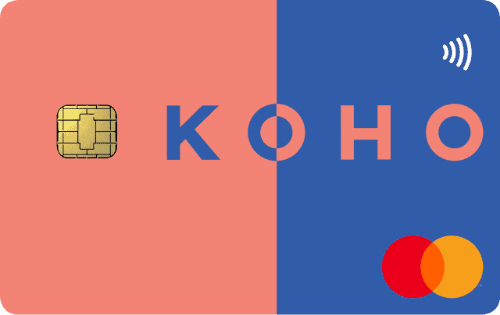 KOHO offers a reloadable prepaid Mastercard and a versatile app that integrates with the card and helps you budget effortlessly and save automatically.
Opening an account takes less than 5 minutes. When setting up your account, you get to choose a Mastercard that more or less works like a debit card and allows you to spend while also encouraging savings – aka "a smart spending account."
To start using your card, the easiest way to deposit funds is by using Interac e-Transfer. You can also set up a direct load to put all or a portion of your paycheque on your KOHO Card.
After loading the card, you are ready to roll! Whether you want to pay for coffee, groceries, or your monthly bills, the KOHO card does it all. You also earn 0.5% to 1.5% interest on your entire balance when you set up a direct deposit to your account.
Not only that, but the app also provides easy-to-understand insights into your spending patterns, lets you set savings goals, and helps you reach them.
KOHO used to offer a prepaid Visa; however, it became a Mastercard in 2022. It is available in Quebec.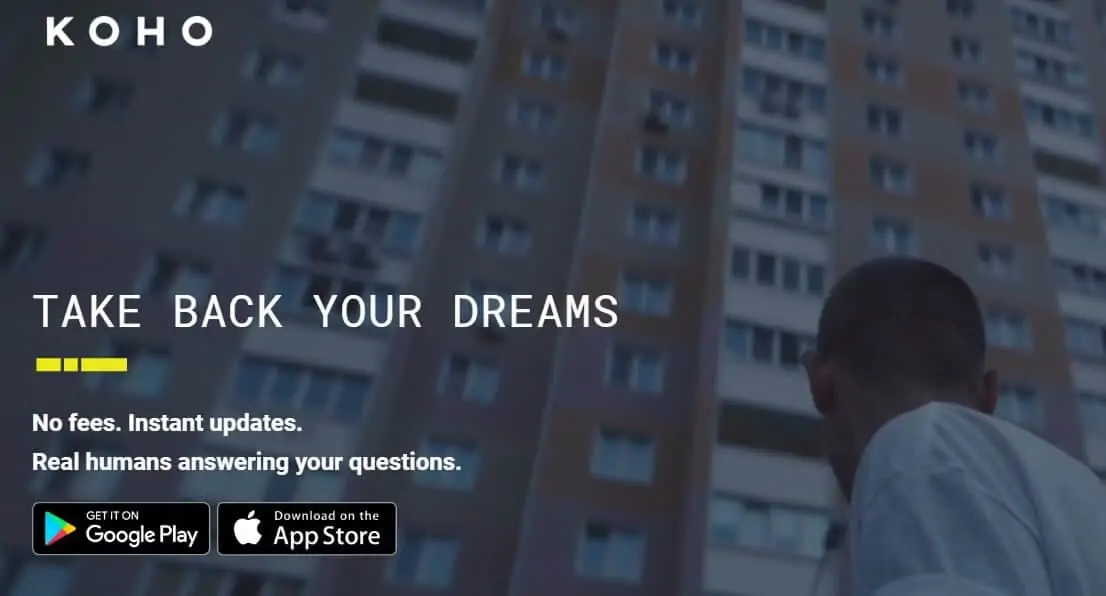 The Benefits of KOHO
1. Zero Monthly Fees: Canadians pay an average of $220 in bank fees yearly. KOHO charges no fees for the standard account, and Interac e-Transfers, bill payments, replacement cards, etc., are free.
2. Up to 5% Cash-Back on Purchases: Your traditional bank rarely rewards you when you use your debit card. This means that unless you are banking with an online-only bank like Tangerine, the concept of earning interest on your chequing, or in KOHO's case, earning cash-back rewards when spending your "cash," is surprising.
KOHO users earn up to a 5% cash-back bonus (aka PowerUps, with a varying base rate depending on which card you have) every time they spend, meaning you don't need a credit card to enjoy loyalty rewards.
3. Automated Savings: The KOHO app ($20 bonus) allows you to set savings goals and helps you reach your goals. For example, say you want to save $1,500 for a vacation that is six months away; the app will show you how much you need to save on a daily, weekly, or monthly basis and debit that amount every day so you can meet your savings target.
In addition, KOHO also supports one of the best saving strategies ever invented – the RoundUp! Like Moka and Wealthsimple, the KOHO app allows you to save some money every time you make a purchase by rounding up your spending to the nearest $1, $2, $5, or $10 and saving the difference.
For example, let's say you purchase a cup of coffee for $2.25; the app will automatically SAVE $0.75 (rounding up to the nearest $1), or $2.75 (if rounding up to the nearest $5), or $7.75 (if rounding up to the nearest $10).
4. Up to 2.00% High-Interest Savings Rate: Your entire balance (both savings and spending) earns at a 0.5%, 1.50%, or 2.00% rate. This makes the KOHO account one of the best savings accounts in Canada.
5. Real-Time Insights: Have you ever wondered where all your money goes at the end of the month? KOHO shows your spending categories and how much goes to what. It also shows how your spending compares to other KOHO users.
6. Versatile App: The app makes it easy to accomplish multiple transactions you would normally need your bank for. For example, you can easily set up payroll deposits, transfer money into your investment accounts, automate your bill payments, and more.
The live in-app support chat function is invaluable. You can reach real customer service reps between 9 am and 5:30 pm EST seven days a week.
7. Apple Pay: You can use KOHO with Apple Pay on your iOS device. Simply add KOHO to your Apple wallet, and you no longer need to bring out your physical KOHO card when you are shopping in-store. It also supports Google Pay and Samsung Pay.
8. Referral Program: The company has a generous referral program. Whenever you refer a friend to sign up using your referral link, you both receive a $20 bonus. You can refer up to 50 friends and earn up to $1,000.
KOHO Subscription Plans
While the standard KOHO card is free, you can subscribe to two other paid plans for additional perks and rewards. The three KOHO plans are Easy, Essential, and Premium.
KOHO Easy
The free KOHO account is now called Easy. Benefits include:
Earn 1% cash back on groceries and transportation. 
Earn 0.5% interest on your balance
Add optional credit building for $10 per month
Get extra cash back at select KOHO partners (up to 5%)
KOHO Essential
KOHO Essential is the newest account from KOHO, with features including:
1% cash back on transportation, eating out, and groceries
Earn 0.25% cash back on all other purchases
Earn 1.5% interest on your balance
Add the optional credit-building feature for $7 monthly
Roundups and additional cash back at select merchants (up to 5%)
KOHO Essential is free for 30 days, then costs $48 annually or $4 per month.
KOHO Premium
KOHO also has a premium service for those who want to access additional benefits, including:
2% cash back on groceries, dining out, and transportation.
0.5% cash back on all other purchases
Get a higher cash back rate at select merchants (up to 5%)
Earn 2% interest on your balance
No foreign currency transaction fees: Similar to the STACK Mastercard, KOHO premium users can now save the 2.5% to 3% FX fee normally charged by their credit card provider.
Free financial coaching that includes weekly money tips and one-on-one coaching sessions where you can get answers to your pressing personal finance questions.
Price matching: Get the best deal on your purchases. If there is a better deal elsewhere, KOHO will credit your account with cashback.
Premium card design.
Higher limits, meaning that you can now take out $400 at an ATM per transaction for a max of $810 per day. Your account balance can also be up to $50,000.
KOHO premium is free for the first 30 days and then costs $9 per month or $84 when you pay for a full year (savings of $24).
Check out my KOHO Premium review.
KOHO Credit Builder
If you are looking to build your credit score, KOHO now offers an optional service called the Credit Builder, which helps you to grow your credit score over a 6-month period.
You can opt-in for KOHO Credit Builder via the app for a $10 monthly fee. You get a no-interest line of credit, and every month KOHO deducts a portion of these funds (i.e. the monthly $10 fee) and reports it to the credit bureaus.
If you have KOHO Essential or Premium, the credit-building feature costs just $7 per month instead of $10.
The credit-building feature works in 6-month cycles.
KOHO Joint Accounts
KOHO is now offering a free KOHO Joint Account and Prepaid Mastercard for those who want to partner with a friend, spouse, roommate, or sibling. You can open a joint KOHO account without visiting a bank branch to complete long and complicated forms.
Shared account holders get a personal KOHO account along with a joint account. The benefits that come with the account remain the same and include:
A Joint Account reloadable prepaid Mastercard card
Zero fees
Expense tracking
Real-time Joint updates and spending notifications
RoundUps
PowerUps (instant 0.5% cashback on all purchases)
Shared savings goals (you can set and contribute to goals together)
Free e-Transfers
Free, instant KOHO-to-KOHO transfers
Personal account spending privacy and more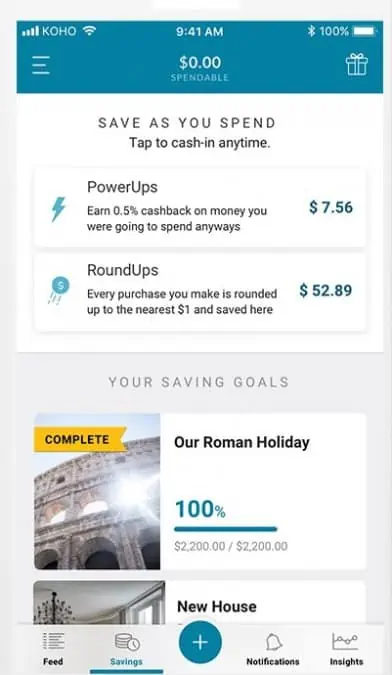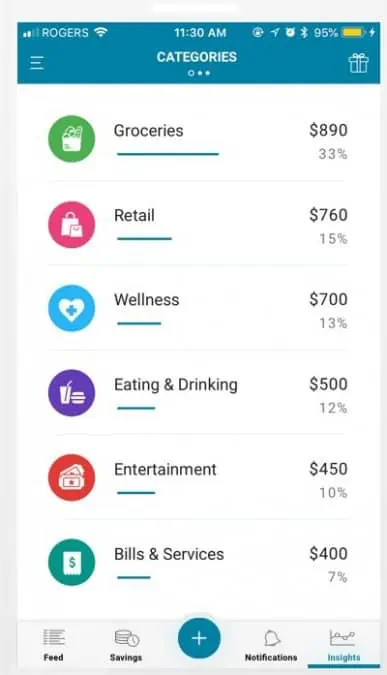 KOHO Instant Pay
One of KOHO's newest features is Instant Pay. If your employer partners with KOHO, you can be eligible to cash out up to 50% of your daily paycheque for free. This way, you won't have to wait until payday to access your funds.
Instant Pay allows you to take out pay that you have already earned, instead of taking out a loan, so that you can get ahead of your bills or give yourself some extra wiggle room.
No interest or fees are charged for Instant Pay unless you transfer your withdrawn pay to a different bank account, which costs $3.50 per transfer.
Is KOHO Safe and Legit?
As per its website, the company has a partnership with the Peoples Trust Company to hold your funds. Peoples Trust is based in Vancouver and is a member of the Canada Deposit Insurance Corporation.
In general, the CDIC insures deposits up to $100,000 per category.
Also, KOHO enjoys the backing of some of Canada's biggest financial institutions, including Portag3 Ventures, Drive Capital, National Bank of Canada, and Greyhound Capital.
KOHO Fees
How does KOHO make money?
It splits the interchange fees with Mastercard when you pay using your card in-store or online. Also, it makes money when you opt for additional services like credit building.
| | | | | |
| --- | --- | --- | --- | --- |
| Fees | KOHO Easy Card | KOHO Essential Card | KOHO Premium Card | KOHO Joint Card |
| Monthly fee | $0 | $4 | $9 | $0 |
| Interac e-Transfer fee | $0 | $0 | $0 | $0 |
| Bill payment fee | $0 | $0 | $0 | $0 |
| FX conversion fee | 1.5% | 1.5% | 0% | 1.5% |
| NSF fee | $0 | $0 | $0 | $0 |
| Earn interest fee | $0 | $0 | $0 | $0 |
| Credit building fee | $10/month | $7/month | $7/month | $10/month |
Cons of KOHO
Two downsides of KOHO are:
KOHO does not fully replace your bank. For your investing needs, e.g. TFSA, RRSP, and RESP accounts, you will need to look elsewhere. That said, if your investment accounts are with Wealthsimple, KOHO makes it easy to directly fund your accounts using their app. They also have further app integrations in the works to make your banking easier.
There are limits on how much you can load on your KOHO card, as well as daily transaction limits. For example, the maximum card balance is $50,000, there's a $9,000 daily limit on transactions, and the ATM withdrawal limit (per withdrawal) is $300. In my opinion, these limits are reasonable and will not pose any problems to the average user.
Is KOHO Worth It?
KOHO may be right for you if want to/are:
Save More Money: As shown by data collected from KOHO users, "the average KOHO user reduces their spending by 15% and saves nearly $500" within the first three weeks following sign-up. This is because the service brings you closer to your money.
You get real-time information and see how your money is being spent – this helps you budget better. The savings plan and RoundUp features are also very practical.
Need to save for a wedding, vacation, emergency fund, etc.? A KOHO account is great for reaching your money goals. Even better, it pays up to 2% interest on your balance.
Save on Fees: if you want to pay less in banking fees, online banking options (like Tangerine and EQ Bank) and non-bank options (like KOHO) can help. While KOHO may not meet all your banking needs, they can help you save a lot in fees with free Interac e-Transfers and more.
Travelling: You can use your KOHO card outside of Canada and save on foreign transaction fees. Most credit cards/banks charge a flat 2.5% or more for this fee; however, when you use your KOHO card abroad, you only pay 1.5% (or 0% with KOHO Premium). You can use your card to book hotels, rent a car, shop online and in-store, and more.
Comfortable With Online Banking: People are busy these days and desire convenience, and this is what KOHO provides. If you love or are comfortable with conducting financial transactions using your phone or tablet, KOHO is a great choice.
KOHO Alternatives
Other prepaid cards like KOHO in Canada are the EQ Bank Card, STACK Mastercard, and Wealthsimple Cash Card.
The EQ Bank Card offers 0.50% cash back on all purchases and has no monthly fee. It also offers free ATM withdrawals.
The STACK Mastercard offers cash back rewards at some retailers, but there is no specific earning rate. This card does have a monthly fee.
The Wealthsimple Cash Card offers 1% cash back on all purchases and has no fees. It also includes an app for tracking your purchases.
What is KOHO?
KOHO is a Canadian fintech company launched in 2017 by Daniel Eberhard. One of its goals is to save Canadians from the exorbitant banking fees we pay monthly – some of the highest in the world!
Also, the company wants to make budgeting and saving easier so average Canadians can up their financial game without drastically changing their lifestyle.
Because KOHO is not a bank, it has partnered with Mastercard and Peoples Trust (a federally regulated company) to hold the funds you load on your card. Deposits at People Trust may be eligible for CDIC insurance.
When you open a new KOHO account using the link below and enter the referral code CASHBACK, you get a $20 welcome bonus after your first purchase with the card.
KOHO Canada FAQs
Will Using KOHO Affect Your Credit Score?
No, the prepaid KOHO Mastercard is not a credit card and does not impact your credit score.
How Do I Get a KOHO Referral Code?
You need to use the referral code of an existing KOHO client if you want to get a $20 welcome bonus. KOHO has provided our readers with the referral code CASHBACK, which can be used an unlimited number of times. To take advantage, download the app using the link above and enter the promo code.
Does KOHO Build Credit?
KOHO is a prepaid credit card, and while it allows you to earn rewards similar to a premium credit card, it is not a credit card. Your spending is not reported to credit bureaus and does not impact your credit score. You can opt-in for a Credit Builder service offered by KOHO if you want to build your credit score.
Is KOHO Free?
The Easy KOHO account is 100% free to use and offers 1% cash back when you spend money on groceries, bills, and services. In addition, you can earn up to 5% in cash back when you opt-in for offers from select brands. If you want to earn 2% cash back in up to three categories and pay no FX fees, you can choose KOHO Premium and pay $9 per month.
How Does KOHO Make Money?
KOHO makes money from Mastercard interchange fees and when you subscribe to the premium service. It also makes money from the credit-building feature.
What is KOHO Premium?
KOHO Premium offers 2% cash-back on groceries, eating & drinking (bars, restaurants, food delivery, coffee, etc.) and transportation (gas, uber, public transportation, etc.), 0.5% cash back on all other purchases, no FX fees, free financial coaching, price matching, 1 free international ATM withdrawal per month, and a premium new card design.
What happened to the KOHO Prepaid Visa?
The KOHO Prepaid Visa has been replaced by the KOHO Prepaid Mastercard. The cash back rewards and perks offered by KOHO remain the same, and existing clients who have the KOHO Visa Card can switch their existing card to a Mastercard.
Can I withdraw Money From KOHO?
You can use your KOHO Prepaid Mastercard to make withdrawals at any ATM carrying the Mastercard ATM logo. Select "credit" if you are asked to identify what type of card you are using by the ATM. Note that ATM withdrawal fees may apply.
Can I use KOHO To Rent a Car?
You can use KOHO to facilitate transactions similar to your credit card, including using it to pay for car rentals. The KOHO Mastercard prepaid card is accepted wherever Mastercard is accepted worldwide. You can easily add the KOHO Mastercard to your Apple or Samsung wallet and make payments on the fly.
Related: KOHO vs Tangerine.
Monthly Fees

Budgeting Insights

Automated Savings

Customer Support

Cash back offers

App Versatility

Referral Program
Summary
The KOHO prepaid Mastercard and KOHO app help Canadians earn cash back on online and in-store purchases. This KOHO review includes a $20 welcome bonus promo code!
Pros
No monthly fee on regular account. 
Interest is paid on your balance.
Earn cash back on purchases.
Extra perks with KOHO Premium
Automated savings and budgeting app.
$20 referral bonus (with CASHBACK referral code).
Cons
The prepaid card does not help you build your credit score unless you subscribe to Credit Building