KOHO and Tangerine are popular for their high-interest savings accounts and other financial product offerings that help Canadians save on banking fees.
I use KOHO to earn cash back on most debit purchases, and I like that its new savings account offers a rate that beats the big banks.
Tangerine is my go-to for a no-fee cash back credit card, and it offers a complete suite of financial products, including investments, mortgages, chequing, and more.
This Tangerine vs. KOHO comparison covers what you need to know about both financial institutions.
KOHO vs Tangerine Comparison
What is KOHO?
KOHO is a fintech company established in 2017. While it is not a 'bank,' it offers many innovative financial products designed to help Canadians save money and improve their financial lives.
The company offers prepaid debit cards via a partnership with Peoples Trust and Mastercard.
KOHO Financial Products
1. Cash back Prepaid Card: KOHO's primary offering is a reloadable prepaid card that's one-of-a-kind in Canada.
Using the free KOHO Mastercard, you enjoy the following benefits:
Up to 5% cash back on purchases
No monthly account fees
Automatic savings plan using "Roundup'
Extra cash back at participating retailers
Budgeting tool mobile app with support for Apple Pay, Google Pay, and Samsung Pay
Access to joint accounts
Savings interest rate
$20 sign-up bonus using CASHBACK promo code
You can upgrade your account to the KOHO Premium Card and take advantage of all the standard benefits plus unlimited 2% cash back on transportation, groceries, and restaurant purchases.
Premium users also get free financial coaching, price matching, and no FX fees. KOHO Premium costs $84 per year or $9 per month.
KOHO Prepaid Mastercard
Rewards: Earn 1% cash back on groceries and transportation; Up to 5% cashback at select partners; Earn interest on your balance*.
Welcome offer: Get a $20 bonus when you load and make your first purchase (use promo code CASHBACK during sign-up).
Interest rate fee: 0%
Annual fee: $0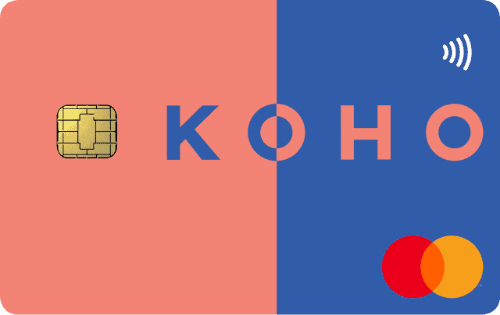 2. KOHO Earn Interest: This account pays 0.50% to 2.00% interest on your entire balance (both spending and savings) when you set up eligible direct deposit(s) to your account. There are no extra fees to take advantage of this high-interest savings account offer.
Your funds are held at a CDIC-member financial institution and are eligible for insurance up to $100,000 per depositor.
3. Credit Building: KOHO Credit Building is an optional service that helps improve your credit score. This subscription service is available monthly at $7/month.
KOHO sends reports to the credit bureaus on your behalf, and it is possible to see significant improvements to your credit score within six months.
Get your free credit score here if you want to know what your credit rating looks like.
Read my review of KOHO for more details.
What is Tangerine?
Tangerine is a subsidiary of Scotiabank and one of the most popular online banks in Canada.
Tangerine Bank Financial Products
1. No fee Chequing Account: Tangerine Bank's chequing account has no monthly fees and offers:
Free Interac e-Transfers and debit transactions
Access to 3,500 Scotiabank ATMs
Up to 0.10% interest rate on your balance
Visa Debit card
Mobile cheque deposits
Supports Apple Pay, Google Pay, and Samsung Pay
2. Savings Account: This free savings account pays 1.00% interest and is available for TFSA, RRSP, and RRIF plans.
3. Credit Card: The Tangerine Money-Back Mastercard is one of the best no-annual-fee credit cards in Canada. It offers an unlimited 2% cash back on up to 3 categories of spending and 0.50% on everything else. Tangerine also offers a World Mastercard.
Tangerine Money-Back Credit Card
Rewards: Earn up to 2% unlimited cash back in up to 3 spending categories and 0.50% on all other purchases.
Welcome offer: Get an extra 10% cash back on up to $1,000 in spending in the first 2 months ($100 value); 1.95% balance transfer rate for 6 months.
Interest rates: 19.95% for purchases, balance transfers, and cash advances.
Annual fee: $0
4. Investments: Tangerine customers can invest using its Core Portfolios, Global ETF Portfolios, and Guaranteed Investment Certificates (GICs).
5. Loans and Mortgages: Tangerine offers RSP loans, HELOC, and mortgages.
You can also compare other loan providers for personal loan rates.
KOHO Vs. Tangerine Summary
While Tangerine and KOHO overlap in many areas, there are significant differences you should be aware of.
Cash back: KOHO allows you to earn cash back when you pay cash for purchases. If you want to avoid credit cards, a free KOHO Mastercard pays 0.25% to 5% cash back on purchases. When you opt for KOHO Premium, you earn up to 2% unlimited cash back in three categories.
To earn cash back with Tangerine, you will need to apply for one of its two credit cards.
Savings Interest: KOHO Save currently pays a 0.50% to 2% interest rate. Tangerine Savings has a 1.00% regular interest rate. For a slightly higher rate, you can also check out EQ Bank's Savings Plus Account.
Chequing Account: While Tangerine has a chequing account, KOHO is more of a hybrid account with a mix of chequing and savings features. KOHO does not offer chequebooks.
Convenience: Both financial institutions are fully digital and do not offer physical branches you can walk into. That said, they support Interac e-Transfers, pre-authorized debits, and direct deposits.
Tangerine customers can use Scotiabank ATMs for free; however, KOHO does not own any ATMs, so you may have to pay out-of-network fees ($2-$3).
Referral Program: When you sign up for a KOHO account using a valid referral link (and promo code CASHBACK), you get a $20 welcome bonus. You can refer up to 20 friends to KOHO and earn $1,000 via KOHO's referral program.
Tangerine's referral program pays up to $50 per referral, and you can refer up to 3 people each year.
Fees: A regular KOHO account has no fees. Subscription fees apply if you upgrade to KOHO Premium or sign up for Credit Building.
Tangerine's savings and chequing accounts have no monthly fees. Depending on the transactions you conduct, service fees may apply (e.g., NSF, chequebook, stop payments, FX fee, drafts, etc.).
Customer Support: Tangerine's customer service is available by phone 24/7 and chat (10am – 7pm ET on weekdays only). KOHO offers support by email and via chat in-app 7 days a week.
Are they safe? Deposits in both Tangerine and KOHO Save are eligible for CDIC protection up to $100,000 per beneficiary.
| | | |
| --- | --- | --- |
| Savings Accounts | KOHO Save | Tangerine Savings |
| Monthly fee | $0 | $0 |
| Savings interest rate | 0.50% to 2.00% | 1.00% |
| Free Interac e-Transfers | Yes | N/A |
| Free debits | Yes | N/A |
| Credit cards | N/A | 2 types |
| Mobile app | Yes | Yes |
| Learn more | Visit KOHO | Read review |
KOHO vs Tangerine: Which One To Choose?
KOHO and Tangerine are excellent and serve different purposes.
You could use KOHO to earn competitive cash back when spending cash or debit and use its credit-building program if you do not qualify for a traditional credit card. Your balance also earns interest which is nice.
The Tangerine credit cards are excellent for earning cash back without paying annual fees. If you want to cut your banking fees, its no-fee chequing account offers unlimited transactions, and you get access to Scotiabank ATMs for free.
Related: