A Tangerine Savings Account features on every list of the best high-interest savings accounts in Canada for good reasons.
Tangerine Bank accounts have no monthly account maintenance fees, you enjoy above-average interest rates on your savings deposits, and your money is safe.
In addition, Tangerine offers a full suite of financial services, including savings accounts, chequing accounts, investment accounts, no-fee credit cards, mortgages, and more.
This review of Tangerine's savings accounts covers the options available, their benefits, downsides, fees, and how they compare to alternatives such as EQ Bank.
Who is Tangerine?
Tangerine Bank is an online bank and a subsidiary of Scotiabank, one of Canada's largest banks. It is one of the most popular digital banks in the country and ranks high for customer satisfaction.
In 2020, Tangerine bagged the top spot in the J.D. Power Banking Satisfaction Study for overall customer satisfaction in the Mid-size Bank segment. It also received two awards in the 2019 Ipsos Best Banking Awards in Canada.
Tangerine Bank has a few locations where you can chat face-to-face with Associates. Popularly referred to as Cafes, you can find them in Downtown Toronto, Toronto North, Vancouver, Calgary, and Montreal.
Tangerine Savings Accounts
Tangerine offers six different savings accounts to meet various needs, including:
A regular savings account
Tax-Free Savings Account
RIF Savings Account
US$ Savings Account
Children's Savings Account
The common features across these accounts include no monthly fees, minimum balance, higher-than-average interest rates, CDIC insurance, and access to an automatic savings plan.
| Savings Account | Standard Rate |
| --- | --- |
| Tangerine Savings Account | 1.00% |
| Tangerine TFSA | 1.00% |
| Tangerine RSP Savings Account | 1.00% |
| Tangerine RIF Savings Account | 1.00% |
| Tangerine Children's Savings | 1.10% |
1. Tangerine Savings Account
This no-fee, no-minimum savings account is well suited for keeping your regular savings or emergency funds and has a standard interest rate of 1.00%.
The interest rate is calculated daily and paid out every month.
A Tangerine Savings Account can easily be paired up with their free chequing account, which offers unlimited Interac e-Transfers and access to thousands of free Scotiabank ATMs.
Save even more money by picking up the no-fee Tangerine Money-Back Credit Card that offers up to 2% unlimited cash back on your spending.
2. Tangerine Tax-Free Savings Account
A Tax-Free Savings Account or TFSA offers access to tax-free returns on your savings. Starting at age 18, you qualify to contribute money to a TFSA account up to a certain limit every year.
For 2023, the TFSA contribution limit is $6,500. Interest earned is not subject to taxes; you can withdraw your funds at any time and recontribute them in subsequent years.
For more details about the account, check out our Tangerine TFSA review.
3. Tangerine RSP Savings Account
Retirement Savings Plans (RSP) are designed to set money aside for your retirement years.
When you save using a Tangerine RSP account, your contributions are tax-deductible and interest earned is tax-free until you start making withdrawals in the future.
The annual RRSP contribution limit is 18% of your income up to a maximum of $30,780 in 2023.
This Tangerine account also has no monthly fees. Depending on your needs, you can combine it with a Tangerine Investment Fund.
4. Tangerine RIF Savings Account
At age 71, you must collapse your RRSP and withdraw the cash, open an RRIF account, or purchase an annuity. You can also do a combination of these options.
A Tangerine Retirement Income Fund (RIF) savings account offers a safe option to hold your retirement funds and grow them while making the mandatory minimum withdrawals yearly.
It does not charge a monthly fee, and there are no minimum balance requirements.
5. Tangerine Children's Savings Account
Get your kids their first bank account by opening a free Tangerine Children's Savings Account.
They get their own account number and start learning the basics of personal finance and money at an early age. The kid's account has no fees and earns a 1.10% interest rate.
To open a children's account, the parent or guardian must open a Tangerine Savings Account. Learn more about children's bank accounts in Canada.
6. Tangerine US$ Savings Account
If you receive US funds or hold them for your U.S. vacations or business operations, the Tangerine US$ savings account is worth checking out.
Similar to the other accounts, it does not have a monthly account fee; however, its standard interest rate is lower at 0.10%.
Benefits of a Tangerine Savings Account
Some of the benefits you can expect when you open a Tangerine savings account include the following:
Compared to the rates offered by big banks (e.g. TD, RBC, CIBC, and BMO), a Tangerine savings account generally offers a fairly similar interest rate.
Access to free automatic savings plans so you can link your chequing account and save regular amounts effortlessly.
Online banking via a versatile mobile app with free access to money management tools, calculators, and mobile cheque deposits.
Free access to over 3,500 ATMs when you have a Tangerine Chequing Account.
Downsides of a Tangerine Savings Account
The standard interest rate on a Tangerine account is much lower than competing online banks like EQ Bank. For example, the EQ Bank Savings Plus Account offers a higher standard interest rate.
If you prefer to conduct all your banking transactions in-person at a branch, this is not possible with Tangerine.
How To Open a Tangerine Savings Account
To get started, visit Tangerine to complete the online application.
You will need your social insurance number (SIN), contact details, and employment information. They also require that you submit a copy of a government-issued photo ID.
If any questions arise during the application process, you can reach their customer service at 1-888-826-4374.
Related: Bank Account Promotions.
Are Tangerine Savings Accounts Safe?
Tangerine is a member of the Canada Deposit Insurance Corporation (CDIC).
Deposits in their regular savings, TFSA, RSP, RIF, US$, and children's savings accounts are eligible for CDIC insurance up to $100,000 per category.
This protection is also available for the Tangerine chequing and business savings accounts.
With regard to the safety of your personal information, the bank utilizes an online PIN, DoubleSafe, and 128-bit encryption to secure your personal information.
Tangerine holds an A- rating with the Better Business Bureau.
Tangerine Savings vs. EQ Bank Savings Plus Account
While it is clear that a savings account with Tangerine will pay higher interest than most big banks, how does it fare against EQ Bank?
EQ Bank Savings Plus Account
EQ Bank is a subsidiary of Equitable Bank, a Schedule I bank in Canada. Their no-fee, no-minimum balance Savings Plus Account offers one of the best non-promotional interest rates in Canada.
Here's what you get:
High-interest rates
No monthly fees
Free and unlimited Interac e-Transfers and mobile cheque deposits
Free and unlimited bill payments and electronic fund transfers
CDIC insurance up to $100,000
Cheap international money transfers
The regular savings rate at EQ Bank is much higher. EQ Bank also offers registered savings plans, so you can open a TFSA or RSP account with them and earn high-interest rates.
EQ Bank Savings Plus Account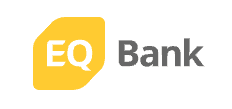 3.00%* non-promotional interest rate
Unlimited debits and bill payments
Unlimited Interac e-Transfers
No monthly account fees
Conclusion
I have been a Tangerine customer for several years now and love that you can keep all your accounts in one place when you bank with them.
That said, for a non-promotional savings interest rate that won't end after a few months, I prefer the EQ Bank Savings Plus Account.
If you are looking for a no-frills credit card that delivers on cash back rewards, look at the Tangerine Money-Back credit card.