Ampli and Rakuten are popular cash back apps that reward you when you shop at retailers they are affiliated with.
They are not the only cash back platforms in Canada, with others including Paymi, Drop, Caddle, and Checkout 51.
This Ampli vs. Rakuten review covers how they work, their differences, similarities, pros and cons, and which one to choose on your next shopping trip.
What is Ampli?
Ampli is a Canadian cash back app owned by the Royal Bank of Canada (RBC). The app is free, and you can download it here.
As per its website, it has paid over $2 million in cash back and prizes since it was launched.
Learn more in this Ampli review.
How Does Ampli Work?
After creating an account, connect your bank card (debit or debit card).
When you pay for purchases at partner brands using your linked card, you earn cash back, which is added to your account balance within 5 business days.
You can request a payout via Interac e-Transfer starting at $15.
What is Rakuten?
Rakuten is one of the best cash back apps in Canada. This platform was founded in 1999 and operates in multiple countries, including the United States and Canada.
Rakuten has partnerships with over 750 stores, and you can join for free here and get a $30 bonus.
It has 6 million members in Canada and has paid them over $70 million since 2012.

$30 sign-up bonus when you spend at least $30
Earn up to 40% cashback
Features 2,500 stores and retailers
Redeem earnings by PayPal & check
How Does Rakuten Work?
When you want to shop online, first visit Rakuten to find the store. Shop as usual, and cash back earned will automatically be added to your balance.
You can redeem your earnings using PayPal, cheque, or Amazon gift cards.
Ampli vs Rakuten: Cash Back Rewards
For Ampli, simply shop the offers presented on the app at the online or physical store.
Participating stores include The Home Depot, Petro Canada, Boston Pizza, HelloFresh, Rexall, Indigo, etc.
For Rakuten, visit the website or app before shopping at your favourite store. You will find discounts ranging from 1% to as high as 50% off.
Click through to make a purchase, and cash back earned is added to your balance.
Verdict: Rakuten offers more cash back opportunities than Ampli.
Ampli vs Rakuten: Cashout Options
You can redeem your earnings on Ampli starting at $15. You will need to send yourself an Interac e-Transfer, and it should normally arrive within 3 to 5 business days.
On Rakuten, cash back earned is paid out four times a year in February, May, August, and November.
You can choose to get paid by cheque, PayPal, or an Amazon gift card.
The minimum payout is $5.01.
Verdict: Rakuten has a lower minimum payout, but you get more flexibility with Ampli with no restrictions on when you can redeem as long as your balance is $15.
Ampli vs. Rakuten: Other Ways to Earn
In addition to earning cash back when you shop, Ampli also has monthly "Dreamstakes" challenges where you can win prizes.
You also get a $5 referral bonus for each friend that joins using your referral link.
For Rakuten, you earn when you shop the discounts and refer others (up to $30).
Ampli vs. Rakuten: App Ratings
Both Rakuten and Ampli have mobile apps.
Ampli: App Store (4.6/5 rating); Google App Store app is unrated.
Rakuten: Google Play (4.1/5 and App Store (3.9/5).
You can also access Rakuten using a web interface.
Verdict: Rakuten is accessible on all devices, whereas you need the mobile app to use Ampli.
Ampli vs. Rakuten: Referral Program
When you join Ampli here and connect a bank card, you get a $10 bonus (promo code AMP10). You can also invite friends and earn referral bonuses.
When you join Rakuten here and make your first purchase of $30 or more, you get a $30 bonus. You can invite friends using your Rakuten referral link, and you both get $30 when they qualify.
Verdict: Rakuten offers a higher referral bonus.
Ampli vs. Rakuten: Are They Safe?
Ampli is owned by one of Canada's largest banks, and it is safe. Your transactional data is anonymized, and they get read-only access when you connect your bank cards.
Rakuten uses Secure Socket Layer (SSL) internet connection to protect your personal information.
Also, the app does not access your credit card information.
Are They Legit?
Ampli and Rakuten are legitimate companies.
While Ampli is not rated on Trustpilot or the Better Business Bureaus (BBB), Rakuten holds a "B" rating on the BBB, and it is rated 4.1/5 on Trustpilot.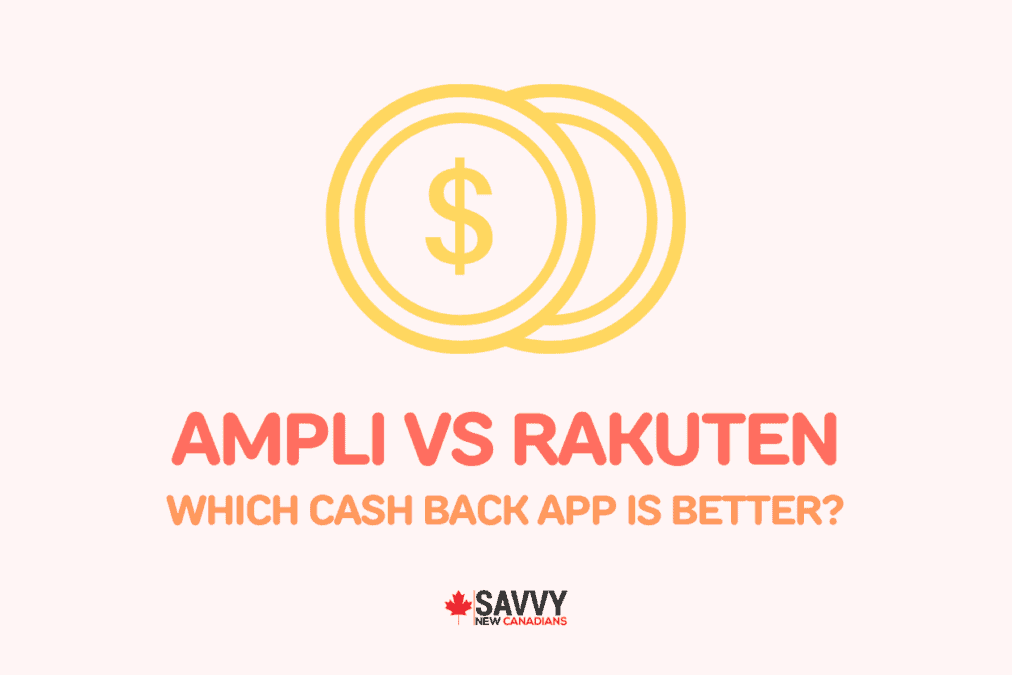 Pros and Cons of Ampli
Pros:
Earn cash back easily without uploading receipts
Enter into sweepstakes with the potential to win prizes
Earn real cash back and not points
Cons
Limited retailer partnership
It can take a while to earn the $15 required for a payout
Pros and Cons of Rakuten
Pros
Low payout threshold of $5.01
Earn real cash back, and transactions are tracked automatically
You can use a browser extension for discount alerts
Available on all devices
Cons
Ampli vs Rakuten: Which is Better?
Rakuten is the better option for online shopping. It has hundreds of stores and offers available at all times.
For in-store shopping in Canada, Ampli can be great, depending on what you are shopping for.
You can use both platforms and compare the offers before purchasing to see which one pays more.
Related: