Key Takeaways
KOHO Credit Building can help you rebuild your credit history for a low monthly fee.
Benefits of this add-on include credit reporting to a credit bureau, free access to your credit score, access to in-app budgeting features, interest-free line of credit, affordable fees, and cashback opportunities, but the catch is missing a payment can impact your score negatively.
How much you pay for the optional Credit Building depends on your account tier, and ranges from $5 to $10 monthly.
This KOHO credit building review covers how to increase your credit score using the KOHO Card.
KOHO has gone a long way to redefine the loyalty and rewards landscape when you spend cash.
While your bank will hardly reward you for making purchases with your debit card, a KOHO Mastercard prepaid Card offers up to 5.00% cash back on purchases.
Along with your prepaid card, you also get a versatile app that automates your savings and helps with budgeting.
More recently, KOHO introduced its Credit Building feature. If you are looking for a hassle-free and secure way to increase your credit score and improve your finances, Credit Building by KOHO can help.
KOHO Credit Building Overview
Your credit score can make or break your financial life. A good credit score opens the door to competitive rates when you apply for a personal loan or mortgage.
On the flip side, a bad credit score could mean your credit card applications are denied, and when you qualify for loans, the interest rates "cost an arm and a leg."
While repairing credit in tatters takes work, the Credit Building service by KOHO simplifies the process.
Users who register for Credit Building get a line of credit that KOHO manages on their behalf. Transaction activity is reported to Transunion (credit bureau), which positively impacts your credit score.
How To Build Your Credit Score with KOHO
To get started, sign up for a KOHO account ($20 welcome bonus included).
Register for Credit Building within the app. KOHO conducts a soft credit check that does not affect your credit score.
After setting up your account, you get a Line of Credit (dedicated funds), and KOHO takes a portion of these funds and reports it to a credit bureau as a monthly repayment.
This process lasts six months, and you can track changes in your credit score using the mobile app.
After the 6-month duration is up, you can either choose to renew or end your subscription, depending on the progress you have made.
How Much Does KOHO Credit Building Cost?
A $7 or $10 monthly subscription fee applies when you register for Credit Building by KOHO (fee varies depending on subscription tier).
The line of credit you receive does not charge interest and goes towards making the automated repayments by KOHO.
The monthly fee is paid for a 6-monthly period and costs $60. You can subscribe for more than one 6-month cycle.
Pros of KOHO Credit Building
Affordable monthly cost to build or repair your credit
Free access to your credit score
The service does not require a hard credit check
Access to in-app budgeting capabilities
Cashback is earned when you spend using your regular account balance
Interest-free line of credit
Cons of KOHO Credit Building
Not guaranteed to improve your credit score
It has a monthly fee
If you miss the monthly payments, it can negatively impact your credit score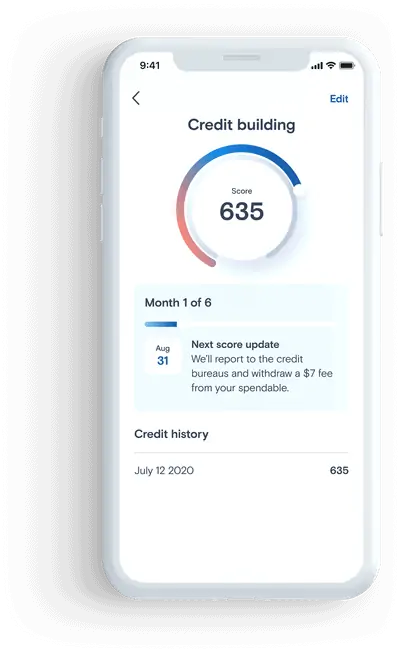 KOHO Prepaid Mastercard
KOHO offers three main prepaid cards:
KOHO Easy Mastercard
KOHO Essential Mastercard
KOHO Extra (Premium) Mastercard
You can add-on the Credit Building service to any of these cards.
A regular KOHO Easy card gives you 1% cash back on grocery purchases and transportation purchases. It has no monthly fee, and you earn up to 5% cash back at select retailers.
A premium KOHO Extra card offers 2% cash back on transportation, grocery, and restaurant purchases; and 0.50% on everything else (and 5% at partners).
You also enjoy price matching, free financial coaching, and pay no foreign exchange fees when you spend abroad.
You can apply for the cards here and get a $20 bonus when you make your first purchase with the card (use our promo code CASHBACK during sign-up).
Conclusion
Credit Building by KOHO is one way to improve your credit score faster in Canada. The costs are affordable and clear upfront, and you are working with a financial technology company that is legit.
In addition to this service, you should be taking additional measures to grow your credit score, including:
Making bill payments on time
Lowering the credit utilization on your credit cards
Keeping your old credit accounts
Limiting your applications for new credit, and
Disputing any errors on your credit file
KOHO Credit Building FAQs
Can you build credit with KOHO?
Credit Building by KOHO is a $7 to $10 per month service (or a total of up to $60 for the six months subscription) that helps you to build your credit score.
Does KOHO affect your credit score?
KOHO only conducts soft credit cards, and this type of inquiry does not impact your credit score.
How fast does KOHO build credit?
It depends on a lot of factors. As per KOHO, it can take anywhere from 30-90 days to begin seeing improvements in your credit score.
Is KOHO debit or credit?
The KOHO reloadable Mastercard (formerly KOHO Visa) is a prepaid card similar to a debit card. When you register for Credit Building, you get a line of credit used to make monthly repayments. The repayment transactions are reported to Transunion.
Is KOHO trustworthy?
Your money in KOHO is held at Peoples Trust, a member of CDIC. Eligible Deposits (savings and chequing) held at a CDIC member institution are insured for up to $100,000.
KOHO Credit Building Review
Summary
The KOHO Credit Building service can help you build your credit score at an affordable cost. This review of Credit Building by KOHO covers what you need to know.
Pros
Free credit score access
Does not require a hard credit check
Interest-free line of credit
Cash back on all purchases