Challenger banks like Neo Financial and EQ Bank, and financial technology companies like KOHO, are changing the financial landscape for consumers.
They offer high-interest savings accounts with rates up to 125x what big banks offer, as well as multiple ways to save on banking fees.
For example, KOHO pays up to 5% cash back on 'debit' purchases, and Neo Financial has a no-annual-fee cash back credit card.
Neo vs. KOHO
This Neo vs. KOHO comparison covers the basic things you need to know about them.
KOHO Overview
KOHO is a fintech company. It offers a no-fee spending account and a prepaid Mastercard that earns up to 5% cash back on purchases.
Its complete products offerings are:
1. Cash back Card: The free KOHO Mastercard offers:
Up to 5% cash back
No monthly account fees
Automatic savings using Roundups
Budgeting app, and more
Joint accounts
$20 welcome bonus when you enter the referral code CASHBACK and make your first purchase.
You can upgrade your account to KOHO Premium and earn a higher cash back rate, pay no FX fees, and get access to financial coaching.
KOHO Premium has a $9/month fee or $84 per year if you pay the annual fee upfront.
KOHO Prepaid Mastercard
Rewards: Earn 1% cash back on groceries and bill payments; Up to 5% cashback at select partners; Earn interest on your balance*.
Welcome offer: Get a $20 bonus when you load and make your first purchase (use promo code CASHBACK during sign-up).
Interest rate fee: 0%
Annual fee: $0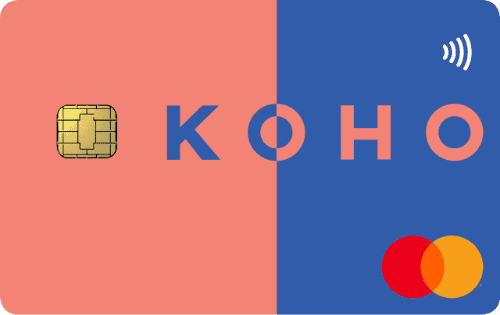 2. KOHO Earn Interest: This high-interest savings account offers up to 1.50% interest on your account balance (both spending and savings account). Interest is earned automatically after you set up direct deposits to your KOHO account and opt-in for KOHO save.
3. KOHO Credit Building: If you are looking to improve or rebuild your credit score, this service can help. KOHO Credit building is optional and costs $10/month. Reports are sent to the credit bureaus on your behalf, and you can grow your credit score within 6 months.
You can read my in-depth KOHO review for more details about its offerings.
Neo Financial Overview
Neo Financial is a newcomer to the digital banking scene in Canada. Its founders include two co-founders of SkipTheDishes.
Neo Financial has two main products:
1. Credit Card: The Neo Financial Credit Card has no annual fee and offers up to 5% cash back at its partner stores. You can also apply for the Neo Secured Card if you have poor credit.
Neo Mastercard (Standard)
Rewards: Average of 5% cash back at 10,000+ partners and a minimum of 0.50% cash back across all purchases
Welcome offer: Get 15% cash back on your first purchases, plus a $25 welcome cash bonus.
Interest rates: 19.99% – 26.99% on purchases; 22.99% – 28.99% for cash advances.
Annual fee: $0
2. Savings Account: The Neo Money Account (formerly Neo Savings) currently pays a 2.25% rate on your balance. This interest rate is calculated daily and paid out every month.
Other products from Neo include mortgages and investments.
KOHO vs. Neo Breakdown
Both KOHO and Neo Financial offer a savings account and a rewards card. I break down their similarities and differences below:
Cash Back Rewards: A free KOHO Mastercard pays you cash back when you make a purchase. This card works like a debit card, and you won't need to worry about carrying a balance and incurring interest fees.
If you make many 'cash' purchases, you may benefit from upgrading to KOHO Premium and earn higher cash back on groceries, transportation, and entertainment purchases.
The Neo Card is a credit card. Its no-fee version pays you up to 5% cash back at specific retailers. One problem that users have expressed is that the limited pool of retailers may be places where you don't shop. You earn 0.5% at non-participating stores.
Savings Interest: Both KOHO and Neo Savings Accounts are competitive. Neo's interest rates are higher than KOHO, and neither are "teaser" rates.
Convenience: They are both 100% digital which means you can't just walk into a branch to conduct in-person transactions. That said, you can reach their customer service support by email or chat. Neo Financial also offers phone support.
Referral Program: When you sign up for KOHO through a valid referral link, you get a $20 welcome bonus. You can refer as many as 50 friends.
NEO Financial also has a referral program with various rewards when you refer others. You can get a $25 bonus when you apply for a credit card.
Fees: A regular KOHO account is free. For additional services, e.g. credit building, fees apply. The basic Neo Financial credit card has no annual fee.
The Neo Card has a purchase interest rate of 19.99%-26.99% and a cash advance rate of 22.99%-28.99%.
Are they Safe? Funds deposited in your KOHO Account are held at a Canada Deposit Insurance Corporation (CDIC)-member bank. They are thus eligible for CDIC protection for up to $100,000 per beneficiary.
Deposits in a Neo Savings account are held by Concentra, a CDIC member institution, and are also eligible for deposit protection.
Neo vs KOHO: Which One To Choose?
You can have both accounts to maximize your cash back and savings.
The KOHO Mastercard is excellent when paying cash, while the Neo Card helps earn up to 5% cash back at over 10,000 locations.
And both offer an account to keep funds you don't need immediately, so you can earn interest.
Features

KOHO
Neo Financial
Monthly fee
$0 for the regular account;
$84/year for Premium account
$0 for the regular account
Savings rate
Up to 1.50%
2.25%
Free Interac e-Transfers
Yes, unlimited
Yes, unlimited
Bill payments
Free
Free
Credit card
No
Yes
Prepaid card
Yes
No
Mobile app
Yes
Yes
Mobile cheque deposits
Yes
No
Learn more
Get KOHO
Read Review
Related: