EQ Bank has just answered the ever-pressing question its customers have been asking over the years, i.e. "does EQ Bank have a debit card?"
With the debut of the new EQ Bank Card, you can now conveniently make payments in-store, withdraw cash at ATMs, earn cash back on purchases, and more.
Simply put, the EQ Bank Card goes a step further in converting the Savings Plus Account into a versatile spending account, along with the benefits of high-interest rates and zero monthly fees.
Overview of the New EQ Bank Card
The new EQ Bank Card is a prepaid card that works alongside its flagship account, the EQ Bank Savings Plus Account.
This account offers high-interest rates (2.50% to 3%*) and unlimited debit and Interac e-Transfer transactions.
By adding the EQ Bank prepaid Mastercard, you can now access your savings account via ATM and earn 0.50% cash back on all purchases, making this one of the best debit reward cards in Canada.
How to Apply for the EQ Bank Card?
The EQ Bank Card is free. To get one, open an EQ Bank Savings Plus Account and fund it by connecting your bank account at any Canadian financial institution.
From your new account, order a free card and activate it when received.
Only the standard Savings Plus Account or its Joint account alternative qualify for a prepaid card.
EQ Bank Mastercard Features
Earn 2.50%* interest on your balance
0.50% cash back on purchases
No monthly account or FX fees
Free ATM withdrawals
The main benefits of the EQ Bank Card are:
No Account Fees
The Savings Plus Account and EQ Bank Mastercard prepaid card do not have monthly or annual fees.
And unlike Vanilla Prepaid Cards, you won't have to worry about activation fees.
Earn Interest on Balance
It pays a high-interest rate on your card balance which is currently 2.50%* (3% if you set up a direct deposit).
This makes it easy to load your card with funds without worrying about missing out on interest earnings.
Earn Cash Back on Purchases
EQ Bank Cardholders earn an unlimited 0.50% cash back on all purchases, whether online or in-store.
This puts this card on our list of the best prepaid cards in Canada.
No ATM Fees
Even better than a traditional debit card, EQ Bank does not charge ATM fees, and you can use your card to make withdrawals at ATMs owned by other banks in Canada.
If the ATM provider charges a fee, EQ Bank will reimburse you within ten (10) business days.
No Foreign Currency Conversion Fees
With the EQ Bank Card, you may no longer need to pay hefty annual fees for a no-FX credit card.
It waives the 2.50% foreign currency transaction fee and is accepted worldwide wherever Mastercard® is accepted (over 210 countries).
You will only be subject to the Mastercard currency conversion rate when you use the EQ Bank Card for payments abroad.
Mastercard Zero Liability
Cardholders enjoy Mastercard's Zero Liability against unauthorized use or fraudulent charges.
Reloadable
You can easily reload your card by transferring funds from your linked EQ Bank Savings Plus Account.
EQ Bank Card Downsides
The EQ Bank Card is not available in Quebec.
While ATM fees are reimbursed in Canada, you will not receive reimbursement for ATM fees incurred when you use the card abroad.
Lastly, there are card transaction limits to keep in mind, including:
| | |
| --- | --- |
| EQ Bank Card Transactions | Limit |
| Maximum card balance | $10,000 |
| Card transaction limit | $5,000 |
| ATM transaction limit per withdrawal | $500 |
| Maximum daily ATM withdrawal | $500 |
| Daily maximum point of sale limit | $5,000 |
| Maximum number of daily ATM withdrawals | Unlimited |
EQ Bank Card vs. KOHO Prepaid Mastercard
The KOHO Prepaid Card, which is most similar to the EQ Bank Card, is the KOHO Easy Mastercard.
The KOHO Easy Mastercard has no monthly or annual maintenance fees and offers 1% cash back on grocery purchases and bill payments. It also pays 0.50% interest on your balance, and the cashback rate is up to 5% at partner retail stores.
To enjoy no-FX fees, you can opt for the KOHO Premium Mastercard and earn up to 2% cashback and 2% savings interest.
Overall, the EQ Bank Card does better as an all-in-one prepaid card for your wallet.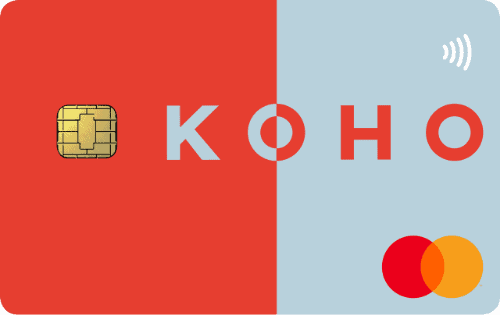 $20 sign up bonus after first purchase (use promo code CASHBACK)
Earn up to 5% cash back
Up to 4.00% savings interest on your balance
Unlimited Interac e-Transfers
FAQs
Who owns EQ Bank?
EQ Bank is a subsidiary of Equitable Bank, one of Canada's largest banks with more than $100 billion in assets under management and administration.
Does EQ Bank offer a debit card?
You can use the new EQ Bank Mastercard as a spending card for your EQ Bank savings account.
Is the EQ Bank Card a credit card?
No, the EQ Bank Card is not a credit card. It is a reloadable prepaid card and does not affect your credit score.
Related: EQ Bank Card vs KOHO Mastercard.