The Robinhood app is one of the hottest investment apps in the United States.
The app added millions of new users in the last few years and has been blamed by some for being responsible for the significant rise in day trading we have seen in recent times.
Whatever the case is, it is easy to see why Robinhood has such a draw. The commission-free trading app means you do not have to shell out $$ in fees to buy and sell stocks, ETFs, options, and cryptocurrencies.
Is the app available for Canadians to trade? What are the alternative options to save on trading fees?
Is Robinhood Available in Canada?
Unfortunately, Robinhood is not available in Canada. As per its terms of use:
Robinhood is only licensed to sell securities in the United States (US), to US citizens and residents, and will not permit anyone who is not a legal US resident to purchase or sell securities through its application until such time as it is approved to engage in the securities and investment business by the appropriate regulator(s) of a foreign jurisdiction.

– Robinhood
This does not stop US citizens and legal residents from using the app to trade outside the United States.
The app is supported in all countries except Cuba, North Korea, Syria, Iran, and the Crimea region of Ukraine.
In 2015 and 2019, Robinhood announced it was launching in Australia and the United Kingdom, respectively. Both plans were later scrapped.
Robinhood Alternatives in Canada for 2023
There are some alternatives to Robinhood in Canada.
The first discount brokerage option to save on fees is Questrade. Following that, you can also use Wealthsimple Trade, a zero-commission stock and ETF app recently launched by Canada's most popular robo-advisor.
Let's dig in further to see how they compare.
1. Questrade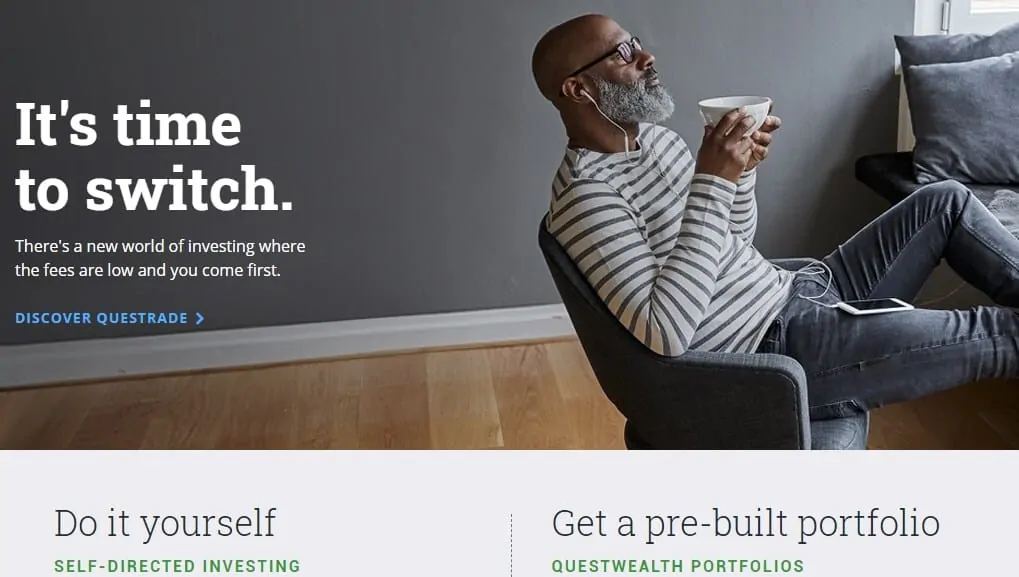 Questrade is Canada's largest independent discount broker platform. It offers commission-free trading when you purchase ETFs.
It has some similarities to Robinhood, and its key features include:
Multiple Trading Platforms: It has a browser-based platform, a downloadable desktop platform, and a mobile app. Also, active traders can access advanced trading tools and market research.
Commission-Free ETFs: No trading commissions apply when you purchase ETFs. However, trading fees apply when you sell ETFs and when you buy and sell stocks, mutual funds, options, and more.
Account Types: Questrade offers trading inside registered and non-registered accounts, including RRSP, TFSA, RESP, LIRA, RRIF, LIF, corporate and margin accounts.
Available Securities: You can trade stocks, ETFs, options, mutual funds, bonds, GICs, foreign exchange, precious metals, CFDs, and IPOs.
Market Data: A basic Questrade account offers unlimited Level 1 snap quotes. For a fee, you can also access Level 1 and 2 streaming data.
Security: Questrade is a member of CIPF and the Investment Industry Regulatory Organization of Canada (IIROC). Customer accounts are protected with up to $10 million if the company goes bankrupt.
Promotion: New Questrade clients receive $50 in free trades when they open an account and fund it. To start trading, you need a minimum account balance of $1,000.
Questrade also has a managed investment service, referred to as Questwealth Portfolios.
Where Questrade Falls Short
It only offers commission-free trading when you buy ETFs. If you sell ETFs, there is a $4.95 to $9.95 fee per transaction. Stocks, mutual funds, and options cost up to $9.95 per trade.
Questrade clients can only start trading when they have at least $1,000 deposited in their account.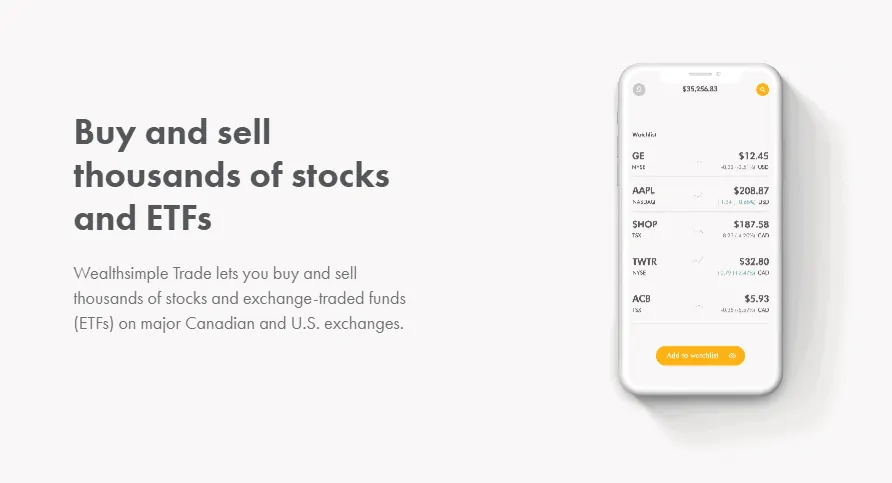 2. Wealthsimple Trade
Wealthsimple Trade is an investing app for trading thousands of stocks and ETFs listed on Canadian and U.S. exchanges.
Like Robinhood, the app does not charge a commission and has no minimum balance requirements.
Some salient features of Wealthsimple Trade include:
User-Friendly Mobile App: The app is available on the App Store and Google Play, where it's highly rated by users (4.7/5 rating on iOS). Its clean and intuitive interface makes it easy for beginners to quickly learn how to place trades within minutes of joining.
You can also use the desktop version if that's your preference.
Commission-Free Trades: You don't pay a trading fee to buy or sell stocks and ETFs. This saves $5 to $10 per trade compared to other brokerage platforms.
Account Options: You can open a taxable account or trade within your RRSP or TFSA accounts.
$0 Account Minimum: Open an account with as little as $1. There is no minimum deposit required to get started.
Security: Wealthsimple Trade accounts enjoy protection under the Canadian Investor Protection Fund (CIPF) up to $1 million if their custodian becomes insolvent. The app also uses bank-level encryption to protect your account.
Fractional Shares: You can buy fractions of a share and avoid paying thousands of dollars for the whole share. Fractional shares available on Wealthsimple Trade include Amazon, Google, Tesla, Microsoft, Apple, and others.
Wealthsimple Crypto: You can sign-up to trade cryptocurrencies using Wealthsimple Crypto. Bitcoin and Ethereum are currently available to trade on a beta basis.
Promotion: New Wealthsimple Trade clients get a $25 cash bonus after depositing and trading at least $200 worth of stocks or ETFs within their first 45 days.
Wealthsimple also offers an automated managed investing service through its robo-advisor platform and a savings account that pays interest on your balance.
Where Wealthsimple Trade Falls Short
You can't trade options, bonds, or mutual funds on the platform, and they don't offer a margin account.
You can only open a personal non-registered account or two types of registered investment accounts (RRSP and TFSA).
Joint accounts, LIF, RRIF, RESP, and RDSP accounts are not available. It offers these other accounts through Wealthsimple Invest.
A foreign currency exchange fee applies when you make USD-denominated trades, and the market data provided is delayed by 15 minutes.
What is Robinhood?
Robinhood is a pioneer of commission-free investing in the United States and was founded by Vladmir Tenev and Baiju Bhatt.
The company offers a trading app and website where users can buy and sell stocks, Exchange-Traded Funds (ETFs), options, and cryptocurrencies (Bitcoin, Ethereum, Dogecoin, etc.).
Robinhood is registered with the Securities and Exchange Commission and is regulated by Financial Industry Regulatory Authority (FINRA) and the Securities Investor Protection Corporation (SIPC).
Its user base currently exceeds 13 million customers.
One primary reason for the exodus of retail investors to Robinhood is its no-commission trading offer.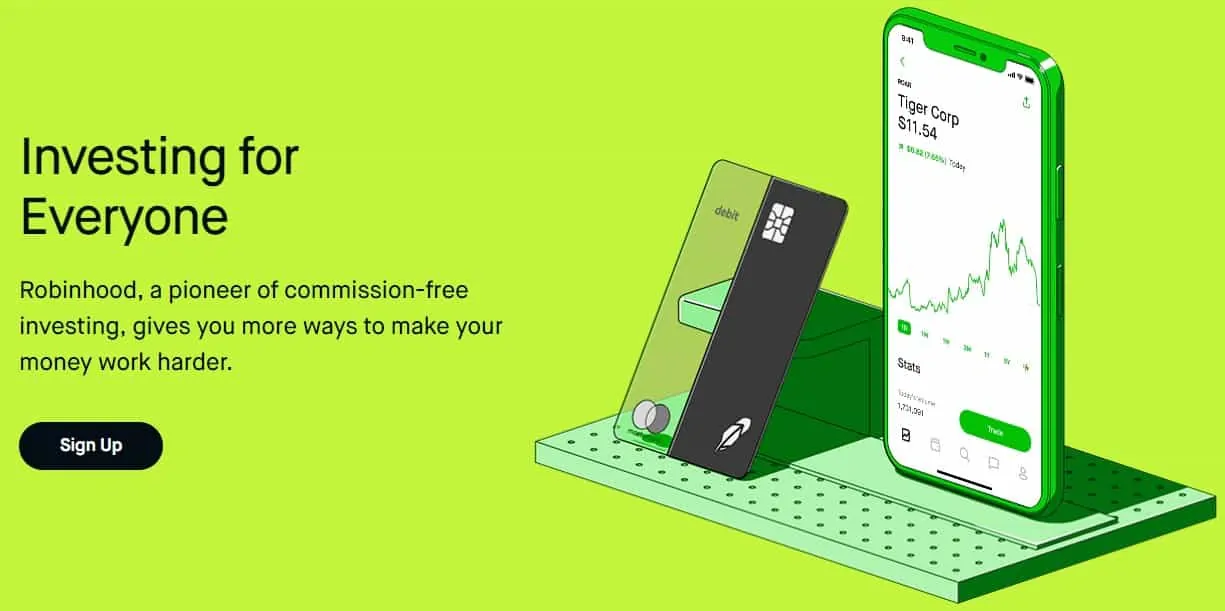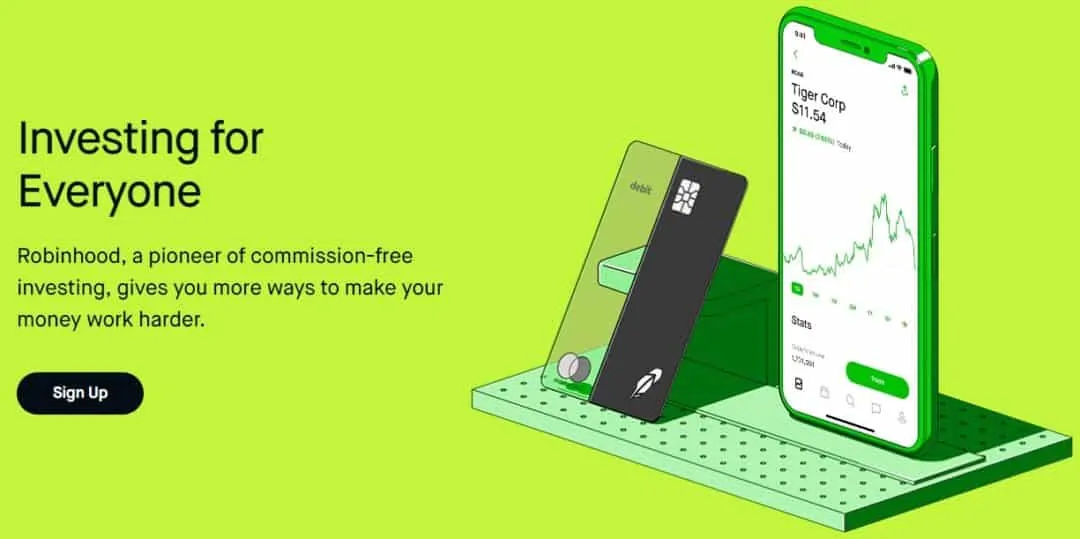 Robinhood – Main Features
Some key features of Robinhood include:
User-Friendly Mobile App: The Robinhood app is available on iPhone and Android devices and the Apple Watch. It has a streamlined interface that allows newbies to trade on the go using their smartphones in just a few clicks.
Trading is also available through a web-based platform.
Commission-Free Trading: It offers access to free stock, ETF, options, and cryptocurrency trades. This lack of trading fees or commissions is a significant saving for low-volume investors trading small amounts.
No-Minimum Balance: You can trade with whatever cash you have starting at $1. It also offers fractional shares so you can buy parts of a share.
Robinhood Gold: This service offers access to research reports, analysis, margin trades, and more, starting at a low monthly fee of $5. Users get Level II market data and instant deposits.
High-Yield Savings: Access to a high-yield savings account that pays interest on your uninvested cash and comes with a debit card and Federal Deposit Insurance Corporation (FDIC) insurance.
Where Robinhood Falls Short
Robinhood only offers a taxable account, so you can't use it for your 401(k) or IRA.
While the platform is commission-free, you may see a minimal regulatory or trading activity fee on "sell" transactions.
Lastly, the app does not offer trading in bonds, precious metals, or mutual funds.
Wealthsimple vs. Robinhood vs. Questrade
Below is a quick snapshot of how Wealthsimple, Robinhood, and Questrade compare.
Features
Wealthsimple
Robinhood
Questrade
Account minimum
$0
$0
$1,000
ETF commissions
$0
$0
$0 when buying; up to $9.95/trade when selling
Stock commissions
$0
$0
$4.95 to $9.95/trade
Other fees
1.5%x currency exchange fee for USD trades
$0 for options; $5 monthly fee for access to Robinhood Gold and $1,000 of margin for 30 days
Can avoid the currency exchange by holding USD;
options cost $9.95 + $1/contract;
Investment types
Stocks, ETFs, cash account via Wealthsimple Cash; cryptocurrency via Wealthsimple Crypto
Stocks, ETFs, options; cryptocurrency via Robinhood Crypto
Stocks, ETFs, options, mutual funds, bonds, CFDs, IPOs, international equities, GICs, FX, precious metals
Account types
RRSP, TFSA, and personal non-registered
Personal taxable accounts; margin accounts
RRSP, TFSA, RESP, LIRA, RIF, margin, corporate, trusts, estate, etc.
Mobile trading platform
Yes
Yes
Yes
Desktop-trading platform
No
Yes
Yes
Market research tools
Limited
Versatile; level II market data available via Gold account
Versatile; streaming data (level I&II) costs an extra $$
Security
CIPF protection, encryption, 2FA
SIPC protection up to $500,000; 2FA
CIPF protection up to $1 million; DIGICERT encryption; $10 million private insurance
Promotion
$50 cash bonus when you fund your account and trade at least $150 in stocks within 45 days of opening it
N/A
$50 in free trades when you open an account and deposit at least $1,000
Other accounts offered
Online wealth management service through Wealthsimple Invest; socially responsible investing, Halal investing, and VIP accounts
Cash management account
Managed investing service via Questwealth Portfolios; socially responsible investing
Apply
Wealthsimple Trade
N/A
Questrade
Account review
Learn more
–
Learn more
Robinhood Canada Alternative FAQ
What is the equivalent of Robinhood in Canada?
Canadians can use Wealthsimple Trade to buy stocks and ETFs for free similar to Robinhood, or use Questrade for free ETF purchases. If you are interested in cryptocurrency, Wealthsimple Crypto offers crypto trading.
In which countries is Robinhood available?
The app is only available to US citizens and legal residents who can use the app to trade even while outside of the U.S. in most countries. Here are the countries where it's not available to US citizens.
Is Wealthsimple available in Canada?
Wealthsimple portfolios are available in Canada, the United States, and the United Kingdom. Their commission-free trading app, Wealthsimple Trade, is only available in Canada.
Can foreigners use Robinhood?
To use Robinhood, you must have a valid U.S. Social Security Number, be a citizen or permanent resident, and have a legal U.S. residential address.
Is day trading legal in Canada?
Day trading involves holding a stock or security for one day or less before selling it. Day trading is legal in Canada, but that doesn't mean you should do it. Day trading is a high-risk trading strategy that can cause you to lose a lot of money… including your shirt.
Have you tried Wealthsimple Trade or Questrade? Tell us about your experiences in the comments.
Related: Is TastyWorks Available in Canada?
Robinhood Canada: Investing Apps Like Robinhood in Canada
Ease of use

Trading fees

Investment accounts

Investment products
Summary
Is Robinhood available in Canada? Learn about commission-free trading app alternatives including Wealthsimple Trade and Questrade plus a Wealthsimple vs Robinhood vs Questrade comparison.
Pros
Commission-free trading
No minimum balance
High-yield savings
Cons
No mutual funds or bonds
No 401K's