The PC Financial Mastercard is one of three credit cards offered by President's Choice Bank, a financial institution owned by Loblaws.
This card has no annual fees and offers shoppers opportunities to earn PC Optimum points they can redeem for free groceries.
It also offers basic insurance coverage including purchase protection and extended warranty, as well as a low promotional balance transfer rate.
This PC Financial Mastercard review covers its benefits, downsides, and compares it with alternative no-fee cash back credit cards.
PC Financial Mastercard Features At a Glance
$0 annual fee
Earn 10 Optimum Points per $1 at Loblaws grocery stores
Earn 25 points per $1 at Shoppers Drug Mart
Earn 30 points per litre at Esso or Mobil gas stations
Earn 20 points per $1 spent at PC Travel
Earn 10 points per $1 on everything else
0.97% promotional rate on balance transfers for 6 months
20.97% purchase interest rate
22.97% cash advance interest rate
Free purchase protection and extended warranty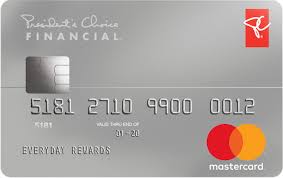 PC Financial Mastercard Benefits
The PC Financial Mastercard's main highlight is that you earn PC Optimum points for every dollar you spend at Loblaw stores and elsewhere.
For purchases at the Real Canadian Superstore, No Frills, Independent and Wholesale Club, you earn 10 points per $1.
At Shoppers Drug Mart, your earn rate increases to 25 points per dollar and it is 20 points per dollar when you book a flight or holiday through PC Travel.
Cardholders earn at least 30 points per litre of gas purchased at Esso and participating Mobil gas stations. In addition, you also get 10 points per dollar spent everywhere else.
Overall, you earn a 1% return on your purchases and up to 2.5% when you shop at Shoppers Drug Mart.
PC Financial Mastercard Insurance
This card offers a purchase assurance that protects your purchases in the event of theft, loss or damage within 90 days of purchase. For this coverage to apply, you must use your PC Mastercard to pay for the item in full.
There is a lifetime maximum of $50,000 of purchase assurance benefits per account.
Also, cardholders enjoy free extended warranty that extends the manufacturer's warranty for up to one extra year.
Other Benefits
The PC Financial Mastercard offers a 0.97% introductory balance transfer rate for 6 months. The rate applies to transfers made within 90 days of opening your account.
For other options, take a look at this list of the best balance transfer credit cards.
This card is easy to apply for and does not have a minimum income requirement which makes it an attractive student credit card.
Lastly, in addition to the free credit card for the primary user, you can get up to four supplementary cards for family members.
Downsides
You can only redeem your PC Optimum points when you make purchases at Loblaw-affiliated stores. Points cannot be used to pay down your statement balance or redeemed for purchases elsewhere.
Also, it has a base reward rate of 1% on grocery purchases. This is lower than the 2% cash back you earn on groceries using the Tangerine Money-Back credit card.
Lastly, it does not offer any travel benefits which is somewhat reflective of its entry-level status.
You should note that the earn rate for this card at Shoppers Drug Mart and Esso includes the base 10 points per dollar available to all PC Optimum members.
How To Apply for The PC Financial Mastercard
In addition to the PC Financial Mastercard, Loblaws also offers the PC Financial World and PC Financial World Elite Mastercards.
To apply for the card, you must be a resident of Canada and at least the age of the majority in your province. Applicants may be considered for the higher tier cards automatically based on their income level.
You can compare the features of all three cards in this PC Financial Mastercard review.
How To Redeem Your PC Optimum Points
1,000 PC Optimum points are equivalent to $1. You can redeem your points for free groceries or products at Loblaw stores including their online stores: JoeFresh.ca and BeautyBoutique.ca.
The minimum redemption is 10,000 PC Optimum points ($10 value) and you can redeem in increments of 10,000 points.
Using the PC optimum app, you can view your total points balance, redemption value, recent transactions, and more.
PC Financial Mastercards Compared
PC Financial Mastercard vs. Tangerine Money-Back Card
The PC Financial Mastercard is the entry-level credit card for earning PC Optimum points and its base 1% reward rate for groceries is lower than what you could earn with a few other no-fee cards.
For example, with the Tangerine Money-Back card, you can earn unlimited 2% cash back on three categories of spending including groceries, gas, recurring bills, transportation, hotel/motel, entertainment, and more.
The three 2% reward categories are available when you deposit your cash back into a free Tangerine Savings Account, otherwise, it only applies to two purchase categories.
On all other purchases outside of your chosen three, you earn 0.50%. Cash back is paid out every month.
The Tangerine credit card also offers free purchase protection, extended warranty and a 1.95% promotional balance transfer offer for 6 months.
Lastly, it is easy to qualify for this card as its minimum income requirement is $12,000. Learn more about it in this detailed review.
If you meet the minimum personal income for the premium PC Financial World Elite, your cash back rate on groceries increases to 3% which is a lot more attractive.
Overall, the PC Financial Mastercard is worth checking out if you are in the market for a no-fee credit card.
Related: PC Money Account Prepaid Mastercard
PC Financial Mastercard Review 2021
Summary
The PC Financial Mastercard is a no-fee credit card for earning PC Optimum points. This PC Financial Mastercard review covers what you need to know.