This guide details how EQ Bank void cheques work, how to read an EQ Bank cheque, and how to print an EQ Bank void cheque online.
Eq Bank is one of the best online-only banks in Canada. It offers a top-tier high interest savings account and access to tax-free savings, retirement savings plans, investments, and more.
As a digital bank without a traditional chequing account, EQ Bank does not offer a chequebook to its customers.
That said, when you want to set up a direct deposit to your EQ Bank Savings Plus Account, you can print off an EQ Bank void cheque online to provide to the payer.
A cheque is a document that instructs a bank to pay a specific sum of money to an individual or organization whose name is written on it.
Sample cheques come in handy when setting up direct deposits with your employer or clients. They are also useful if you need to make pre-authorized payments for loans or utilities.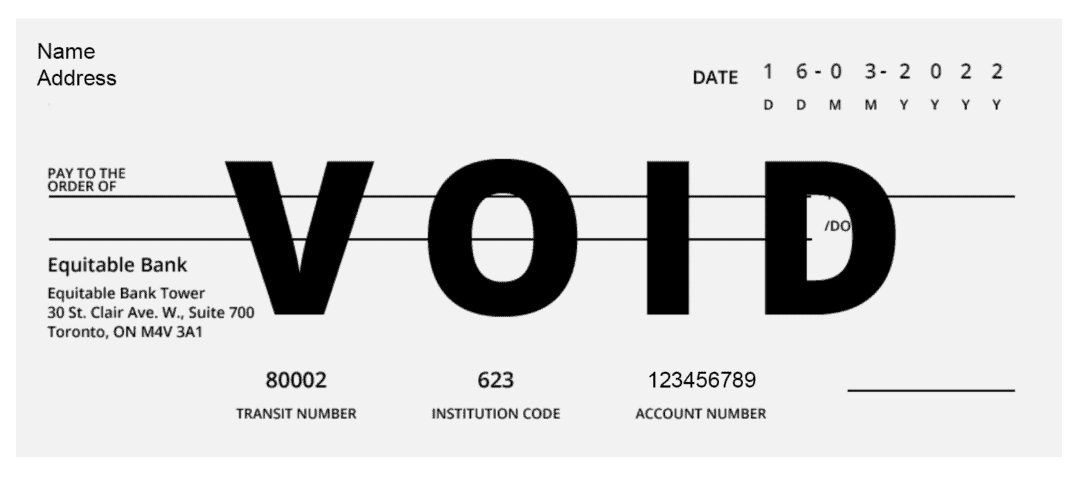 How To Read an EQ Bank Void Cheque
A void cheque is often required when you need to set up direct deposits to your bank account or pre-authorized debits (such as personal loan payments, rent, or childcare).
Since cheques contain all your bank account information, the recipient can easily use the numbers on it to set up a connection to your bank account – both for deposits and withdrawals.
An EQ Bank void cheque is also referred to as an EQ Bank "specimen" or "void" cheque.
So, what information does an EQ Bank void cheque provide?
1. Name: Your name is printed at the top of the cheque. This indicates you (the "drawer") who owns the bank account from which funds are being withdrawn. Your home address is printed under your name.
2. Beneficiary (payee): This section is where you write the name of the individual or organization to whom you are making a payment. For a void or sample EQ Bank cheque, this section is left blank.
3. Bank account and branch details: This section includes the bank name and the address of the bank branch where your account is held. EQ Bank does not have branches, so all EQ Bank void cheques have the address "Equitable Bank Tower, 30 St. Clair Ave. W., Suite 700, Toronto, ON M4V 3A1."
4. Cheque number: This 3-digit number is what the bank uses to identify the cheque transaction in your bank statement. There is no cheque number on an EQ Bank void cheque, as you won't be issuing direct payments from your EQ Bank account using a cheque.
5. Transit (branch) number: This 5-digit number refers to the specific bank branch where you initially opened your bank account. For EQ bank, the transit number is the same for all customers, and it is "80002".
6. Financial institution number: This 3-digit number is also referred to as the bank code. EQ Bank's institution code is 623, and this institution number is the same for all EQ Bank customers.
7. Account number: This 7-12 digit number identifies your bank account. EQ bank's account numbers are 9 digits long and do not include a dash.
When you combine EQ Bank's institution number and transit number and add a leading zero "0", you get your routing number.
For example, using the EQ Bank sample cheque above, the routing number is 062380002.
Related: EQ Bank TFSA Account Review.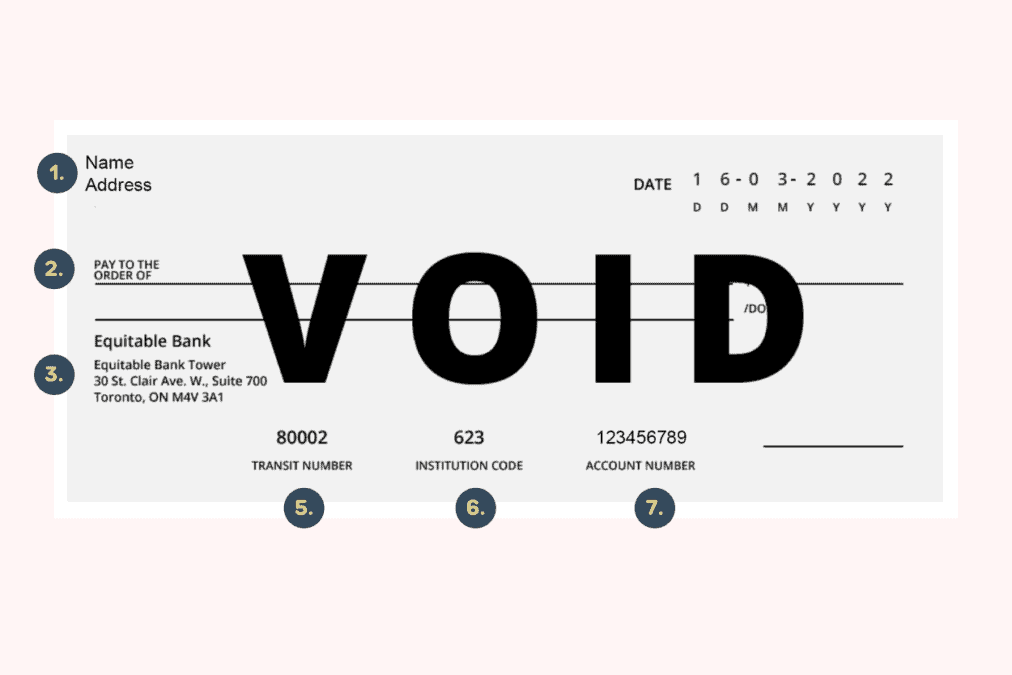 How To Get an EQ Bank Void Cheque Online
Since EQ Bank does not offer paper cheques, you can't simply get an EQ Bank cheque and "VOID" across the front of the cheque using a dark pen (with black or blue ink).
To get a void cheque, you can download or print one from your online EQ Bank account with only a few clicks.
Follow these steps to access a "Void Cheque" on EQ Bank:
Sign in to your EQ Bank Account
Click on "My accounts" in the menu on the top left side of your dashboard
Click on "Direct Deposit" to generate an EQ void cheque you can use to setup direct deposits
You can print or download the cheque
EQ Bank's void cheque contains all the information that would normally be on a cheque (i.e. transit number, institution number, and account number).
Related: Best Banks for Newcomers to Canada.
How To Deposit a Cheque in Your EQ Bank Account
You can easily deposit a cheque in your EQ Bank Account using the EQ Bank mobile app.
Sign in to your account on the app
Click on "Deposit" in the bottom right corner and enter the value of the cheque in the "Amount" section
Select the account you want to put deposit the funds into
Take a photo of the front and back of the cheque using your phone's camera
Click on "Deposit" to complete the process.
EQ Bank Void Cheque FAQs
How do I get an EQ Bank void cheque?
You can print off a void cheque from your EQ Bank online banking account.
Does EQ Bank provide paper cheques?
No, EQ Bank does not provide paper cheques or offer a full-fledged chequing account.
How long does it take for a cheque to clear on EQ Bank?
When you deposit a cheque in your EQ Bank account, the funds are held for five business days and become available on the sixth day. For direct deposit payments, funds are made available immediately.
What is EQ Bank's institution number?
The institution number for EQ Bank is 623.
What is EQ Bank's transit number?
The transit number for EQ Bank is 80002. When you combine this with the institution number, you get the "routing number."
Related: