HSBC is one of the biggest banks in Canada. It offers several financial products, including savings accounts, chequing accounts, personal loans, mortgages, credit cards, investments, and more.
When you want to set up a direct deposit to your HSBC Chequing Account, you can print off a pre-filled HSBC direct deposit form or provide a voided paper cheque to the payer.
A cheque is a paper document that instructs a bank to pay a specific sum of money to an individual or organization whose name is written on it.
Sample or void cheques come in handy when setting up direct deposits with your employer or clients. They are also useful if you need to make automatic payments that are withdrawn from your account.
This guide covers how HSBC void cheques work, how to read an HSBC cheque, and how to print an HSBC direct deposit form online.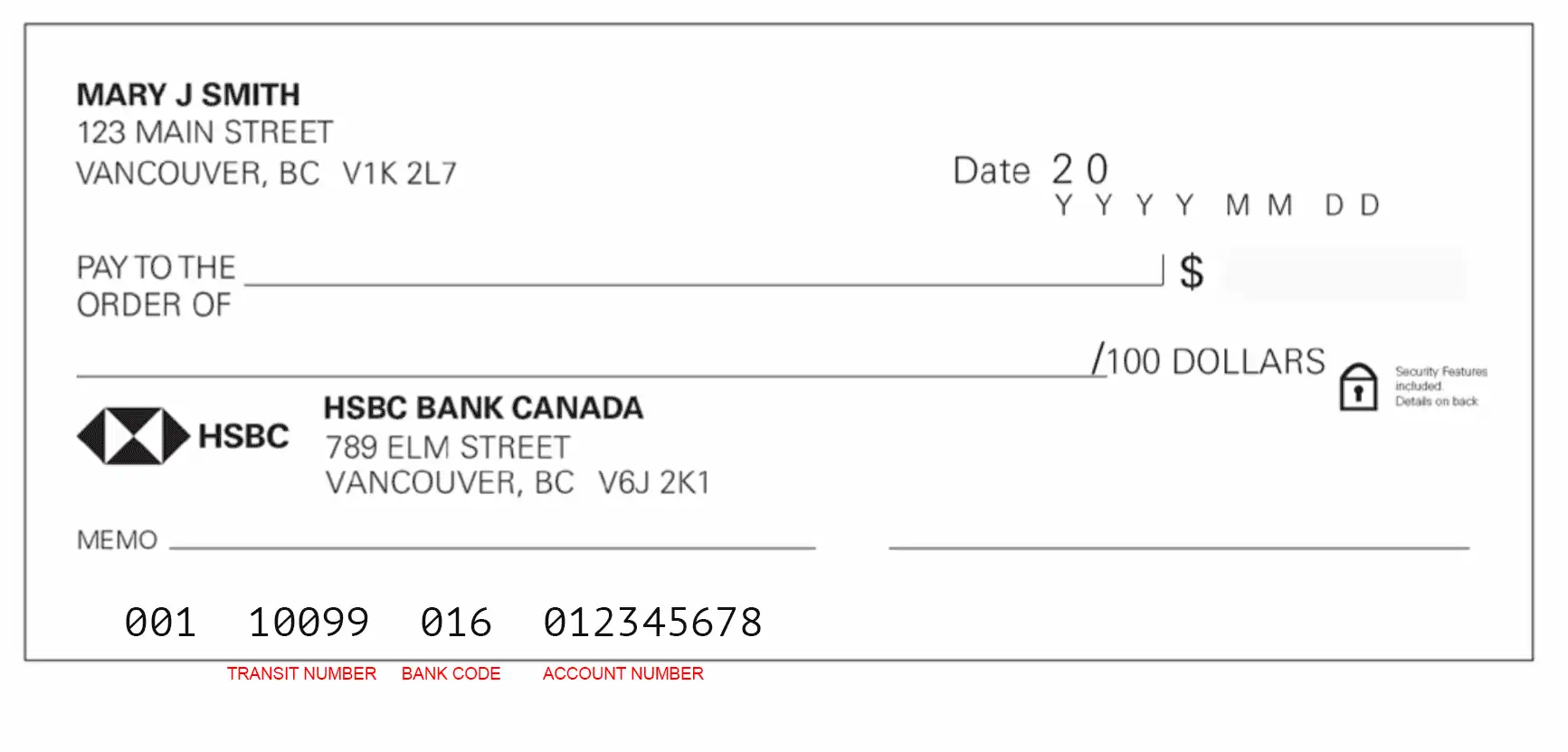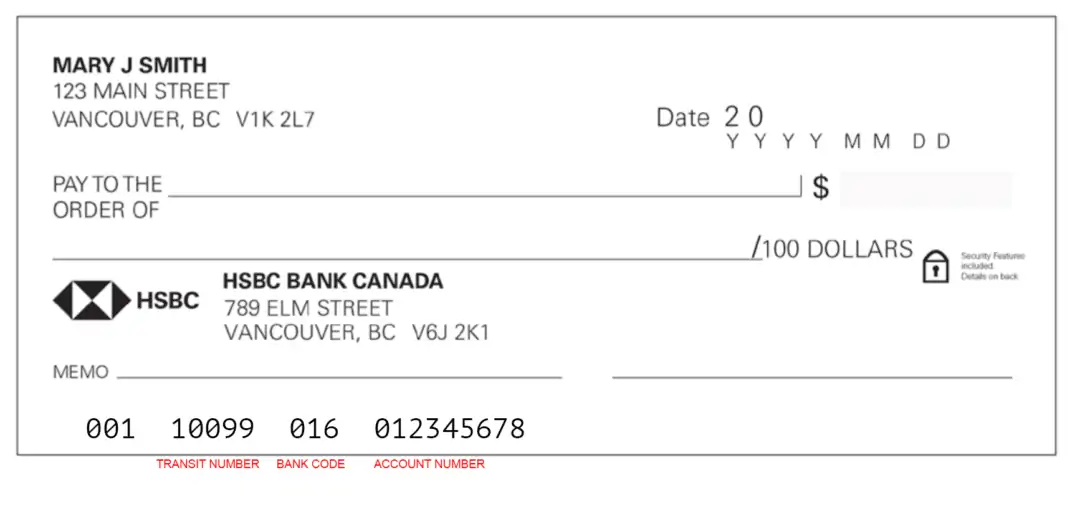 How To Read an HSBC Void Cheque
A void cheque is often required when you need to set up direct deposits to your bank account or pre-authorized debits (such as personal loan payments, insurance, or childcare).
Since cheques contain all your bank account information, the recipient can easily use the numbers on them to set up a connection to your bank account – for both deposits and withdrawals.
An HSBC Canada void cheque is also referred to as an HSBC "specimen" or "sample" cheque.
So, what information does an HSBC void cheque provide?
1. Name: Your name is printed at the top of the cheque. This indicates you (the "drawer") who owns the bank account from which funds are being withdrawn. Your home address is printed under your name.
2. Beneficiary (payee): This section is where you write the name of the individual or organization to whom you are making a payment. For a void or sample HSBC cheque, this section is left blank.
3. Bank account and branch details: This section includes the bank name and the address of the bank branch where your account is held.
4. Cheque number: This 3-digit number is what the bank uses to identify the cheque transaction in your bank statement.
5. Transit (branch) number: This 5-digit number refers to the specific bank branch where you initially opened your bank account. For example, if you bank at the HSBC office on 101 Street, 10250-101 Street in Edmonton, your HSBC branch number is 10099.
Confirm your branch number to be sure what it is by giving the branch a call or by checking it on Google.
6. Financial institution number: This 3-digit number is also referred to as the bank code. HSBC's institution code is 016, and this institution number is the same for all HSBC customers.
7. Account number: This 7-12 digit number identifies your bank account. HSBC's account numbers are 9-digit long and include a dash.
When you combine HSBC's institution number and transit number and add a leading zero "0", you get your routing number.
For example, using the HSBC Canada sample cheque above, the routing number is 001610099.
Related: Best HSBC Credit Cards in Canada.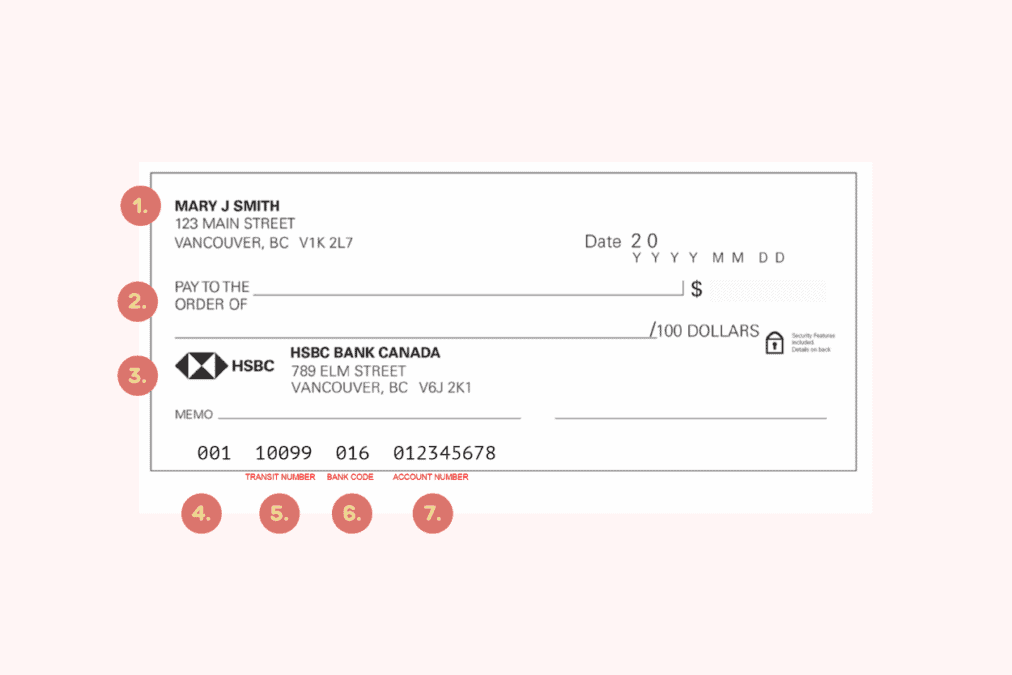 How To Get an HSBC Void Cheque Online
You can create an HSBC void cheque by writing "VOID" across the front of the cheque using a dark pen or marker (with black or blue ink).
Do not cover the numbers at the bottom of the cheque, as these are required to set up your payment information.
If you don't have a chequebook or would rather not waste your paper cheques, you can get a void HSBC cheque via online banking. This is also referred to as a "direct deposit form" or "pre-authorized debit form."
You can get this form pre-filled or download a blank form with your banking details, including your name, HSBC transit number, account number, and signature. HSBC's institution number is already printed on the form, as this does not change.
The pre-filled direct deposit form also has an image of a void HSBC cheque printed on it with all the banking details required. Save this form as a PDF or print it off.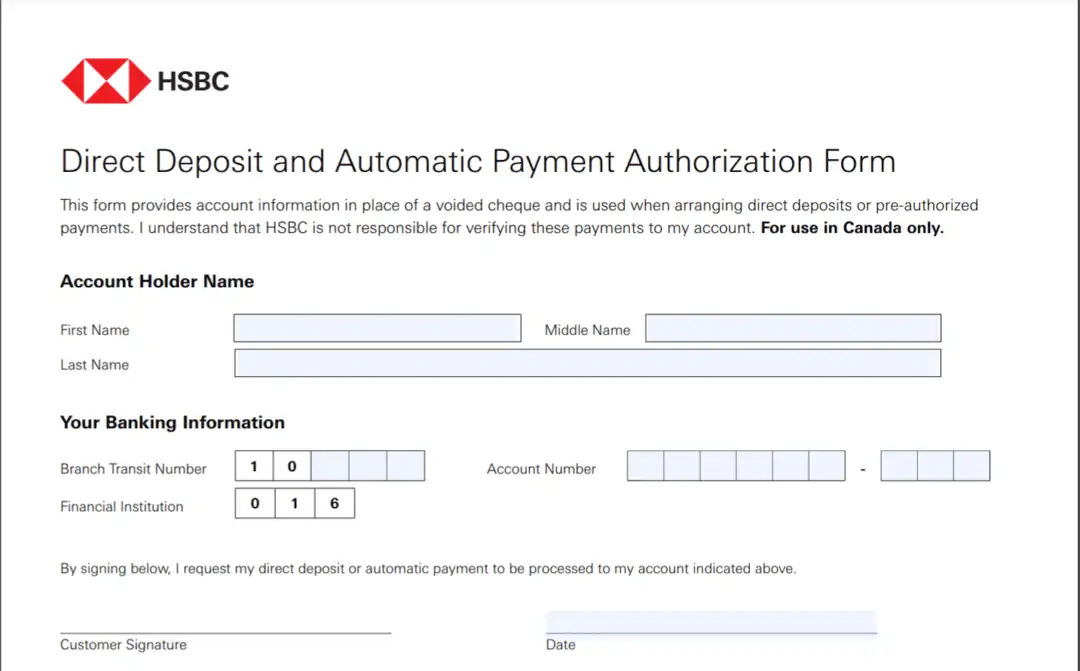 Related: Best Banking Accounts for Newcomers in Canada
How To Deposit a Cheque in Your HSBC Canada Account
You can easily deposit a cheque in your HSBC Account using the HSBC Canada mobile app.
Sign in to your account on the mobile app
Select "Move Money" and then select "Deposit cheque"
Choose the account you want to deposit the cheque into and enter the dollar amount
Take a photo of the front and back of the cheque and click on "Continue"
Confirm that the information is correct and click on "Confirm" to complete the process
HSBC Void Cheque FAQs
How do I get an HSBC void cheque?
You can print off a void cheque sample or direct deposit form from your HSBC online banking account.
What is HSBC Canada's institution number?
The institution number for HSBC is 016.
What is HSBC's transit number?
The transit number for HSBC varies for each branch location. Call your branch to confirm what the transit number is or check via Online Banking.
Related: