Meridian Credit Union is the largest credit union in Ontario, with over 365,000 members and over $28 billion in assets. It offers chequing accounts, savings products, mortgages, credit cards, personal loans, insurance, business accounts, investments, and more.
Meridian also owns the online bank, motusbank.
While cheques are not as popular as they once were, you may need to provide a Meridian Credit Union void cheque to your employer or a client, so they can pay you by direct deposit.
Meridian sample cheques or direct deposit forms may also come in handy when you need to make payments using pre-authorized debits, such as your mortgage or insurance payments.
How To Get a Meridian Void Cheque
If you have a Meridian Credit Union chequebook, you can simply write "VOID" across the front of one of the cheques using a pen.
This voids the cheque, and you can provide it to the person or business looking to pay you or get paid by you (e.g. an employer or insurance company).
If you don't have a chequebook, you can order one from Meridian by visiting your nearest branch, calling their Contact Centre, or applying online.
How To Get a Meridian Direct Deposit Form
If you don't have a chequebook, you can provide a direct deposit form instead to set up direct payments.
To access a direct deposit form on your Meridian Online Banking, follow these steps:
Log in to online banking and select the account you want to set up direct deposit for
Click on "Deposit Form" to access a direct deposit form
For payments from the CRA, click on "CRA Direct Deposit"
Follow the on-screen instructions to complete the process
If you are having issues with accessing the form, you can call Meridian's Contact Centre at 1-866-592-2226 for assistance.
Related: How To Invest in Canada.
How To Read a Meridian Sample Cheque
Canadian cheques look the same for the most part, with similar information.
A sample cheque is often required when setting up direct deposits to your credit union or bank account or pre-authorized debits (such as loan repayments, rent, or childcare).
Since cheques contain all your bank account information, the recipient can easily use the numbers on it to set up a connection to your bank account – for both deposits and withdrawals.
A Meridian Credit Union void cheque sample is also referred to as a Meridian "specimen" or "sample" cheque.
So, what information does a Meridian void cheque provide?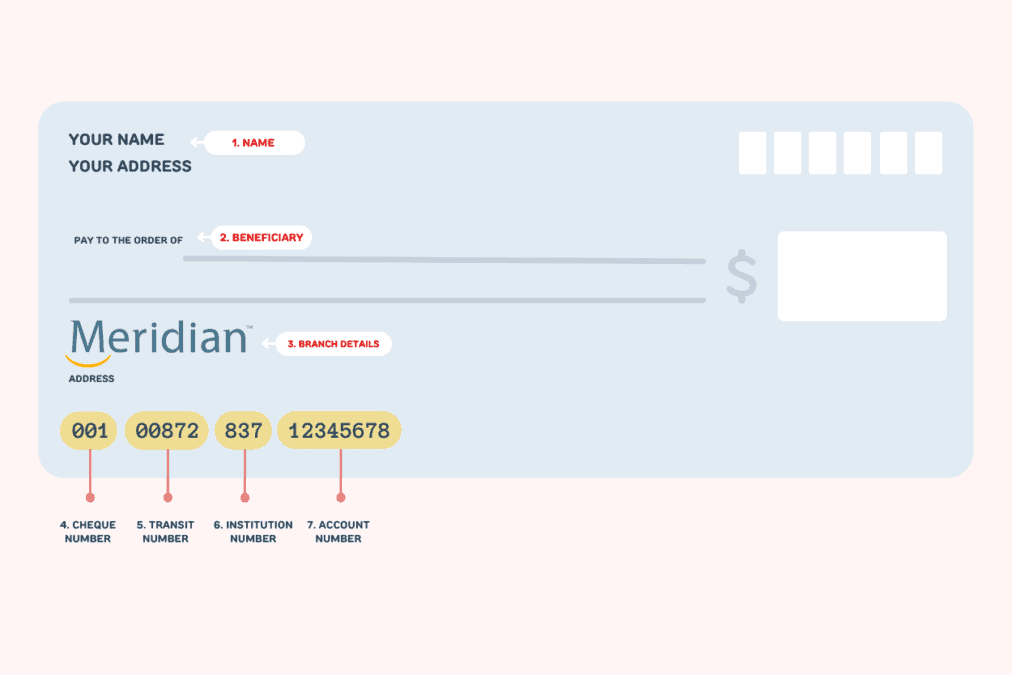 1. Name: Your name is printed at the top of the cheque. This indicates you (the "drawer") who owns the credit union account from which funds are being withdrawn. Your home address is also printed under your name.
2. Beneficiary (payee): This section is where you write the name of the individual or organization to whom you are making a payment. For a void or sample Meridian, this section is left blank.
3. Bank account and branch details: This section includes the bank name and the address of the bank branch where your account is held.
4. Cheque number: This 3-digit number is what the bank uses to identify the cheque transaction in your bank statement. On your Meridian cheque, it is the first set of numbers on the MICR (Magnetic Image Character Recognition) encoding line as well as on the top right corner of the cheque.
5. Transit (branch) number: This 5-digit number refers to the specific credit union branch where you initially opened your account. For example, the transit number for the Meridian branch at Kanata Financial Group, 200 Speedvale Ave East, is 00872.
6. Financial institution number: This 3-digit number is also referred to as the bank code. Meridian's institution code is 837.
7. Account number: This 7-12 digit number identifies your bank account, and it is the last set of numbers at the bottom of the cheque.
When you combine Meridian's institution number and transit number and add a leading zero "0", you get your Meridian Credit Union routing number.
For example, using the sample void cheque above, the routing number for Meridian Credit Union is 083700872.
Related: Meridian Visa Infinite Cash Back Card Review.
How To Write a Meridian Cheque
Follow these steps to write a Meridian cheque:
Write the date on the right-hand corner where you have "DATE".
Write the name of the person you are paying on the line where you have "pay to the order of".
Write the amount of the cheque in dollars and cents in the line below "Pay to the order of". For example, if you are paying them $205.50, you can write "Two hundred and five dollars and 50/100". You should also write the amount in figures in the box where you have the $ sign.
Include the reason for the cheque in the "MEMO" line.
Finalize your cheque by signing it on the line in the bottom right corner.
Your Meridian cheque is now ready to be cashed by the bearer.
Meridian Void Cheque FAQs
How do I get a void cheque from Meridian?
Meridian does not provide a void cheque on its online portal. You will either need to use an existing paper cheque and write "VOID" across it, or you can download a direct deposit form that serves the same purpose.
How do I get a Meridian direct deposit form?
You can download a Meridian direct deposit form from your online banking.
What is Meridian's financial institution number?
The institution number for Meridian Credit Union is 837.
How do I make mobile cheque deposits using the Meridian app?
Sign in to the Meridian mobile app and select "Deposit" at the top of the screen. Choose the account where the funds are being deposited by selecting it using the dropdown under "To Account." Enter the dollar amount being deposited. Take photos of the front and back of the cheque using your phone and click on the "Deposit" button at the bottom of the page to complete your deposit. If you already have photos of the front and back of the cheque, you can also click on the "Upload Photo" option and select the appropriate photos from your phone's photo library.
What is the cost of a cheque book at Meridian Credit Union?
If you have a Plus Chequing Package, you get 1 free order of 50 cheques per year. For a New to Canada Account, you get unlimited free cheques.
What is the cost of a Meridian Credit Union certified cheque?
For the Plus Package, Senior (Age 60+), and New to Canada Meridian chequing accounts, certified cheques are free.
Related: