A cheque is a paper document that instructs a bank to pay a specific sum of money to an individual organization whose name is written on it.
While paper cheques and their usage are not as common as they once were with the rise of electronic alternatives like Interac e-Transfers, you may still need to write a cheque every now and then.
And sample cheques come in handy when you need to set up direct deposit with your employer or clients.
This guide details how Scotiabank void cheques work, how to read a Scotiabank cheque, and how to print a Scotiabank void cheque sample online.
How To Read a Scotiabank Void Cheque
A sample cheque is often required when you need to set up direct deposits to your bank account or pre-authorized debits (such as loan repayments, rent, or childcare).
Since cheques contain all your bank account information, the recipient can easily use the numbers on it to set up a connection to your bank account – for both deposits and withdrawals.
A Scotiabank sample cheque is also referred to as a Scotiabank "specimen" or "void" cheque.
So, what information does a Scotiabank sample cheque provide?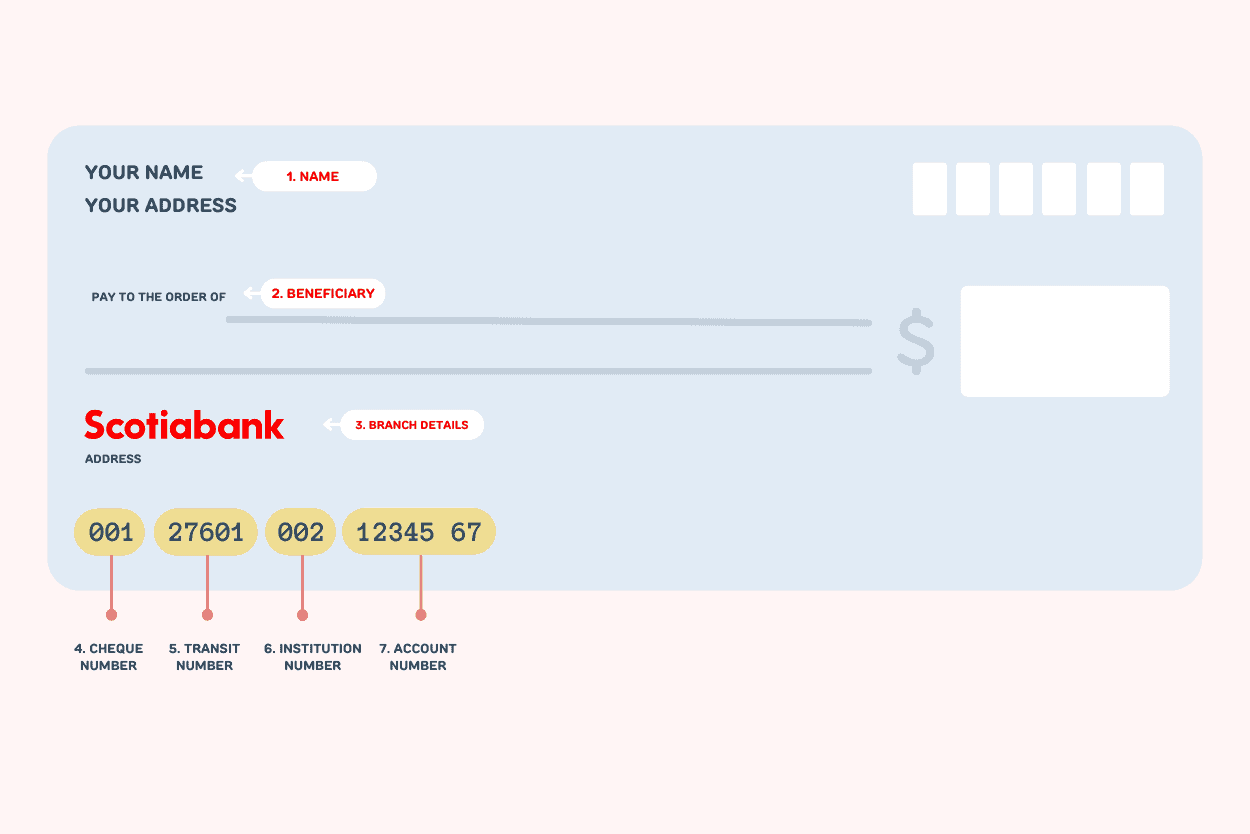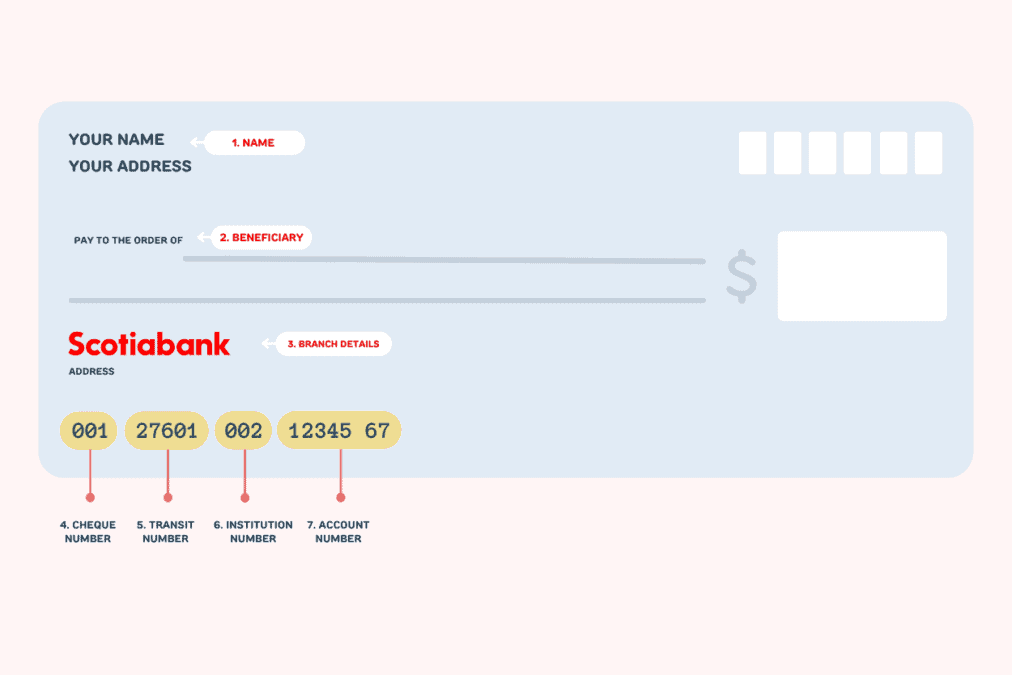 1. Name: Your name is printed at the top of the cheque. This indicates you (the "drawer") who owns the bank account from which funds are being withdrawn. Your home address is also printed under your name.
2. Beneficiary (payee): This section is where you write the name of the individual or organization to whom you are making a payment. For a void or sample Scotiabank cheque, this section is left blank.
3. Bank account and branch details: This section includes the bank name and the address of the bank branch where your account is held.
4. Cheque number: This 3-digit number is what the bank uses to identify the cheque transaction in your bank statement. On your Scotiabank cheque, it is the first set of numbers on the MICR (Magnetic Image Character Recognition) encoding line as well as on the top right corner of the cheque.
5. Transit (branch) number: This 5-digit number refers to the specific bank branch where you initially opened your bank account. Bank transit numbers are maintained by Payments Canada and you can view the entire list via its Financial Institutions Branch Directory (FIBD).
6. Financial institution number: This 3-digit number is also referred to as the bank code. Scotiabank's institution code is 002. This institution number stays the same regardless of which Scotiabank branch you use.
7. Account number: This 7-12 digit number identifies your bank account. Scotiabank bank account numbers are 7-digits long and include one space/dash.
When you combine Scotiabank's institution number and transit number and add a leading zero "0", you get your routing number.
Related: Best Scotiabank Bank Chequing Accounts Review.
How To Get a Scotiabank Sample or Void Cheque
You can create a Scotiabank void cheque by writing "VOID" across the front of the cheque using a dark pen (with black or blue ink).
That said, cheques are expensive, and if you don't have a cheque book, or would rather save money by not voiding a real cheque, you can get a sample Scotiabank cheque via online banking.
Follow these steps to access a void cheque on Scotiabank:
Sign in to Scotiabank Online Banking
Select the bank account you need a void cheque for from your Accounts page
Select "Direct Deposit & Payments"
Go to "Void Cheque" and click to view or print the form
You can also get your void cheque using the Scotiabank app:
Sign in to the Scotiabank app
From the home screen, select your chequing account and click on "Manage"
Select "Direct deposit/void cheque info"
Click on "Void cheque" and view or print the form
Scotiabank's direct deposit form contains all the information that would normally be on a cheque (i.e. transit number, institution number, and account number).
You can give a copy of this to anyone looking to set up direct deposit or pre-authorized debit to and from your bank account.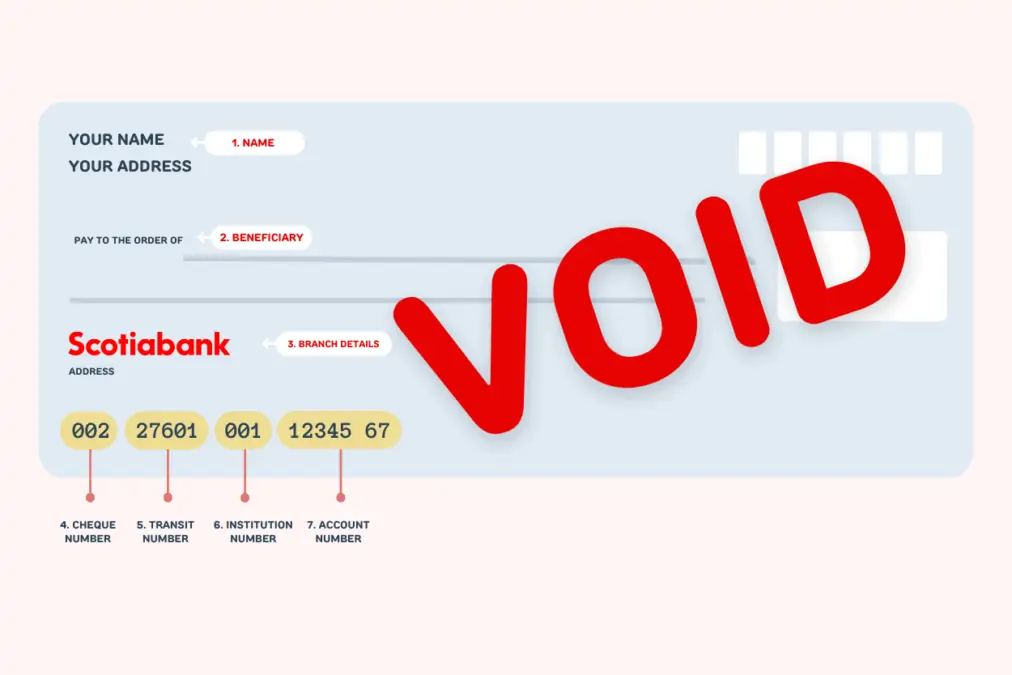 How To Write a Scotiabank Cheque
You can easily write a Scotiabank cheque by following these steps:
Fill in the date in the upper right corner of the cheque.
Write the name of the beneficiary on the line where it says "pay to the order of".
Write the amount of money you are looking to pay. If the sum includes cents, you can add them in the " /100" area. For example, $100.50 can be written as "One hundred dollars and 50/100". You should also fill out the box where you have the "$" sign with the amount in numbers.
Fill out the "Memo" section with the reason for the payment. For example, "February rent."
Sign the cheque at the bottom left corner to make it official.
Scotiabank Void Cheque Sample FAQ
How do I get a Scotiabank sample cheque?
You can print off a Scotiabank void cheque sample from your online banking account.
What is the cost of a Scotiabank chequebook?
The cost of a Scotiabank cheque varies depending on the amount you order and the cheque style. If you have a Scotiabank Ultimate package account, you get 100 cheques free with each order every 12 months.
How much do Scotiabank certified cheques cost?
A certified cheque at your request costs $15 each.
Can I print a Scotiabank cheque online?
You can order Scotiabank cheques online for a fee. While you can print your own cheques, they must meet certain requirements, including ensuring that your bank account information is written in magnetic ink.
Related: