The Crypto.com Visa Card is one of a few crypto prepaid cards available in Canada. This crypto card offers cash back rewards like a regular credit card and has five reward tiers.
Cash back rewards are paid out in CRO, which is Crypto.com's native token. To earn the maximum rewards and perks, you need to stake CRO in your wallet.
This Crypto.com Visa Card review covers what you need to know about its features, benefits fees, limits, and more.
What is Crypto.com?
Crypto.com is one of the largest cryptocurrency exchanges in the world, with more than 10 million users worldwide.
It supports over 150 cryptocurrencies and 20 fiat currencies.
Crypto.com offers more than just cryptocurrency trading. You can also use the platform to stake and earn interest on your digital assets or dabble in NFTs.
Advanced traders can use Crypto.com for margin, swaps, and derivatives trading.
Crypto.com Coin or Cronos (CRO) is the native token that powers the Crypto.com exchange (similar to how the Binance Exchange and Binance Coin work together).
More recently, Crypto.com introduced its line of Visa debit cards with rewards of up to 5% back.
You can learn more about this platform in my Crypto.com exchange review.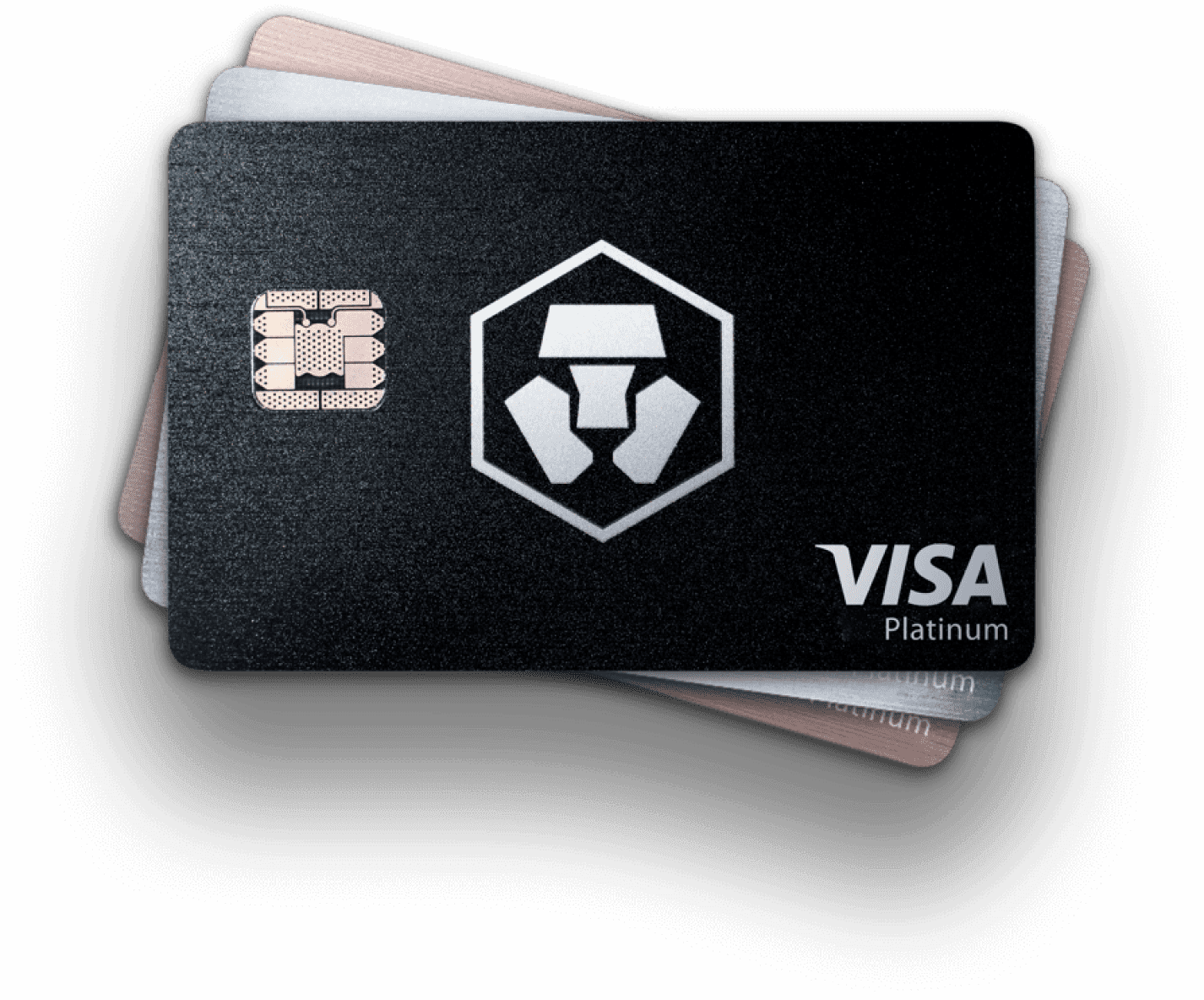 What is Crypto.com Visa Card?
Crypto.com Visa Cards are available in five main formats:
Midnight Blue
Ruby Steel
Royal Indigo/Jade Green
Frosted Rose Gold/Icy White
Obsidian
These cards vary in the rewards they offer, which is, in turn, dependent on how much CRO you stake.
The Crypto.com Card is issued by Digital Commerce Bank under license from Visa International.
Crypto.com Visa Card Features and Benefits
For clarity, I have summarized what each Crypto.com Visa Card offers and its staking requirements.

1. Midnight Blue Card
This is Crypto.com's entry-level Visa Card. It has no staking requirements and no annual fee.
Users of this card no longer earn CRO rewards.
2. Ruby Steel Card
Starting from the Ruby Steel card, you get a physical metal card you can carry in your wallet. There is also a CRO staking requirement to get the most benefits from the card.
Staking requirement: The amount of CRO you need to stake is fixed in your local fiat currency and not the number of CRO. For Ruby Steel, it is $500 in Canadian dollars.
Rewards: Earn 1% CRO rewards and 100% reimbursement of your monthly Spotify subscription fees ($13.99 USD/month).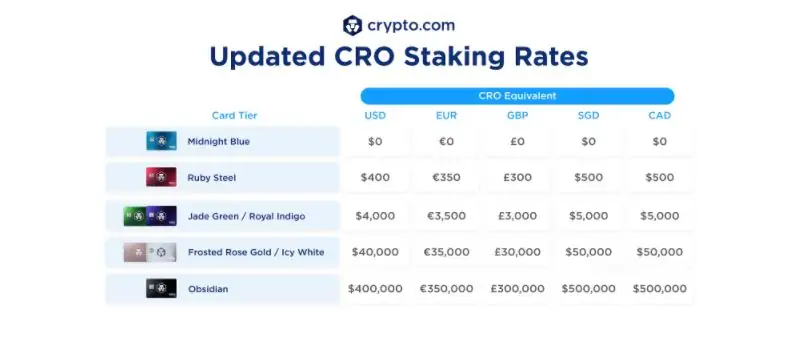 3. Royal Indigo/Jade Green Cards
These two cards are Crypto.com's mid-tier prepaid cards.
Staking requirement: $5,000 CAD worth of CRO.
Rewards: Earn 2% back in CRO rewards, plus reimbursement of your Spotify and Netflix monthly subscriptions ($13.99 USD/month equivalent).
There is a maximum cap of $25 USD in CRO rewards per month.
4. Frosted Rose Gold/Icy White Cards
These Crypto.com Visa Cards offer premium perks, including airport lounge access via LoungeKey.
Staking requirement: $50,000 worth of crypto.
Rewards: Earn 3% CRO rewards, plus:
Reimbursement of your Spotify ($13.99 USD/month), Netflix ($13.99 USD/month), Amazon Prime ($14.99 USD/month) membership fees.
Reimbursement of 10% of Expedia fees up to a maximum of $50 USD/month.
Free and unlimited LoungeKey Airport Lounge Access for the cardholder and 1 guest.
Access to Crypto.com Private for OTC block trades, research reports, priority customer service, and more.
Access to bonus rewards and an exclusive merchandise welcome pack.
5. Obsidian Card
Obsidian is Crypto.com's most premium card offering.
Staking requirement: $500,000 CRO.
Rewards: Cardholders earn 5% back in CRO rewards and all the benefits that come with the Frosted Rose Gold & Icy White line of cards.
They also enjoy 10% off Airbnb fees up to a maximum of $100 USD per month, and luxury privileges on their first flight with one of the largest private jet networks in the world.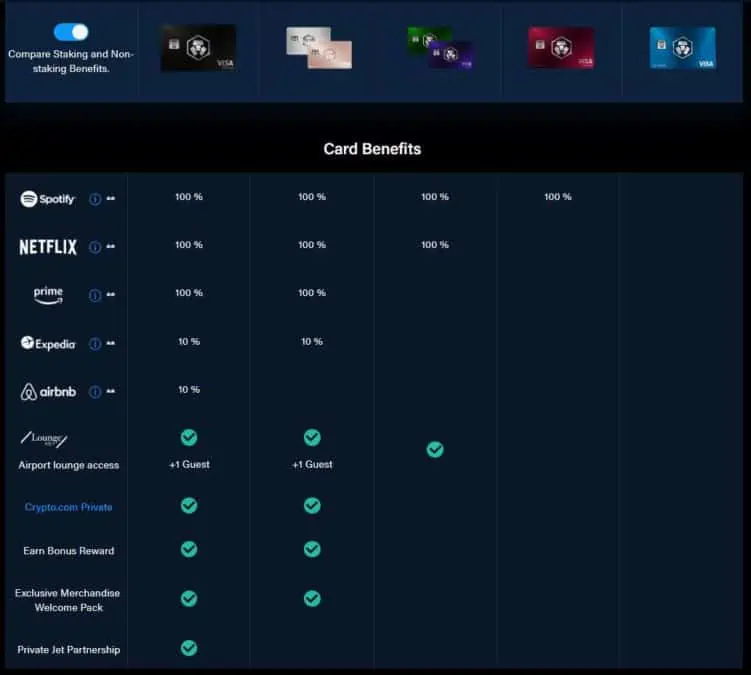 Visit Crypto.com (Get a $25 bonus when you stake for a card – Ruby Steel and up).
Crypto.com Visa Card Fees
Crypto.com Visa Cards do not have monthly or annual fees.
There is the staking amount ranging from $0 to $500,000; however, this is not a fee, and you can 'unstake' or withdraw your CRO holding after 180 days.
Note that some perks are tied to keeping an ongoing CRO stake.
There are also no administrative charges for foreign currency withdrawals if you keep within the card's limits.
When you exceed the free limit, a $5 fee applies per ATM withdrawal (see the "Fees and Limits" section of your account for the free withdrawal limit per card).
If you lose your card and need a new one, the cost is $70 or $10 for Midnight Blue.
How To Apply for a Crytpo.com Visa Card
You need to have a Crypto.com account to apply for their cards.
To get started, sign up here (includes a $25 USD bonus in CRO when you stake for a Ruby Card or above).
You can also use the referral code (ypa22jvaeg) to get the bonus offer.
After completing the verification process on the app, choose your card of choice and follow the steps to stake CRO.
You can fund your account using fiat via bank transfer or deposit crypto directly and the card is shipped to your address within 7-14 business days.
As of this writing, Crypto.com Visa Cards are available in Canada, Singapore, the United States, and several countries in the European Union.
Crypto.com Card FAQs
How do crypto Visa cards work?
Crypto Visa cards work like regular Visa credit cards and can be used to pay for purchases at millions of merchants worldwide. These cards convert your crypto asset into the local fiat currency, and you typically earn rewards with each purchase.
Is the Crypto.com Card worth it?
It depends on your view of cryptocurrency, and whether the benefits (e.g. free Netflix and Spotify membership) and CRO rewards outweigh the benefits you would otherwise get from a no-fee cash back credit card.
Are Crypto.com Visa cards free?
Yes, they don't have an annual fee. That said, you must stake CRO, which can run into thousands of dollars depending on the card you choose.
Which crypto cards are available in Canada?
In addition to Crypto.com's Visa debit, you can also apply for the Shakepay Crypto Card, Netcoins Crypto Card, and Nexo Mastercard.
Related:
Disclaimer: Cryptocurrency is a volatile and speculative investment. If you decide to invest, we recommend you do your own research and only commit funds you can afford to lose. The author may own one or more of the crypto assets mentioned in this article.