The KOHO Easy Mastercard is one of the best no-fee prepaid cards in Canada.
It offers cardholders access to cashback rewards when they shop, alongside optional credit-building tools and a savings account.
This KOHO Easy Mastercard review covers how it works, its pros and cons, and a comparison to the KOHO Essential Mastercard and KOHO Premium Mastercard.
KOHO Easy Mastercard Review
KOHO Easy Prepaid Mastercard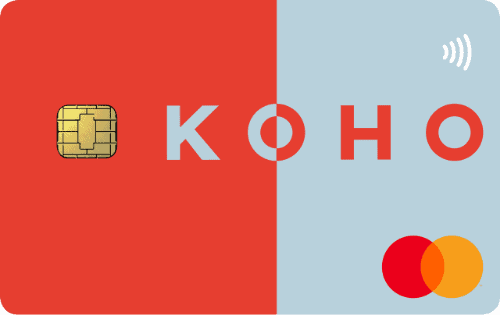 $20 sign-up bonus after first purchase
Earn up to 5% cash back
0.50% savings interest on your balance
$0 monthly fee
KOHO Easy Mastercard Benefits
The KOHO Easy Mastercard is its entry-level product.
This prepaid card differs from some of the ones you purchase at Canada Post. It is reloadable and offers cashback rewards.
The KOHO Easy Mastercard also pays you interest on your balance.
Its top features include the following:
Earn Cashback
This prepaid card pays you 1% cash back on groceries and bill payments.
When you shop at KOHO partners, your cashback earning rate can be as high as 5%.
Cashback earned is added to your balance within days.
KOHO Earn Interest
KOHO Easy users earn 0.50% interest on their balance. This interest is calculated daily and paid out monthly.
Since your KOHO funds are held at a CDIC-member financial institution, your money is protected by up to $100,000.
Access to Credit Building
All KOHO Accounts (Easy, Essential, and Premium) can access an optional credit-building tool, and use it to improve their credit scores.
The KOHO Credit Building service costs $10 monthly with an Easy subscription level. Users with the Essential or Premium subscription pay $7 monthly.
Lower Foreign Currency Transaction Fees.
When you use your credit card to make foreign currency purchases, a 2.5% to 3% FX fee is levied.
If you pay using the KOHO Easy Mastercard, this fee is only 1.50%, saving you up to 1.50% in FX fees.
No Monthly Fees
KOHO Easy does not have monthly or annual fees. You get unlimited, free transactions, including debits and Interac e-Transfers.
Other KOHO Easy Perks
The KOHO app makes it easy to automate your savings. You can use its RoundUps tool and save your spare change. It also offers insights to stay on top of your spending.
The KOHO card is compatible with payment wallets like Google Pay, Apple Pay, and Samsung Pay.
When you sign up here and use our promo code (CASHBACK), you receive a $20 bonus after completing your first purchase.
Downsides of the KOHO Easy Mastercard
The KOHO Prepaid Card does not include insurance benefits, like purchase protection or extended warranty coverage.
Also, it does not offer cashback on all purchases. Apart from the 1% earned on groceries, bills, and services, you get specific offers through the app from partner brands.
How To Apply For The KOHO Easy Card
To qualify for a KOHO Mastercard, you must reside in Canada and be the age of the majority in your province.
This card offers guaranteed approval, meaning you can apply with good, poor, or bad credit.
To get started, click here to visit the KOHO website (includes a $20 offer).
KOHO Easy vs. KOHO Essential vs. KOHO Premium Mastercard
| | | | |
| --- | --- | --- | --- |
| Prepaid Cards | KOHO Easy Mastercard | KOHO Essential Mastercard | KOHO Premium Mastercard |
| Monthly fee | $0 | $4 | $9 |
| Cashback rewards | 1% on groceries, bills, and services | 1% on groceries, restaurants, bills, and services; 0.25% elsewhere | 2% on groceries, gas, transit, and restaurants; 0.50% elsewhere |
| Cashback at partners | Up to 5% | Up to 5% | Up to 5% |
| Interest earned on balance | 0.50% | 1.50% | 2% |
| Credit building fee | $10/month | $7/month | $7/month |
| Physical and virtual cards | Yes | Yes | Yes |
| FX Fee | 1.50% | 1.50% | 0% |
| Learn more | Visit | Visit | Visit |