Crypto credit cards are bringing cryptocurrencies into the mainstream by making it a lot easier for crypto enthusiasts to spend their digital currency holdings as they would using fiat.
As it currently stands, a majority of what we call cryptocurrency credit cards are more like crypto debit or prepaid cards. This is because you need to preload them with funds from your crypto wallet and there's no borrowing (i.e. credit) involved.
That said, these Visa and Mastercard crypto cards are often just as versatile as credit cards given the rewards they offer and their acceptability at millions of locations worldwide.
Read on to learn about the best crypto credit cards in Canada including Crypto.com, BlockFi, Nexo, and Spend cards.
What is a Crypto Credit Card?
A crypto card allows you to spend cryptocurrency from your crypto wallet when you pay for purchases online or at a point of sale.
The card converts a selected cryptocurrency in your digital wallet (such as Bitcoin) into fiat currency (such as Canadian dollars), based on the current market crypto-fiat prices.
You can also fund your crypto card directly with dollars via bank transfer.
Crypto cards offer rewards such as cash back. These rewards are paid out as cryptocurrency.
Best Crypto Credit Cards in Canada
While there are a handful of crypto credit cards out there, only one of them is currently offered to Canadians.
The top Crypto Visa credit card is:
Crypto.com Visa Cards
The cryptocurrency exchange, Crypto.com, offers 5 crypto Visa cards with varying levels of rewards: Midnight Blue, Ruby Steel, Royal Indigo & Jade Green, Frosted Rose Gold & Icy White, and Obsidian.
These cards are issued by Metropolitan Commercial Bank on the Visa payment network and are available in Canada.
Eligibility: The entry-level Midnight Blue card has no fees and pays 1% CRO rewards. For the other cards, you need to stake CRO worth $400-$400,000 USD depending on the card tier you choose in order to get the most benefits.
Rewards: Earn CRO cash back rewards up to 8%. The premium cards also offer VIP travel rewards and free Netflix, Spotify, Amazon Prime memberships, and more.
Fee: No annual fee; CRO stake may be required for a period of time (e.g. 180 days).
Apply: To sign up for the CRO Visa Card, you need to open a Crypto.com account and purchase CRO tokens.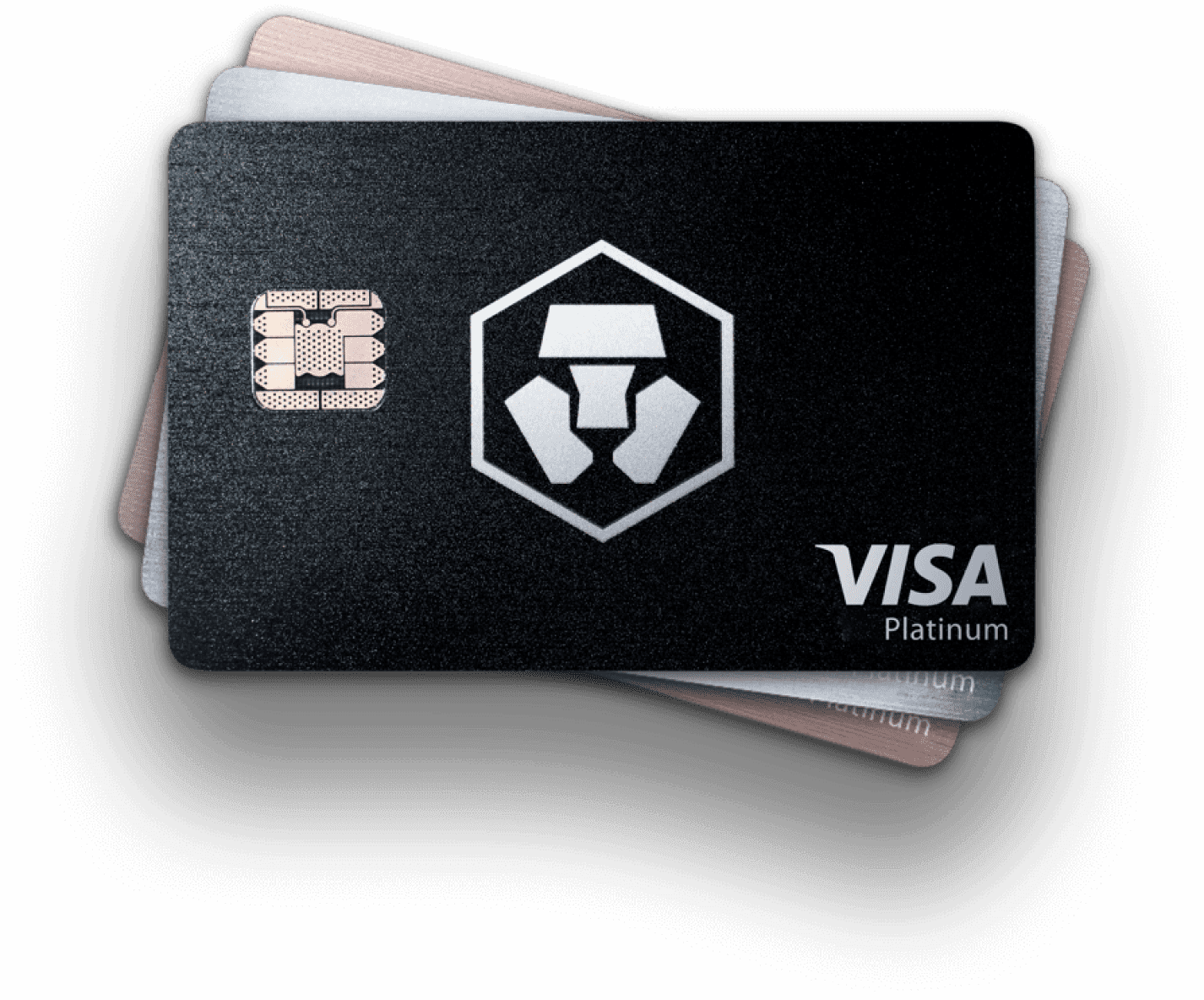 Best Crypto Credit Cards (Others)
The crypto credit cards below either have a waiting list with plans to launch in Canada or the companies already operate in Canada and their crypto cards may become available at some point.
Nexo Mastercard
The Nexo Mastercard is one of two Crypto Mastercard credit cards on this list (the other being the Gemini Credit Card).
Nexo is a popular cryptocurrency platform for crypto purchases, staking, swapping, and crypto loans.
Its credit card pays 2% cash back and rewards are paid in NEXO tokens or Bitcoin.
Other benefits of the Nexo Mastercard include:
Free ATM withdrawals
No FX fees
No annual fees
Apple Pay and Google Pay compatible
Access to a credit line
You can join the waitlist here.
BlockFi Rewards Visa Signature Credit Card
This BlockFi Visa Card is one of the best crypto credit cards in the U.S. Users earn 1.5% Bitcoin cash back on all purchases. This reward rate increases to 2% when your annual spending exceeds $50,000.
In addition, you get 0.25% back in Bitcoin when you place eligible cryptocurrency trades and $30 in Bitcoin per referral.
A good to excellent credit score is required to qualify.
As of this writing, the BlockFi Card is not available in Canada, however, Canadians can use its crypto staking and trading platform.
Shakepay Card
The Shakepay Visa Card allows you to spend your Shakepay dollar balance when shopping online or in the store.
You earn bitcoin cash back which is added to your BTC wallet.
This card has a waitlist you can join in Canada.
Gemini Credit Card
Gemini offers a Crypto Mastercard credit card issued by WebBank. It offers up to 3% cash back in Bitcoin and 30+ other cryptocurrencies of your choice.
Here's how the cash back works:
Up to 3% back on dining
2% back on groceries
1% back on all other purchases.
Crypto rewards are deposited in your Gemini account.
The Gemini Credit Card has no annual fee and is currently available to U.S. residents in all 50 states.
Coinbase Card
Coinbase has a crypto debit card that makes it easy to spend the cryptocurrency in your Coinbase account.
The Coinbase Visa Card is issued by MetaBank and offers up to 4% in rewards.
While it has no annual fees, a 2.49% transaction fee applies to crypto-fiat purchases. This card is currently available in the U.S. and U.K.
Binance Visa Card
Binance is the world's largest cryptocurrency exchange.
Its Crypto Visa Debit Card offers up to 8% cash back on purchases and converts your crypto assets to fiat in real-time.
As of this writing, the Binance Card is offered in 31 countries in Europe. It is not yet available in Canada (note that the Binance Exchange is not available to Ontario residents).
Spend Visa Card *no longer available*
The Spend Visa prepaid card is issued by Evolve Bank &Trust. It is offered in three formats: Spend Simple, Spend Preferred, and Spend Black.
Spend Visa Cards allow users to spend Bitcoin and other cryptocurrencies at over 40 million merchant locations worldwide.
Like the Crypto.com cards, cryptocurrency held in your Spend Wallet is converted into the local fiat currency and used for payments at POS and for ATM withdrawals.
Rewards: Earn up to 3% back on your spending and up to $10,000 in referral rewards. Rewards are paid in Spendcoins (SPND) into your wallet.
Fee: A Spend Wallet is free. The cards have a one-time membership fee ranging from $25 to $100.
For Spend Black and its premier rewards, a 2,500,000 SPND stake is required. This is equivalent to about $20,000. You can unlock your SPND stake after 6 months.
Visit their website for information about the 1% crypto-fiat conversion fee as well as crypto withdrawal fees.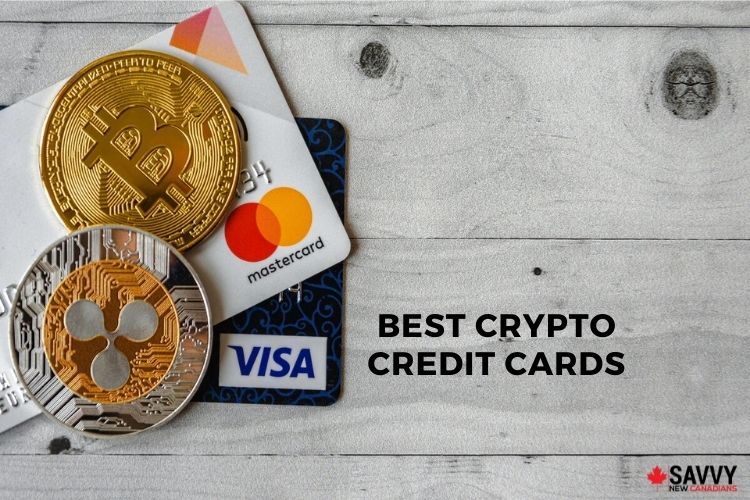 Benefits of a Crypto Credit Card
Crypto cards offer benefits including:
Earn Rewards: Crypto credit cards offer users rewards when they pay for purchases with the card. Like regular credit cards, these rewards may vary depending on your membership tier.
Crypto card rewards can increase in value if the price of the cryptocurrency or token appreciates. Premium crypto cards like Crypto.com's Obsidian Card also offer VIP perks.
Spend Cryptocurrency: If you have been looking for ways to spend your bitcoin or crypto holdings, a crypto debit/prepaid card works well. With each purchase, crypto is exchanged for fiat at the prevailing rates and this occurs automatically.
Flexibility: Crypto cards are just as convenient as regular credit cards. Simply tap or swipe your card while on the go. Most of them are also compatible with Apple Pay or Google Pay.
No FX Fees: Crypto credit cards often convert your crypto to the local currency. This way, you can avoid both FX conversion fees and the need to carry multiple currencies.
No Fees: The best crypto credit cards offer convenience without the annual fees.
Downsides of Crypto Credit Cards
Something to consider when using a crypto credit card is whether the Canada Revenue Agency (CRA) or IRS classifies each transaction as a 'taxable event'.
If they do, accounting for capital gains or losses where applicable is going to be a pain over time.
Crypto assets tend to have prices that rise and fall significantly over a small timeframe. As such, you may find your purchasing power fluctuating a lot in real-time, impacting your ability to budget and plan your finances.
Lastly, it is anyone's guess how the cryptocurrency markets would fare when government regulations and laws are eventually enacted.
Are Crypto Credit Cards Safe?
Crypto credit cards are generally safe and enjoy many of the same protections approved by regular credit cards on the Mastercard and Visa payment networks.
In addition, crypto credit card users enjoy the in-built protections for assets and identity as provided by cryptocurrency infrastructure and blockchain.
As with everything cryptocurrency, you need to take extra precautions when securing your digital assets (and, by extension, your card) by adding 2-factor authentication, etc. to your wallet.
Also, it is worth noting that your fiat deposits on the crypto exchange may not be insured by Canada Deposit Insurance Corporation (CDIC) unless the exchange keeps them in trust at a CDIC-member institution.
Crypto Credit Cards vs. Regular Credit Cards vs. Crypto Debit Cards
Most crypto cards referred to as credit cards are simply just pre-loaded prepaid cards. That is, fiat is added directly to the card through bank transfer or by selling a portion of your crypto assets.
Unlike a regular credit card, you don't draw on a credit limit or borrow any money.
Crypto prepaid cards do not impact your credit score and you can generally qualify for them irrespective of your income level or credit history.
That said, there are crypto credit cards that can affect your credit, such as BlockFi's Rewards Visa Signature Credit Card.
In layman terms, crypto debit cards are the same as crypto prepaid cards.
Crypto Credit Card FAQs
What is the best crypto credit card?
The best crypto credit card in Canada right now appears to be the Crypto.com Visa Card.
Do Crypto credit cards affect my credit score?
A crypto prepaid or debit card has no impact on your credit rating, while crypto credit cards can impact your credit score.
How can I get a crypto credit card?
The easiest way to get a crypto credit card is to first open an account at a crypto exchange that offers a crypto card. You can then apply directly for the card or join the waitlist.
Related: