An excellent student chequing account like the CIBC Smart for students account can help you save on banking fees while you are attending college or university.
CIBC is not the only bank with a student account. Other banks also like RBC, Scotiabank, BMO, and TD also offer them.
This CIBC Smart for Students account review covers how it works, its benefits, downsides, fees, and alternatives.
CIBC Smart for Students Features
No monthly fee: You don't pay a monthly account fee.
Unlimited free transactions: Get unlimited transactions including debit purchases, withdrawals, Interac e-Transfer transactions, pre-authorized payments, and bill payments
Free SPC+ membership: You can apply for a free SPC membership and get access to student-specific discounts at over 450 brands (both online and in-store).
Save on gas: You can link your CIBC card with Journie Rewards and save when you purchase gas at participating Ultramar, Fas Gas, and Chevron locations.
Free credit score check: CIBC clients can check their Equifax credit score for free.
Access to online banking: Use the CIBC Mobile Banking App to manage your finances on the go.
Access a credit card: You can apply for a CIBC student credit card and pay no annual fees.
CIBC Student Bank Account Benefits
CIBC is one of the best banks in Canada.
Using your CIBC student account, you can access almost 4,000 ATMs across Canada and 1,100 banking centres.
The CIBC Smart for Students account has no monthly account fees if you are a student who will graduate at age 25 or older.
If you will graduate from post-secondary school before turning 25, you can open a CIBC Smart Start account instead.
If you are a newcomer to Canada, you can take advantage of the benefits offered by a CIBC international student account.
CIBC Student Account Requirements
To qualify for a CIBC Smart for Students account, you must be a Canadian resident and be able to show proof of enrollment at an eligible post-secondary school. If you are an international student, a study permit (IMM 1442) is also required.
The CIBC Smart for Students account is for individuals who expect to graduate at age 25 and up.
To qualify for a CIBC Smart Start account, you must be under age 25 and residing in Canada. You can open this account starting at age 13.
CIBC Smart for Students Fees
This account has no monthly fees to open and maintain. That said, service fees may apply to score transactions
| | |
| --- | --- |
| Transaction | Fees |
| Paper statement | $5 |
| Non-CIBC ATM withdrawals in Canada | $2 |
| Bank drafts and money orders | $9.95 |
| Personalized cheques | Fee varies depending on style and quantity |
| Outgoing wire payments | $30-$80/payment |
| Incoming wire payment | $15 |
| NSF fees | $45 each |
| Safety deposit box | $60-$400/year depending on size |
| FX fees | 2.50% |
Other fees may also be applicable.
Related: CIBC Void Cheque Sample.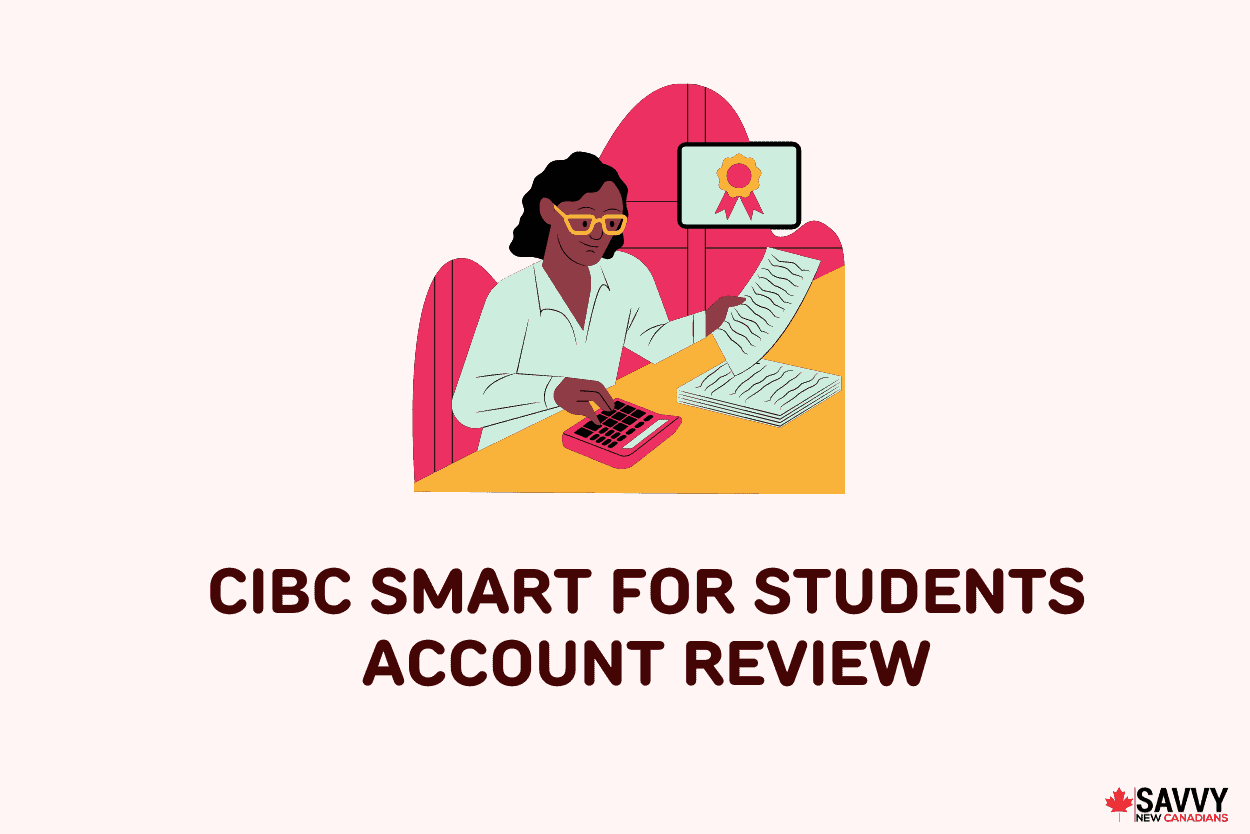 CIBC vs Scotiabank vs. TD vs. RBC Student Accounts
| | | | | |
| --- | --- | --- | --- | --- |
| Features | CIBC Smart for Students | RBC Advantage Banking | Scotiabank Student Banking Advantage Plan | TD Student Chequing |
| Monthly fee | $0 | $0 | $0 | $0 |
| Debit transactions | Unlimited | Unlimited | Unlimited | Unlimited |
| e-Transfer transactions | Unlimited | Unlimited (999 cap/month) | Unlimited | Unlimited |
| Non-bank ATM fee in Canada | $2 (1 free each month) | Free (ATM operator may charge convenience fee) | $2 each | $2 |
| Foreign ATM fee in the U.S. | $3 each | $3 each | $3 each | $3 each |
| Foreign ATM fee (other countries) | $5 each | $5 each | $5 each | $5 each |
| Other features | Access to a free SPC+ membership | Up to $39 rebate on credit card annual fee | Earn Scene+ rewards points; $75 welcome bonus | No monthly fee on overdraft protection; earn extra Stars at some Starbucks locations |
| Review | – | Learn more | Learn more | Learn more |
CIBC Smart Account for Student Alternatives
Some of the best student bank accounts in Canada include:
Simplii Financial Student Account
The Simplii Financial No Fee Chequing Account offers many 'premium' perks and you pay no monthly fees whether or not you are a student.
It includes unlimited free transactions and you can pair it with a savings account and a no-annual-fee credit card.
For a limited time, new Simplii customers get a $350 bonus when they open a chequing account and set up direct deposits for 3 consecutive months.
Scotiabank Student Bank Account
The Scotiabank Student Advantage Plan has no monthly account fee.
It offers unlimited transactions and you can open an account if you are a full-time student at a post-secondary school in Canada or the U.S.
Learn more about what it offers and how to get a welcome bonus.
EQ Bank
You can pair the free EQ Bank Savings Plus Account with any of the other student chequing accounts on this list.
It offers one of the highest interest savings rates in Canada, plus you get access to unlimited debits and Interac e-Transfers.
This online bank also offers guaranteed Investment Certificates (GICs) for growing your deposits in both registered (TFSA and RRSP) and non-registered accounts.
Related: